You have been playing video games all your life, you have been reading anime and delving into fantastic adventures for what feels like an eternity and you have daydreamed gorgeous game girls for as long as you can remember… You have the heart of a true adventurer. Nutaku.com knows exactly what your soul yearns for, your adventure lust yearns for… Kanpani Girls!
Nutaku.com, a world leader in flash games, brings to you the highly popular Japanese anime game Kanpani Girls in English from DMM.com. Yet another example of Nutaku's dedication to bringing these kinds of games to the forefront of the ever growing video game industry, Kanpani Girls is a turn based SRPG that has never looked so good for North American fans of the Japanese mega hit.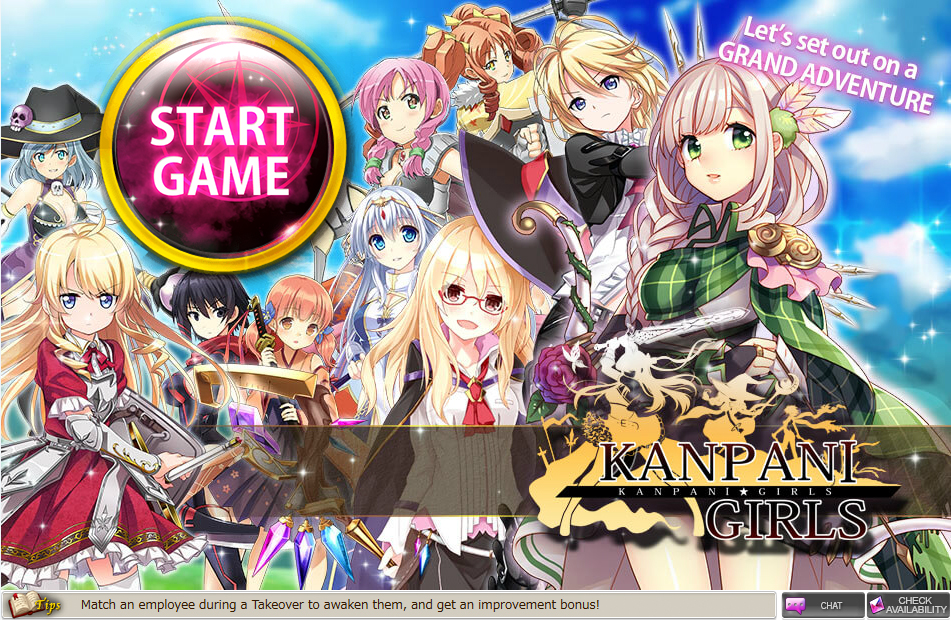 The story borrows the Japanese source material - you play as a "displaced" human, magically transported from your train ride on Earth into a fantastic magical world of gorgeous and deadly warrior women. The moniker "CEO" is bestowed upon you, and as CEO you must filter through "applications", essentially a bevy of hot candidates who want to join your company of mercenaries.
Anyone who is a retro gaming fan will immediately recognize these kinds of game mechanics to be very reminiscent of Square Enix's SNES cult classic Ogre Battle: March of the Black Queen. Warriors usually take the front line and magic users the back, but everyone has their own special attacks for both front and back positions, and some may be better than others. Unique characters may also have unique attacks that can devastate your opponents, so be sure to add them when possible. Remember that you are allowed only five members per squad, so choose wisely!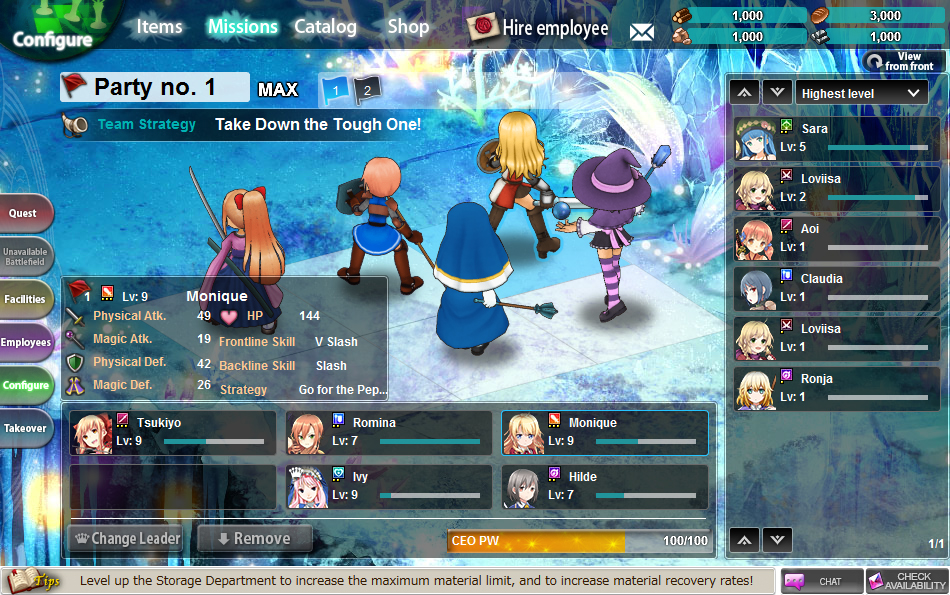 Each member also has a particular tactic that they command their squad to follow when they are designated the "leader" - hit the spellcasters, target the tanks, smash the opponents' leader – each method will create a different outcome against your opponents. If your squad can't seem to deal with a particularly strong opponent, be quick to unleash your "CEO Powers" and buff your group's stats or shatter your opponents with area spells that can do massive damage – but you're limited with these attacks so use them only when you're certain your squad is facing defeat!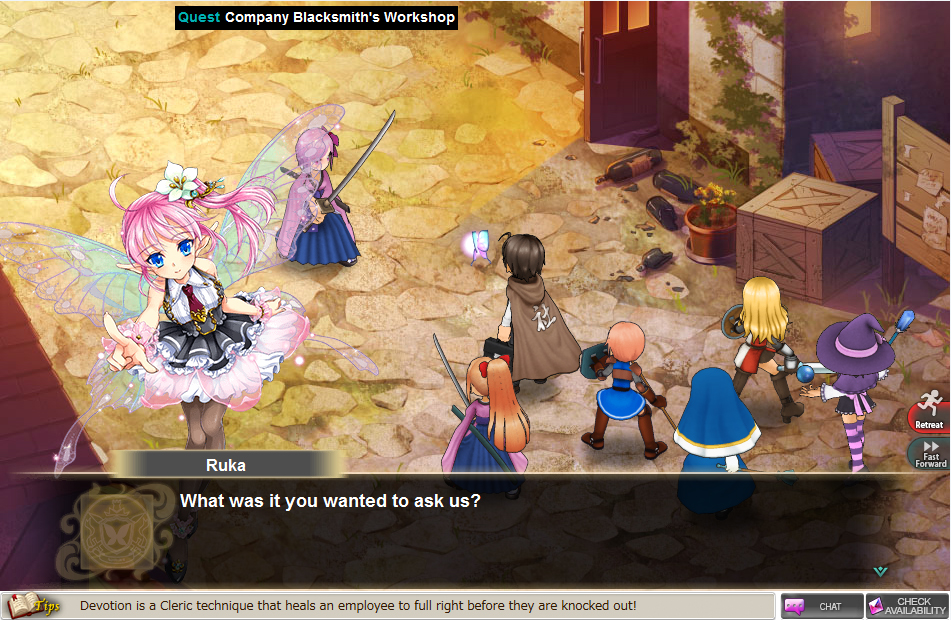 Initially you meet Ruka, who is the Kanpani Girls' guide. This beautiful fairy is quick to tell you that she is also "displaced", although clearly not from Earth as you are. Ruka explains the ins and outs of Kanpani Girls' gameplay, how to use your CEO skill, how to verify then hire the best candidates for the job, and assists you on figuring out quests. Whereas "guides" in many anime game tutorials often appear one dimensional and boring, Ruka's bubbly personality (and stunning looks) make her an original and welcomed addition to flash game tutorials.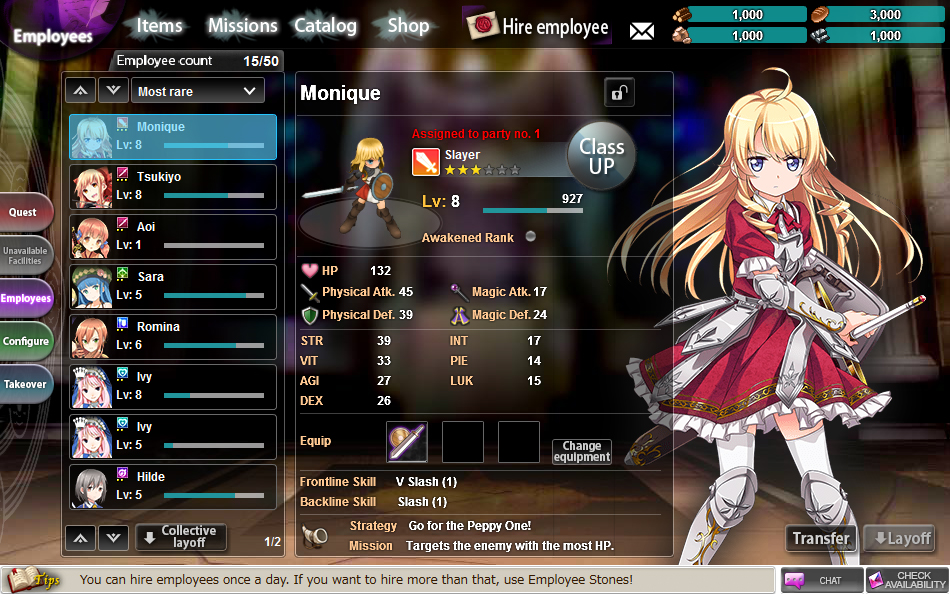 In addition to Ruka, you begin your Kanpani Girls adventure with the stern and deadly Monique Waroquier by your side. This stunning warrior woman fast becomes your go-to mercenary band leader as she spearheads your company into incredible adventure. Monique is the no-nonsense anime heroine who is the Yin to Ruka's Yang, opposites in almost every way, except their beauty.
Your "company" grows quickly during the extended tutorial and the events of chapter 1. Like all excellent anime games, Kanpani Girls offers up a slew of characters and character classes for you to choose from. Be it a deadly slayer like Monique, an adorable rogue like Lovissa or a brazen cleric like Phyllis, Kanpani Girls offers up 8 different character classes to choose from and level up – and they've never looked better.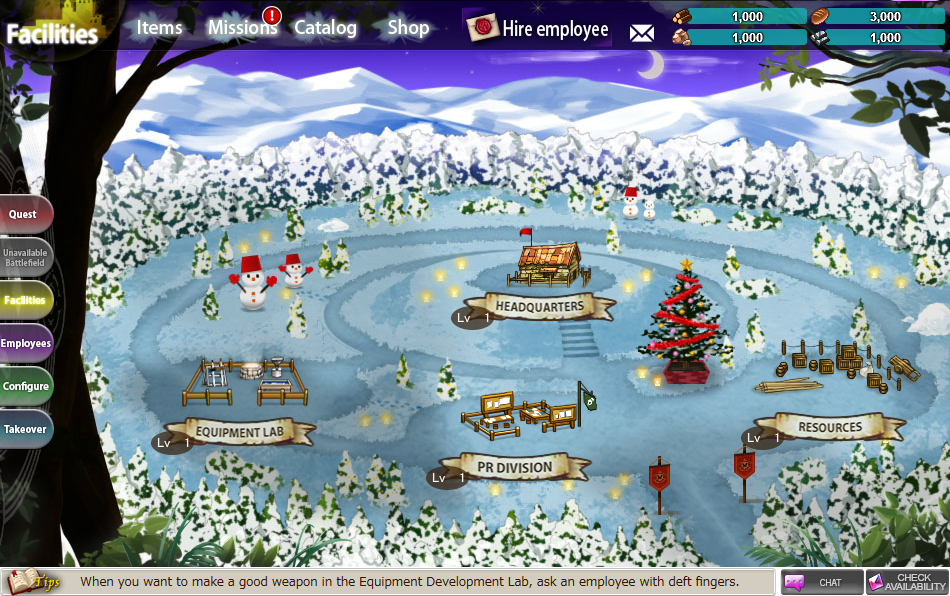 Once the initial 8 quests of the Chapter 1 tutorial are completed, this beautifully illustrated anime flash game really takes off. Chapter 2 introduces you to your facilities - headquarters, equipment lab, PR division and resources - all major tools to help with improving your army and finding a way home. Level-up your favorite squad, arm them with new weapons forged in the lab, set your formation and get ready for your next adventure!


Sponsored by