Self-restraint is for sissies. Who cares what your friends, family, and doctor say. I'm gonna spend my holidays re-watching: Bleach, Naruto, One Piece, Full Metal Alchemist Brotherhood, Rurouni Kenshin, every single Gundam series ever, Death Note, Monster, and some Himouto! Umaru-chan because I don't discriminate against the cute ones. Now, who's with me?

Umaru from Himouto! Umaru-chan getting everyone pumped up in our first GIF.
"Impossible! Why that would take months of non-stop binging!", said a concerned reader.
What, do I look like an amateur to you? Do you have any idea how much Redbull I have stocked up? Do you understand what little of a social life I have? We holiday bingers are dreamers and, above all, doers. I'm gonna watch Attack on Titan in my underwear again. I'm gonna kickback at my parents' house and enjoy some Mushishi as I ignore my family's pleas to attend dinner. After all, what could my Aunt Claudia possibly know about Psycho-Pass?

A typical conversation in Ore no Imōto ga Konna ni Kawaii Wake ga Nai in GIF form.
With new anime being released constantly, how am I suppose to keep up, without sacrificing a little bit of free time, all day and everyday? This is important stuff people.
"Anime is supposed to be enjoyable though...", said another concerned reader.
Wrong! What's the point of watching anime if you can't tell a kindergartner how Pokemon is such a Tier 1 show. We holiday bingers have our priorities straight. I suggest you do the same.

Soul Eater is always good for a creepy face moment.
A good anime GIF is a lot like fine wine: it is to be savored and indulged in to the point of passing out. We have a lot of GIFs today that are waiting for your attention. So, without further ado, prepare your eyes and stamina, because here come 50 GIFs.


GET HYPED! KILL LA KILL STYLE!


---
Who needs a liver?
---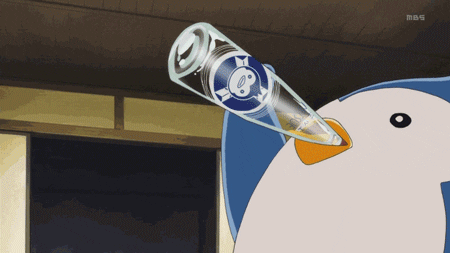 New drinking game: take a drink every time this article mentions plot in a GIF. Good luck!


---
Aoki has the greatest troll face you will ever see.
---

You're not drunk, it's just this anime GIF.
---
---

This show has a very well-developed plot. It's so good you'll want to stare at this GIF forever.


---
Kuromine has a very sudden reaction from seeing some plot.
---

Thanks to this GIF, Jitsu wa Watashi wa is now my new favorite show.


---
Men everywhere, avert your eyes.
---

Fun Fact: Ippo is actually punching an object the size of a python.


---
Takamura does a great impression of Ippo Makunouchi.
---

The resemblance is uncanny.


---
Furry fandom strikes again.
---

Something tells me that no setting can ever explain whatever's happening here.


---
This is what happens during Dragon Ball Z after hours.
---

Yajirobe - "Uh... I can't explain."


---
Somebody likes going to the fair.
Taken from K-On!.
---

Welcome to K-On!, where even girls eating corn look adorable.


---
My eyes!!!!
---

Blue Seed has a horrible plot.


---
RED ALERT: TROLL FACE INCOMING.
---

Yondemasu yo, Azazel-san is a helluva drug.


---
What just happened?
---

The teddy bear demon thing with horns... has an amazing hairdo.


---
A normal reaction to witnessing the finale of Cowboy Bebop.
---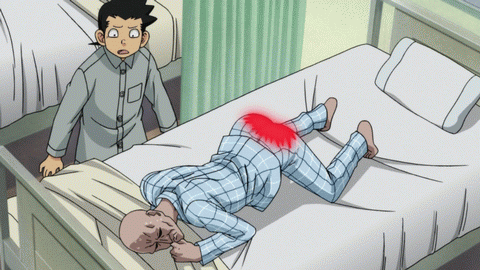 It must really stink to be a janitor in a hospital of the Yondemasu yo, Azazel-san universe.


---
When a man loves a wom... OH MY GOD!!!!
---

I don't know how to feel about this GIF.


---
Sexual Curiosity - the ultimate superhero!
---

He's the hero we don't need, and also the one we don't deserve. He's... naked.


---
What you think your fight looks like.
---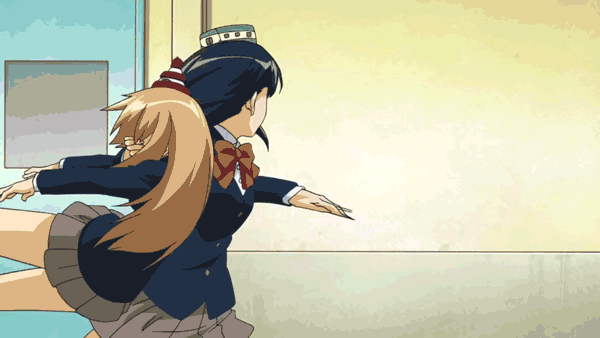 ---
What it actually looks like.
---
---
Chuck Norris is on the prowl.
---

Somebody call an ambulance! And also Goodwill!


---
Taking out the trash.
---
---
Rorschach test! Tell me what you see.
---

The correct answer: A woman eating and advancing the plot.

---
When you desperately want to leave a party.
---

There is only so much electro music one human being can take!


---
Don't do it Potato! You have so much to live for!
---

All this potato suicide is making me hungry. Anime food GIFs are the best kinds of Anime GIFs.


---
The little engine that failed.
---

The second hurdle doesn't count kiddo.
I only know one kind of love and that's "tough love".


---
Sometimes you never learn from your mistakes.
Taken from Free!
---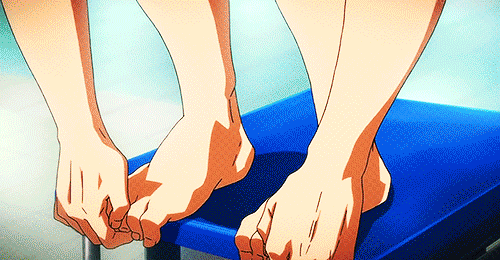 Why do we fall?
So we can land straight on our face, like in this Free GIF.


---
My pants do this when watching Highschool DxD.
---
---
What you think you look like when you're singing.
---
---
What you actually look like.
---
---
Slender man is real!
---
---
The Lord suddenly said, "Let there be plot!" and this is what happened.
---

It was good. It was real good. Thank god for GIFs with plot.


---
The new Karate Kid movie has a weird new headband.
---

The headband was pretty damp with plot when he put it on in this GIF.


---
Wait, this happens in Nichijou?
---
---
Shut up and take my money!
---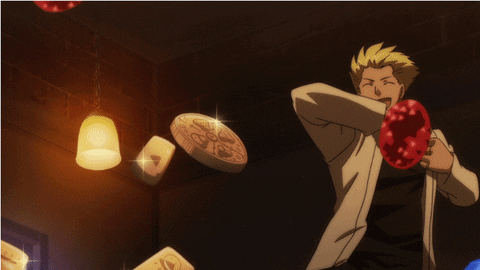 ---
Uh... guys... please put your shirts back on... Why... why do you have a water bottle?!
---

Nothing personal guys, but could you back up a little? What... what do you mean pick up the soap?


---
Is it normal that their arms are the size of my thighs?
---

I bet those guys get a lot of plot.

---
A girls gotta eat.
---

If I were to guess, I would say that she is on the "I don't give a crap anymore" diet.


---
Naruto is obviously on the same diet.
---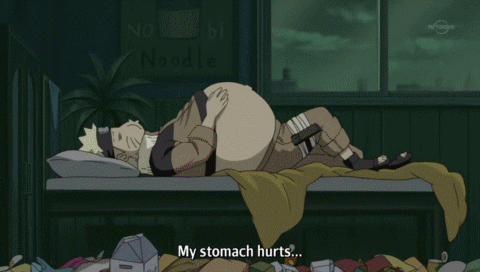 He really let himself go.


---
Bugs Bunny is really enjoying retirement.
---
---
This is a very well-done scene from Guilty Crown. It really advances the story and tells us so much about the characters. In a few seconds we really learn about the themes of this story.
---

Such a nice pair of ti... plot... I mean plot, of course.


---
Heard enough about the amazing plot of these shows yet?
---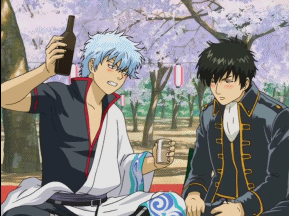 Well you can't spell "Gintama" without "gin".


---
Thank goodness they didn't play dodgeball with wrenches.
---
---
---
---
WARNING DOUCHE CHILLS ALERT! WARNING DOUCHE CHILLS ALERT!
---

The hairs on my arms are standing up after that GIF.


---
Come to the dark side.
---
---
I don't think that's how the magic trick works.
---

Courtesy of Danshi Koukousei no Nichijou, Sen to Chihiro no Kamikakushi, Uchouten Kazoku, and Yondemasu yo, Azazel-san.


---
For those who haven't left yet and are still sober, enjoy the New Year and keep up the support of anime.