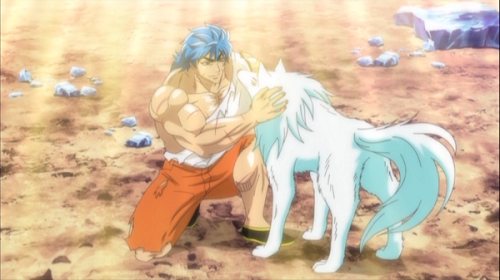 What do you get when you together completely macho looking dude, a wimpy sidekick, and a hunger for...well, food? You get Toriko. What started out as a manga has sprawled into a huge collection of games, anime, OVA and various other media. The story has everything from giant, mythical creatures, sensationally buff guys with funky hairstyles and highly sensitive palates, to every main character's favourite thing: food.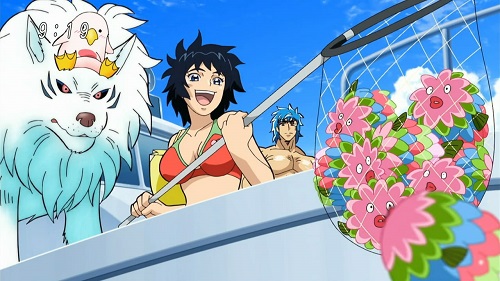 Toriko, a gourmet hunter, travels through the Gourmet realm in search of the best kind of ingredients to prepare the ultimate full course meal. And from what we can see, these ingredients don't come cheap or easy. Accompanied by a scrawny chef, Komatsu, who gets inspired by Toriko's ideals and even slogs to improve his own culinary skills, he sets out to brave the world and all its dangers, meeting many more people along the way who share his views about food. Our fearless warriors battle against all odds, breaking through the strict and unfair laws of the Gourmet Corps, who seek to hold sole control over the world's food supply.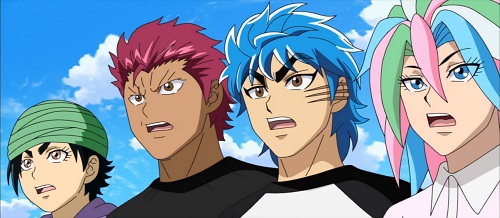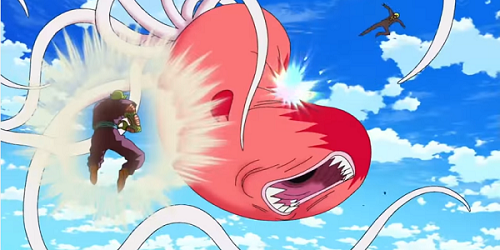 ---
First Opening
---
The first opening theme for this anime booms to life to the tune of an electric guitar, the vocals completely synchronized with the head-bopping, heart-thumping tune of the song titled "Guts guts" sung by Akira Kushida. The music is completely kickass right from the very beginning, not dropping a single beat till the final chord. The inspirational tune induces the watcher to jump out of his seat to go grocery shopping and find the best items to make that perfect bowl of ramen. (Just kidding, but you get the idea) . The lyrics literally translates to urge the main protagonist of our show to eat the mountains and the ocean (Woah! Slow down there), which when translated into layman terms, encourages one to follow their goals and stick to trying to achieving their ultimate goals. A little far-fetched and slightly cheesy, but that's how things work in Toriko's world.
Toriko first opening Guts guts!
---
Second Opening
---
The anime also includes a second opening theme, performed by the same artist, entitled "Goushoku My Way". It's title is a pun on the English "go shock" and "goushoku" which translates to "great feast". It is definitely far less aggressive than the first opening but certainly not less impressive. The flashy tunes of this edgy song portray the same ideology of following one's dreams and to never give up, even when faced against all odds on the way. In this case, it's simply to satisfy one's basic need with the most illustrious and scrumptious ingredients that can be found in the Gourmet world.
Toriko second opening Shock my way!
With having to fight power hungry, international groups who try to stop our friends' progress from collecting all their needful items, roaming through ancient lands in search of the legendary GOD item, this anime is sure to be provide fun, laughter, adventure and satisfy those hunger pans for you folks out there.