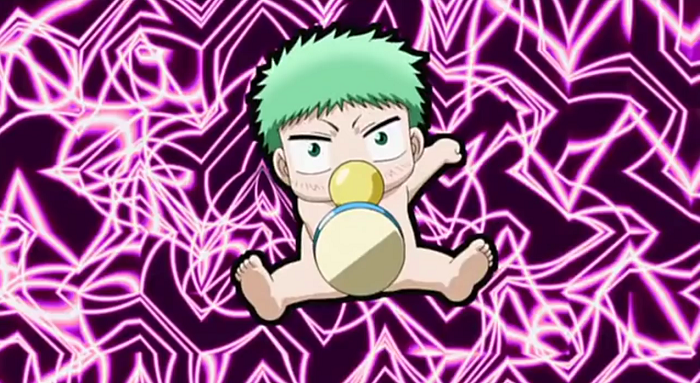 In order of appearance, here are the opening themes of Beelzebub:
---
Da Da Da!
---
Beelzebub, Da Da Da!, first opening
Used by the first 10 episodes, this song probably started Baby Beel's fanclubs. Who would have thought that he is a demon prince? He's so adorable, wearing capes and all! The song tells us about a naughty child doing whatever he wants, even sucking his papa's breasts whenever his mother ignores him. The upbeat tempo makes it enjoyable to listen, and it also highlights baby Beel's character as a bubbly boy. Also, this was used as an ending song in the last episode.
The video was later modified because of the the 2011 Tohoku calamity. They removed all things related to earthquakes, floods and corpses.
---
Hajimaru no wa, Sayonara (The Beginning is, Goodbye)
---
Beelzebub, Hajimaru no wa, Sayonara, second opening, The Beginning is, Goodbye
This song was the opening theme from episode 11 to 23. It introduced the second part of the Tohoshinki arc where Baby Beel and Oga's relationship was growing stronger. The adjustment with the adoption was over and Oga was already in the process of raising Beel. The character of Beel was established in the first opening. This song, on the other hand, focuses on his newly created bond with his foster father.
---
Hey!!!
---
Beelzebub, Hey!!!, third opening
Performed by FLOW, this song was probably the best of Beelzebub's five openings. It was used in episodes 24-35, and covered the whole Saint Ishiyama arc. The duo transferred to Saint Ishiyama Academy and met new friends and enemies. With their connection reinforced, Oga and baby Beel move forward for more adventure. This song pumps viewers up by showing fast-paced scenes from the current arc. It gives this feeling of angst, like there would be an impending big battle.
---
Baby U!
---
Beelzebub, Baby U!, fourth opening
Baby U! was the opening song of Beelzebub from episode 36 to 48. It covers the Prince En arc where Beel's brother En appeared with lots of trouble on hand. There were a lot of English words in this song. The lyrics played with the meaning of baby, which can be pointing to Beel or to a loved one, whatever the listener interprets it to be.
---
Only you, Kimi to no Kizuna (Only you, Bonds With You)
---
Beelzebub, Only you, Kimi to no Kizuna, Only you, Bonds With You, fifth opening
You really feel the show's about to end when the verse starts and you hear the word arigatou (thank you). This opening theme covered the last arc of Beelzebub, Akumano Academy. It's when the Ishiyama students and Behemoth's 34 Pillar Division were at war because of a conflict between En and Furuichi.
An excerpt from the song:
Even if you just disappear from here and now
Even if everything is fated to end.. still
Neither the scenes we saw together, nor this feeling will ever change
I was able to feel the strength of mutual support with Only You
The video practically showed everyone fighting the last dilemma. It was more of a farewell piece.