Notable Moments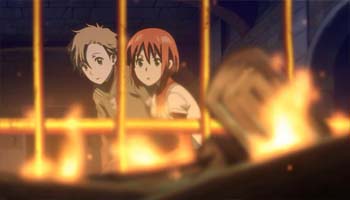 In episode five of Akagami no Shirayukihime, Zen inspects one of the forts in his jurisdiction. The trip turns serious when he discovers that all the soldiers in the area are sick, and immediately calls for Shirayuki to cure them. It's another episode where Shirayuki's sense of duty compels to do her best to help others. This is displayed further when she discovers the source of the illness plaguing the fort; the firewood keeping the soldiers warm, which she grabs from the fireplace without hesitation. This is why Shirayuki is such a great lead. Her sense of responsibility is one of her strongest traits, which works well with Zen's caring nature, making the dynamic between them adorable to watch. It's one way to bring out the romance. In episode five, Shirayuki works herself to exhaustion trying to nurse the soldiers. She does her best not be a burden to Zen but he feels guilty when he discovers she is pushing herself too hard. Zen is relieved to see her smiling though, and decides to kiss her…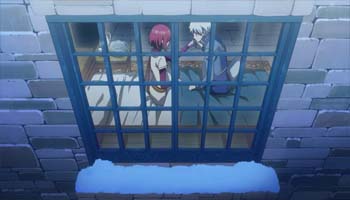 …on the hand. It was disappointing but their romance is moving at a steady pace, so there's nothing wrong with waiting a bit longer for it to develop. It's far from a mutual understanding, since they are openly confessing their feelings for each other. A notable moment in episode six involves the two of them flirting. Zen is hinting that he'll miss her since he'll be gone for a while, but she brushes off his playful advance. This might be the only sweet moment in the episode because the show finally introduces a person with a higher social status than Zen, and he is ready to separate him from Shirayuki.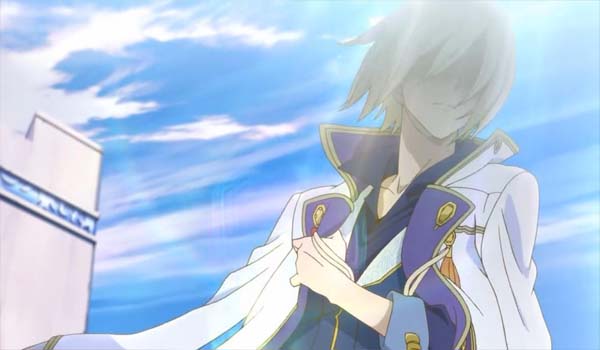 The first prince of Clarines, Izana Wistalia, is the focus of the episode. He is such an intimidating character that his first meeting with Zen is tense. He went the extra mile and called for Shirayuki as well, just to spite Zen. The issue of Shirayuki being a commoner is brought back up again, and Izana wants her gone. He is really giving it his all because he audaciously invited Prince Raj of Tanbarun hoping Raj would take Shirayuki back. Raj is the prince that wanted Shirayuki as a concubine in the first episode. Izana persuaded a reluctant Raj to return to Clarines, despite what happened the last time Raj and Zen met. He complicated matters for Zen by accidentally declaring that Zen wants Shirayuki as his wife. This is resolved quickly but it does put Zen on the spot. He must now decide what Shirayuki is to him, because it seems Izana will not stop until she goes away.
Notable Characters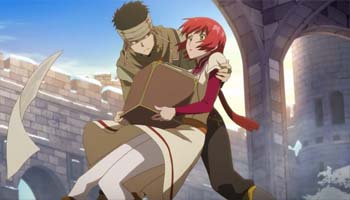 It seems Zen has decided to employ Obi's services, who stands out as a new member of the crew because of his ninja skills. There seems to be more to him than being hired muscle though, because he seems to have taken a liking to Shirayuki as well. He is loyal to Zen though and that keeps him at bay. Still, there is something cute between our strong heroine and the cool ninja as he seems to appear in moments when Shirayuki is at her most vulnerable. She is such a strong person even Zen doesn't see this side of her that often. The intrusive ninja is a different matter and it does set up something cool for later on.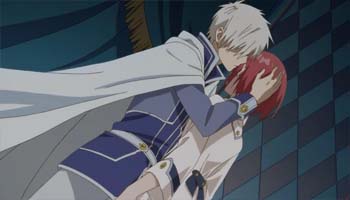 Izana is a wonderful character as well. We got a glimpse of how underhanded nobles act when Lord Haruka tried to force Shirayuki out of the castle. Prince Izana takes it a step further by wanting her out of the country. He's a really mean-spirited man, that uses his bureaucratic powers to torment his brother Zen, who can't do a thing about it since Izana has more authority. All his prodding is effective on Zen as well, since he uses his relationship with Shirayuki to get him riled up.
Predictions for the coming episodes
Zen and Izana both have different hair color, which could mean that they have different mothers. It's a minor thing but Izana might look down on Zen for a different reason, and it might explain why Zen can only clench his fist while Izana is picking on him.
Izana will continue to be a wedge in Zen and Shirayuki's relationship. He might start picking on Shirayuki next. If he does, then it'll work for sure considering our heroine is insecure about her current status in Clarines.