"I'm sorry. I forgot to mention one of the reasons I hunt your kind. You're much too ugly not to be taken out of your misery."
In 2009 a certain leather clad witch awoke from her 500 year sleep. When she awoke she took the world by storm. The witch I am talking about is none other than Bayonetta, the main star of one of the best new action series that would go and spawn a sequel and an anime movie adaptation called Bayonetta: Bloody Fate which was animated by studio Gonzo.
The story follows our amnesiac titular character on her quest to reclaim her lost memories and find a mystical artifact known as the "Eyes of the World". Between Bayonetta and her goal stands an army of angels ready to slay one of the last Umbra witches and take her half of the "Eyes of the World". The battles between the Angels and Bayonetta are nothing short of spectacular, be it in the game or in the anime adaptation (though the animation does appear stiff at times). If you manage to avert your gaze from the beautifully choreographed action and a gorgeous protagonist, you will notice that they are set against the backdrop of some glorious renderings of European architecture. With deep and satisfying combat and stylish design it is no wonder that Bayonetta become so popular and produced some amazing merchandise. While you are waiting for the next installment in the series and want some more Bayonetta in your life, there are some amazing figures out there that can scratch that Bayonetta itch.
---
3. Play Arts Kai Bayonetta
---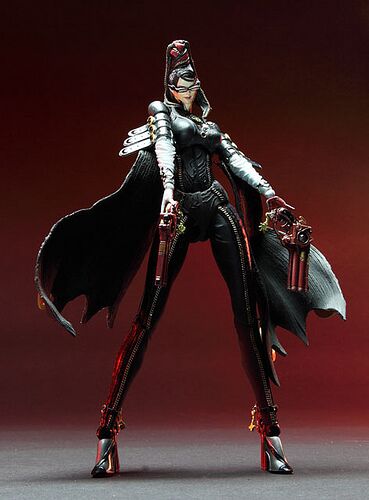 The first figure that you might consider buying is Play Arts Kai Bayonetta which was released by Square Enix. This figure was released in mid-June 2010 and it is a pre-painted complete PVC figure. It is approximately 23 cm (approx. 9 inches) tall. With this figure you even get her 4 signature knight guns so you can recreate you favorite moves in real life. This figure is a part of Square Enix's Play Arts Kai line to which even a Final Fantasy designer Tetsuya Nomura contributed some designs. The price for this figure varies and it can go up 29,500 yen (around 240 US dollars).
---
2. Bayonetta Complete Figure
---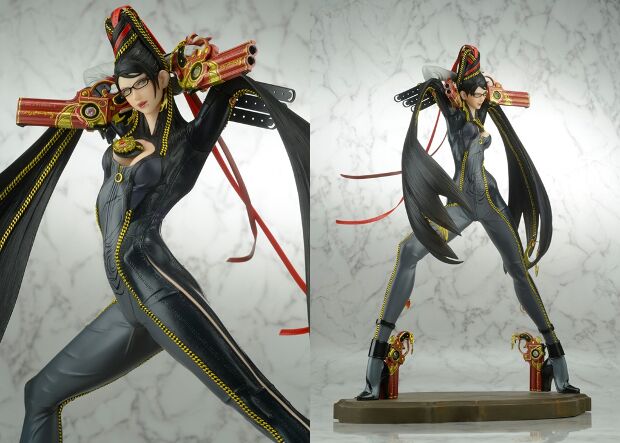 The next figure, Bayonetta Complete Figure, was released in November 2015, and it is the most provocative figure on our list. It was manufactured by Flare and sculpted by Mitsumasa Yoshizawa. The figure itself is approximately 34 cm (13.3 inches) tall and this figure of Bayonetta in a super-model pose is completely pre-painted PVC. The attention to detail on this figure is quite obvious, from her attire to her face, which shows Bayonetta licking her lips. The price of this figure ranges from 30,000 yen (around 244 US dollars) to around 57,700 yen (approx. 470 US dollars).
---
1. Bayonetta Complete Statue
---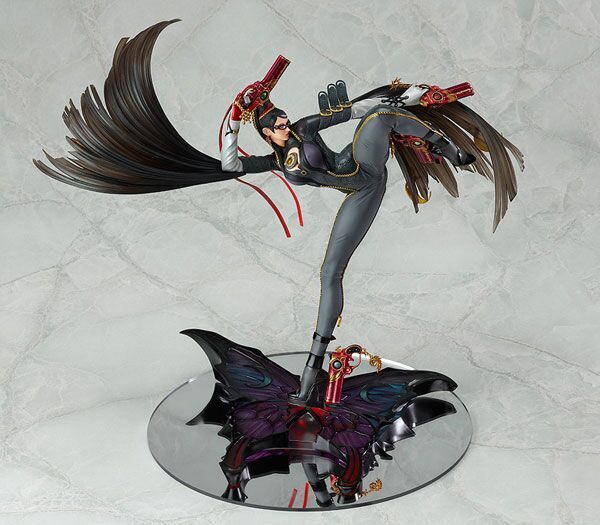 This final figure is the skillfully detailed Bayonetta Complete Statue. This item comes to us from the publisher Phat Company and it was released in December 2013. This completely pre-painted PVC figure is 27 cm (10.6 inches) tall and ready to adorn your table, case, or wherever you decide to put it on. This faithful rendering of the Bayonetta CGI model shows her ready for battle against her angelic foes and, was sculpted by MELTING NEURON. When talking about this figure we must not forget to mention the base which was modeled on the butterfly effect jumping animation from the game. There is only one problem here, and that is that this figure is only available in Japan. It costs around 14,000 yen (around 114 US dollars). Secondary markets that sell directly from Japan are your best hope, because in US markets these figures can go up 94,000 yen (around 766 US dollars).
---
Whether you are planning on playing the games, watching her animated adventure, or completing your collection with her figures, you will agree with us that our halos and hearts belong to this gorgeous witch.
Brought to you by