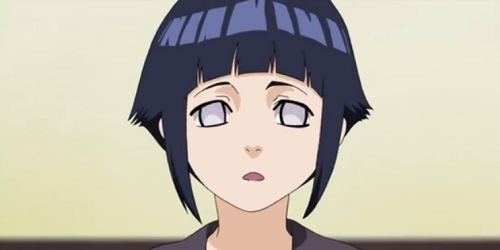 Hinata in the Naruto and Naruto Shippuden series is a vital character to the story regarding the development of multiple characters and the development of the entire Hyuuga clan. She began as a timid character with an unrequited love toward our main protagonist, Naruto. She became a fan favorite through her determination to get noticed by Naruto, along with her character progression from a weak, timid character to one of the strongest female characters of the series. Let's take a look at some of the more important moments in the series between Hinata and Naruto that led to her character development. Warning, there will be spoilers ahead!


---
The first encounter
---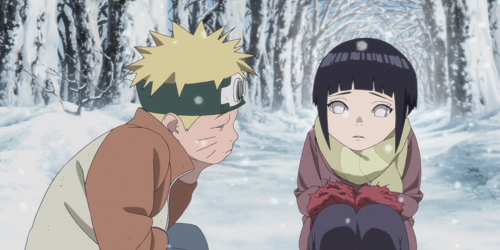 During Naruto and Hinata's first encounter prior to their enrollment at the academy, Naruto defended Hinata from three bullies. Although Naruto was outnumbered and didn't know her at the time, he still rushed in without thinking to defend her. Hinata was surprised by his courage and determination to stand up for someone that he didn't even know. This was the beginning of Hinata's adoration and feelings for Naruto, and the creation of a legion of NaruHina shippers.


---
Chūnin Exams: Hinata vs. Neji
---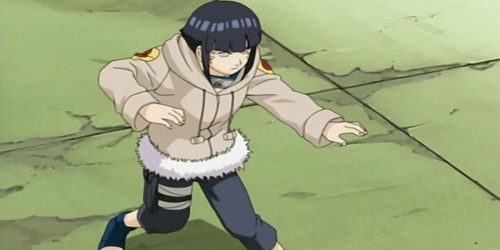 During the chuunin exams, Hinata was not confident going into her match against her cousin, Neji. However, When Neji was intimidating her and telling her she should forfeit because she had no chance of victory, Naruto cheered Hinata on, giving her the confidence to fight against Neji; her Hyuuga clan kin and rival, regardless of the outcome. Because of her soft-spoken, gentle personality, Hinata was viewed as the weaker ninja when compared to cool-headed ace student Neji, so the odds were against her. Only Naruto was able to give Hinata the will to fight on.


---
"The Rare Bikouchuu Beetle" Arc
---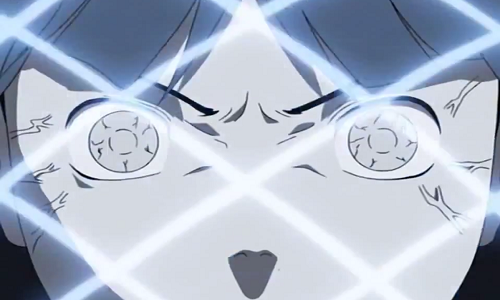 During this short spinoff arc from the original Naruto series, Naruto accompanies Team 8, Hinata, Kiba, and Shino on a mission to find the rare bikouchuu beetle. Near the end of this arc the group is attacked, and the only one left to protect everyone is Hinata. She exhibits mastery of a new defensive technique passed down the Hyuuga family line, the eight trigrams sixty-four palms technique. She has a strong desire to master this technique because she wished to grow stronger along with Naruto, because he was always showing the determination to also grow stronger. Through this technique, Hinata finds a way to set her apart from Neji, who was allegedly more adept at the clan's special skill the Byakugan.


---
The Confession
---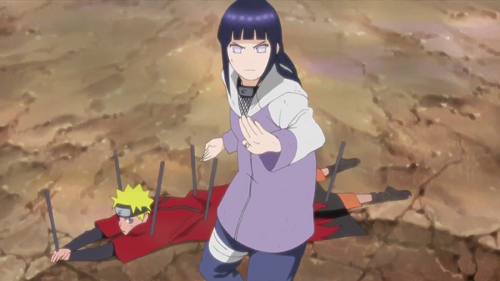 During the fight with Pain, Hinata comes to Naruto's rescue as Naruto was beamed to the ground by Pain's rods. Naruto commands her to leave but she refuses and decides to tell Naruto all that he means to her, including that she loves him and always will. In this scenario, Hinata gathered the courage to sacrifice her life for the very person that taught her how to be courageous in the first place. Even non-NaruHina shippers can appreciate the beauty of this moment, and Hinata's courage.


---
Naruto vs Obito
---
Hinata again comes to Naruto's rescue when the Konoha ninjas face Obito Uchiha. Despite having just witnessed the death of her beloved cousin, Hinata pulled herself together to rally with Naruto and retrieve the Ten-tails from Obito and Madara. Hinata is always portrayed as emotionally weak, shy, and easily distressed, but in this moment, she really defies expectations.
---
Love Rivals
---
Hinata is shown capable of doing extreme things for love. In Naruto: The Last movie, Hinata accepts a marriage proposal from the antagonist, Toneri. Why? Not because her feelings for Naruto have wavered, but to save her younger sister and stop Toneri. That she was willing to hide her feelings for Naruto and sacrifice herself in order to save her family and friends shows remarkable character.
Her physical abilities are also strengthened in this movie: she is discovered to have Hamura chakra, and is told she was the only one who could stop Toneri by destroying his Tenseigan.
Also significant in this movie is that it is the moment when Naruto finally realizes how Hinata had always been there for him, quietly loving him. He also starts to reciprocate her feelings, and they share a kiss upon Toneri's defeat.
---
There you have it, some of the best moments between Hinata and Naruto from both the Naruto and Naruto Shippuden series that show Hinata's progression as a character. She's an inspiration to wallflowers everywhere.