Katsuro Onoue
Born: 1960 in Kagoshima Prefecture
Did Special Effects work for various movies, commercials, TV shows, and theater.
Joined a Special Effects Institute in '85
Debuted as Tokusatsu Director in '93
Digital Effects Director '96
Famous for "Onmyouji II" ('03), "Lorelei" ('05), "Japan Sinks" ('06), "Journey to the West" ('07), and "Watashi ha Kai ni Naritai" ('08), etc.
---
Onoue: "I think the first time I officially spoke to Director Higuchi was sometime in the spring of 2013. The screenplay wasn't even done yet. I had just started to read the original work, and thought it was interesting. I was pulled in as I read. I don't actually usually read the original works, but for this film it was important to get a feel for the world it was set in. At first, it seemed ridiculous to try and pull off such big special effects scenes, but techniques have made steady progress. Because of our long preparation, what seemed insurmountable was now within the realms of possibility. We brought our plans into reality in this film."
In the world of Japanese Tokusatsu film, promotions from special effects technicians to directors are rare. From the very beginning, Onoue set his sights on Digital SFX. "I had gained an interested in digital effects some 7-8 years before they came to be used in Japanese cinema, and had self-studied about CG."
Onoue goes on to say, "Gamera 3: Revenge of Iris" marks a turning point in Japanese Cinema, having used a hybrid combination of analogue and digital special effects. It revolutionized the special effects industry of Japan. After "Gamera 3", the shift to digital effects began, leaving behind an obvious divide with era obsessed with the old techniques."
That being said, "Attack on Titan" does not rely 100% on digital effects. The smaller titans are played by human actors using makeup and body paint, scenes with titan-Eren and others are filmed using "suitmation", and the colossal giant was portrayed by moving scaled models. Of course, the analogue effects were all enhanced digitally during post-processing, but it cannot be denied that Onoue made heavy use of traditional techniques.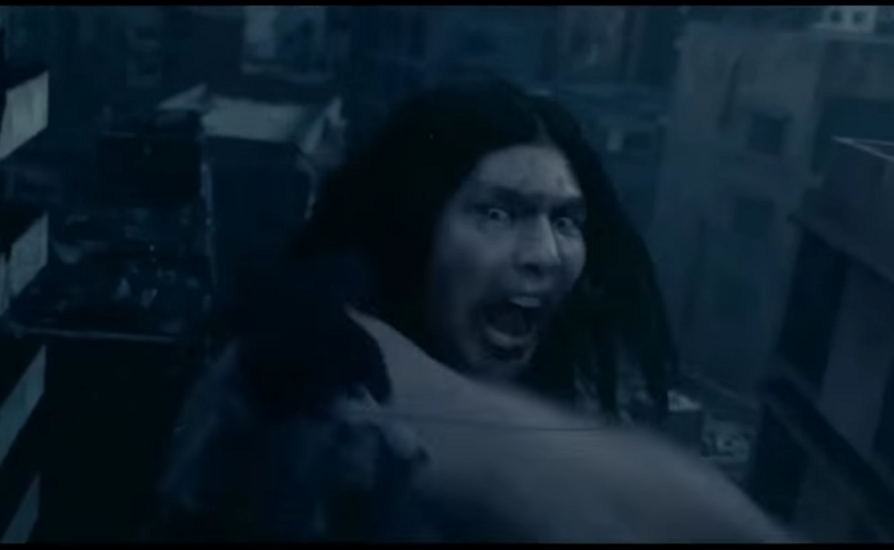 Onoue says of the titans, "For the most part, if a single titan was shown, it was probably CG. But we used motion capture technology to animate them, recording the natural movement patterns of multiple people, then averaging out their motions to get rid of any quirks or natural little movements. The result was an uncomfortably smooth, uncanny gait. I thought it turned out really well, and admired our work, but I couldn't get too attached. Firstly, there's way too many titans. In order to animate so many, no matter how many excellent animators you gathered, it'd still be difficult. That's why we decided to go with human actors for the lesser titans. The VFX supervisor, Yoshinori Sato played a key role in image processing, enlarging their heads and lengthening their arms. I think it definitely went well. But at first, we had some difficulties. during filming, we first asked the actors act scary. But on the contrary, it didn't turn out scary at all. So then, after a lot of worrying, we gave them some situations to pretend they were in, such as "the sushi you like to eat is walking around over there,* or "the feeling you get when you find your favorite fish cake in the cupboard." It was really scary to imagine them happily chase after and eat humans, their favorite food."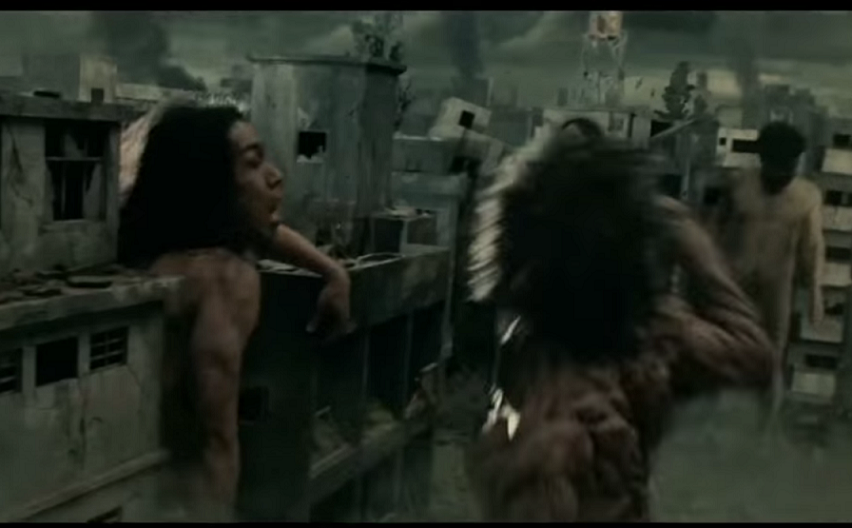 In the story, the first titan to appear is the 120 meter tall colossal titan. A model of only the top half of the titan was made, and was controlled by piano wires connected to a bar. The steam that rises off the titan's body was added in with CG, but the audience may think that it's entirely CG.
"There's also times where we CGed things like hands. We made a physical model as a reference, then from there used CG in the film. Especially for close-ups, it was difficult to use analogue effectively."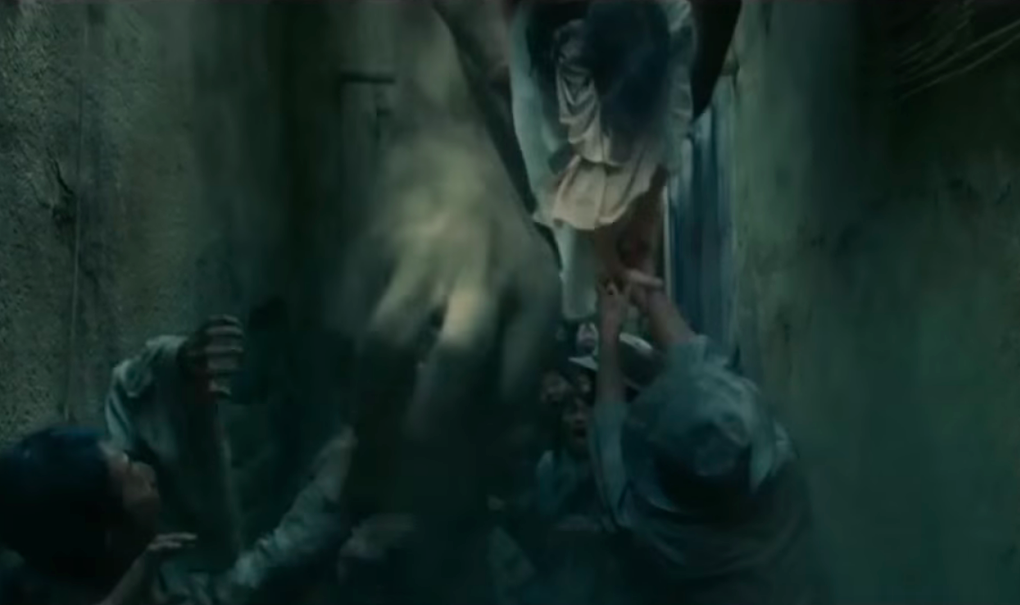 "If you don't know about both digital and analogue, you won't know the full range of techniques you can use. Nowadays, people unthinkingly jump instantly to using CG. The reverse is also true. If you choose your method wrongly, the whole film can take a ridiculous direction. Then there's also the producer's philosophies and vision to consider. But in this case, Director Higuchi's team left the SFX direction up to us."