In this episode of Prison School, Kiyoshi and Gakuto are slowly finalizing their plan to break out of prison. With Hana decommissioned and Meiko (the vice president) left to watch the boys, the plan of expanding the hole in the wall is going smoothly. Gakuto then decides to do a test run with their plan. With the hole big enough, Kiyoshi must leave prison for an hour and scout the outside area for his date with Chiyo. In the actual plan, Kiyoshi will be gone for three hours so it's imperative that he can last one hour without being noticed as absent in the prison. Kiyoshi gets out of the hole and has a nice view of town giving him a chance to plan out his next moves. He will board the train immediately after escaping then go directly to the sumo match where Chiyo is waiting. His one hour is almost up, and Kiyoshi frantically tries to go back, but he notices the chairman in the area. Kiyoshi has to hide until the chairman leaves but this is taking a long time. Gakuto is left stalling Meiko, but she keeps on insisting to find out where Kiyoshi is. Gakuto says that he is behind the incinerator but Meiko becomes suspicious. After the chairman leaves the place, Kiyoshi tries to crawl back into the hole. He becomes stuck a mere moment before Meiko is close to discovering the hole. A quick thinking Gakuto has setup a trap though for Meiko to fall in, so Kiyoshi can squeeze out of the hole just in time. They avoided severe punishment and it looks like their plan is just about ready to commence.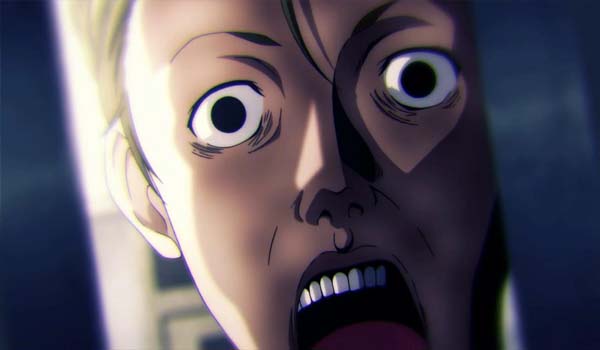 Plans in this anime go sour easily though, and this happens when Shingo, one of the prison inmates, notice that Gakuto and Kiyoshi is acting rather weird. The plan faces another hurdle when Meiko announces that they won't be in the usual area in Saturday, and instead they'll be across the school helping with the track club event. Gakuto and Kiyoshi are far away from the hole and they need to come up with a plan to go there without being noticed. In their deep thinking, they don't notice that Shingo is soon to discover their plan. Kiyoshi advises Gakuto that Shingo should just be included in the plan, but Gakuto is hesitant. Shingo accidentally overhears them talking and the two's conversation of Shingo and his hair gel turns into the blonde idiot misunderstanding what the gel is. Shingo then suspects that Kiyoshi and Gakuto are close because they have a type of relationship that the other three inmates would not approve of (take a guess).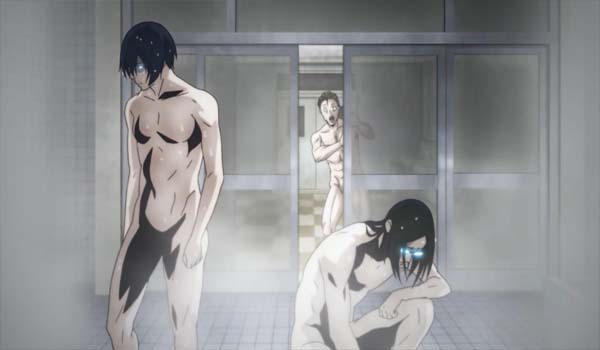 Shingo eventually confirms his suspicions with another misunderstanding, when he accidentally sees Kiyoshi and Gakuto in the shower together. From his point of view, Gakuto picking up soap from the floor in front of Kiyoshi looks different, and Kiyoshi assisting Gakuto after slipping looks entirely alarming to him. He decides to back off upon learning that the two inmates are uncomfortably close. Any risks Shingo discovering their plan are avoided after they freak the poor guy out. However, they have another problem at hand due to being away from the hole. Luckily Kiyoshi discovers a way to move without being noticed. In the bathroom where they'll be working, there is a passage way that connects the entire school. It's big enough for Kiyoshi to crawl under and get close to the hole unseen. Gakuto must then find a way to allow Kiyoshi to stay in the bathroom without raising suspicions. He thinks up a plan where he'll use his newly acquired music player to play toilet sounds that'll keep Meiko away from the bathroom.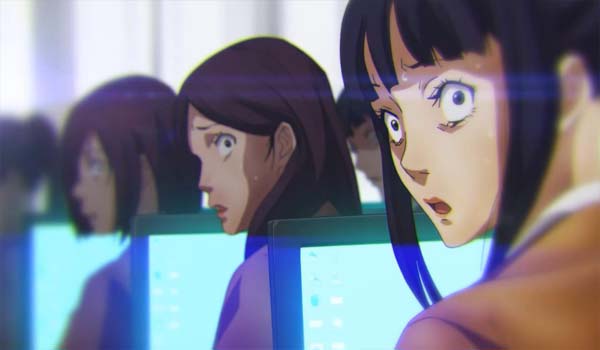 Gakuto takes advantage of every opportunity. He uses computer class, with the girls, to download some toilet sounds. Unfortunately, there are none to download from the internet. They only have one choice left and that's to record the sound themselves. The only time Gakuto can record would be in this computer class with access to a recording machine. His music player doubles as one so he just need to plug it in the computer. Unfortunately, one of them has to make the toilet sounds... Gakuto decides to do the deed as he didn't want Kiyoshi to do it where Chiyo can see him; Gakuto sacrifices himself. The horrid faces of the people inside the room are enough to understand just how shocking the moment is. Gakuto and Kiyoshi's plan is all set and ready to go.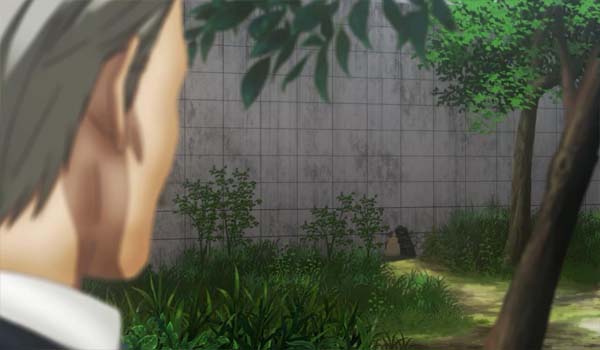 Of course, there is an additional holdup to their plan. The chairman has once again visited the forest behind the school and discovered the hole. With cement at hand, he covered the hole and a devastated Kiyoshi can just look at all their work being flushed down the toilet. It's all over and the next scene is just Kiyoshi in bed with Gakuto crying over his lost high school life. After his unspeakable act, Gakuto knows his life is now over. With Gakuto's cries, Kiyoshi decided to give it his all with one final plan. Kiyoshi will walk out of school in the front gates dressed as a girl. Gakuto points out the impossibility of his plan, but Kiyoshi decides to not let his friend's sacrifice go to waste. He will do his best to break out by acquiring a uniform. This plan is crucial for all their sacrifices to not go to waste. With only three days left till the date, Kiyoshi is betting his all with this final desperate plan.
Notable Character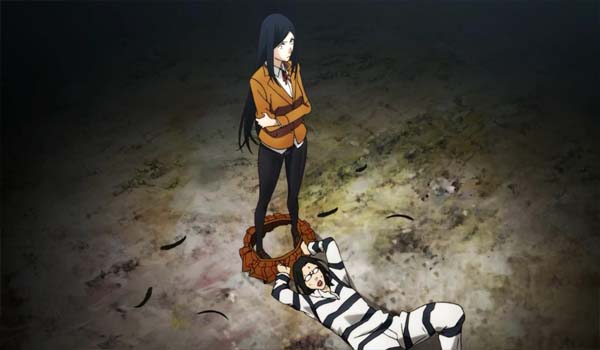 Gakuto is still an amazing character. He is always a step ahead in terms of acting out his plans. Acquiring a music player to coincide with their computer class just for their plan is brilliant. He is even smart enough to place a trap during their test run to make sure Kiyoshi isn't caught. Given enough time and experience, it's easy to tell he can come up with a plan that can actually get all five of them out of prison. His best moment would be his final act though when he aggravated the student council president by pulling down her skirt. It's an unforgivable offense but he did it on purpose. The reason will be revealed in the next episode but it seems Gakuto has already found a way to make Kiyoshi's stupid "dress as a girl' plan go as smoothly as possible.
Shingo spreading the word that Gakuto and Kiyoshi are playing catch with each other is absolutely insane. The rest of the inmates are now weirded out by the two. Kiyoshi and Gakuto don't care since it's all for their sacred plan. Still, Shingo is ousting the two for mistakenly thinking they're dropping soap in prison. It'll be interesting to see what role he will play in coming episodes.
Notable Moments
With the show using randomness and punishment shock scenes to create strong moments, Meiko's Hindu squats stand out in the most insane manner. The moment goes a notch deeper when Kiyoshi is almost caught while Meiko is doing her exercise. Her sharp heels injuring Kiyoshi during her exercise is a standout moment indeed.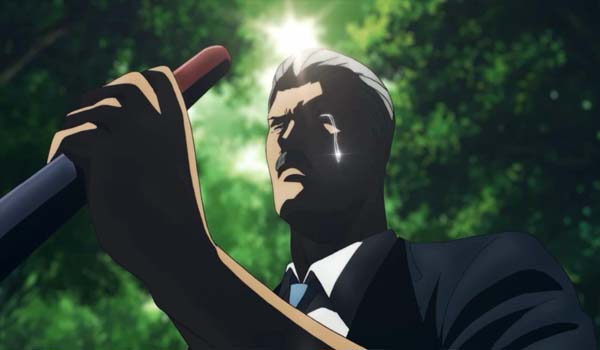 The chairman burying his collection of pictures is also a nice moment. In the second part of the anime, he dug them out to say goodbye forever, and buried them again in cement. Unfortunately, this is also the same cement used to cover Kiyoshi's hole he's supposed to break out of. The chairman accidentally hindered Kiyoshi and Gakuto's almost perfect escape plan.
Prediction for the coming episodes
It's heartbreaking knowing Gakuto and Kiyoshi are giving their all. According to cliché, their first attempt is destined to fail. This will get the other inmates to think of escaping as well when their sentence is lengthened.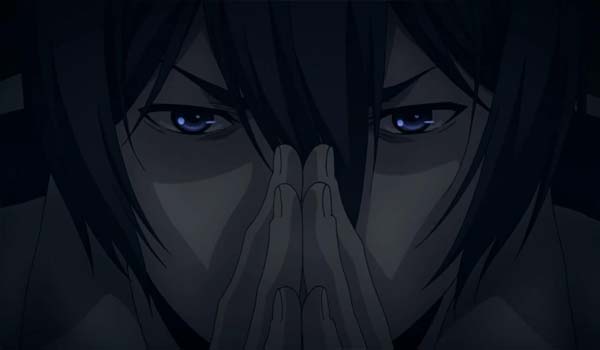 Still, the psychological chess game at work is absolutely wonderful. Gakuto and Kiyoshi are playing this precise mind game for now but it won't be long until the underground student council starts joining them. The escape plans will become more exciting when the underground student council starts countering every move the inmates make. It'll all start right after Kiyoshi is caught, so expect him to be caught in a grand manner.