Before becoming an animated series, Seitokai Yakuindomo started as a manga created by Tozen Ujiie. There are currently 12 Volumes. The manga began it's serialization during June of 2007 until July of 2008 in Kodansha's Magazine Special. After it's serialization stopped at that issue, it was then transferred over to Kodansha's Weekly Shounen Magazine where it has been published since. From July 4 until September 26 in 2010 is when the Seitokai Yakuindomo anime series was aired. It was directed by Hiromichi Kanazawa and produced by GoHands.
---
Plot Summary
---

Seitokai Yakuindomo takes place in Ousai Academy. It has a long history of being known as a girls only school, but it was decided to open their doors and let males enroll. During the first year within this anime, the Ousai Private Academy has its 50th anniversary. Like many schools, it has its own share of clubs for the students to enjoy such as the Chorus club, Judo club, Newspaper club, Robot research club, Art club, and other ones you'd normally find in a school.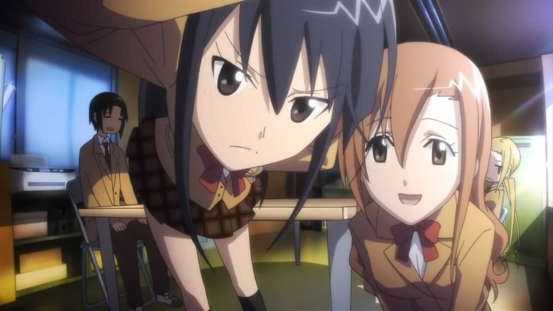 Takatoshi Tsuda, the main character of this story, enrolls during the first year of Ousai Private Academy becoming co-ed, making him one of the first male students ever to join the student body. Since the female student body weren't used to having male students as part of their school, this change led to different reactions from the females. Some didn't care, others were shy, some possibly excited, but most of all, many were curious about the males.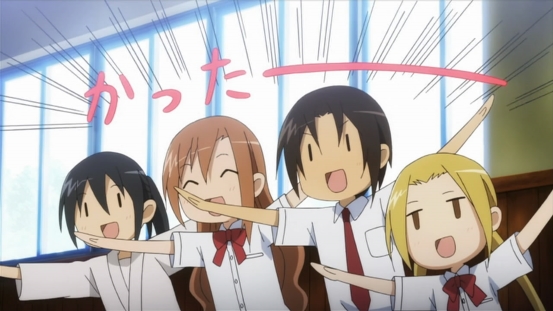 During the morning of his first day at his new school, Takatoshi is spotted by Shino Amakusa in the mass of female students heading to homeroom because he wasn't wearing his uniform properly. After their encounter, Takatoshi then proceeds to meet the other two council members, Suzu Hagimura and Aria Shichijou. Aria asked Takatoshi what his reason was for attending this school, and his answer was simply that it was closer to where he lived than the other schools were, so it was convenient. After a while the school bell rings and Takatoshi realizes that he's now late to his first day. As an apology for making him late, Shino assigns him the position of the Student Council's Vice President. She states that way the student council can have opinions on matters from both male and female's points of view. From here on out, the Student Council's adventures together begin! (And so do the countless indecent jokes!)
---
What Makes This Series Entertaining And Unique?
---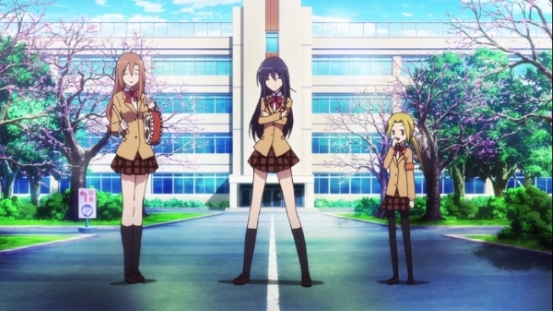 An brilliant addition to this already comedy filled series are the Student Council Rules at the beginning of each episode! The three female members of the Student Council (although another character may take the place of one of these girls depending on what's currently happening in the anime), Shino, Suzu and Aria, proclaim these laughter-provoking rules that tend to be a little perverted, while Takatoshi replies realistically.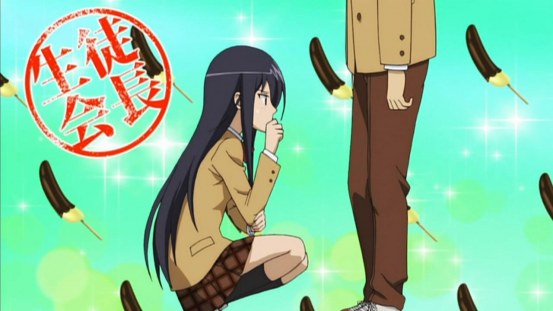 Another entertaining part of the Seitokai Yakuindomo series is it's non-stop sexually themed jokes! They can be as innocent seeming as one of Shino's many misconceptions about an average male's behavior, to going as heavy a joke as Aria claiming that the entire female student body are all homosexual.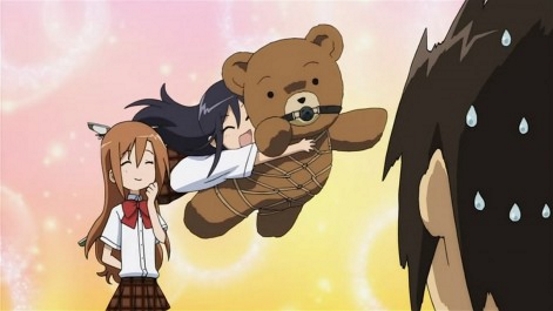 When it comes to interesting and lovable characters, Seitokai Yakuindomo has it's fare share; ranging from the heavily perverted girls, to a girl who has a crippling fear of males. Although this series doesn't have a long and twisting story line to make you attached to the characters, these girls and boys have enough appeal to make you like them within only minutes! The 'mascot' of this series would have to be Shino's adorable stuffed bondage teddy!
---
Who should watch it
---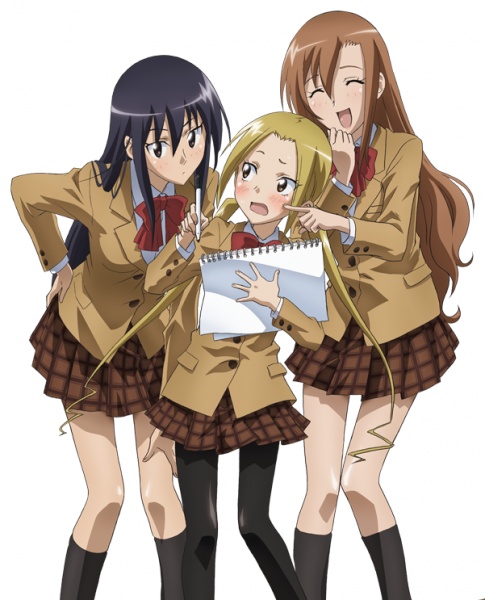 Seitokai Yakuindomo is heavily filled with sexual references and is recommended to mature audiences of 17 or older. If you're interested in series filled with high school students messing around, a lot of comedy that's heavy with sexual themes, then Seitokai Yakuindomo may just be the perfect series for you to give a try!
---
Similar Anime
---
Anime Series That Are Alike Seitokai Yakuindomo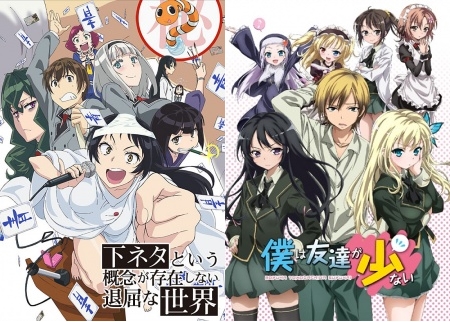 Although there aren't many slice of life anime series that involve a lot of perverted jokes and all of the main characters being a part of a club, two anime I would have to say are somewhat similar would have to be Shimoneta to Iu Gainen ga Sonzai Shinai Taikutsu na Sekai (left image)and Boku wa Tomodachi ga Sukunai (right image). These two series share similarities with Seitokai Yakuindomo in the way that they all have a male main character who become surrounded by very perverted females. The male character in each are viewed as being the 'straight man'. The three series are all Slice of Life, Comedy, and filled with a lot of sexual related jokes.


Anime Series That Also Have Perverted Humor

When it comes to perverted anime series that involve a male surrounded by females, both Mangaka-san to Assistant-san to The Animation (left image) and MM! (right image) come to mind. Alike Seitokai Yakuindomo, MM! involves a male who is surrounded by perverted females, but Mangaka-san to Assistant-san to The Animation is different to these two series in the way that the main male character is the one is is viewed as the most perverted.


---
Filled with lovable characters who constantly mess about and are very perverted, Seitokai Yakuindomo is a very entertaining series to watch! It doesn't matter whether you're male, female, new to anime, or an experienced lover of anime, Seitokai Yakuindomo is a fun anime for anyone to watch!