Notable Moments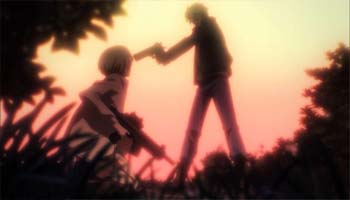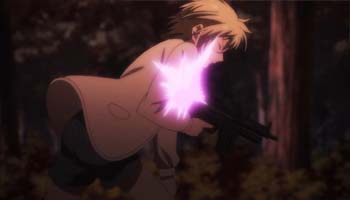 In the final episode of Aoharu X Kikanjuu, Hotaru challenges Masamune to a survival game battle. Hotaru did this mainly because she thinks Masamune is being an idiot, and Masamune agrees as long as it keeps Hotaru out of his team. With how the story suddenly rushed everything, including the revelation of the enigmatic former member and Masamune's deep seated issues with Midori, it's not really surprising if the final episode ends up as a disappointment. At this point, as long as the final battle packs enough excitement and awesome survival game shootouts, then the show can leave on a happy note. Hotaru, Masamune and Toru all drove up to the place where TGC was held, and they decided that it should be the stage for their challenge. Masamune finally realizes how stupid and selfish he was when Hotaru beats him in this duel, and this can serve as a wonderful resolution for the show. Mere minutes into the match though, Hotaru is defeated, and it is as anticlimactic as you'd expect. She didn't even get to unleash her bloodlust, the one thing that could've saved this anime, and just proceedes to demand a rematch from Masamune. He complied, and Hotaru is defeated again and again. Ok, so it's not the exciting face off the show hinted at, and it's more like a weird butchering of the original source. The plot already felt mangled at the previous episode, so it's understandable that the story continues to fall apart in the final episode.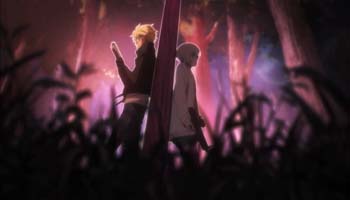 Hotaru challenging Masamune, losing and then challenging him again is actually Hotaru's plan all along. The more she fought Masamune, the more he got irritated that she wouldn't give up. He starts thinking about how he couldn't do the same when Midori beats him every time, and he realizes that he has became complacent about losing. When facing Midori, he knows he'll lose and it no longer affects him. Hotaru makes him realize that he shouldn't act like that, and that losing shouldn't be the end of the world for him. It's a doable conclusion for the show, since Masamune's hang-ups with Midori have been a solid story arc, but it undermined the importance of the duel. It's supposed to be about Hotaru handing down the hammer of justice on a selfish Masamune, but she decided to become a concerned friend instead. It killed the moment for sure, but it gets weirder from here.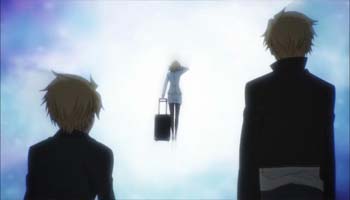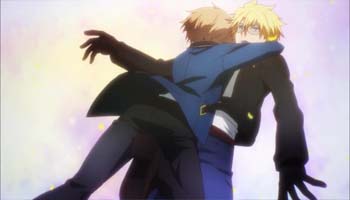 Hotaru showing her concern for Masamune made him realize he has experienced a lot of goodbyes, and he often just let people walk away from his life. With no build up whatsoever, his mother is seen in a flashback turning her back on him. The gloomy flashback suddenly brightens when he realizes that Hotaru is someone that is willing to stay with him no matter the situation. This episode was supposed to be about two characters shooting each other till all their frustrations are ironed over, but it somehow leads to a melodrama about Masamune and his past relationships. Here's the kicker, the show suddenly hints that Masamune has fallen in love with Hotaru. The romance element of the story reappears after being dropped in the second episode. It's pretty frustrating that all the drama eventually leads to the two characters falling in love with each other. It was hard seeing them hug, since it was never the intention of the story. I can imagine layered story arcs building up the romance, but seeing it come out of nowhere is pretty upsetting. For the show to conclude with it as well, it's a bit cringe inducing since the anime made it clear early on that it's all about survival gaming and handsome guys being into each other. The romance was killed ten episodes ago, so it's weird for the anime to end with that.
Notable Characters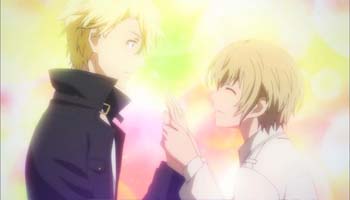 Masamune is in the spotlight, along with his emotional issues with people leaving his life. The sudden appearance of his mother is pretty funny, since it feels forced. He ends up falling in love with Hotaru after the duel though, and that is quite surprising. When Hotaru declared that she will never leave Masamune's side, it made him blush and it's a very cute moment for the show. Hotaru's secret is still kept hidden in the final episode, but there's an added intrigue now that Masamune is confused because he finds Hotaru attractive. It would've been better if this was a story arc early on, since the romance helps establish the BL element of the show. When the characters aren't fighting they're flirting with each other, so the romance could've given us more solid BL moments. While it detracts from the survival gaming aspect of the show, it still benefits the show since the characters could've given some golden BL inspired moments.
Predictions for Beyond the Anime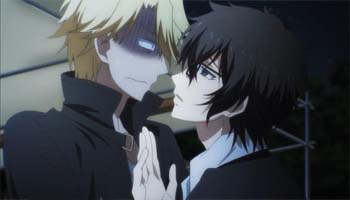 The ending is disappointing since it accomplishes nothing, and it just returned to square one with team Masamune thinking of training for the next TGC tournament. There might be another season, because the sudden reappearance of the romance may serve as bait to gather intrigue, but the rushed ending might also spell a definitive end for this anime series.
The strong BL element and the romance for the final episode might suggest that a lot of steamy stuff happens in the manga, and it might even contain some hardcore BL fan service, so it'd interesting to pick up the manga just to see that.