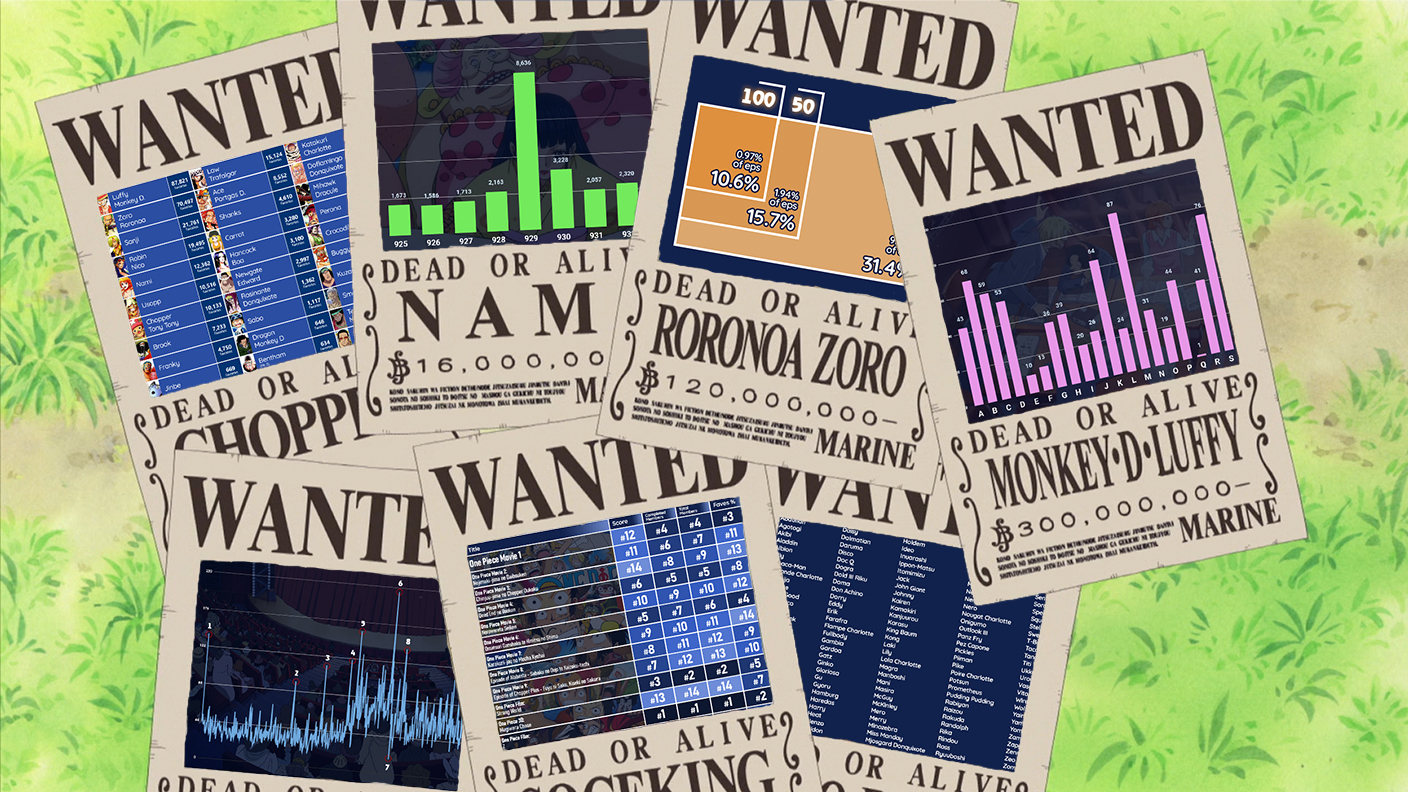 I don't need to throw out that many big numbers to illustrate the cultural bombshell that is One Piece—20+ years, 470 million manga volumes sold, nearly 1000 anime episodes, and so forth. It was one of the first anime ever added to MAL many a blue moon ago (ID #21), and it's been collecting all kinds of data since through a multitude of anime entries, character pages, and forum threads.
So like a Devil Fruit user overboard, let's dive to the bottom of this deep statistical ocean!


The Greatest Journey
---
2020 has already been a big year for One Piece, becoming the 35th anime to cross 1,000,000 total members and the 5th to cross 100,000 favorites. Its score has decayed in recent years, but holding out in the mid-8s for this long is an achievement worth commending. Of course, this data also shows just how much MAL has grown in the last decade.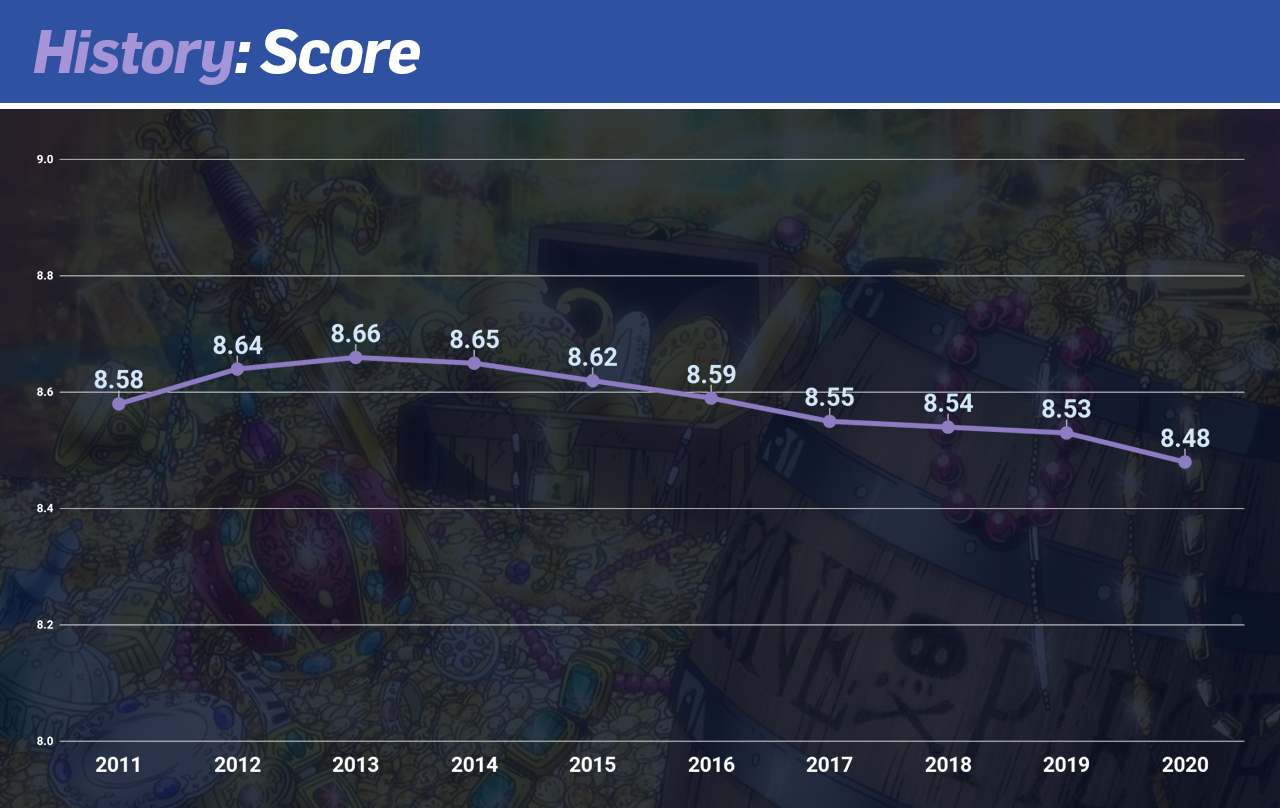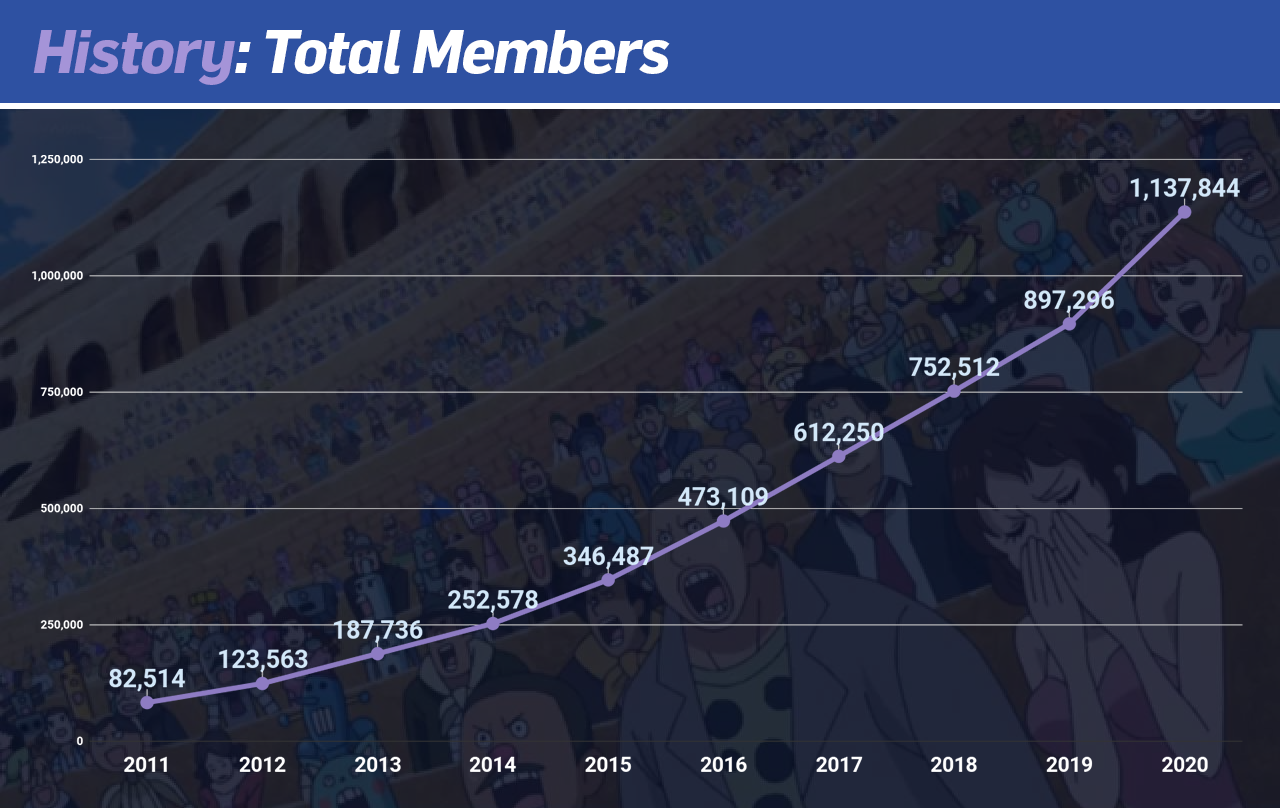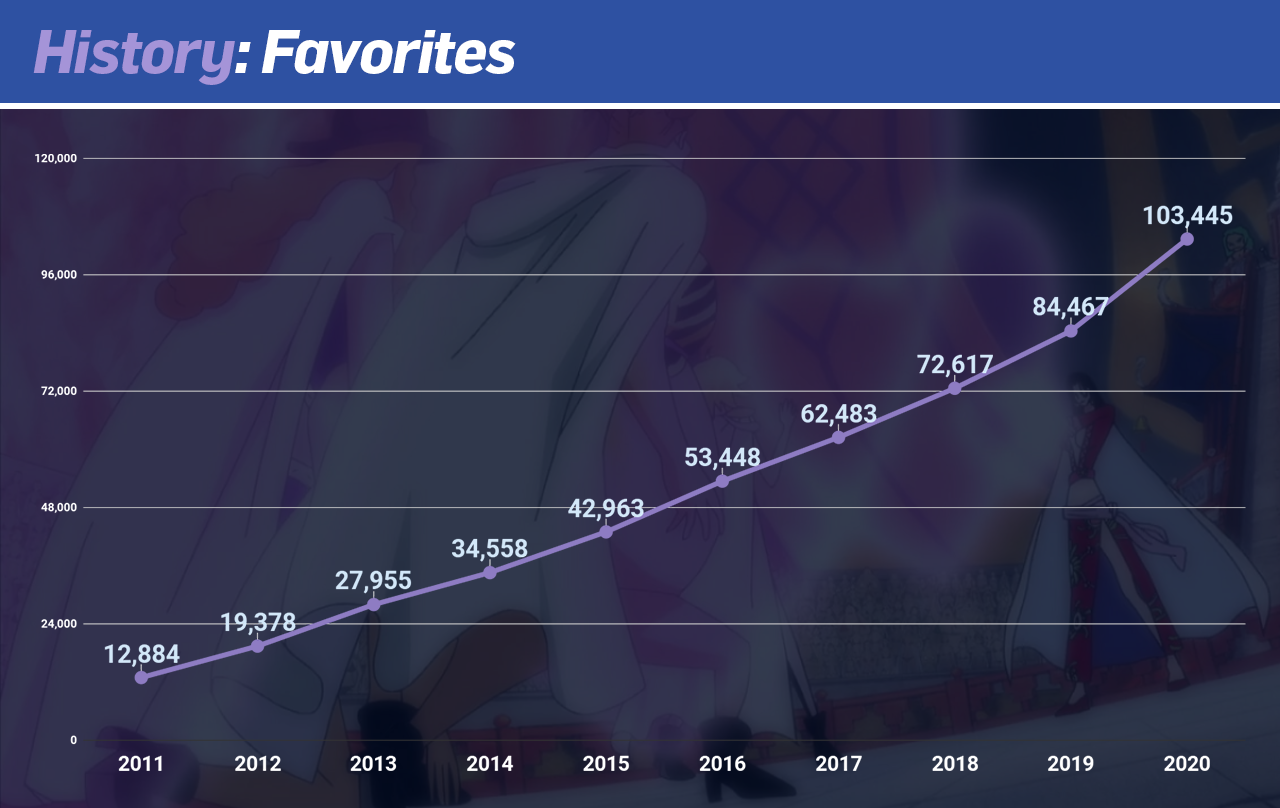 Making It to Wano
---
Many centuries ago when lockdowns first began, social media was abuzz with encouragement and survival tips. The most helpful advice, of course, was to start watching One Piece. Who knows, perhaps someone has gone through the entire series by now...
In any case, many took advantage of One Piece's two-month COVID (out)break to catch up to the latest episode as of mid-April (929). But from when this data was recorded at the start of August, two days after episode 935 aired, a total of 6,625 users were completely up-to-date with a few thousand more just behind.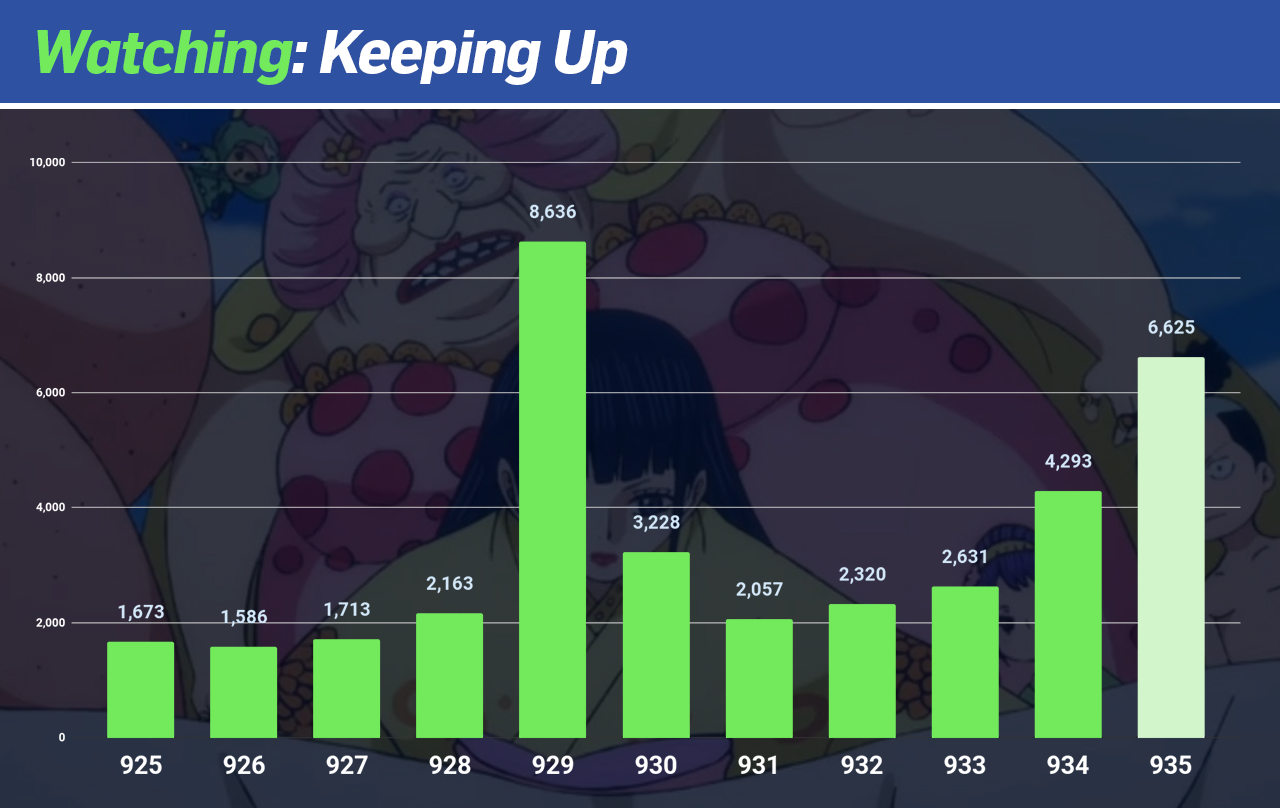 A Picture is Worth a Thousand Words
---
The oldest One Piece episode discussion thread dates all the way back to December 13th, 2006, created by Xinil himself for episode 289. By episode 320, these threads were being made consistently on a weekly basis.
Episode discussion thread replies are driven more by short-term seasonals and the size of the active userbase, so One Piece's maximum value for thread replies is relatively small. In contrast, the currently airing Re:Zero kara Hajimeru Isekai Seikatsu 2nd Season is averaging around 400 per episode. However, when all of One Piece's replies per episode are graphed, we can still see which stand-out One Piece moments sparked an enthusiastic reaction.
And it's not hard to guess what #1 is.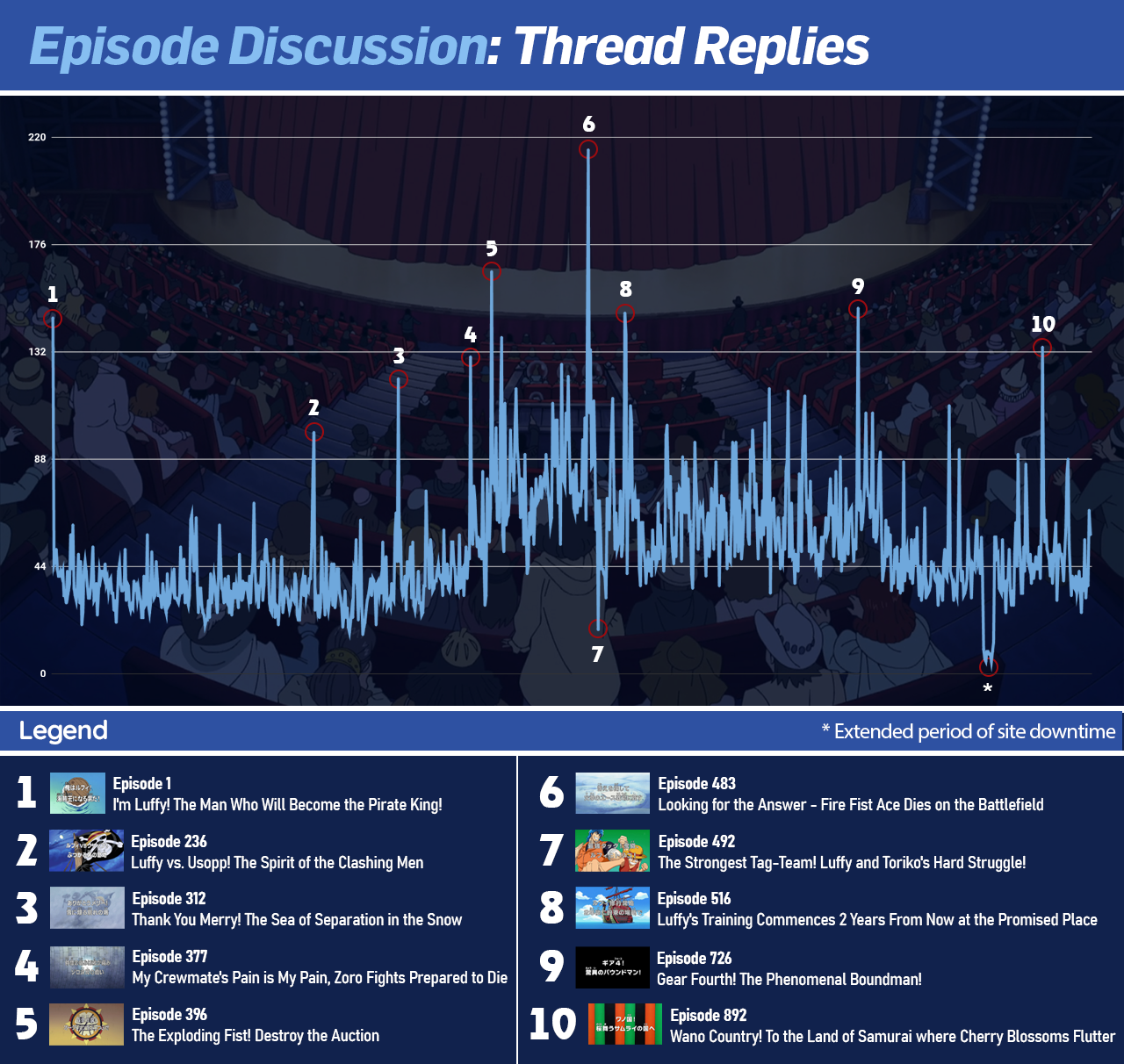 If you hadn't already figured it out, that bulge in the centre roughly encompasses the Sabaody Archipelago and Marineford arcs. As you'll see in the next section, that period was enrapturing in more ways than one, statistically speaking.


The Anatomy of a Drop
---
One Piece is long. Like, really long. Not Sazae-san long, but… it's long. Both the manga and anime are approaching the monstrous four-digit number that only a small handful of other series have even touched. As such, it's not unnatural to phone it in on the long haul—a whopping 119,027 users have it listed as Dropped and a further 157,300 have it as On-Hold (276,327 in total). For the purposes of this deep dive, I'll be combining these into one "okay that's enough One Piece" figure. It should also be noted that many users list a drop/on-hold without an episode count (77,332 users in this case) or even just leave it eternally on Watching, so this won't wholly encompass every user that has stopped watching One Piece.
Here is a general overview: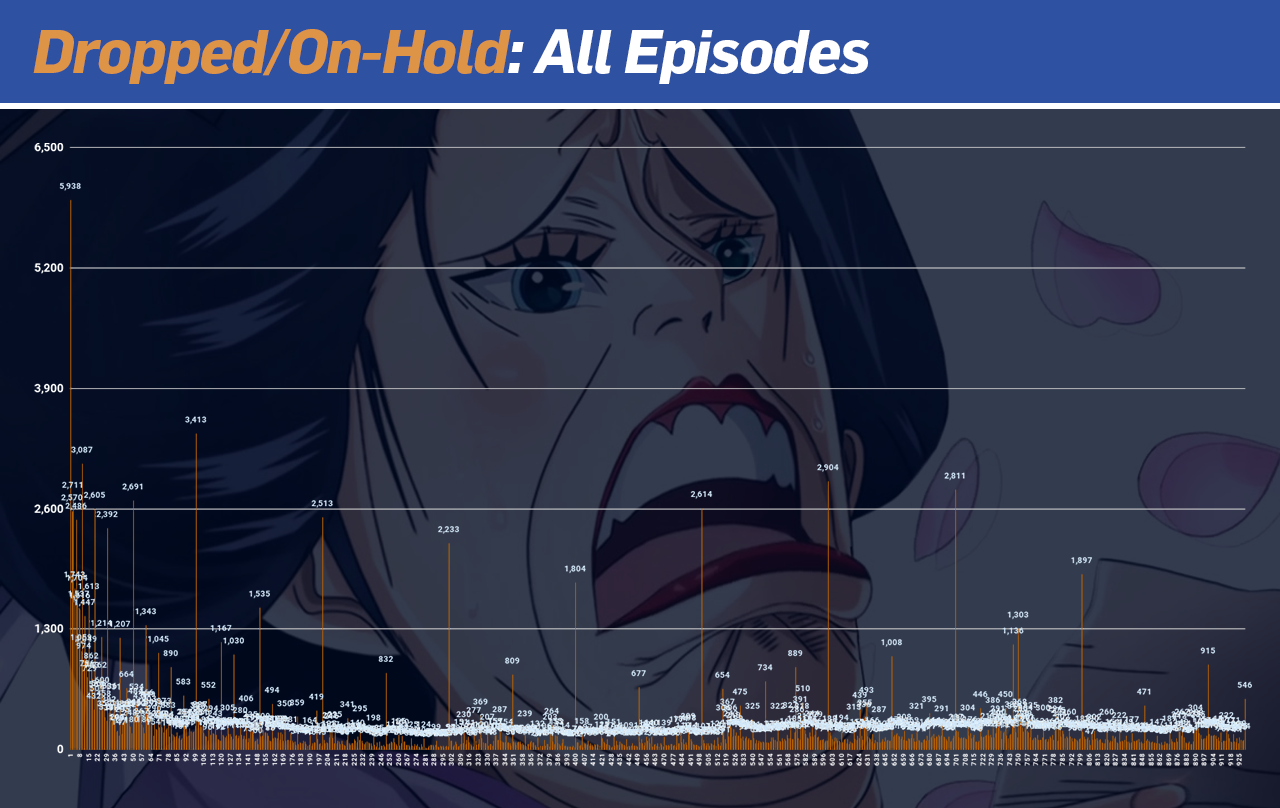 What's that? It's too hard to see anything? Then allow me to break it down into more than one piece: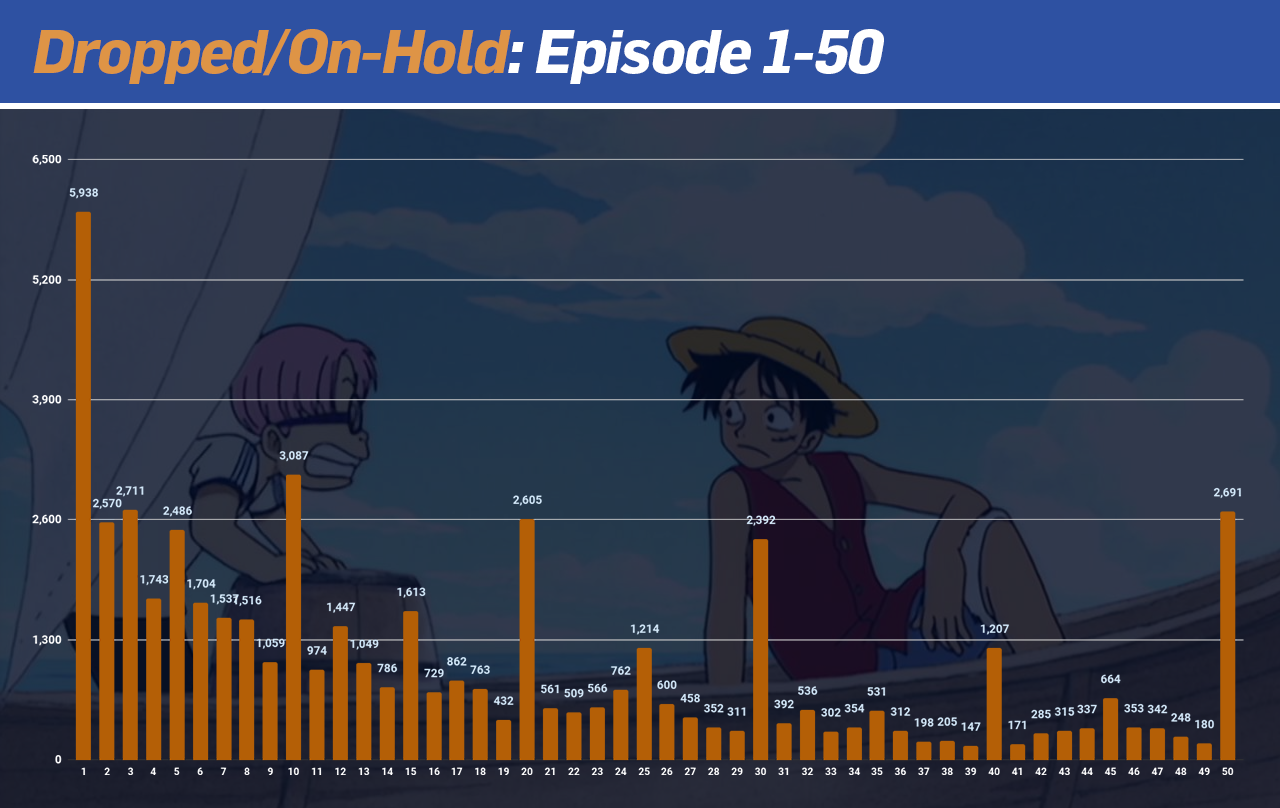 Here you'll see the beginning of a pattern that continues throughout the entire series: the dropping at a milestone, either at a round 100, 50, 10, or even 5. This also inversely affects episodes prior to milestone numbers. It makes a lot of sense, but it's not the kind of thing you think about until you see it.




A tenth of all Dropped/On-Hold members for One Piece have it at a rounded three-digit mark between 100-900, which make up less than a single percentage point of all One Piece episodes; the same disparity is apparent in stoppages at the 50 and 10 marks as well.
And within the prominent clump of users who stopped One Piece at a 100 mark, there's an intriguing curve: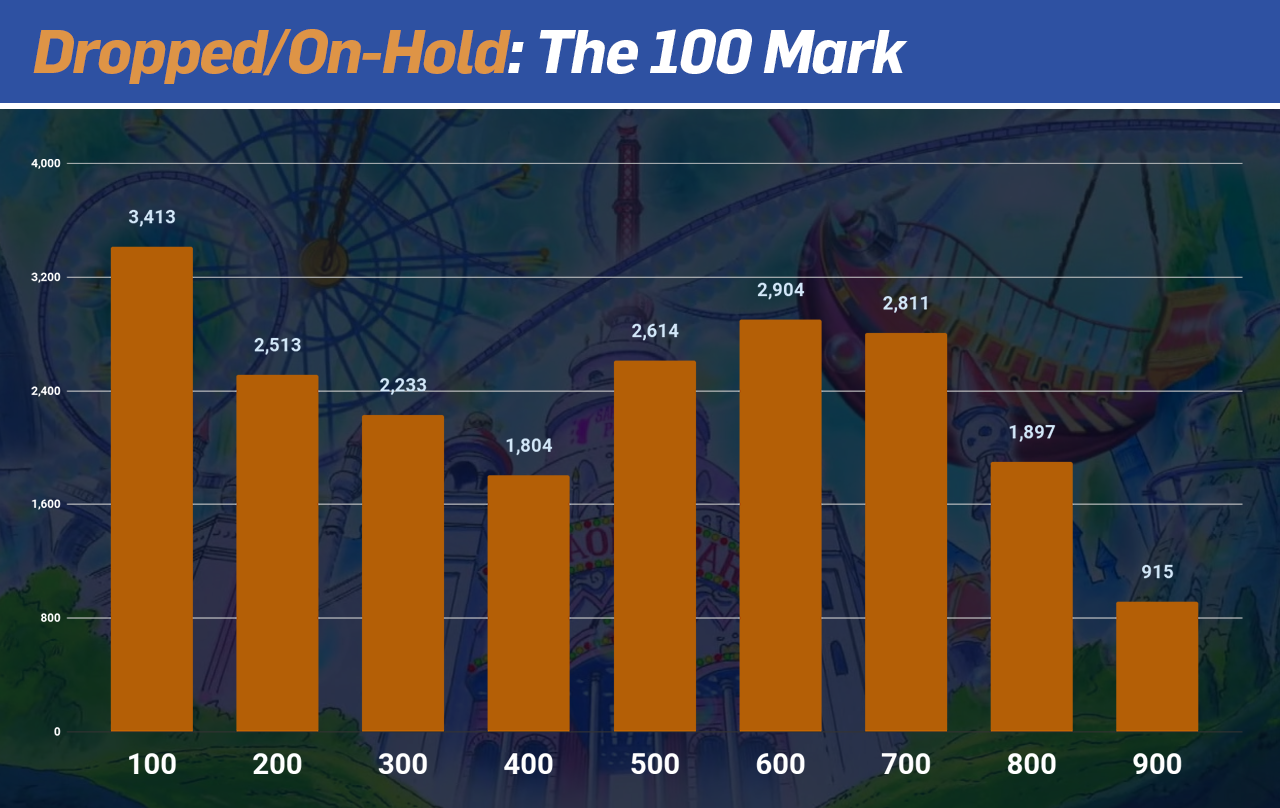 For reference, episode 400 is smack-bang in the middle of the Sabaody Archipelago arc, while the 600-700 area incorporates Punk Hazard and Dressrosa.
But it's not just round numbers. There's a small but notable base of users that actually finish an arc first before choosing to stop watching. It's hard to tell in most cases since several conclude on a round number, but episodes 381 (Thriller Bark; 264 users) and 746 (Dressrosa; 1,136 users) are clear examples of such. Given the data there, it seems Dressrosa was an unpopular arc, or perhaps it just happened to occur at a shared burnout point.
Of course, I should also mention the few individual events with spikes here and there. For example, the series-defining event at the end of Marineford (episode 484) caused a 400% increase in stoppages compared to the odd episodes around it.


The Cast and Crew
---
Characters Entries: 846
Total Favorites: 312,351
Average: 361.2
Charlotte Family Members: 76
Favorite lists on MAL are limited to a small selection of 10 characters (or 20 if you're a MAL Supporter). So when you consume more and more anime/manga, those spots become all the more valuable. With a sprawling cast of colourful characters and over 300,000 favorites between them, One Piece has one of the most beloved ensembles of all time.
And these are the most favorited characters by group:



Far, far down this list is a small crew of characters with a single favorite, supported by an undisputed #1 fan: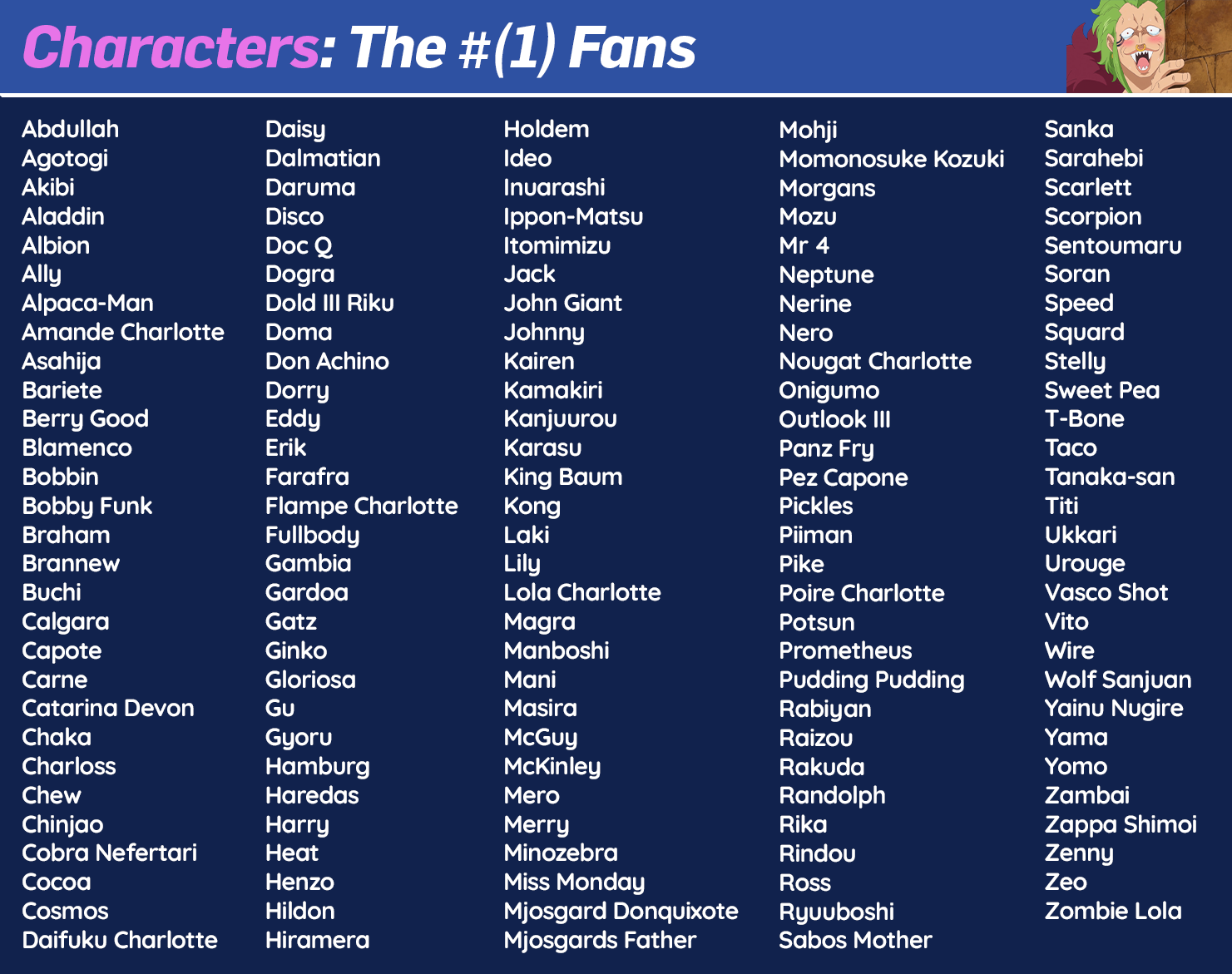 How many of these 144 minor characters can you identify by name? And on the flip side, there are 434 characters with 0 favorites and 86 with 2 favorites.
And finally, here's a breakdown of which starting letter is the most and less common for One Piece characters: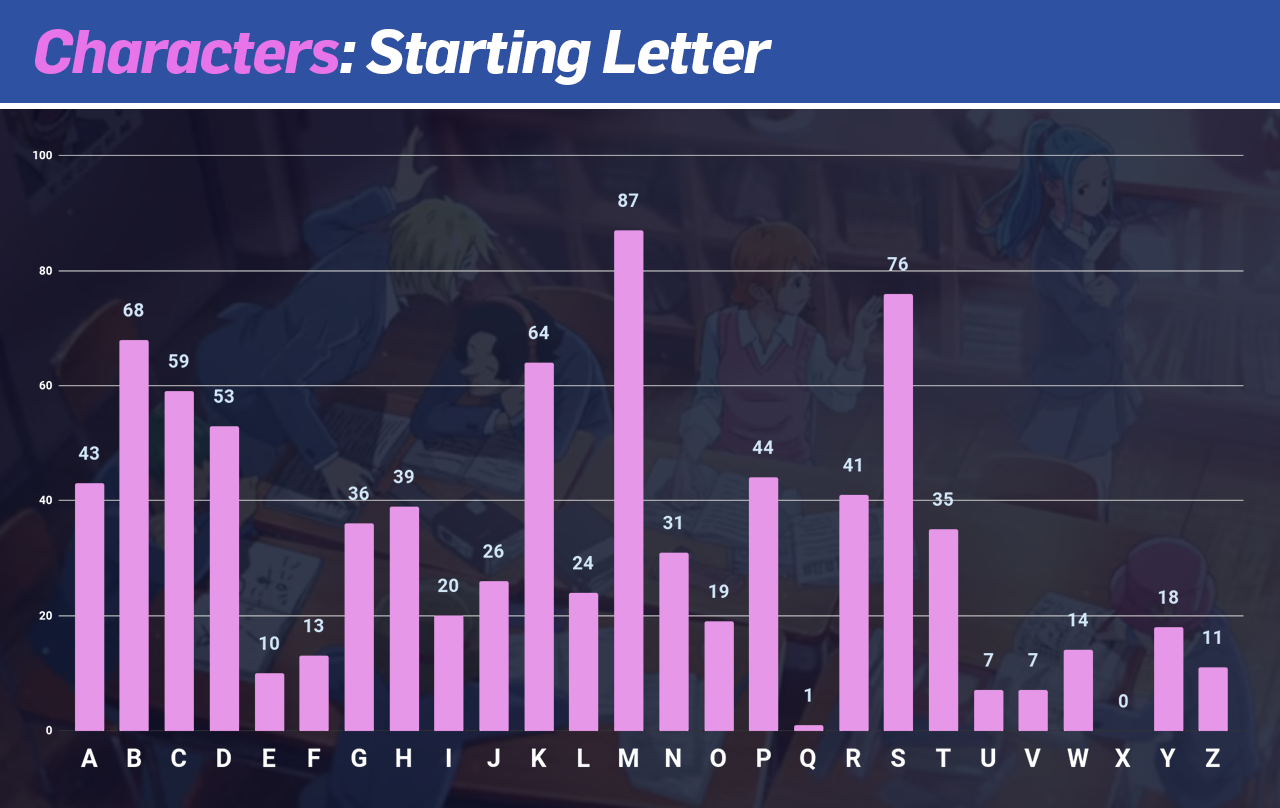 Oda has yet to make a character whose name begins with X, while M is his most popular thanks to nicknames like "Miss Valentine," "Mr. 9," and "Minister of the Left." If you subtract those, the honour goes to S—including Sanji, Shanks, Sabo, Smoker, Shirahoshi, and more.


At the Movies
---
Under the entry page's Related Anime section, there's a thick chunk of side stories, summaries, alternative versions, and the ever-diversifying "other." Buried within is a series of movies that has been ongoing since 2000. But which is the best of the bunch to date?
For the purposes of this graphic, I've only included the 14 mainline movies that have numbered titles/synonyms: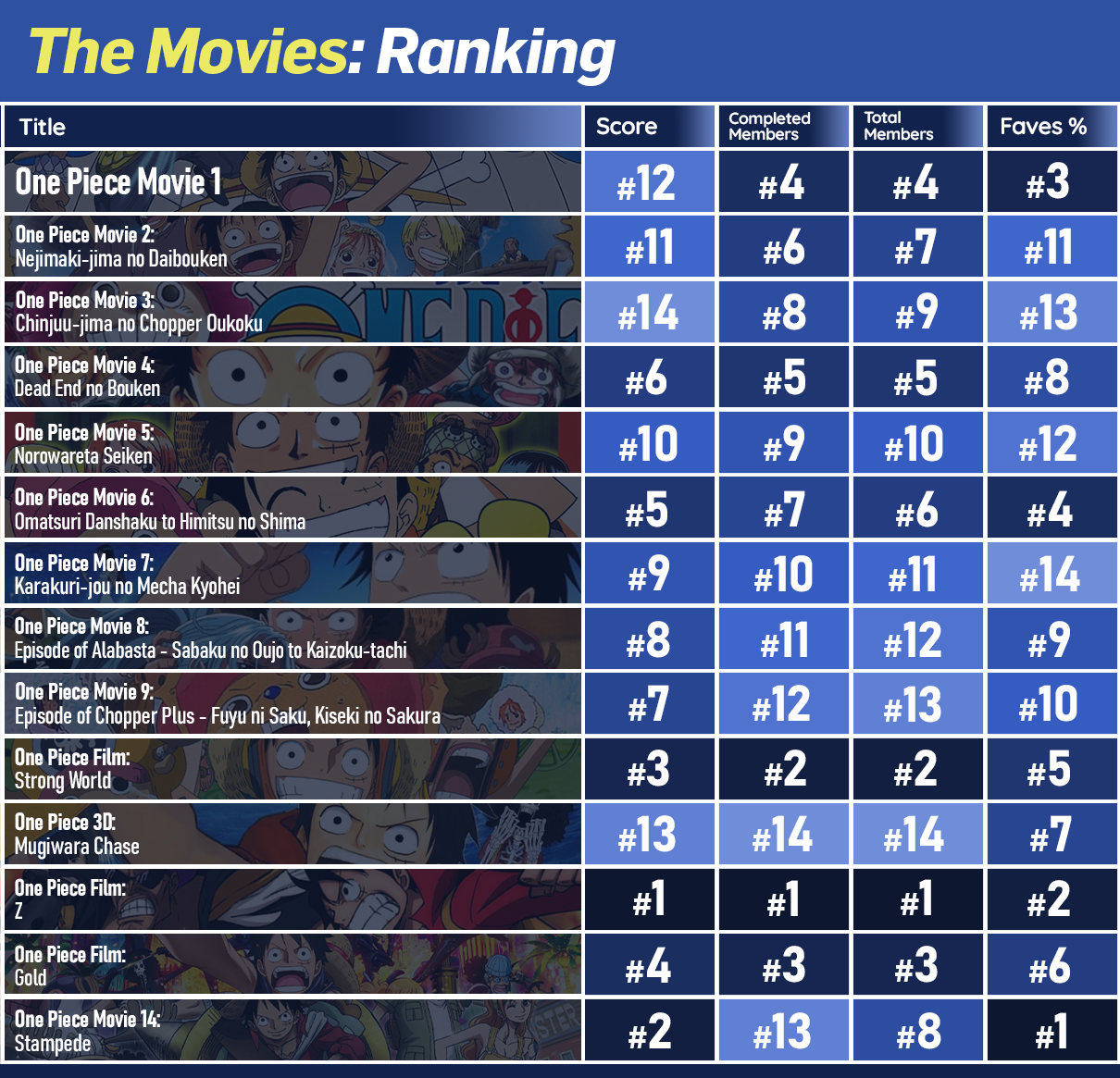 Given that it only came out a year ago, it's no surprise that One Piece Movie 14: Stampede ranks near the bottom of popularity, which is a big factor in securing #1 in Faves %. But regardless, One Piece Film: Z is the clear winner.