Such was its impact on popular culture and fandom that most anime fans know exactly what you mean when you say "that episode of Demon Slayer."
It was hard to miss the thousands and thousands of tweets that pushed it to the top of Trending at the time, or the r/anime post that was the #1 most upvoted episode discussion thread until Re:Zero kara Hajimeru Isekai Seikatsu 2nd Season episode 1 came along.
The explosive impact of ufotable's latest masterwork also reached our little corner of the internet, causing an unprecedented shift in the anime's statistics that is still felt a year later.
Here is how "Hinokami" broke the internet through numbers.


---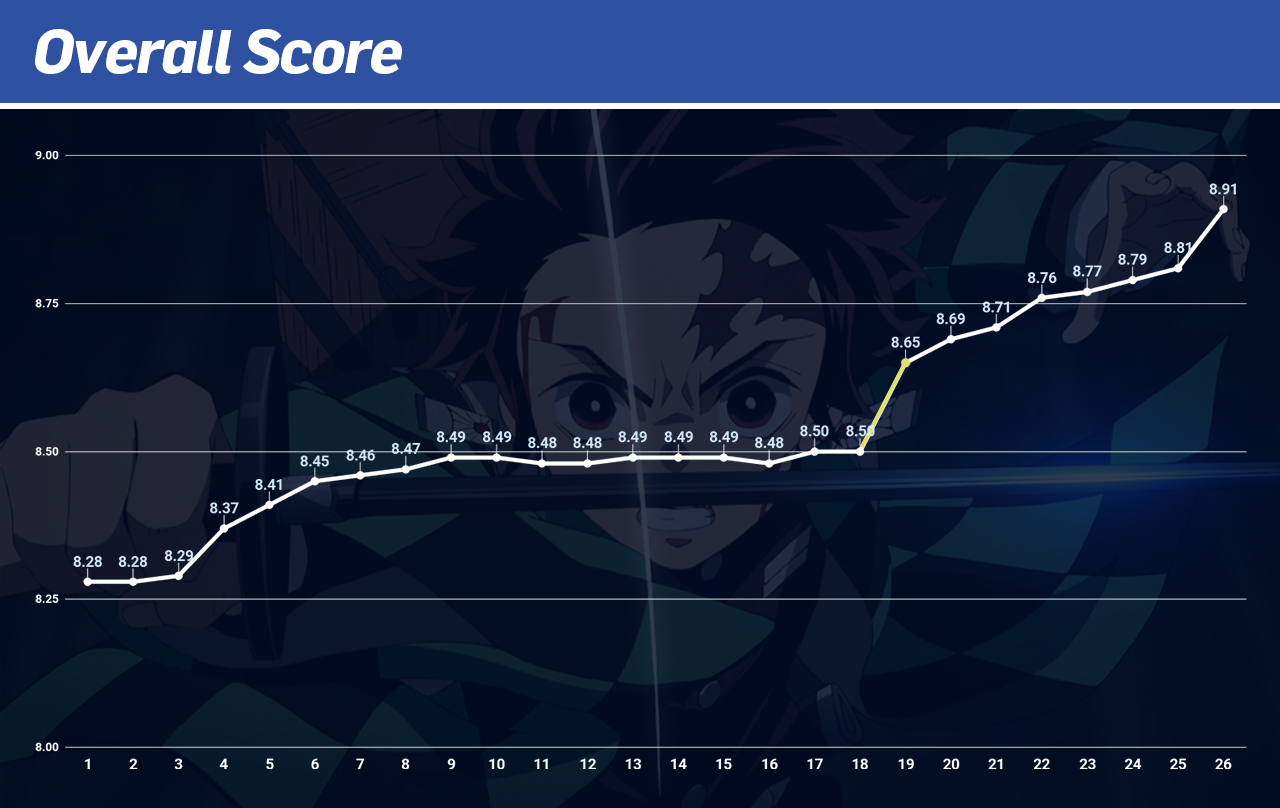 I've been recording and reporting on seasonal data since Spring 2019 when Kimetsu no Yaiba first started airing, and in the time since then, only Senki Zesshou Symphogear XV (a fifth season with a niche audience) has beaten it for a single mid-season score increase. A long period of stagnancy (albeit at a high point) was spectacularly undone by one episode, propelling Kimetsu no Yaiba upward toward the elusive 9.00 line. One year later, the score has since settled to 8.71 at rank #40.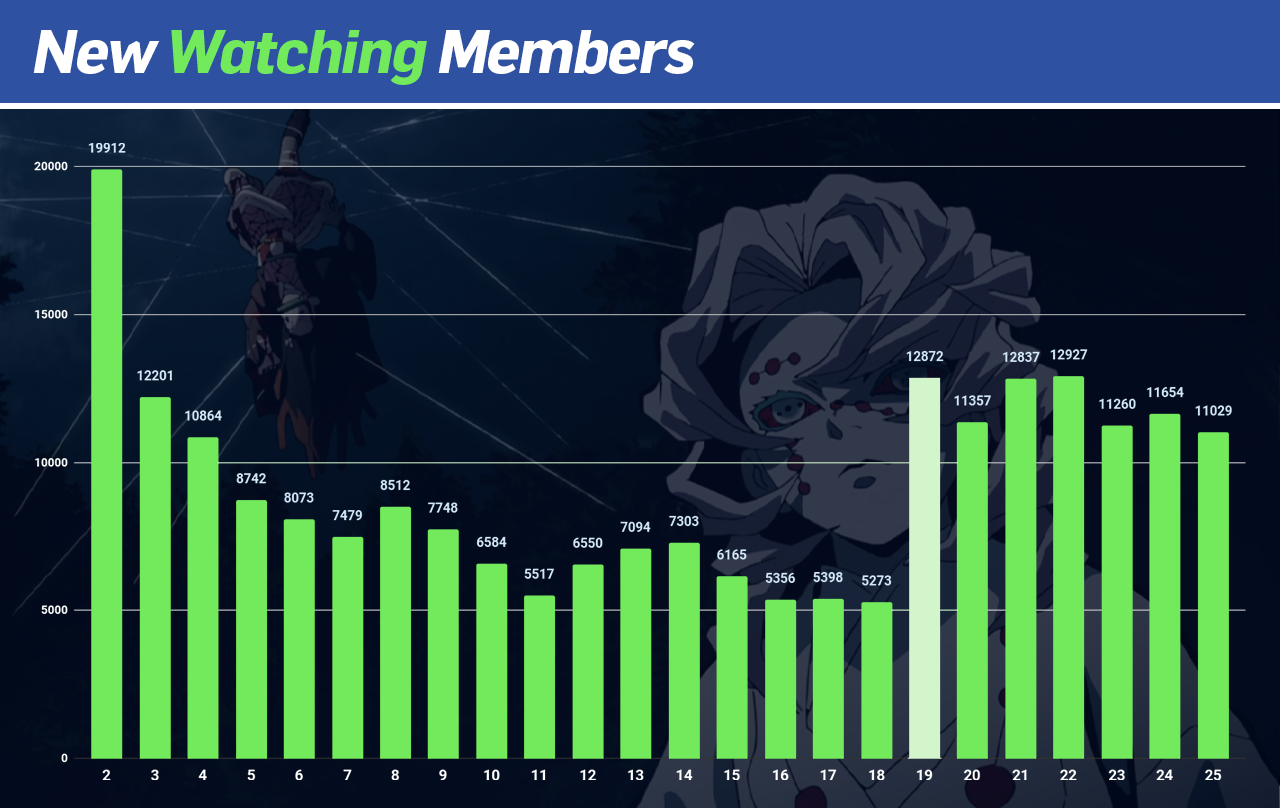 The burst of interest in Kimetsu no Yaiba as a result of episode 19 wasn't just a one-time effect; it carried on through the rest of the broadcast and beyond. For overall popularity, Kimetsu no Yaiba is well on its way to becoming the fastest entry ever to hit 1,000,000 total members (and by an absolute mile). I am, quite literally, counting the days.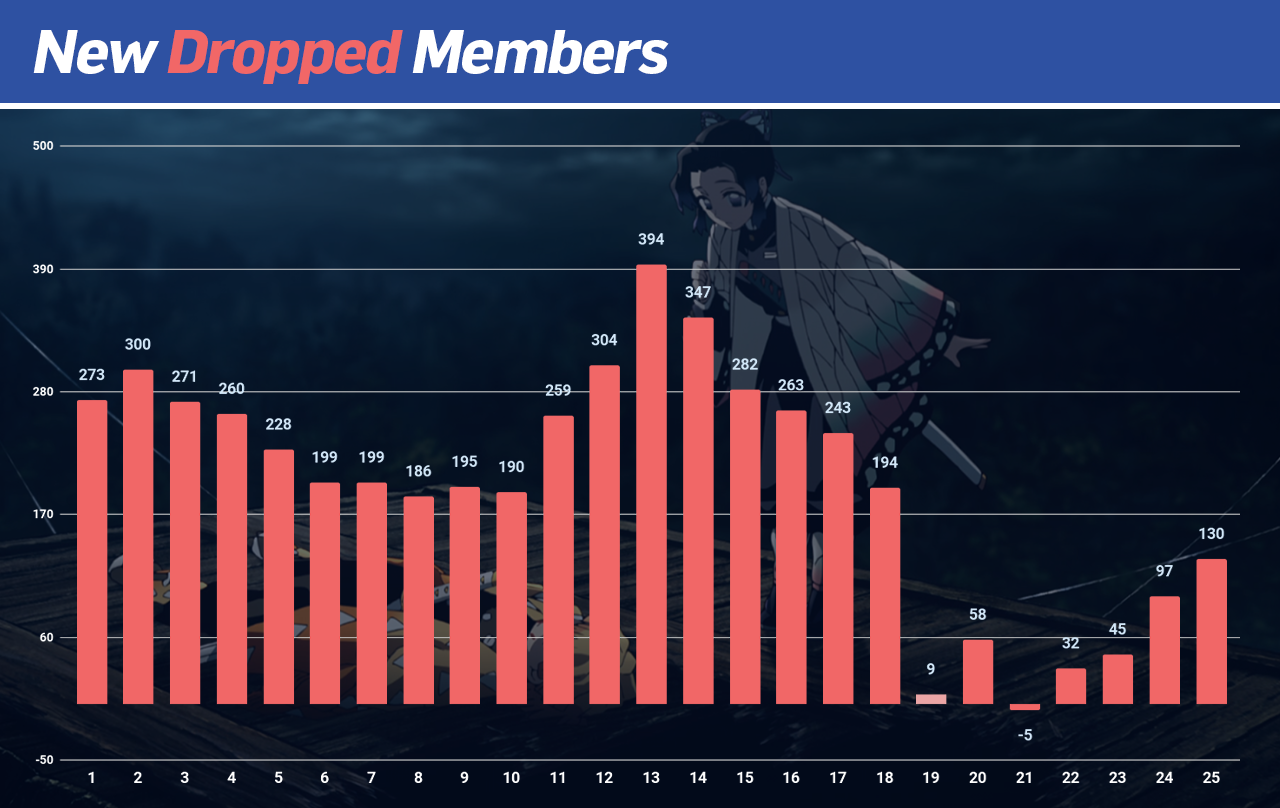 And it wasn't just gaining new interest—episode 19 rekindled old and elevated current interest, bringing new Dropped members down to an unthinkable single digit, even going into the negatives a few episodes later. I've seen negative Watching members plenty of times before, but never negative Dropped members until now. In that final broadcast period, the drop rate went from 2.16% to 1.67%. The former in itself is already a record-setting number for a non-sequel, but it was only strengthened further by episode 19.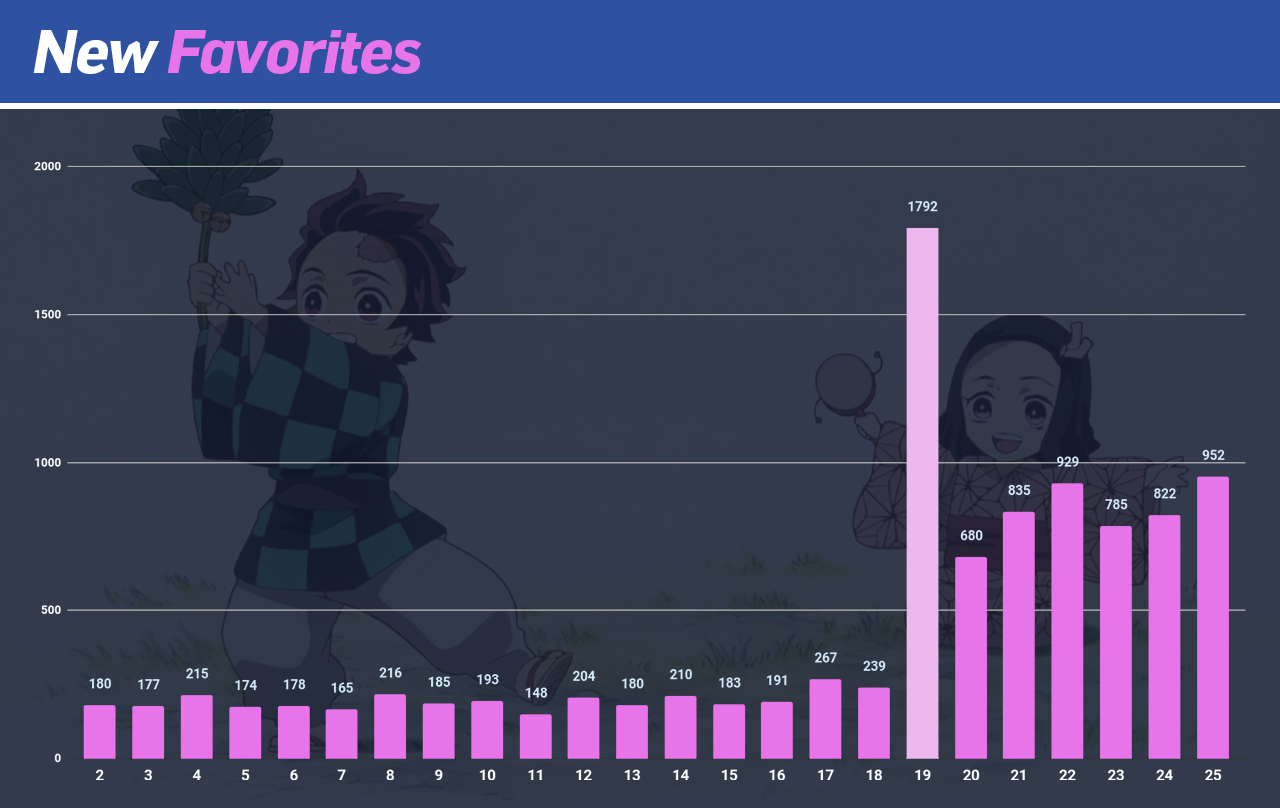 Many, if not most, MAL users wait until an anime finishes airing before adding it to their favorites list (for Kimetsu no Yaiba, 3,425 users added it to their favorites list in the week after it finished). But episode 19 spurred nearly 2,000 users to do it early, even with the limited 10-20 spots available on profile pages.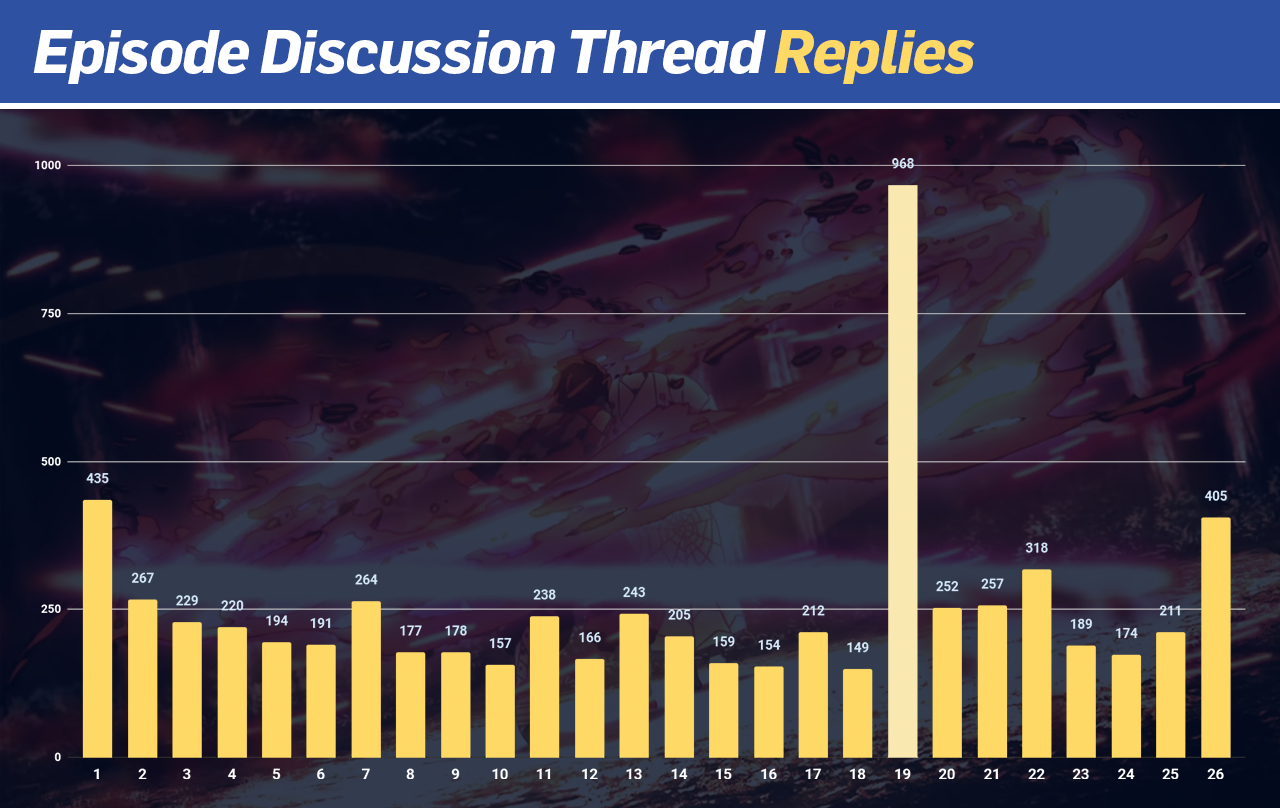 Looong, Loooooong, Baaaarrrrrrr~
First and final episodes are more often than not the most discussed parts of an anime, but when combined here, not even they stand up to episode 19. If you exclude that monstrous figure, Kimetsu no Yaiba's average for discussion thread replies comes out to 226; when included, that number gets bumped up nearly 30 whole points to 254.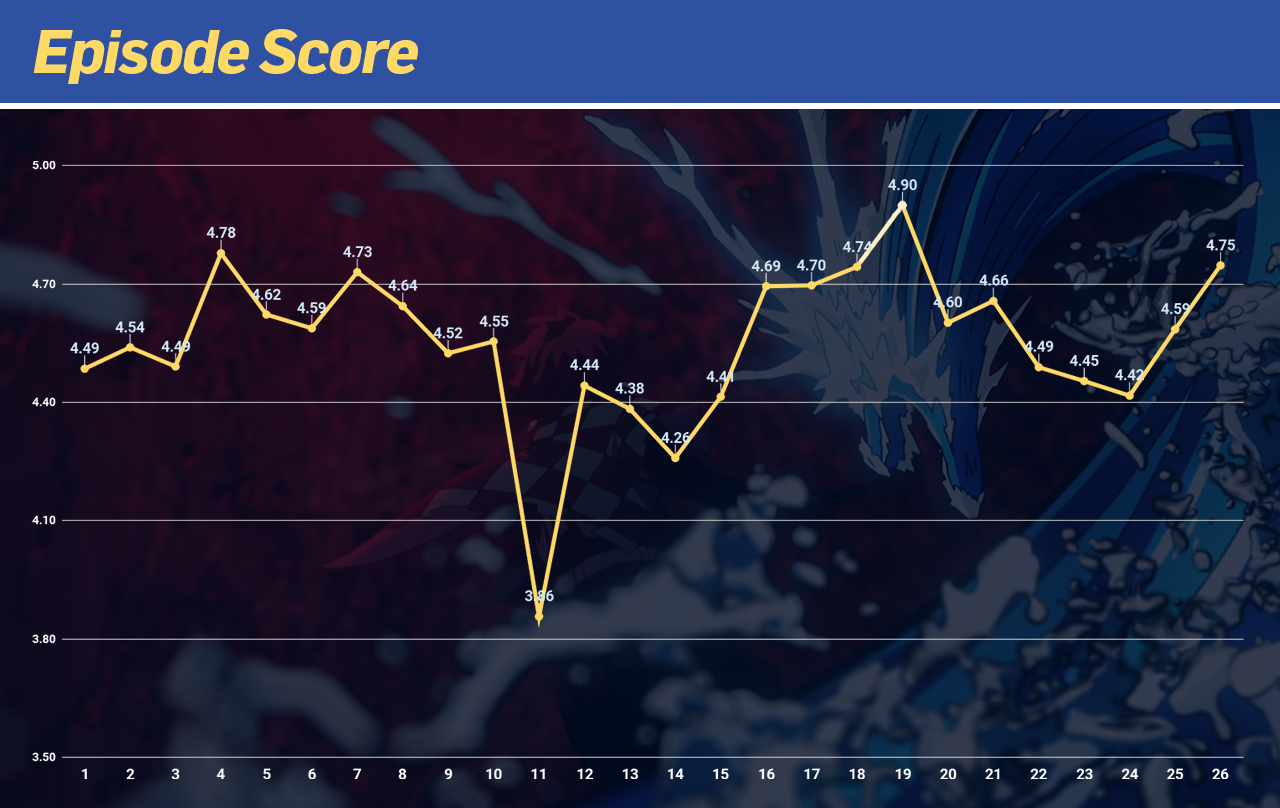 All episode discussion threads feature a poll with score options from 1 to 5, which I calculate into an average. The graph above incorporates 28,828 votes across 26 episodes, 7,472 (over 25%) of which belong to episode 19 alone. Here's just how ridiculous that difference is in visual form: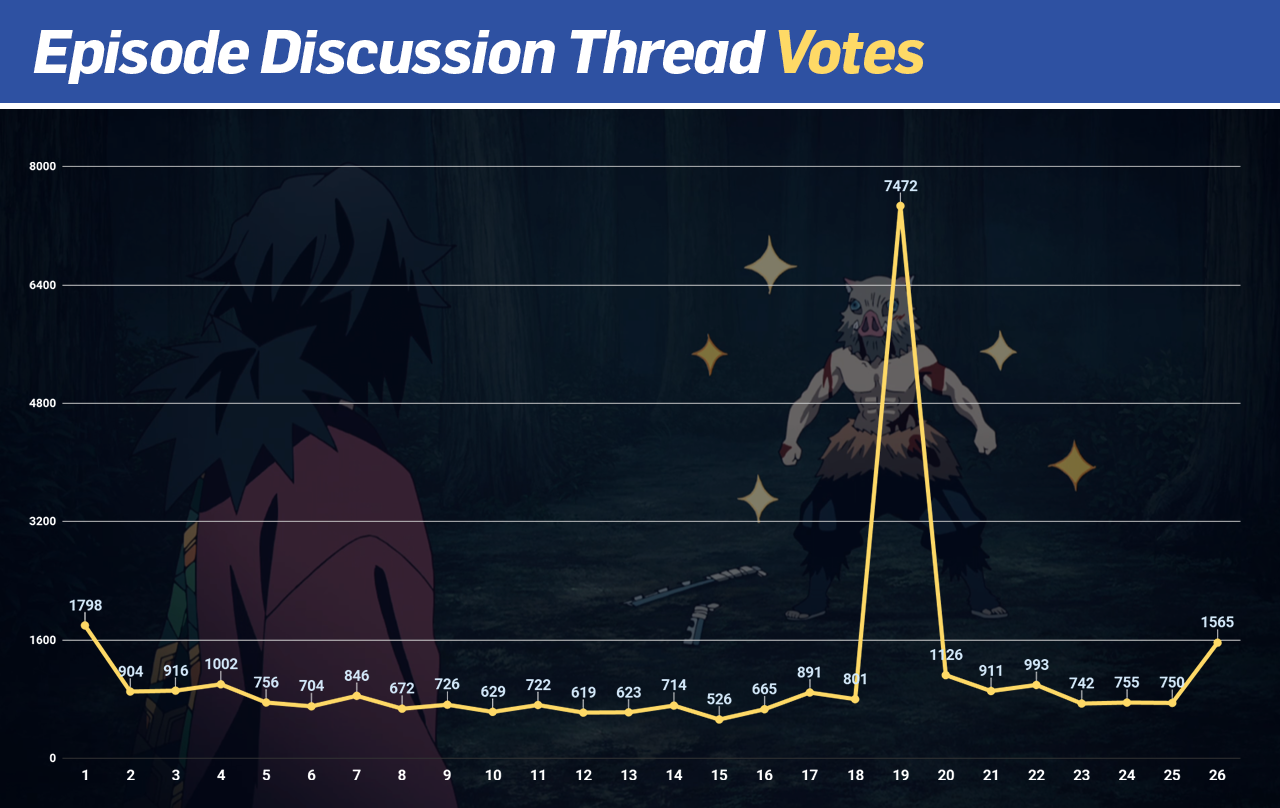 Would you believe me if I told you that the alignment of this perfect image was by pure accident? I don't even need to highlight the line for it to be easily visible.
But what really makes episode 19's discussion thread most exceptional is the number of 5/5 votes at an astonishing 95.4%, even with a small clump of detractors at 1/5.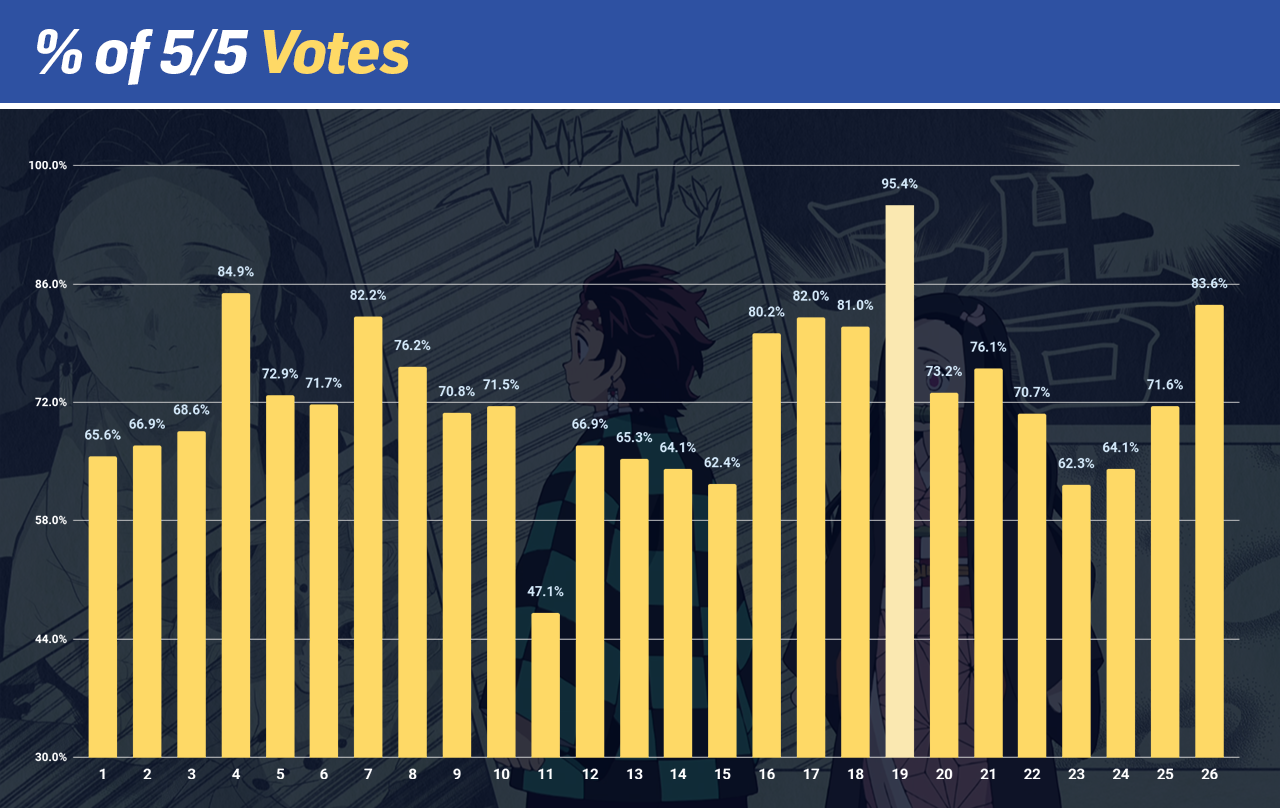 ---

No matter your opinion of it, there's no denying that Kimetsu no Yaiba and episode 19 rocked the modern anime fandom unlike anything else. From these online statistics to record-breaking manga sales, it's a franchise for the history books.