---
Need a hug? How about an anime hug?
---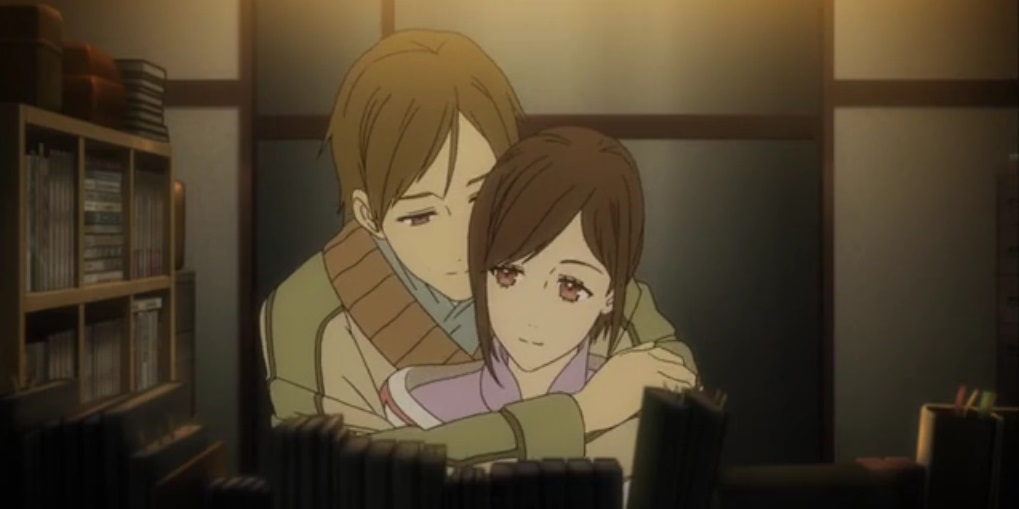 Most people enjoy physical contact with other people, whether it's for comfort or affection. While hugging is often used as a romantic expression, especially in anime, it can also be used to portray friendship or other deep feelings. Anime hugs makes for good drama, but there is so much more to them. So here is a collection of 20 of the best anime hug scenes ever, be they romantic, comedic, sad, or just plain ole friendly.


---
---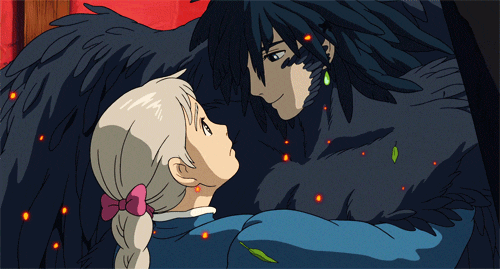 Howl and Sophie are beautiful together. This is one of the best anime hug scenes of all time, as it portrays both Howl finally taking a stand and Sophie discovering her own sense of self-worth, two of the deepest themes in this anime classic.


---
---
Rescuing a maiden in distress from a burning building is just another romantic gesture for Takeo, our favorite macho sweetheart. What makes this scene so special is the cute hug he lays on Yamato afterwards. And Suna, the absolute coolest third wheel ever, and his "good bro" vibes in the background make it even better.


---
---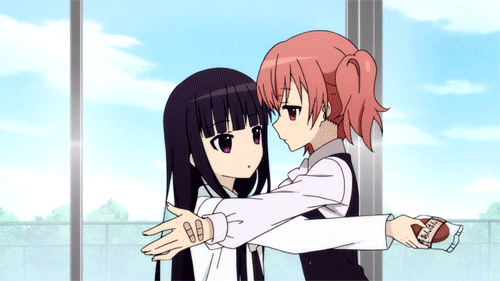 That awkward moment when you just want to be nice and share some food but the other person decides hugs are better. Inu x Boku has plenty of borderline romantic hugs going on, but this is so much better. Why? Because they're just friends. Desperate hugs meant to fill you with a sense of grief get so damn old, and these silly little unexpected moments are too rare.


---
---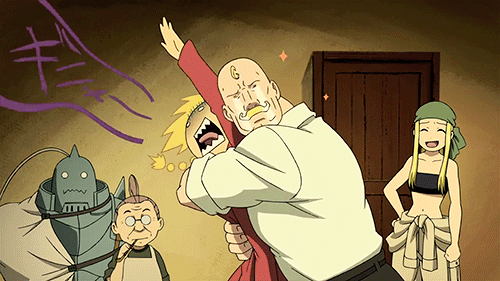 Honestly, this is rather frightening, but poor Ed's reaction is just too hilarious to pass up.


---
---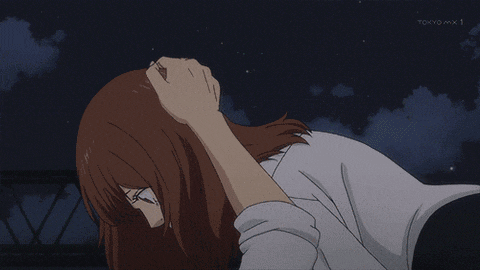 Kou and Futaba have enough angst for a lifetime, but it makes for some perfect, tear-jerking scenes. Especially when they both stop the epic-level denial for moments like this.


---
FLCL's awkwardly-affectionate cuddle
---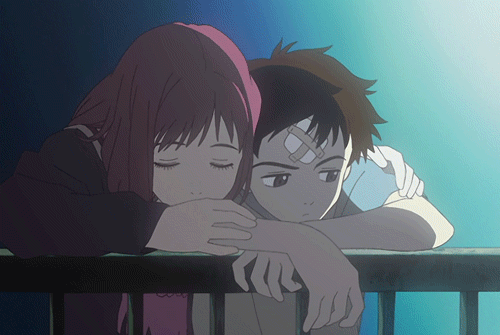 This whole relationship is awkward as can be, not to mention this scene. That poor little boy's look of exasperation as he reluctantly resigns to his fate is reminiscent of a cat enduring its owner's petting.


---
---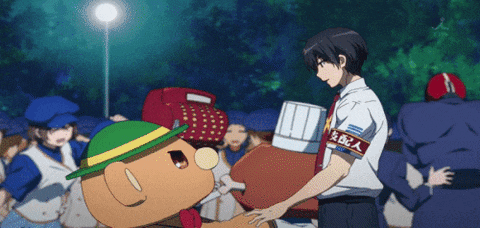 Who doesn't love to be dog-piled by their friends... and some miscellaneous talking animals? This scene is super fun, and it's a bit hard to find moments like this in anime these days.


---
---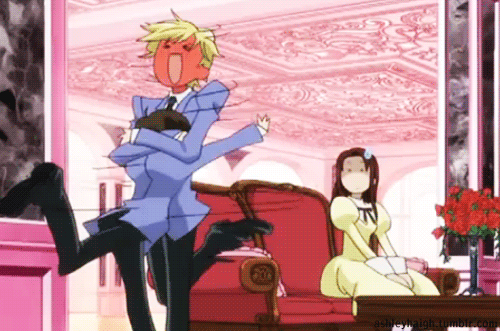 There's nothing quite like a Tamaki hug...


---
---
I really enjoyed the friendship between Shino and Kirito in SAO II, and, honestly, this explosive hug scene beats out all of the sappy Asuna hugs. Shino just casually tosses a grenade and hugs poor Kirito, as if the dude hasn't been beaten up enough fighting Death Gun. It was a pretty unexpected but also perfect ending.


---
---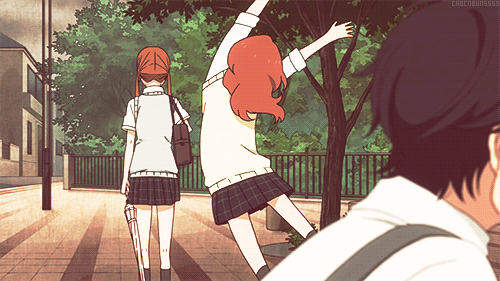 Asako misses the mark a bit when trying to hug Shizuku, but I'm sure we've all been there with that one friend who just has no chill.


---
---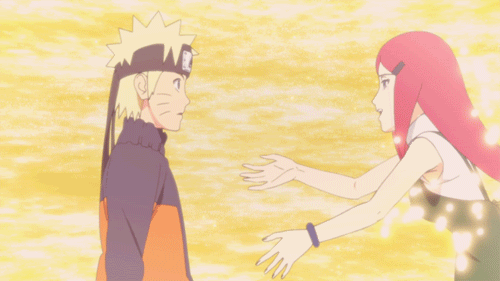 This has to be one of the most dramatic moments in anime history. Seriously, you watch over 500 episodes of ups and downs and even Minato's appearance before Naruto finally gets to meet his mother.


---
---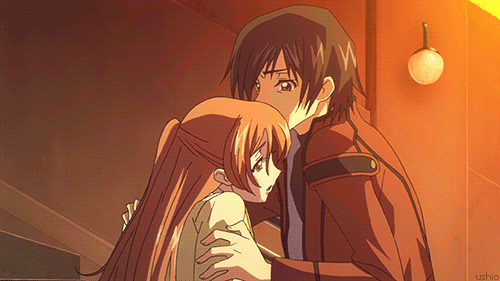 Lelouch and Shirley had some of the worst luck. Their friendship pretty much ruined her life, but that just made the emotional scenes all the more intense. This one especially, before Lelouch makes her forget him to try and alleviate some of her pain. It was misguided but really underscored his desperate desire to keep his loved ones safe and happy.


---
---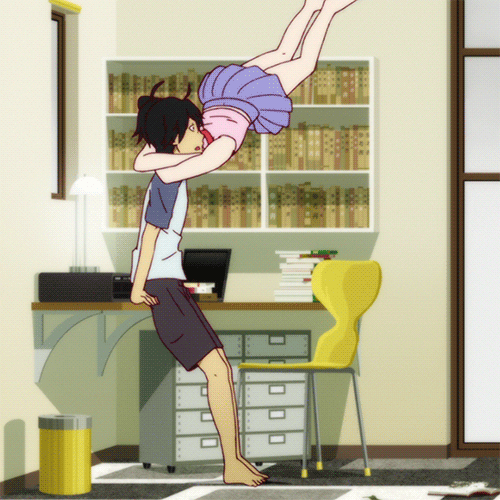 This hug... there are really no words for this. I honestly feel sorry for the poor guy having to endure primate acrobatics around his neck.


---
---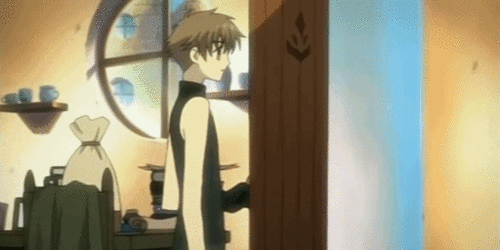 Nothing says "I missed you" like a flying tackle through the front door. Forget bodily harm, so long as the target thoroughly understands the repercussions of staying out of sight. Honestly, this is probably the most frightening hug ever (which is saying a lot given the chimpanzee-shimmy going on in the previous anime hug gif)!


---
---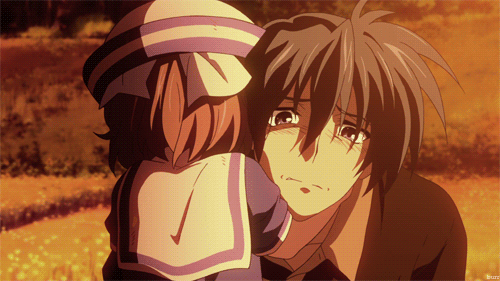 Intense, familial moments are rather rare in anime, and this is definitely one of the best displays of love. Tomoya sort of clings to Ushio like she's really the only thing keeping him grounded. The look on his face is so busted up, you really don't even have to watch this show to feel the emotion in it.


---
---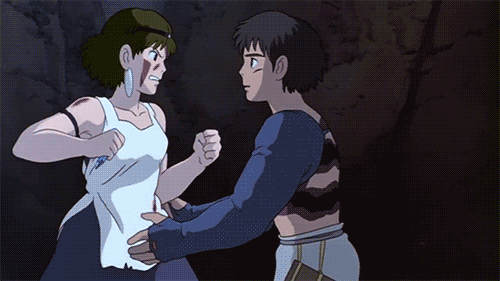 The best thing about this hug is how reluctant San is to receive it, but just how badly she needs that hug. Her whole world is literally at stake and she has become relatively powerless to stop it. Ashitaka, the one human in the area who seems interested in stopping the destruction of the forest, is dying from the infection on his skin, but he still finds the compassion to comfort her. I think the biggest part of this scene is that San is so used to fighting her own kind, and this is a pretty big step for her, to accept comfort from another human.


---
---
There's nothing like the final hug in a gut-wrenching death scene to show the futility of a situation. Wolf's Rain provided a particularly bitter ending for the wolves. It is a brutal scene that makes Kiba realize that no matter how hard they fight, sometimes there is no happiness at the end.


---
---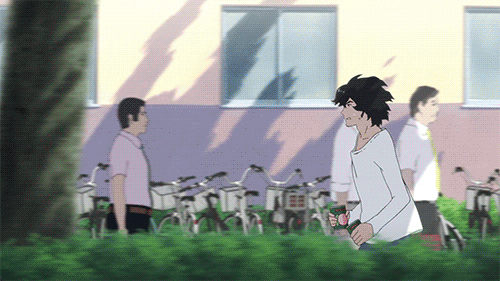 Honestly, who doesn't love running spin hugs? This was definitely one of the happier moments in this movie, and definitely the best hug.


---
Free!'s best bro hug
---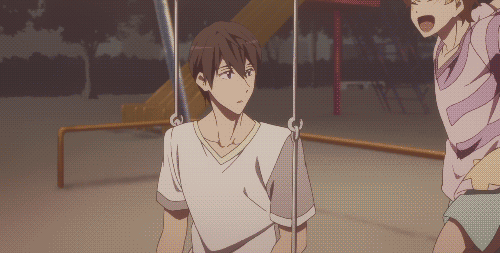 Who could be sad when they have a ball of sunshine to glomp them while they mope on a swing? There are definitely plenty of moments to choose from in Free!, but I enjoyed this one the best. A good "cheer up buddy" hug is just the sort of thing people feeling blue need.


---
---
Finally, the "happy ending" hug, because nothing beats those epic Disney moments, even in anime. Not even those tragic, tear-jerking death hugs. While there honestly wasn't much emotional sway in the brief, somewhat rushed relationship of Amy and Ledo, this anime hug was still adorable. Ledo even smiles in this scene.