The Death Note is a notebook which grants the power to end human life by simply writing the victim's name. It is brought to the human world by Ryuk, a "shinigami" (death god), purely for his own amusement. It finds its way into the hands of Yagami Light, who uses it to kill criminals, those he considers unworthy, as well as anyone who tries to oppose him, all in the name of bringing peace to the world, under the pseudonym "Kira." This begins a game of cat-and-mouse between Kira and L, the renowned detective, but who is the cat and who is the mouse?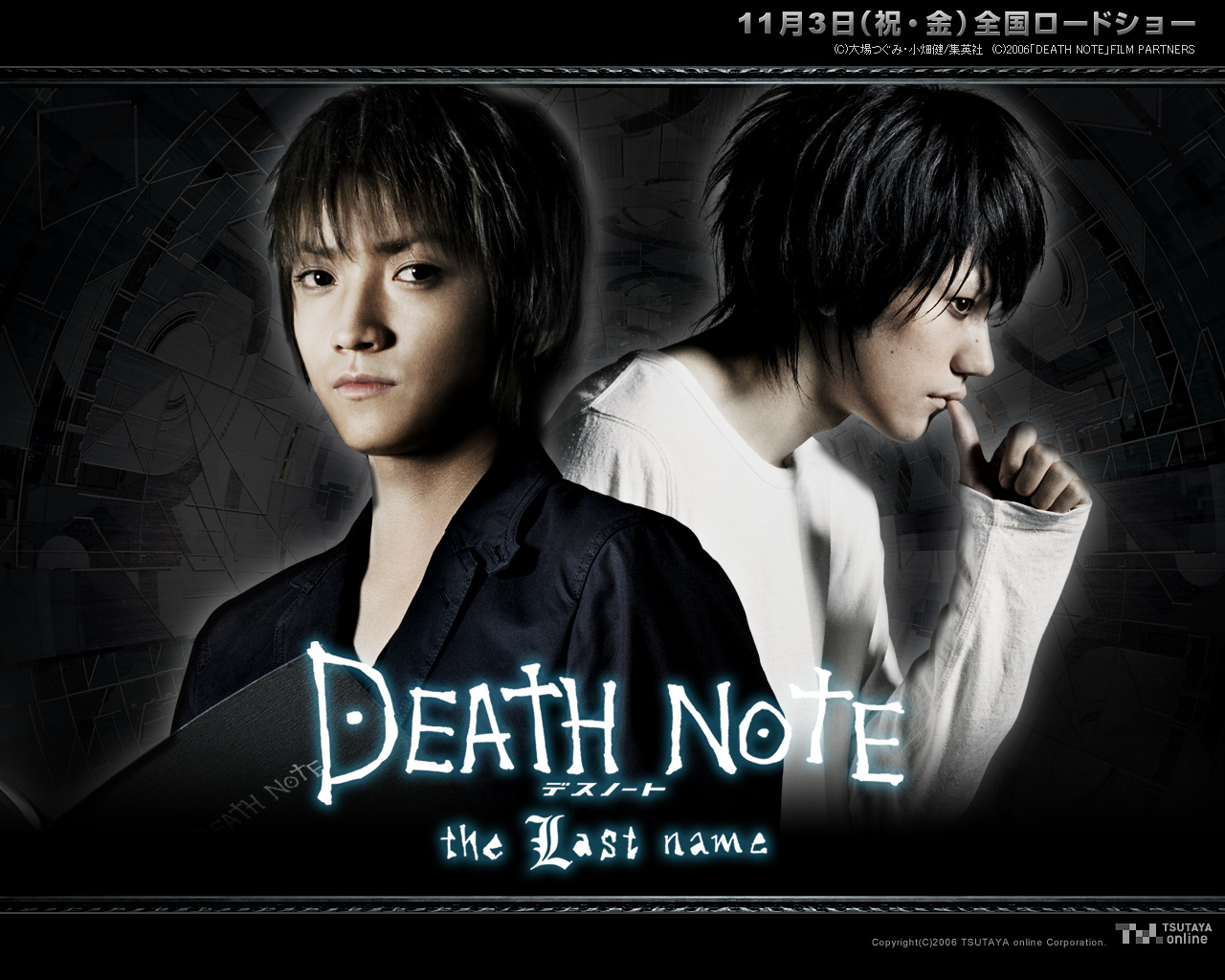 One of the attractions of this movie is the mind games between Kira and L. They each possess a keen ability to anticipate the actions of others, as well as a willingness to take huge risks to fulfill their goals. Another aspect that of Death Note that many find exciting is that fantasy elements, or bending of the normal rules of logic and reality, are all treated in a very realistic way. This separation from reality while at the same time being anchored in the everyday world creates a unique atmosphere of dread and an empathetic connection to the characters and plot.
Here are some other Japanese movies which will entertain you with mind games and a twisting of reality and logic in a similar way to Death Note. (Japanese titles in parentheses).


1: The Incite Mill: 7-day Death Game (Inshite Miru: Nanokakan no Desu Gemu)
2: SHUFFLE (Shaffuru)
3: Kaiji: The Ultimate gambler (Kaiji: Jinsei Gyakuten Gemu)
4: LIAR GAME: The Final Stage (Raia Gemu: Fainaru Sutagi)
---
The Incite Mill: 7-day Death Game
---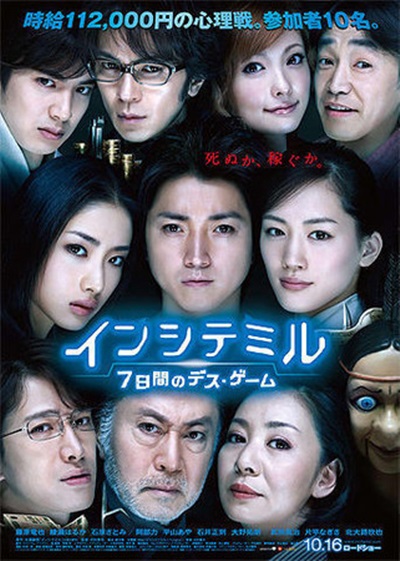 Twelve people gather at a complex called "Ankikan" after seeing a job advertisement offering 112,000 yen (about 900 USD) an hour to be monitored for 7 days in a psychological experiment. Once they are locked in, they learn of 3 rules:
You must return to your room by 10 p.m. If you are seen by a guard after this time outside of your room, you will be warned three times. After the third warning, a guard will kill you.
If a murder occurs, you will all have to solve the crime. It must be solved by using more than just intuition, and a verdict must be reached by a majority decision.
When the number of survivors is down to two people, or seven days pass, the experiment will end.
When each person is taken to their rooms, they find a weapon inside. The next day one of them is found murdered. The offer that seemed too good to be true is the beginning of an inescapable hell for those tempted by the riches on offer. Doubts beget doubts. Mind games among participants and the thrill of the kill-or-be-killed situation will remind you of the battle between L and Kira in "Death Note." Tatsuya Fujiwara, who also starred as Light in "The Death Note" movie, plays the leading role.


---
Shuffle
---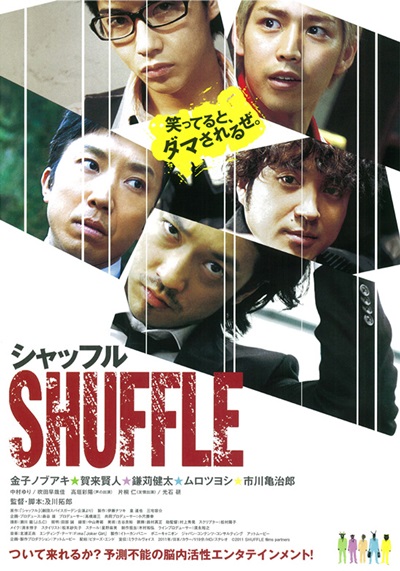 Kohei, who has been suffering from memory loss for a week, receives an invitation to take part in a monitoring project. The invitation also states that his memory can be recovered. He and three other people are brought to an old winery to participate in the project. The whole thing turns out to be a scheme to restore his memory in order to locate money that he had stolen and hidden prior to his amnesia. Kohei was actually a member of a gang of thieves who stole 200,000,000 yen (about 1,600,000 USD) from a bank. Who is lying and who is being deceived? Who is chasing and who is being chased? The cat-and-mouse between participants and unexpected twists in the plot will perhaps remind you of Kira vs L in "Death Note." This fast-paced movie with a little bit of comedy might blow your mind by the end.


---
Kaiji: The Ultimate Gambler
---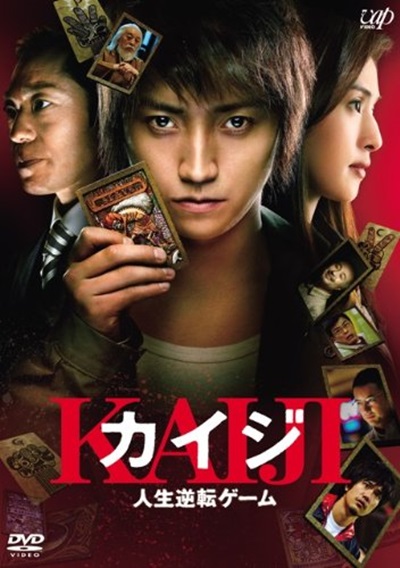 This is a live action movie of a well-known comic series and is also followed by the sequel, Kaiji 2. Kaiji unwittingly fell into a huge debt from trying to help an old acquaintance. One day, the president of a financial institution suggests that he take part in a bizarre game to win a large sum of money. He decides to join the game, but the stakes are far higher than he'd imagined. The gambling battle between Kaiji and the executive of Teiai (the biggest conglomerate of companies, mostly based in consumer finance) is nail-biting. In a way, Kaiji is very much like Kira, who simply wants to bring justice to the remorseless companies. However, they are also at opposite poles, for where Kaiji simply tries to do the right thing, Kira kills criminals for justice. Whether the two leading characters in these movies are similar or not, the mind strategies they use against their enemies will capture the hearts of viewers.


---
Liar Game: The Final Stage
---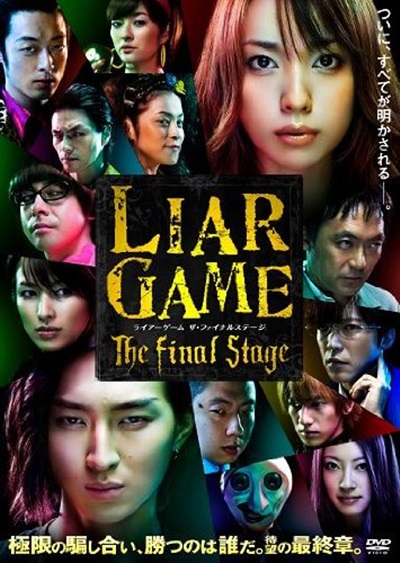 This movie is a sequel to the Japanese drama series (Liar Game season 1 in 2007 and season 2 in 2010). Don't worry if you haven't seen the drama series. The games they play in the series and the movie are different and the movie is made so people who have not seen the series can enjoy it. In Liar Game: The Final Stage, the players are gathered to play a game called "Garden of Eden." They are to vote with either a gold, silver or red apple 13 times in total. Winners are chosen according to the number of voters and various rules. Some of them make a group to win the majority but some players double-cross the others. It is the start of a game of trust and betrayal. Parts where the players try to anticipate their opponent's decisions are very much like Kira and L in "The Death Note."