---
Do you love Attack on Titan? How about cosplay? We'll give you both!
---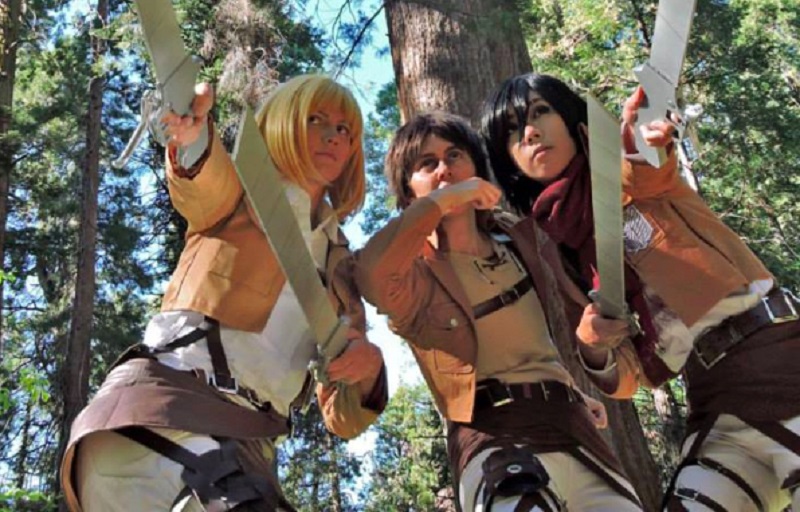 Please refer to Stephanie Stone (Mikasa cosplayer)
Shingeki no Kyojin (Attack on Titan) has become one of the most popular anime in the world! The epic story of titans vs humanity has captured the attention of the most skeptical of anime fans. One of the most heartbreaking aspects of the series is its diverse cast of characters - each with their own tragic story to tell and powerful reason to fight.
With season two of the world-renowned Attack on Titan series coming soon, what better way to prepare than by checking out a new portrayal of your favorite characters? We present to you some of the most beautiful Attack on Titan cosplay photos in existence!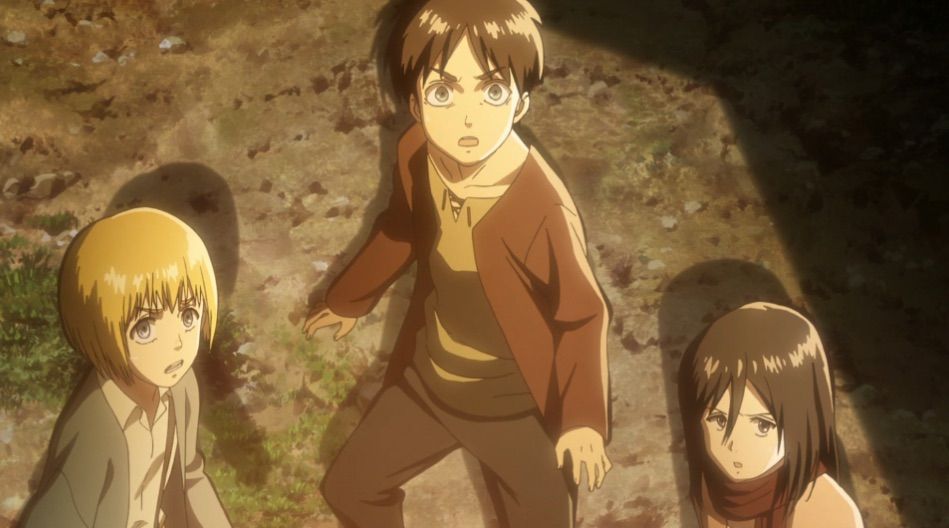 ---
Eren Yeager Cosplay
---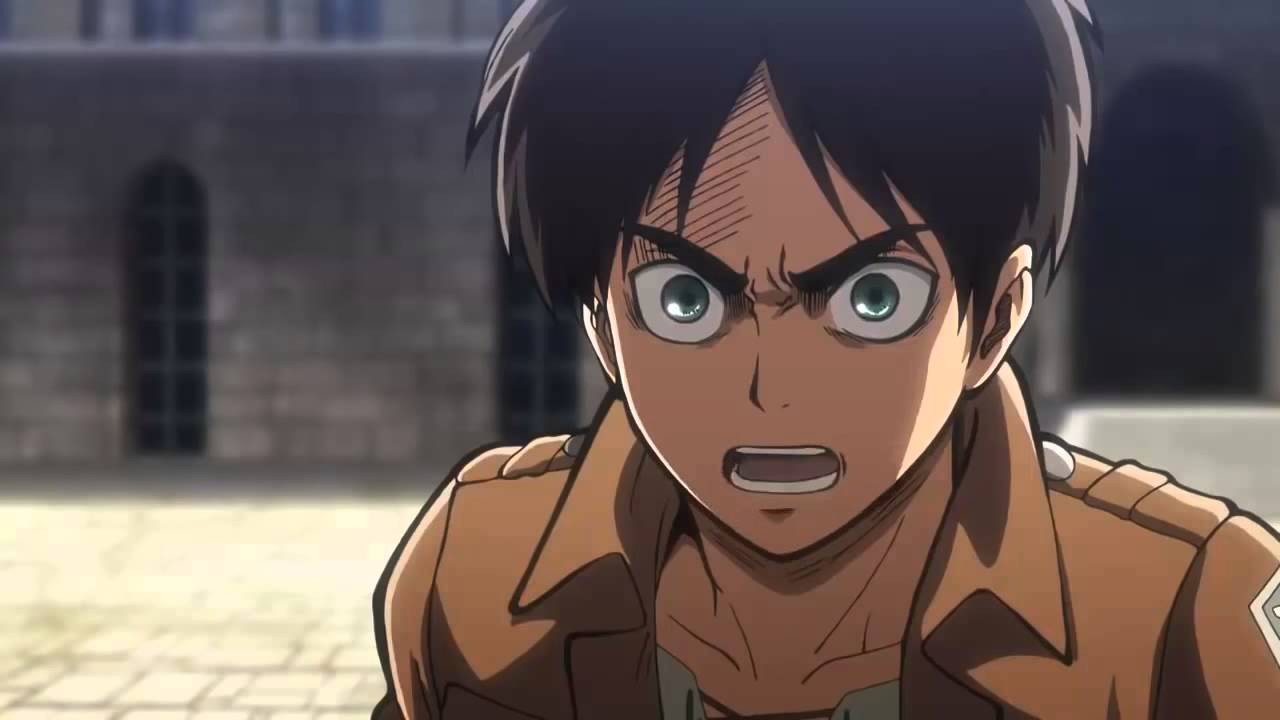 Eren Yeager has a dark past and an even darker present. Will he ever see the light at the end of the tunnel?
---
---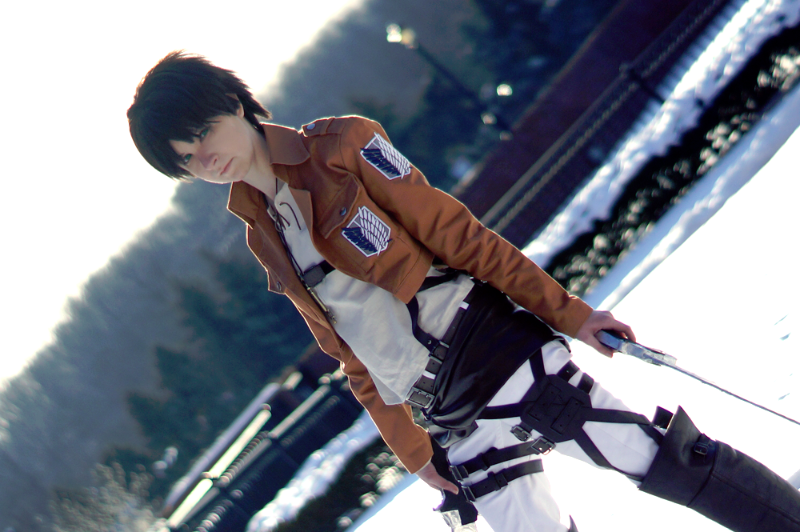 Photographed by Valentynne Photography
Why I cosplay Eren Yeager:
"Eren is one of my most favorite characters, I relate to him so much, I feel like a lot of people can. He had his life as he knew it ripped to pieces and he still got back up and kept fighting. How can he not be inspiring? I love to try and bring his character to life, and I know I will cosplay him for a really long time."
---
Mikasa Ackerman Cosplay
---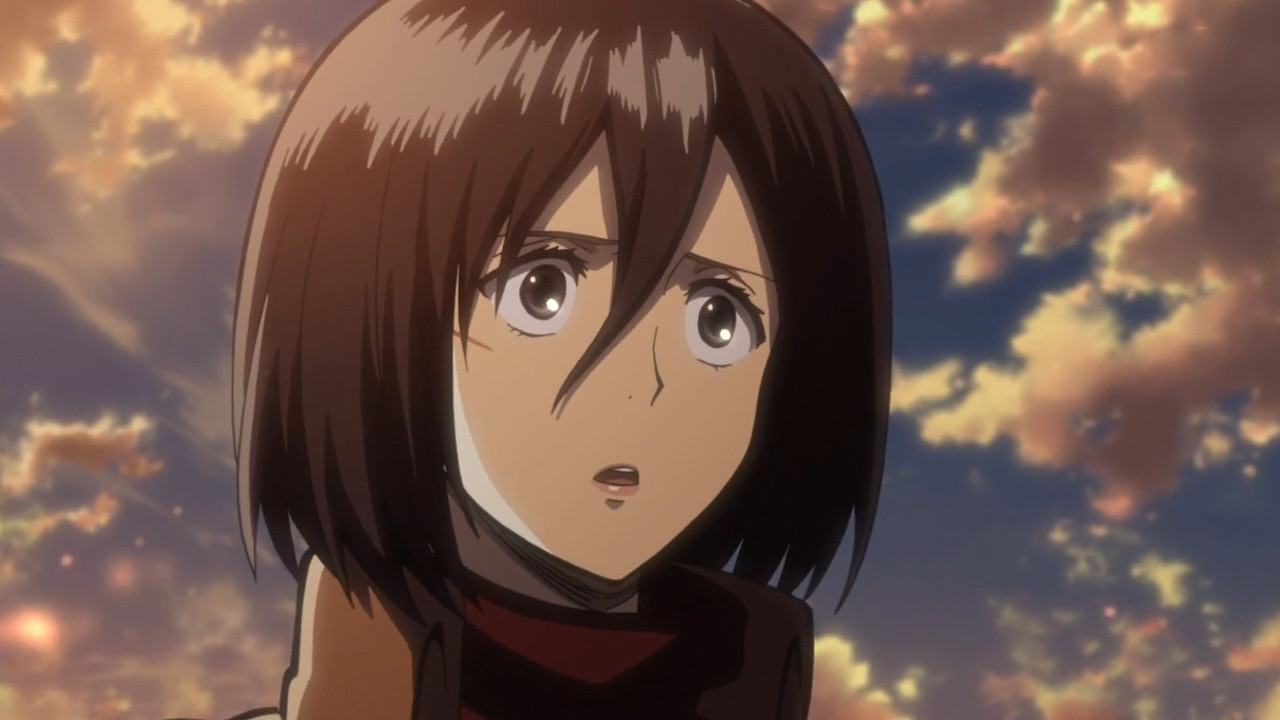 Mikasa may be the kuudere beauty of Attack on Titan, but there is nothing cold about her love for Eren!
---
---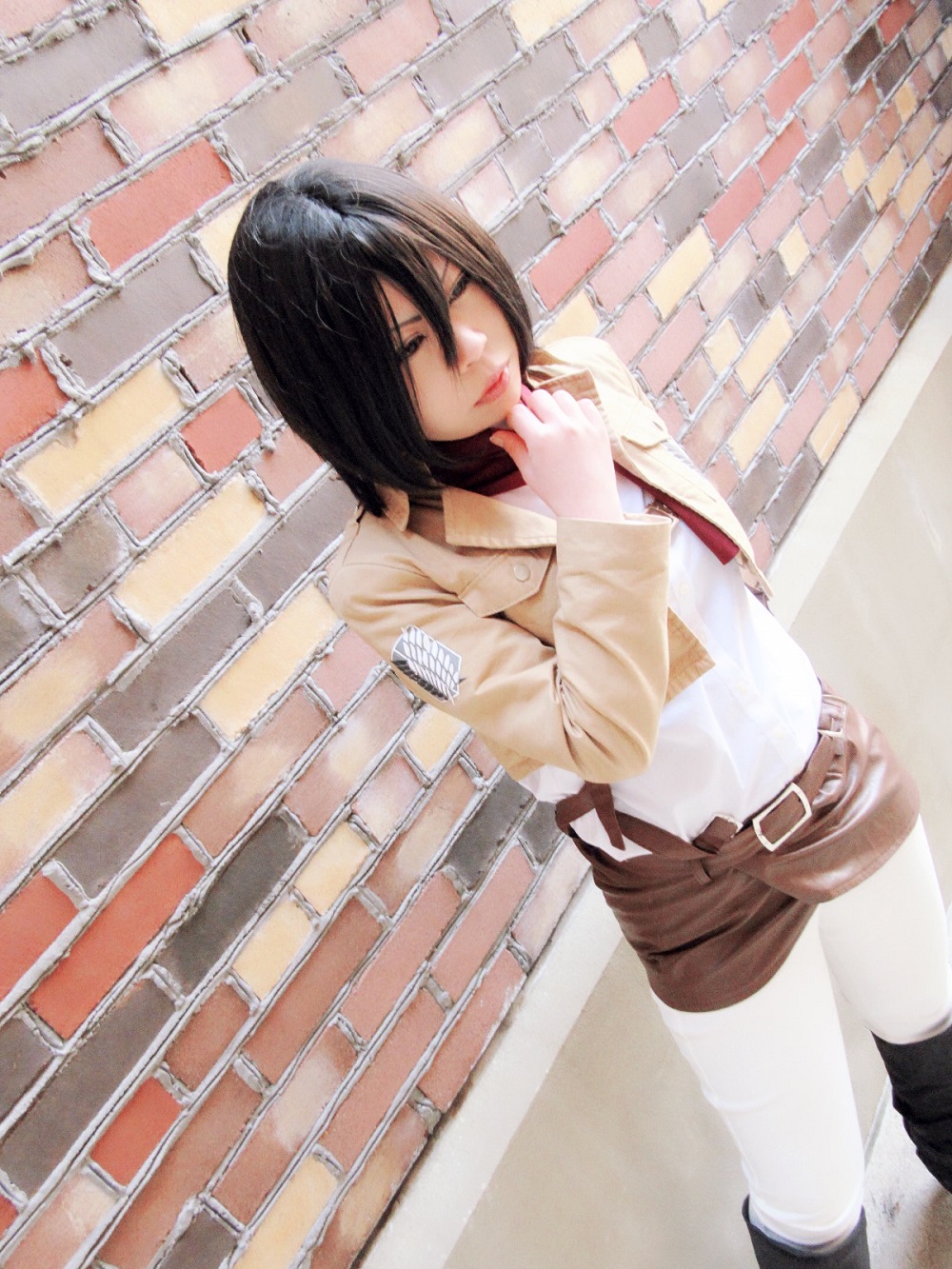 ---
---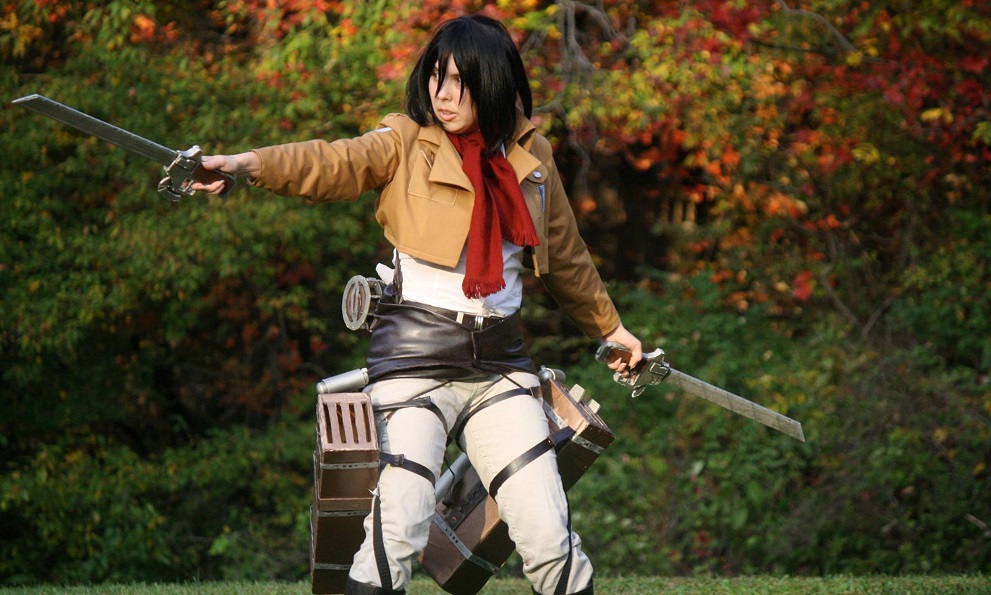 Photographed by a friend
Why I cosplay Mikasa Ackerman:
"I learned that I loved making heavy props with making this costume, so I wear it every chance I get. I made mostly everything, and the 3DMG especially was a labor of love. Both won 1st place at Star City Anime's costume craftsmanship competition."
"As for Mikasa, she's a strong, protecting character who has gone through tragedy to be a talented soldier. She is also not far from perfect and I love cosplaying characters that have such strength."
---
---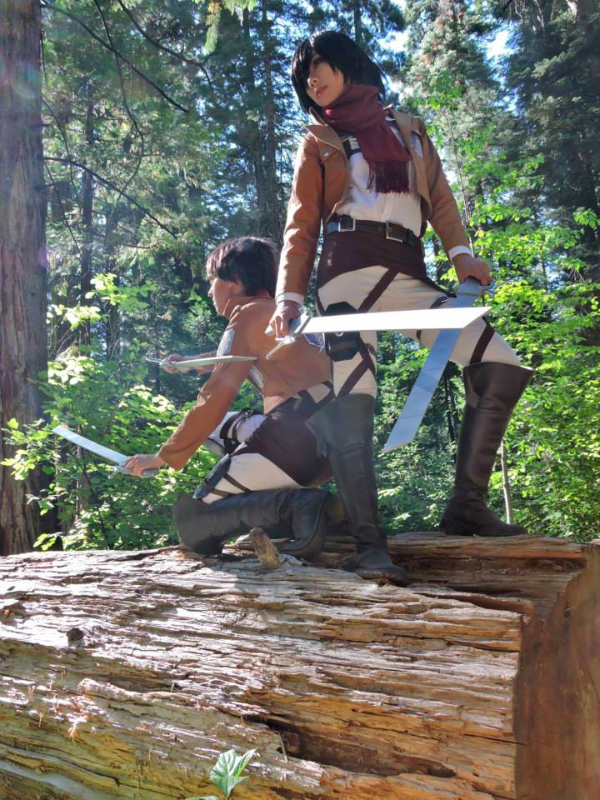 Photographed by Julian Lozos
(Eren Jaeger: Ellen Gallagher, Armin Arlert: Michelle G.)
Why I cosplay Mikasa Ackerman:
"Mikasa is a very special character to me because she was the pivotal character in my cosplay career. My love for Attack on Titan and my strong desire to make new friends led me to pursue auditioning for the Attack on FanimeCon panel in 2014 - an Attack on Titan panel at FanimeCon, as the name states. My childhood friend auditioned with me for the role as Eren Jaeger, and despite either of us having never auditioned for a panel before, we received the part, and met the panel people who have now become our cosplay family. They mean more to me than I could ever put into words - and it's, funnily enough, very similar to Mikasa's situation in AoT with the people in the Survey Corps. The parallels we share because of the decisions I made, and the memories that were created because of that, will always make Mikasa a favorite cosplay of mine. Despite how annoying it can undeniably be to wrestle with the 3DMG belts, or how hot it can be underneath all those layers, it's always worth it because every time I wear it, I'm with my family."


---
---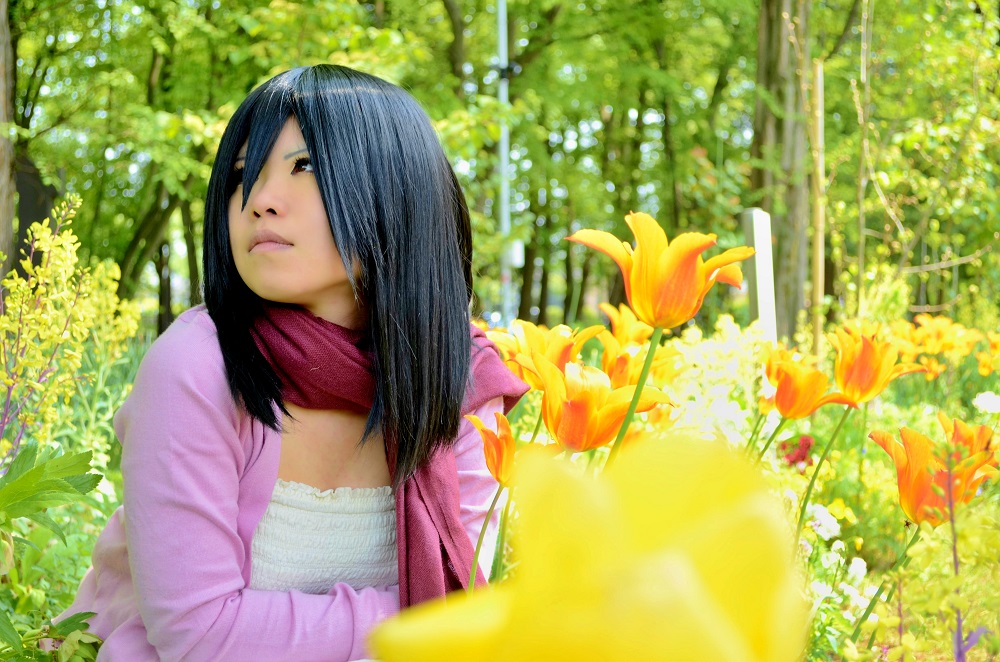 Both photographed by LA.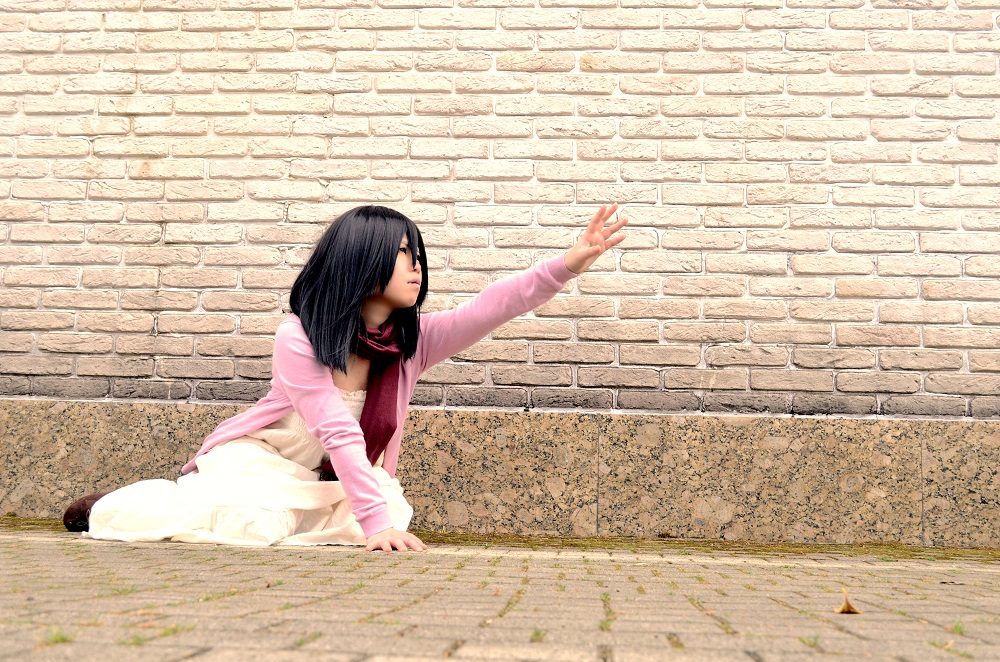 ---
---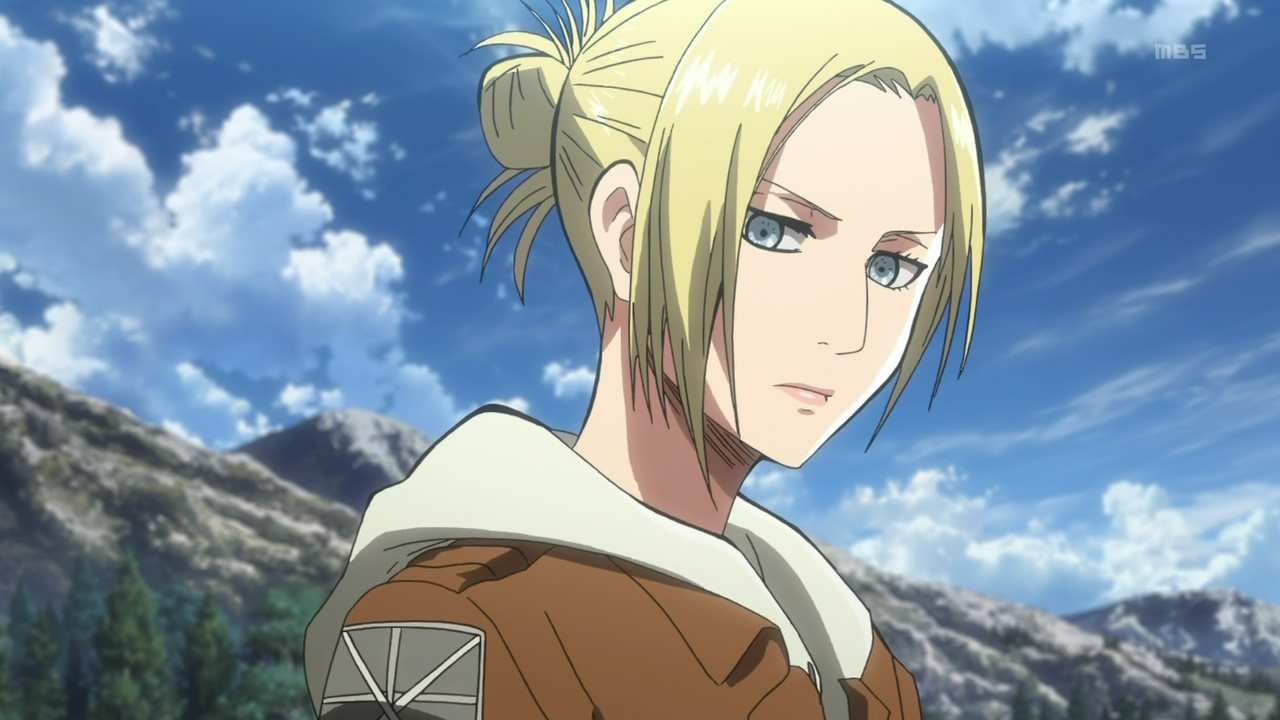 The mysterious blonde bombshell of AoT, Annie will take your breath away (in more than one)!
---
Miyano Yuu (宮乃 友) - Twitter Page: @miyano426
---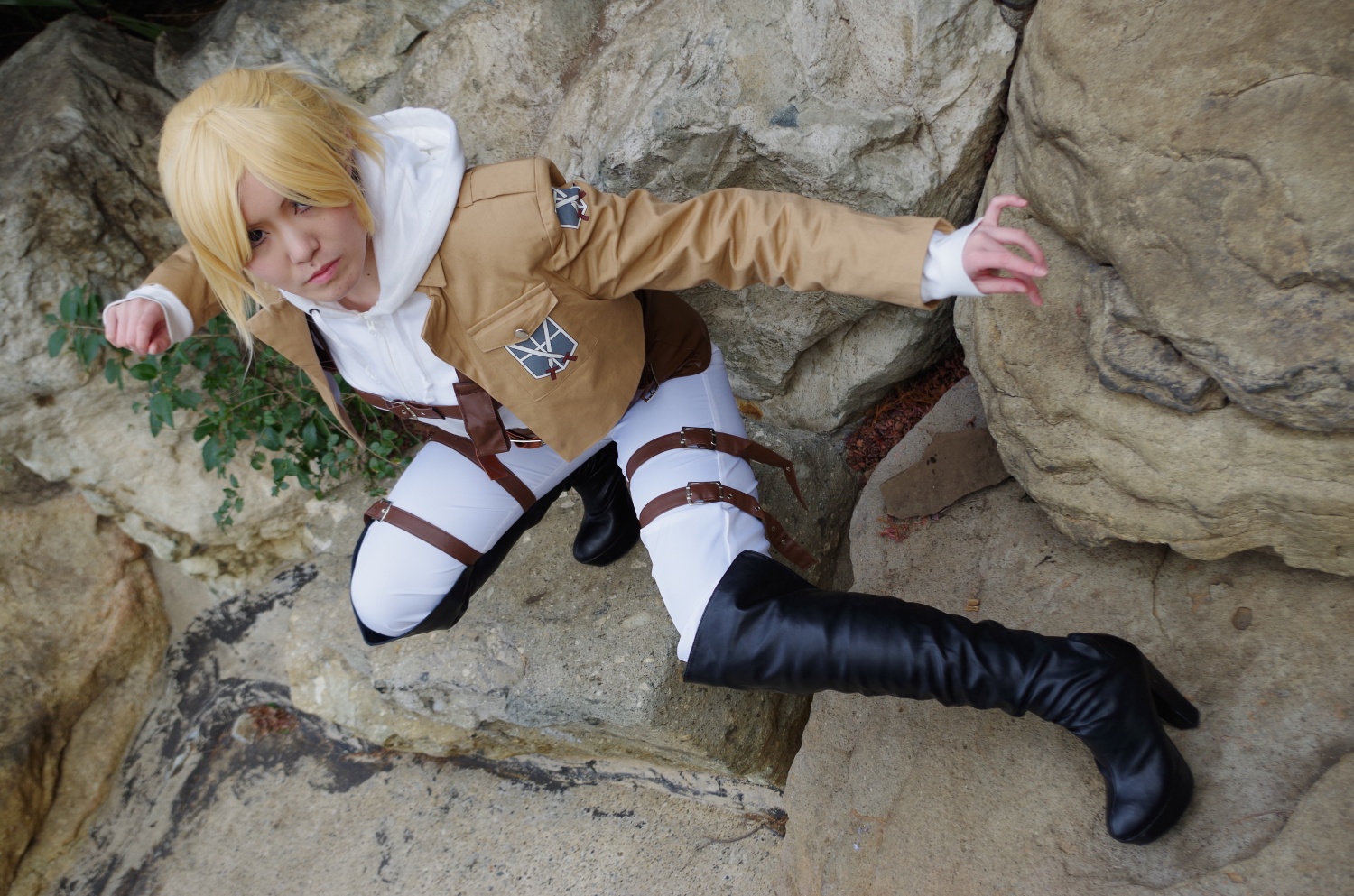 ---
---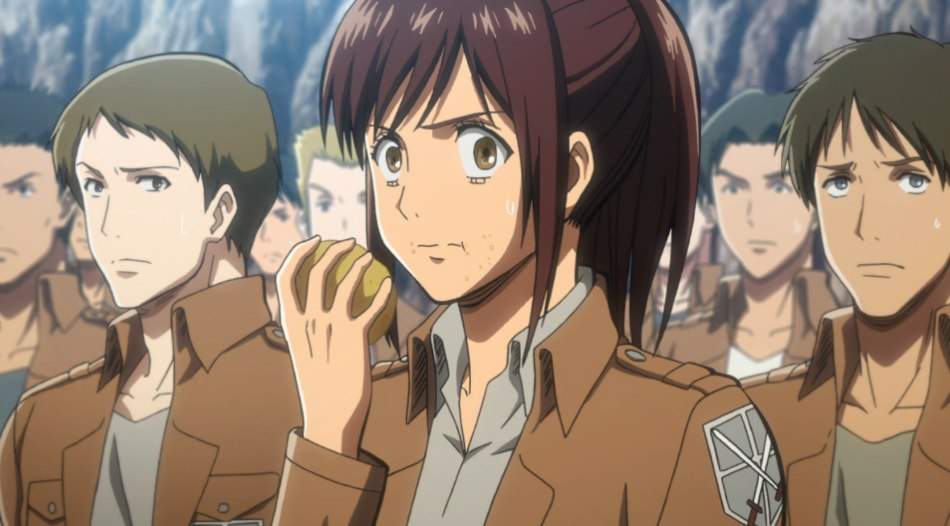 Sasha Blouse, more commonly known as "Potato Girl", is one of the most famous supporting characters in anime.
---
---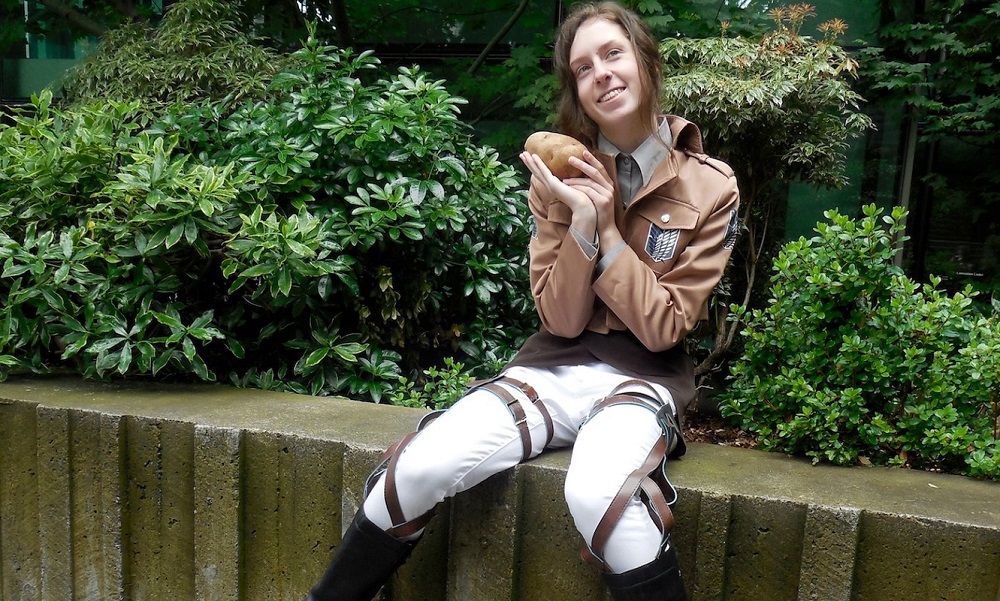 Photographed by a family member
Why I cosplay Sasha Blouse:
"I first got the idea to cosplay from Attack on Titan when I saw a group of other cosplayers walking around at a convention in the same AoT uniforms and I thought it looked so neat and official! I decided on Sasha because I connected with her cheerfulness and comic relief, not to mention her hairstyle was the most similar to mine (I wanted a cosplay that didn't require a wig). Plus, who doesn't love an excuse to carry a potato around with you everywhere you go?"
---
---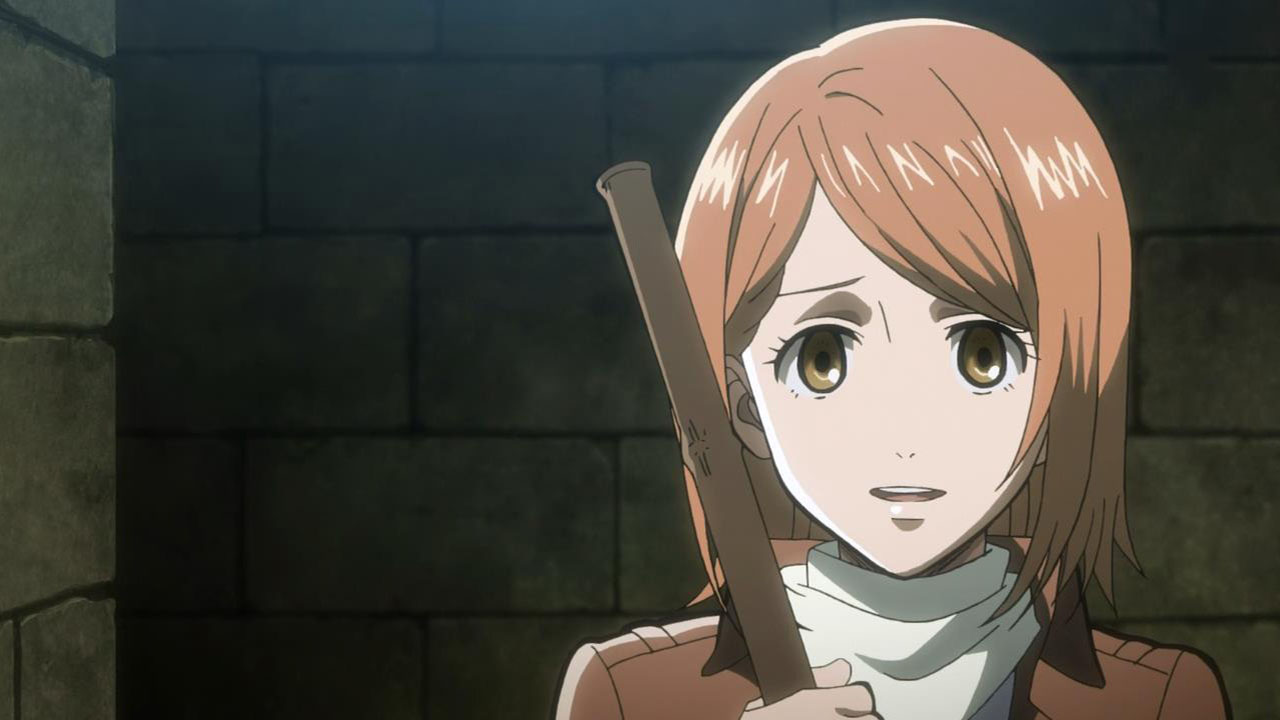 Petra is the "Jekyll and Hyde" of Attack on Titan - sweet on the inside, frighteningly violent on the outside.


---
---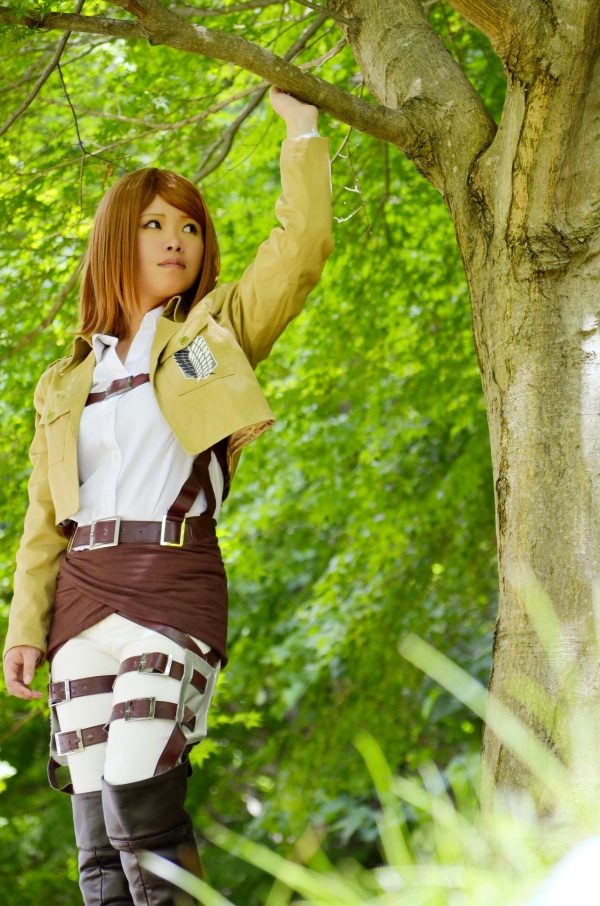 Photographed by LA