The Animate Cafe Ikebukuro No. 3 was newly opened on Jan. 27 and as its first collaboration, the cafe is decked out with all kinds of content themed after the popular anime Osomatsu-san.
Animate Cafe is a collaboration concept cafe that develops collaborations with currently popular anime and games. Since the first Animate Cafe Ikebukuro opened in January 2012, they've expanded to 14 locations across Japan in 3 forms: the Animate Cafe, Animate Cafe Shop, and Animate Cafe Kitchen Car.
As its first collaboration, a cafe themed after the popular anime Osomatsu-san has opened at Animate Cafe Ikebukuro No. 3. In addition to original food and drink items on offer and cafe-exclusive products for sale, other features include the riddle-solving game "Osomatsu-san x Nazomate Flag Corporation Employment Exam" (participation fee: 1,500 yen).

A Nazomate riddle game has been developed - a first for Animate Cafe. A guard stands out front of the secret room!

Solve the riddle in time and you'll get one of the plastic cards shown above. The cards are given out randomly.
Entrance into the cafe is done entirely through online reservations by raffle. Since the series is such a hit in Japan, getting a reservation is expected to be a tough battle.
Nine drinks themed after the sextuplets and Iyami and co. Each can be enjoyed for their various flavors and textures.
Order off the collaboration menu and you'll get a random deluxe coaster (12 designs total).

This imagawayaki is themed after episode 7. You get three for 1,000 yen including tax.


Operating together with the collaboration at Animate Cafe Ikebukuro No. 3, beginning Jan. 15 the Animate Cafe Kitchen Car Ikebukuro is stationed out front of the Animate Ikebukuro Flagship Store next door to the cafe. The collaboration is even on at Animate Cafe Shop Shinjuku from Jan. 19 through Feb. 14.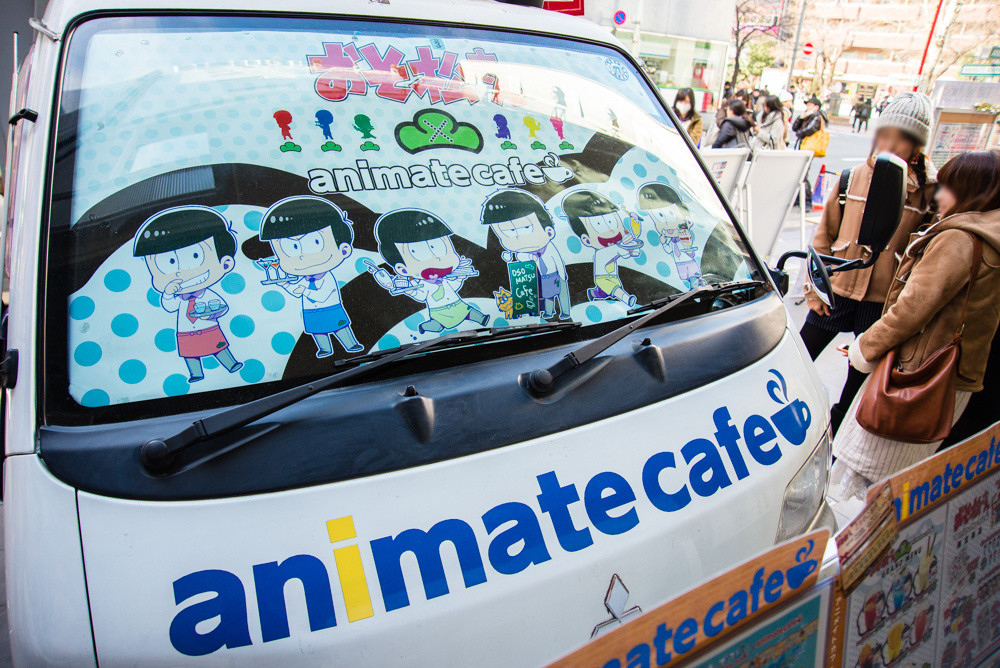 The Animate Cafe Kitchen Car Ikebukuro.
Animate Cafe Ikebukuro No. 3 has finally gotten off to a long-awaited start. They'll certainly have even more for anime and game fans to enjoy from here on.
[Osomatsu-san x Animate Cafe Ikebukuro No. 3 Overview]
Duration: Jan. 27–Feb. 14
Location: Plazain Ikebukuro 3F, 1-20-6 Higashi-Ikebukuro, Toshima, Tokyo
Reservations by daily online raffle
© Fujio Akatsuka / Osomatsu-san Production Committee
---
This article was originally posted on Tokyo Otaku Mode