"As it stands, we're repeating the Dancing Congress." - Germany (episode 1)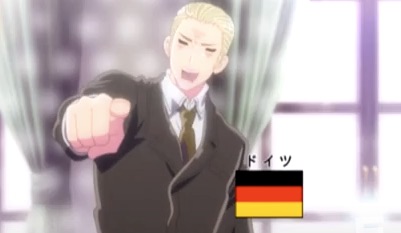 At the Congress of Vienna in the aftermath of Napoleon, everyone danced and avoided discussion.


---
"Night and day every day, we make cuckoo clock after cuckoo clock! We send the money to France and make more cuckoo clocks!" - Germany (episode 3)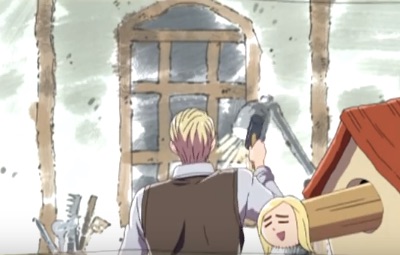 In reference to Germany's immense debts to France post-WWI.


---
"This little hole?! Joseph I wouldn't care about it, you dummy!" - Austria (episode 6)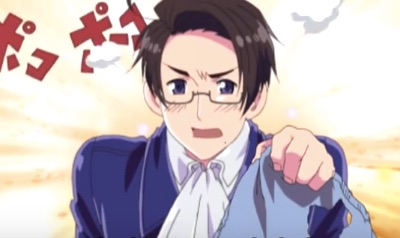 Emperor Franz Joseph I was notoriously thrifty and often looked like a hobo due to his tattered clothes.


---
"Up until recently, the government endorsed its soldiers doing [BEEP]." - Italy (episode 8)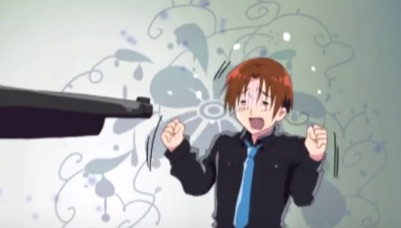 Following a discussion of a "hardcore" video featuring a dog, you can figure out what German perversion is being referenced (the dirtier dub spells it out).


---
"Uhm, sorry to bother you when you're busy, but would you put your hands up?" - Germany (episode 10)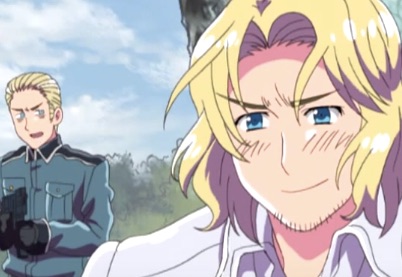 Episode 10 recounts France's numerous military failures.


---
"I don't want to do this either, but my house in a pretty big slump due to the Suez Canal matter right now." - France (episode 12)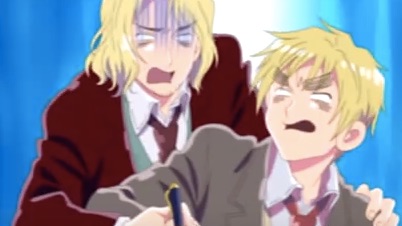 The 1956 Suez crisis in Egypt inspired proposals of a France-English merger (in Hetalia terms, "marriage").


---
"A column..." - Japan (episode 15)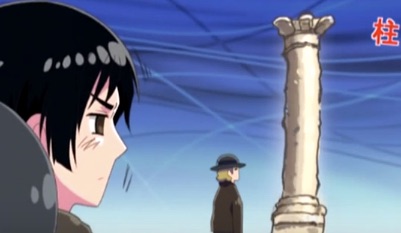 This column from Pompeii was a gift from Italy to Japan during their WWII alliance.


---
"Don't come up with hiragana characters on your own!" - China (episode 16)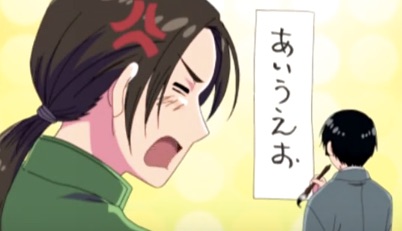 Japan developed its own writing system in addition to borrowing China's.


---
"I'm Canada." - Canada (episode 19)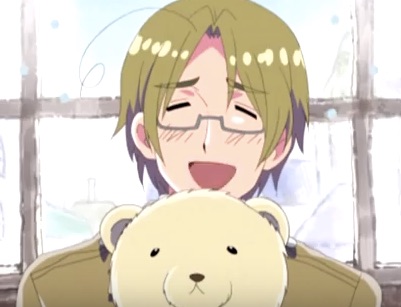 Everyone forgets about Canada's involvement in WWII.


---
"I'm Sealand, the world's smallest nation!" - Sealand (episode 21)

How many of us knew Sealand existed before Hetalia?


---
"This is a cursed chair." - England (episode 26)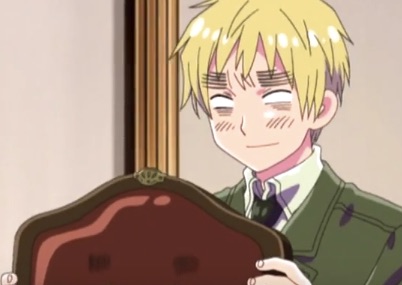 In reference "Busby's stoop chair", allegedly cursed by a murderer in 1701.


---
"I don't need it since there's snow on the ground." - Russia (episode 29)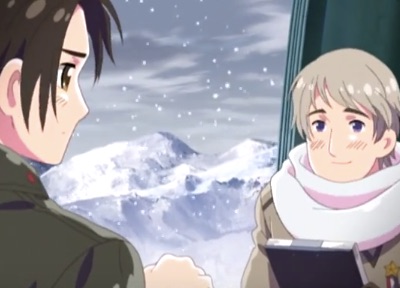 There's an urban legend that Russian paratroopers didn't use parachutes but rather fell in the snow.


---
"The sushi you foreigners are familiar with was created rather recently." - Kappa (episode 30)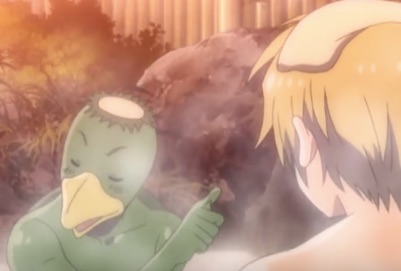 A mythical creature educates England on Japanese history.


---
(shirt reads "Shut up") "I want to show it to the Venezuelan President too!" - Spain (episode 33)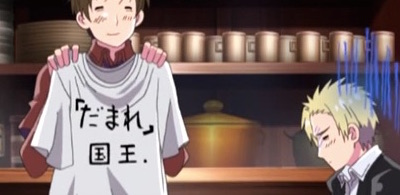 In 2007, Spain's King Carlos asked Venezuelan President Chavez to shut up.


---
"Hey France, did you know that the participants in Olympia were all men? On top of that they were naked." - Greece (episode 35)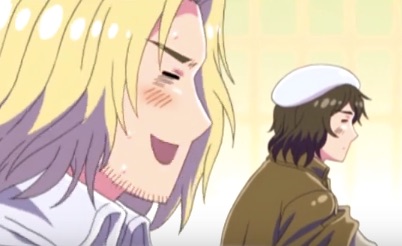 Probably not the exact reason France revived the Olympics in 1896 in real life...


---
"This is America's legend of Red Mt. Fuji. That they actually tried to do it is what you call American Quality." - Narrator (episode 41)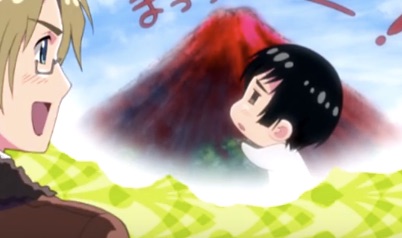 Ah, the narrator. So educational yet snarky (painting Mt. Fuji red was an actual American WWII plan).


---
"I'll stay by your side forever." - Belarus (episode 43)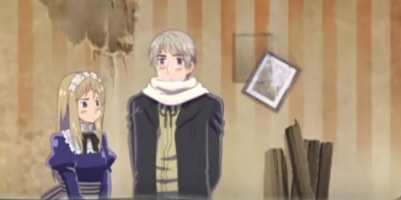 Where other Soviet states went independent, Belarus still wants an alliance with Russia.


---
"That was big brother." - Liechtenstein (episode 45)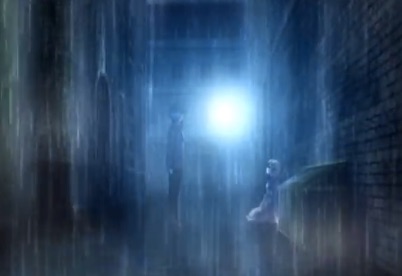 One of the more dramatic scenes illustrates how Switzerland gave aide to Liechtenstein following WWI.


---
"I was making our new weapon, Panjandrum. And then a drunk Scottsman was..." - England (episode 48)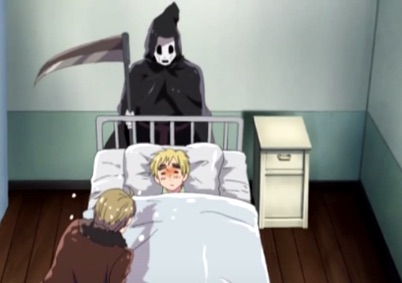 Panjandrum was an ineffective weapon meant to breach Germany's protective barrier.


---
"Since Mr. France came to visit us here today, I think I'll try adopting his culture by watching and learning it." - Japan (episode 49)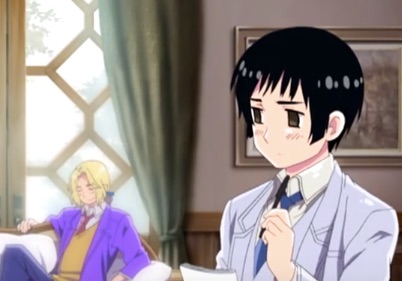 France was a model for a Westernizing Japan in the Meiji period.


---
Note that these Hetalia Axis Powers quotes are from the official subtitled version by FUNimation rather than their dubbed version, which is also funny and filled with history references but differs in dialogue.