Notable Moments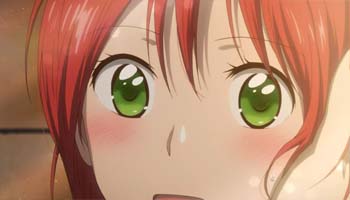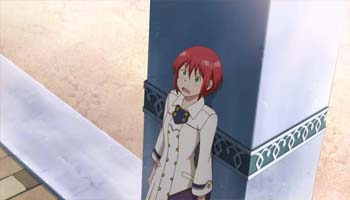 In this episode of Akagami no Shirayukihime, the relationship of Zen and Shirayuki intensifies some more. While kissing Shirayuki is certainly is a big declaration of his love, Zen is also caught in the moment that he didn't really think it through. After seeing Shirayuki's blushing face, Zen is surprised at himself as well. The episode focuses on the events after the kiss where Zen continues on making the blue birds the official messenger birds for Clarines, and Shirayuki unable to keep a straight face around Zen. Of all people, our brave and strong-willed heroine is the one acting like a shy school girl and it's adorable as the show follows Shirayuki slowly gathering the courage to face Zen without melting like butter. It wasn't the kiss that made her tremble all over, but the words Zen said about wanting a proper response from her the next time they meet. She's completely overwhelmed, and all she could do is run away from Zen while blushing all over. The rest of the characters noticed Shirayuki acting strange, and they sprang into action figuring out what happened between her and Zen. Mitsuhide confronted Zen about it and Zen confessed to him that he does indeed love Shirayuki.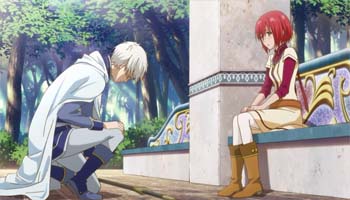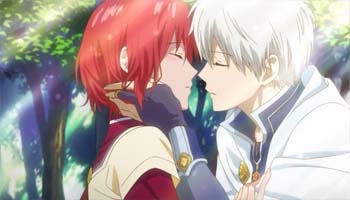 The episode is really focused on Zen and Shirayuki trying to get a hold of their feelings. It has a lot of romantic dialogues that'll get you trembling in excitement. The narrative has always been subtle in presenting important situations, since it reflects the gentleness that makes the anime special, but the romance is bold and upfront this time around. It doesn't beat around the bush with Zen and Shirayuki's feelings towards each other, and instead presents bold romantic claims one after another as it builds towards the next romantic climax. After returning to the castle, Zen bumped into Shirayuki who immediately ran away from him. Zen chases after Shirayuki in the woods, and he decides to take her to a special place. In a small clearing, Zen tells Shirayuki that he is now ready to protect the ones he loves and he will no longer ran away from his status. It was a big declaration, and Shirayuki responds with one of her own. She looks up to Zen and respect him, but this is the first time she realizes she loves him as well. Zen kneels in front of Shirayuki, and he confesses his feelings for her. After wiping her tears, Shirayuki gave a gentle "yes" reciprocating it. The scene just feels so right, and the powerful moment is sealed with their second kiss. This isn't a one sided approach of Zen catching Shirayuki off guard, instead the buildup is slow and the two of them lean in to kiss each other. After all the confessions in this episode, the kiss just tells us the story is about to get a whole lot more exciting from this point on.
Notable Characters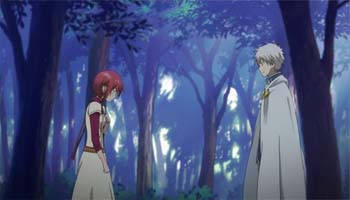 We're approaching the end of the first season, so things are slowly being laid out for the next one. Zen shows he's a great prince in this episode, when he convinced the Yuris Island leader to accept his proposal of using the blue birds as Clarine's official messenger birds. Zen is impressive when he saw right through the leader's test about asking money to accept the proposal. Zen replies that he doesn't think he'll gain the leader's trust with money, and the leader is so amazed he immediately apologized as if accepting his status as a royal prince. It seems the anime wants Zen to convince other people that he's a great prince before Izana can accept it as well, and it hints at greater problems for Zen to handle. If he resolves it as smoothly as the blue bird incident, then it'll give him a greater opportunity to tell everyone that he's grown into an amazing prince.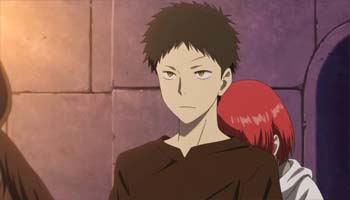 Shirayuki blushing might seem unexpected, but the way the show keeps bringing Obi back into the loop is even more surprising. In this episode, he keeps staring at Shirayuki as if knowing something is up and he finds her behavior odd. Some might think that Obi is acting like a concerned friend, but the subtle storytelling proves otherwise. Did he let Shirayuki run away from Zen because he's acting as a protective friend or as a scheming man in love? Did he want to hold Shirayuki's hand because he wants to console her or to display his affection towards her? It's a powerful statement that Shirayuki hides behind Obi when she was feeling shy in front of Zen, since she trusts him enough to be that close to him. For now, it looks like some seeds of conflict are planted and Obi is just waiting for the right time to reveal if he is indeed a close friend or someone who has fallen in love with Shirayuki. The idea that he's in love can make you smile, since Obi and Shirayuki's chemistry is pretty wonderful and the show keeps suggesting he still has a part to play in this romantic story. While Zen and Shirayuki are officially an item now, Obi might still get his chance and I hope the show considers it.
Prediction for the Final Episode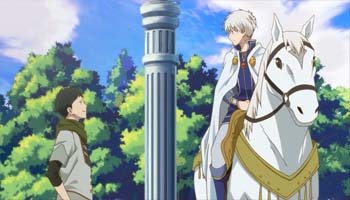 The second season is already confirmed and no conflict arises in this episode, so the final episode might serve as a sweet send off for now. It may perhaps be about Zen and Shirayuki going on a date, while elements of the second season are slowly introduced as a teaser.