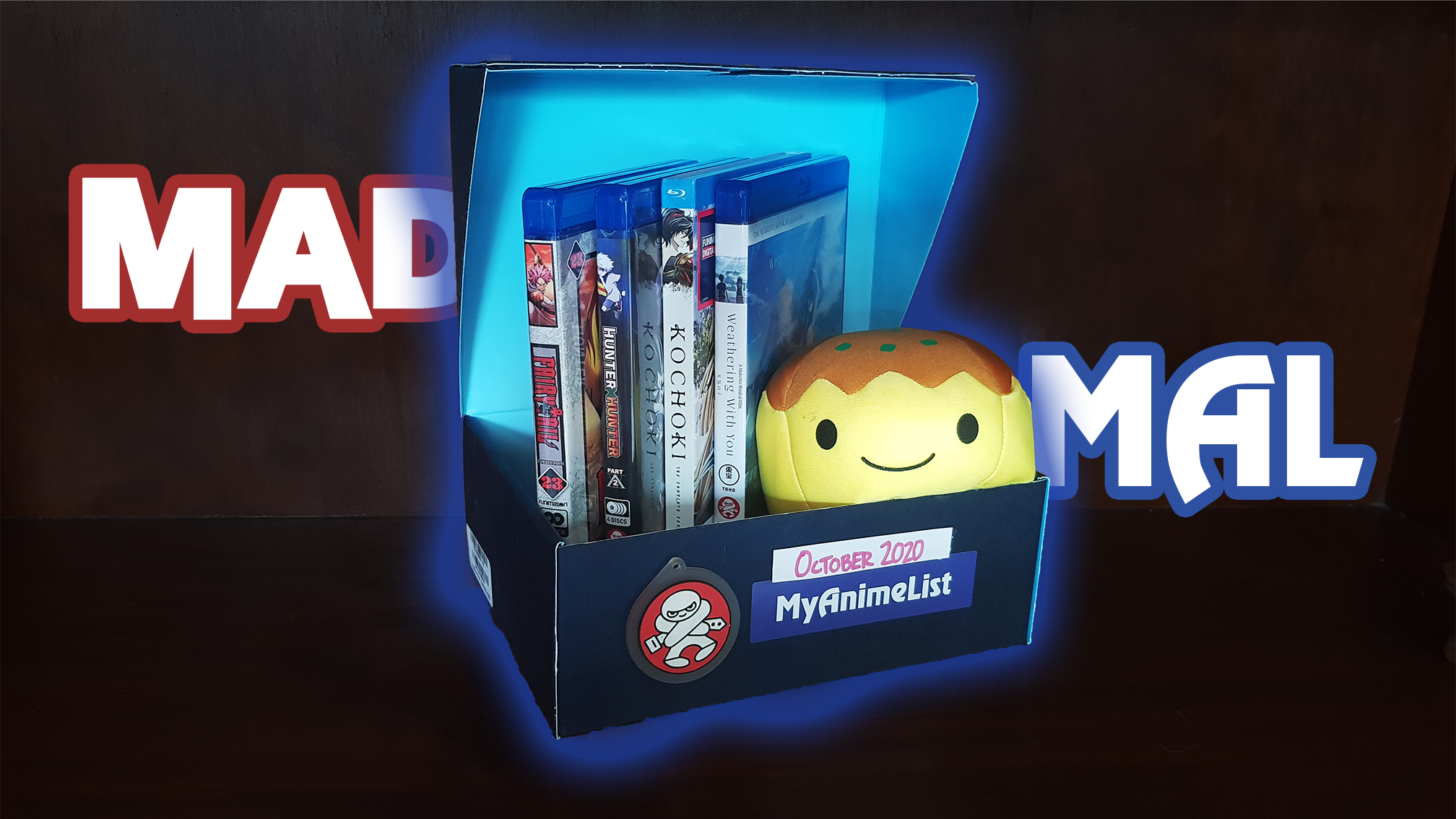 Way down here in the fictional land of Australia (and New Zealand, I guess), far from the advantages of living in the United States, we have Madman Entertainment. Madman is the primary handler of anime licensing and distribution, the streaming service AnimeLab, and hosting Madman Anime Festival.
Thanks to Madman sending me a box of their new releases for this month, I'll be doing a short overview of site rankings, similar anime, some of my own thoughts, and how to find out more about each item. Comments have been kept as spoiler-free as possible!
You can check out all of these releases and more here 👉 Madman Anime Release Schedule (October 2020)
*Takoyaki and box not included


---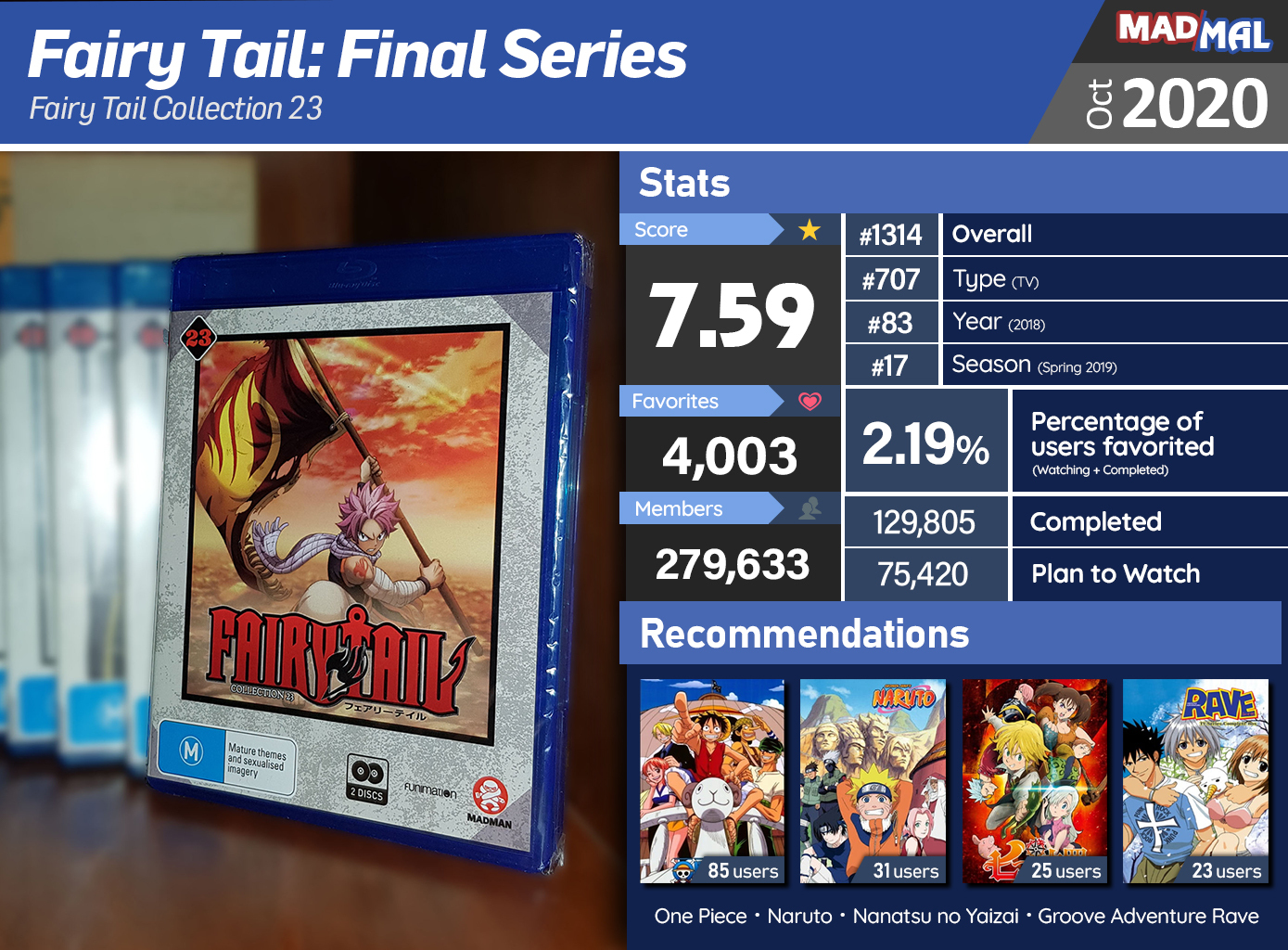 Synopsis
Although Fairy Tail has been disbanded and its members are now spread far across Fiore, Natsu Dragneel hasn't given up on reuniting the guild he and others once called home. Along with his companions Happy and Lucy Heartfilia, he will stop at nothing to keep Fairy Tail and its fiery spirit alive even as they face their most difficult trial yet—the invasion of Fiore by the Alvarez Empire's immense army and their all-too-familiar ruler.
[Written by MAL Rewrite]
Comments
Analysis
After premiering to a score in the mid-8's, Fairy Tail: Final Series ranks as the lowest-rated season of the franchise, behind the original Fairy Tail's 7.73 and Fairy Tail (2014)'s 7.78. 129,805 Completed members compares to 681,344 and 395,026, respectively.
Opinion
I was a huge fan of Fairy Tail throughout the literal entirety of my teenage years, from the moment the first dubbed episodes dropped in 2010 to when they "concluded" in 2018—I waited out every batch of English releases, back when SimulDub™ was barely a pipe dream. I assumed it all ended there (I remember writing a long sentimental Facebook post about it… oof) until Fairy Tail: Final Series was announced, where I broke tradition and watched while it was airing.
Shounen anime, especially one as long as this one, are predicated upon the raw appeal of its ensemble. And in that regard, Fairy Tail: Final Series starts off exceedingly well with a round-up of characters, a pleasant trip if you've had your own personal timeskip from Fairy Tail (2014), without delving too deeply into off-the-shelf filler and flashbacks. We're reminded of the main cast's motivations and ambitions, and how that is strengthened through their bonds with each other.
But it's not a shounen finale without the grandest of stakes—far from the puny guild vs. guild feuds of the early days, Fairy Tail is now encumbered with taking on an entire nation, lead by the dark wizard Zeref. Of course, the thousands of foot soldiers don't even break a sweat; it's the trademark Elite Group that the crew works their way up to. The worn Fairy Tail playbook is whipped out one last time, but Zeref's subplot, with his desire to die and the 'law of contradiction', is still one that I find compelling compared to past villains.
Fairy Tail is proficient at maintaining energy despite a lack of stand-out animation, but Final Series features noticeably stiffer action, relying even more on static shots and reactions. But if you've made it to this point in Fairy Tail, you've already watched 277 episodes and perhaps a few of the franchise extra, so what's the harm in another 51?
➡️ Find out more about Fairy Tail: Final Series
➡️ Check out Fairy Tail: Final Season Collection 23 (Eps 278-290) (Blu-Ray)

---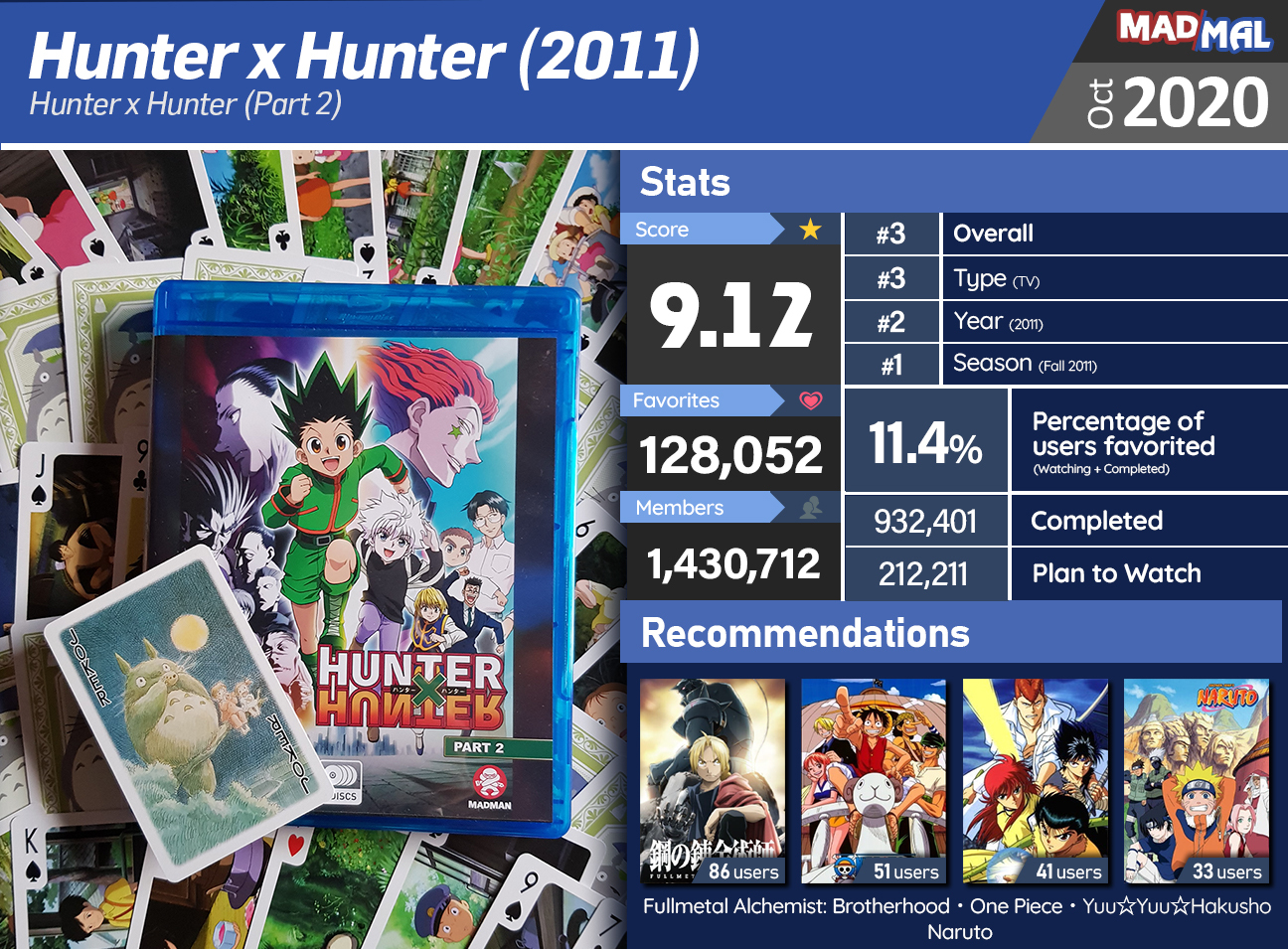 Synopsis
Hunter x Hunter is set in a world where Hunters exist to perform all manner of dangerous tasks like capturing criminals and bravely searching for lost treasures in uncharted territories. Twelve-year-old Gon Freecss is determined to become the best Hunter possible in hopes of finding his father, who was a Hunter himself and had long ago abandoned his young son. However, Gon soon realizes the path to achieving his goals is far more challenging than he could have ever imagined.
Along the way to becoming an official Hunter, Gon befriends the lively doctor-in-training Leorio, vengeful Kurapika, and rebellious ex-assassin Killua. To attain their own goals and desires, together the four of them take the Hunter Exam, notorious for its low success rate and high probability of death. Throughout their journey, Gon and his friends embark on an adventure that puts them through many hardships and struggles. They will meet a plethora of monsters, creatures, and characters—all while learning what being a Hunter truly means.
[Written by MAL Rewrite]
Comments
Analysis
From the last edition of MadMAL Collection:
To MAL and myself, Hunter x Hunter (2011) is like an old friend. It rests comfortably near the peak of our Top Anime chart, one of only 11 anime with a score above 9.00, and you don't have to scroll far to find it on Most Popular and Most Favorited either. My deep dive into the best anime of last decade returned more spectacular results. Hunter x Hunter (2011) came in at #25 overall for Completed members (669,370), even with an imposing 148 episodes. To put that in perspective, the next highest anime with more than two cours was Fairy Tail (2014) with less than half the members at #116. That commitment speaks volumes.
Though it's been available on Crunchyroll for many years, it was advertised as AnimeLab's "#1 Requested Show" when it was added to their catalogue earlier this year. And now, alongside it, comes the first of many Blu-ray volumes to come.
Opinion
This is easily the best product photo I've ever taken.
Anyway, so, I continue my refresh of Hunter x Hunter (2011) with episodes 27-58, which gets me more than halfway through what I previously watched.
One of my favourite things about Hunter x Hunter (2011) is that it's always light on its feet, and it doesn't stray from its adventurous and charismatic path even in the story's weaker moments. Thanks to the split in characters and their clear goals, there's always a feeling that something important is happening. But of course, the series still has those weaker moments. Heaven's Arena and the upcoming Greed Island arc are such examples—jumping back into Hunter x Hunter (2011) with the latter after a long break was part of what killed my original watching momentum.
Heaven's Area, for the most part, is a short step to introduce the obligatory shounen power system—the mystical "Nen." As far as those systems go, Nen has a satisfying complexity built on diversity and strategy as well as raw power. For an arc and location all about getting stronger and wealthier, the only face-off of some merit is Gon vs. Hisoka. There's a serene quality to the full minute of near-silence between them—no inner monologue, barely a crowd sound, no side character comments... just grunts and whooshing. Though without much story weight and animated polish behind it, it doesn't quite make you hold your breath in the way it intended.
But everything comes together with the Phantom Troupe—a powerful and individually distinctive group of high-powered psychopaths. The lively hijinks of Gon and Killua in the previous arc is outdone and upset by Kurapika's slow sinking into the bloody pool of revenge, which is particularly striking against the colourful backdrop the series has built to this point. It's at this moment that you'll find yourself taking Satotz-length strides through episode after episode, from closing split narratives to high-tension bouts where lives and morality are on the line.
It's going to be a slog through Greed Island again after this, but I feel the momentum once more.
Note: I unfortunately should note that 2/4 of the discs in the set I received had a faulty menu, instead appearing as garbled text or not at all on my older Blu-ray player.
➡️ Find out more about Hunter x Hunter (2011)
➡️ Check out Hunter X Hunter Part 2 (Eps 27-58) (Blu-Ray)
---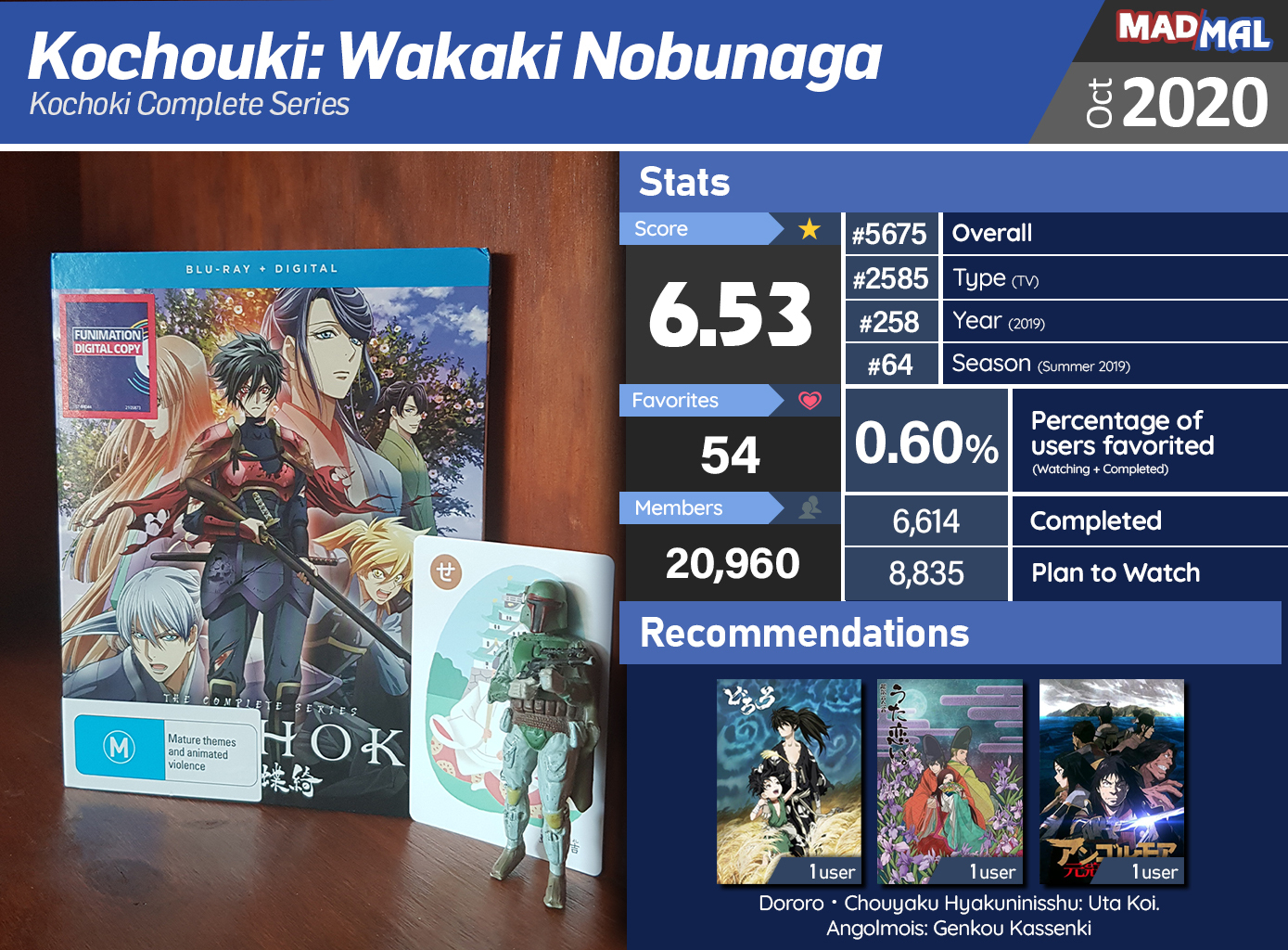 Synopsis
The series is a historical drama aesthetically and boldly adapting the life of Oda Nobunaga in his teens up to his time as a warlord against his brother, Nobuyuki.
(Source: MAL News)
Comments
Analysis
Kochouki is a niche pick with low numbers in both score and popularity, though it fared better than Studio Deen's other historical anime in the same year, Bakumatsu: Crisis.
Opinion
"Those who cannot learn from history are doomed to make cheap imitations of it." - George Santayana.
Type "Nobunaga" into the search bar above and you get a rather striking array of Odd-a results: Nobunaga the Fool (he's in space!), The Ambition of Oda Nobuna (he's a woman!), Nobunaga Teacher's Young Bride (he's a teacher!), Nobunagun (he's a gun!), Oda Cinnamon Nobunaga (he's a dog!), Nobunaga Concerto (he's a substitute!), Joshikousei Nobunaga-chan!! (he's a high-school girl!), DJ Nobunaga (he's throwing down fresh beats!), etc.
Kochouki's unique quirk is to not put a wild spin on history, but instead take the historical figure and his tale of adversity (mostly) seriously. That's not to say Kochouki doesn't have its own indulgences, since there are historical liberties for the sake of drama and enough male-presenting nipples to get you banned from Tumblr many times over, but it still covers a lot of untrodden ground in 12 short episodes. The series primarily draws from Shinchoukouki, a record of the Oda clan from 1544 to Oda Nobunaga's death in 1582, which is similarly broken into storied events. I found that some moments I thought were entirely made up were actually real!
From a documentarian point of view, I found that Kochouki follows more of a segmented slideshow format than a convincing through line—this creates an instructive division of significant events to take short notes from, such as his military escapades and brother's betrayal, but only a bare-bones impression of Nobunaga as a character and actual person. The main takeaway of Nobukatsu's betrayal is the unbreakable bonds that Nobunaga had with his followers… not 'has', because it's presented as a historical footnote without visible evidence of it in the series.
Still, biographical anime are a rarity that Kochouki brought my attention to (I can only name three others off the top of my head, and none of them are TV series), so I hope to see more like it.
➡️ Find out more about Kochouki: Wakaki Nobunaga
➡️ Check out Kochoki Complete Series (Blu-Ray)
---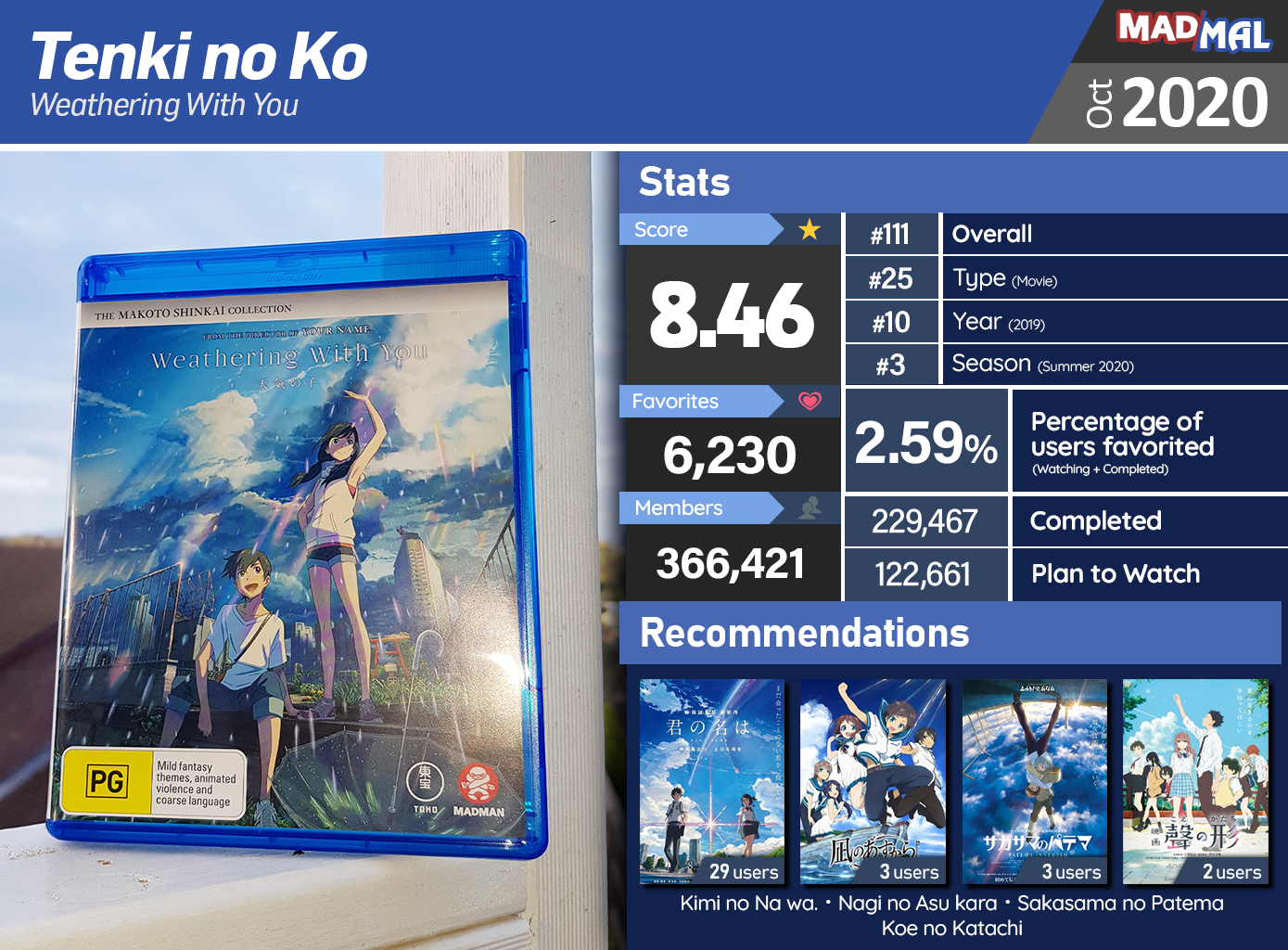 Synopsis
Tokyo is currently experiencing rain showers that seem to disrupt the usual pace of everyone living there to no end. Amidst this seemingly eternal downpour arrives the runaway high school student Hodaka Morishima, who struggles to financially support himself—ending up with a job at a small-time publisher. At the same time, the orphaned Hina Amano also strives to find work to sustain herself and her younger brother.
Both fates intertwine when Hodaka attempts to rescue Hina from shady men, deciding to run away together. Subsequently, Hodaka discovers that Hina has a strange yet astounding power: the ability to call out the sun whenever she prays for it. With Tokyo's unusual weather in mind, Hodaka sees the potential of this ability. He suggests that Hina should become a "sunshine girl"—someone who will clear the sky for people when they need it the most.
Things begin looking up for them at first. However, it is common knowledge that power always comes with a hefty price...
[Written by MAL Rewrite]
Comments
Analysis
Tenki no Ko marks Makoto Shinkai's 18th directorial work and sixth feature film, which ranks as his second-best in score behind Kimi no Na wa. (9.01). To further compare, Kimi no Na wa. has a favorites rate of 4.96%, and was at 487,745 total members within the same timespan from release.
Opinion
When you give your absolute all to write a 2,500-word analytical review of a film, you struggle to come up with much else to say, so I'll defer you to Is Makoto Shinkai's Tenki no Ko "The Next Kimi no Na wa."?, which definitively answers the oh-so-common question and how I view the film as ground-breaking on multiple levels.
In summary, Tenki no Ko is a film that is easy to pick apart, in both a positive and negative sense. It exposes Shinkai's usual narrative weaknesses with characters and plot threads, but it represents remarkable steps forward in meaningful thematic storytelling and, of course, his trademark digital art style. My third watch with a relaxed mind felt just as rewarding as the first two times I watched it in cinemas (remember those?) a little over a year ago, so I'm sure it's an anime I'll keep coming back to.
Side note: There's a Deluxe Limited Edition coming out in December, which will be the first anime title to be released on 4K UHD in the ANZ region! Pre-orders and more information are already available here.
➡️ Find out more about Tenki no Ko
➡️ Check out Weathering with You (Blu-Ray)