Life for an otaku is much like the quality of anime in any given season, it depends on the episode / day. But there is no way better to experience it when surrounded by fellow otaku, be they fictional or not! If you're ever feeling the need for more otaku friends, be sure to check out one of the below manga!
---
©︎ Fujita / Kodansha Ltd.
---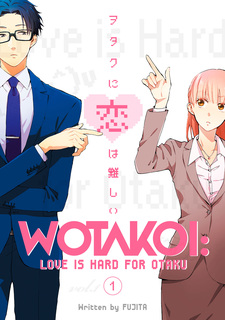 Synopsis: Can a professional man who's secretly a hardcore gamer and a woman who's secretly a fujoshi date without their hobbies getting in the way, or revealing each other's secrets? Narumi Momose has had it rough: every boyfriend she's had dumped her once they found out she was an otaku, so she's gone to great lengths to hide it. When a chance meeting at her new job with childhood friend, fellow otaku, and now coworker Hirotaka Nifuji almost gets her secret outed at work, she comes up with a plan to make sure he never speaks up. But he comes up with a counter-proposal: why doesn't she just date him instead? In love, there are no save points.


Manga Store Editor's Recommendation: After watching the first episode of Wotakoi, I knew that this would be something special. Unable to be content with simply waiting for next week's episode, I rushed to purchase the manga is quickly as I possibly could to see what would happen next! The banter between Narumi and Hirotaka is legitimately hilarious, and with the added visual humor enabled by the great panelling of the manga, reading about this otaku couple's escapades always puts a smile on my face. Be it the references, the humor, or the characters, there is something for every otaku in here, be they looking for love or otherwise!
---
© Shimoku Kio/ Kodansha Ltd.
---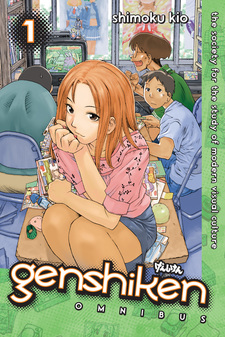 Synopsis:It's spring of freshman year, and Kanji Sasahara has a difficult dilemma. Should he declare his love for manga and anime fandom by joining an otaku club, like he has always wanted to? Is he prepared to deal with the social stigma attached to being an otaku? Meanwhile, Saki Kasakabe has her own otaku conundrum. How can she turn her boyfriend, anime fanboy Makoto, into a normal guy? Kanji follow his heart as does Saki. When both Kanji and Makoto join Genshiken: The Society for the Study of Modern Visual Culture, Saki chases Makoto through the various activities of the club from costume playing and comic conventions, to video gaming and anime model figures. Saki finds otaku to be more than she imagined, but not necessarily in a good way. Includes special extras after the story!


Editor's Recommendation: Genshiken is a classic story revolving around a group of otaku and their love for Japanese subculture. Reading this back in the day, there were a lot of things I could relate to as an otaku myself, and not only that, I felt a very close affinity to the characters. It just goes to show that no matter where you're from, we can all relate when it comes to loving anime, manga, and games! Join Kanji and Saki, as well as all the lovable characters on the hilarious otaku experience that is Genshiken: The Society for the Study of Modern Visual Culture!
---
© Shimoku Kio/ Kodansha Ltd.
---

Synopsis: Hikari Tsutsui (a.k.a "Tsuttsun") is a high school student who is content with his virtual life of anime and video games. One day, he gets stuck cleaning the pool with Iroha, a real live girl who is stylish, sassy and known to be easy with boys…and she aggressively approaches him! Tsuttsun, who has few friends and lives in his own world, finds himself smitten by the confident and wild Iroha…and his whole world is turned upside down!! It's the awkward and pure love story of a boy who experiences relationship for the first time.


Editor's Recommendation: We've all been there, haven't we? Decided it's time to take a break from interacting with real people and focus on what really matters: 2D waifus. However, there comes a time where you meet someone that's able to pull you out of that shell, just like what happens to Tsuttsun in Real Girl! What really sets Real Girl apart from the rest of the it's competitors is the fast paced story, and the genuine interactions between a girl who knows what she wants, and a shy boy who has never let someone get this close before... With an anime adaptation broadcasting this season, there is no better time to check out this little known otaku x real girl love story!
---
© Shuzo Oshimi / Kodansha Ltd.
---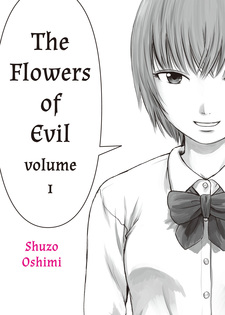 Synopsis:Takao Kasuga is a bookworm. And his favorite book right now is Baudelaire's Flowers of Evil. While the young man may often be seen lost in thought as he rabidly consumes page after page, Takao is not much of a student. Actually when we are first introduced to the middle school teen, we find him sneaking some reading as he receives and F on a recent language exam. Nakagawa is known as the class bully. When she is not receiving zeros she is usually muttering profanities to those around her. While she doesn't care for books or their readers, she does have a thing for troublemakers. Takao may not be one, but having read over his shoulder a few times, she knows he is not very innocent. If anything he is bored and aware of it. Together, by chance, they shake up their entire rural community as Takao tries to break out of his shell in a random moment of passion and affection...not directed towards Nakamura. And contrary to Takao's predictions, the girl he was falling for, Nanako Saeki, responds by eventually accepting the bibliophile for who he is. Or at least, who she thinks he is. And therein lies the conflict. Takao is not a hero. He is not troublemaker, either. He is a regular teen who through equal moments of cowardice and chivalry takes a long step towards adulthood as he desperately tries to cover up a dark secret. Takao Kusuga has stolen an item precious to someone he is attracted to, and if he doesn't form a "contract" with his new best friend, she is going to tell.


Editor's Recommendation: This is not your typical high school story. The main character, Kasuga is your regular book otaku, with more passion for his novels than for most people. From start to finish, The Flowers of Evil is a whole rollercoaster of emotions, with one twisted, catastrophic event leading to another, you just won't be able to put down this page turner. The Flowers of Evil is split into two parts, and as you read through the manga you'll witness the tragic existence of Kasuga, and how his decisions and struggles will shape his life. If the rotoscoped art style of the anime adaptation put you off, the original manga might be an easier entry point to this great series.
---
With more otaku centric anime and especially manga coming out than ever before, you're sure to run into some characters that not only share your own interests, but your personal struggles. After all, what better way to relate to a character than to have them have similarities to your own story.