Most anime fans outside of Japan go through a phase where they want to make anime themselves. This phase typically passes because getting a job in the Japanese anime industry as a gaijin (foreigner) is almost impossible. Immigration to Japan is very closed-off, and if you make it through the bureaucracy to get a work visa, then you have to be a perfectly fluent Japanese speaker and talented enough to compete with all the native talent in the industry. The six people on this list pulled off the impossible and through different means achieved their dreams of working in the Japanese animation industry.


---
Jan Scott-Frazier
---
One way to enter the anime industry as a gaijin: go back in time and do it before it was cool. Jan Scott Frazier had the right motivation at just the right time: she'd fallen in love with anime through tape trading in the early '80s, before anime was popular in the US, and really wanted to get out of working at Radio Shack. After some intense language study, she moved to Japan in 1987 and entered an animation program. Within a year she was hired at Artland as the first American animator working in Japan. Over the next 13 years she took various jobs in the anime industry, from running the outsourcing studio TAO in Thailand to directing episodes of Suzie-Chan to Marvy to producing at Production IG, where she wrote the English language dialogue for Blood: The Last Vampire. Working so long in the industry, she burned out on it and moved back to America in 2000. Since then she's started a counseling service, produced two charity albums with popular voice actors, done occasional translation work, and runs panels at conventions.


---
Michael Arias
---
Another method for entering the anime industry: special effects talent. Michael Arias' path to become a big name anime director was a long one, but it started with his work in America as an effects artist on projects such as Total Recall and the Back to the Future ride at Universal. Networking for the latter brought him on his first trip to Japan, where he developed a relationship with Sega that would ultimately result in a hire and working in Japan full-time. Having connections in both Japan and America made him the perfect go-between to produce The Animatrix, the success of which brought him the opportunity to direct his long-time passion project, a film of Taiyo Matsumoto's Tekkon Kinkreet. Since then he's alternated between directing live-action (the less successful Heaven's Door) and animation (Harmony, which comes to American theaters May 17th). He's still a major Matsumoto fan; his translation of Matsumoto's manga Sunny has been nominated this year at the Eisner Awards in the "Best U.S. Edition of International Material—Asia" category.


---
Bahi JD
---
Bahi JD animation
Bahi JD's story is probably the one that can give the most hope to anime-loving kids today. As a Austrian boy, he was inspired by sakuga compilations of famous animators on Youtube, leading to him making his own .gif animations like the one above at 18. Using such work as his portfolio, at 20, he got his first professional animation gig working on the game Skullgirls. By 21, he'd been hired for his first TV anime work on Kids on the Slope. Since then, he's animated action scenes for Ping Pong The Animation, Space Dandy, Blood Blockade Battlefront, One Punch Man, pretty much all of the most visually stunning anime in the past few years. Yeah. You wish you were this guy.


---
Thomas Romain
---
One of the best pieces of advice to give those who want to become animators in Japan is to focus on becoming an animator in your own country. Eventually you might get the chance to work overseas. Look at Thomas Romain, for example. Those of a certain age might remember Code Lyoko, that French cartoon with the kids with the weird foreheads. That was his creation. Success with anime-inspired animation in France led to the opportunity for a French-Japanese co-production, Oban Star-Racers. He moved to Japan for that production and since then has been doing art and design work on series such as Basquash, AKB00048, and Space Dandy (that show sure liked its international animators). He's currently working on Macross Delta and gives commentary on the industry on Twitter.


---
David Roy and Henry Furlow
---
Two similar stories that might give people second thoughts about moving to Japan for animation: both David (picture above) and Henry (picture below) moved to Japan via the JET program to teach English and went on to pursue their passions in animation. In both cases it came at a major cost. David has been there since the '90s (his first project was Violinist of Hamelin), but still has to teach on the side to make a living, as pay for low-level animators is incredibly low with harsh working conditions, and has grown cynical about where the industry's headed, though he had some positive things to say about doing design work for Freedom and the work of Studio Madhouse. Henry, working at Pierrot, is more enthusiastic about the anime he's working on, but in an even worse-off situation, not having a second job and falling into extreme poverty and landing in the hospital multiple times for being overworked. In his minimal free time, he's been working on an "unwatchably gory" independent film, Judgement and Justice, about his frustrations.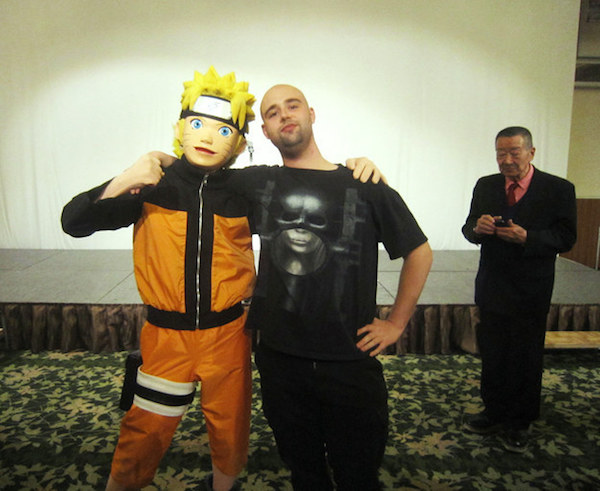 image source