---
Welcome to Mitaka Station - home to the wonderful Studio Ghibli Museum!
---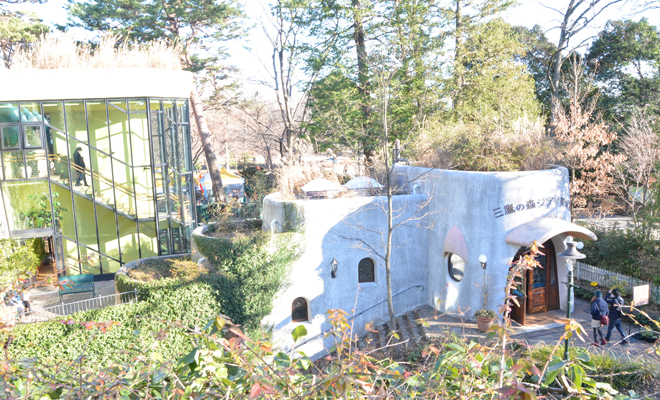 It looks like we've arrived at Mitaka Station. Let's get Kanda-kun and Machi-chan to show us around!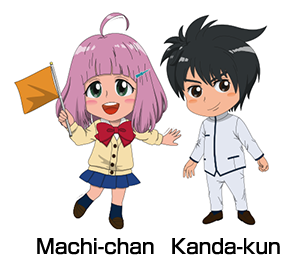 Kanda-kun: "Hello everyone! This is Mitaka Station - a station on the outskirts of Tokyo which takes about an hour to get to from Akihabara Station."
Machi-chan: "Muahaha! Today I am going to introduce you to one of the most famous anime landmarks in Japan - the famous Studio Ghibli Museum (Mitaka Forest Ghibli Museum), designed by Miyazaki Hayao himself."
Kanda-kun: "I've heard of this place! It's pretty popular! Have you already bought a ticket?"
Machi-chan: "Muahaha. Since this is such a popular place, you can't expect to be able to buy tickets inside the museum! There are several travel companies overseas that will contact representatives and order tickets for you so you can get them before visiting."
"Oh my, look at the time! Let's take the bus!"
---
Take the bus from Mitaka Station to the Ghibli Museum!
---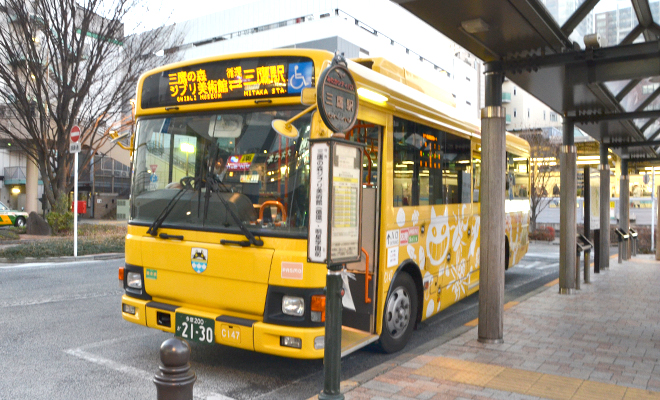 If you are visiting via train, we recommend you take the bus from the station to the Ghibli Museum. Buses run on a 10 to 15 minute interval, so you won't have to wait much at all. Even the bus stop has a special Ghibli decoration which makes it a great photo spot and also easy to find. Get on the bus and about 5 minutes later you will arrive at the wonderful Ghibli Museum!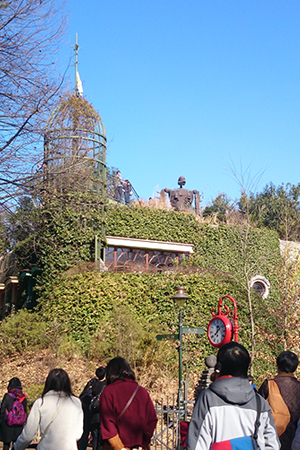 Kanda-kun: "Wow! The bus stops right in front of the museum!"

Machi-chan: "Convenient, huh?"

Kanda-kun: "Look! There's the famous robot from Tenkuu no Shiro Laputa (Castle in the Sky)! How cool!"




Warning: pictures/videos inside the museum (restaurants and decorations on the roof are exceptions) are prohibited!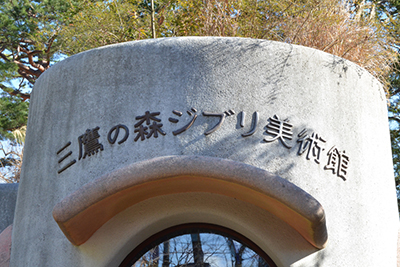 Kanda-kun: "This is a Ghibli fan's dream come true! Pretty much everything is based on Ghibli classics!"

Machi-chan: "Yeah, even its interior design is whimsical. Hayao Miyazaki's son - Miyazaki Goro - was in charge of the construction of this place."

Kanda-kun: "Really? Wow!"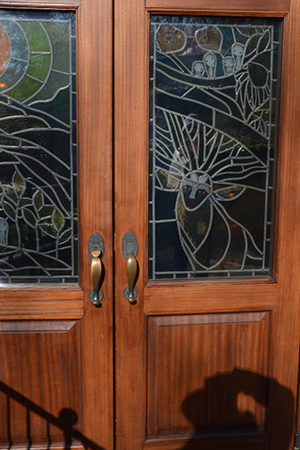 Machi-chan: "OK, First, let's go to the mini theater. They show original films that only can be seen here!"

Kanda-kun: "Looks like the movie is going to start."

Machi-chan: "You're right! I recommend you check the mini theater schedule before visiting. If you don't understand something, you can ask the information staff at the entrance."
---
Come check out the Ghibli Theater!
---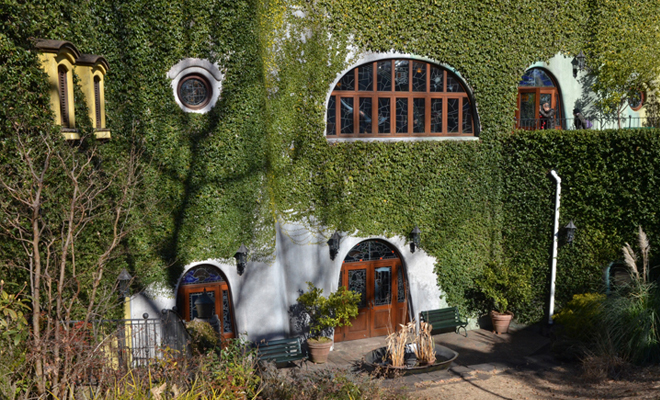 There is a special Mini Theater inside the Ghibli Museum. You may even get a sneak peek of an animated film not yet available on DVD/Blu-Ray!
If you have any questions about airing times or selections, feel free to ask the information staff standing in front of the entrance of the building.
Kanda-kun: "Wow! That film was really interesting!"
Machi-chan: "I feel so special! What fan wouldn't enjoy seeing an original, 15-minute-long Ghibli feature film."
Kanda-kun: "Oh yeah! The room also had documents about the production process at Ghibli."
Machi-chan: "Although there aren't cells, there are tons of original pictures and merchandising that can give you an idea about how your favorite films were created."
Kanda-kun: "I really enjoyed seeing that! All that running around has stirred my appetite. Let's eat!"
Machi-chan: "Inside this building there is a restaurant and take out service."
Kanda-kun: "Since it's lunch time, the restaurant will surely be crowded. Let's take a hot dog to the roof!"
Machi-chan: "OK. I was kinda looking forward to eating one of the Ghibli inspired meals at the restaurant, but munching on a snack while viewing some amazing scenery sounds nice too."
---
Find some fantastic food at the Ghibli Restaurant!
---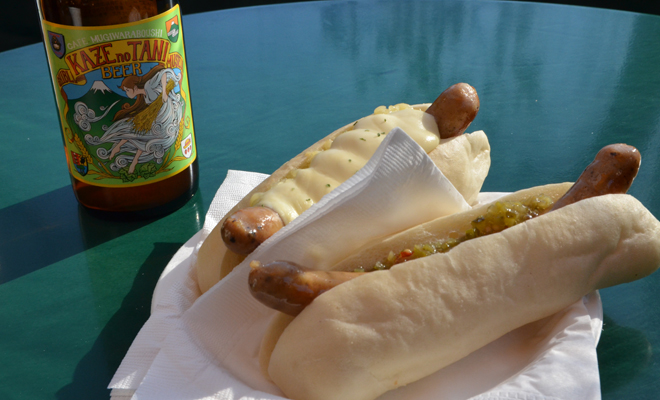 Check out the amazing Ghibli restaurant! It's usually crowded at lunch time, so you will need to wait for a while to get a seat. Taking a late lunch break may up your odds at getting a table quicker.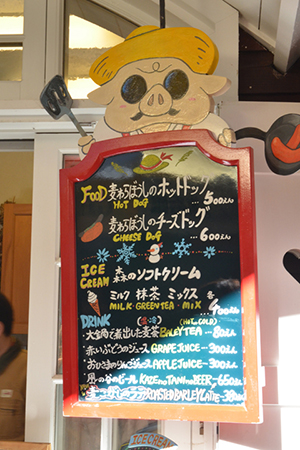 Kanda-kun: "That was delicious!"

Machi-chan: "I agree!"

Kanda-kun: "Next stop... souvenir shop?"

Machi-chan: "Sure! Let's go check out the Mamma Aiuto shop."
---
Find some adorable souvenirs at the gift shop - Mamma Aiuto!
---
The Mamma Aiuto is full of countless Ghibli goods, some that can only be found here! There are tons of adorable yet affordable presents, such as keyholders, badges and much much more!
Kanda-kun: "Oh my! Original Ghibli souvenirs... what a way to impress friends back home!"
Machi-chan: "Kanda-kun, this is Pazu's cap! I think this would make a wonderful present!"
Machi-chan: "There are also many accessories with Ghibli character designs. Some are a bit expensive, but they are all really cool."
---
Be sure to check out the huge robot soldier!
---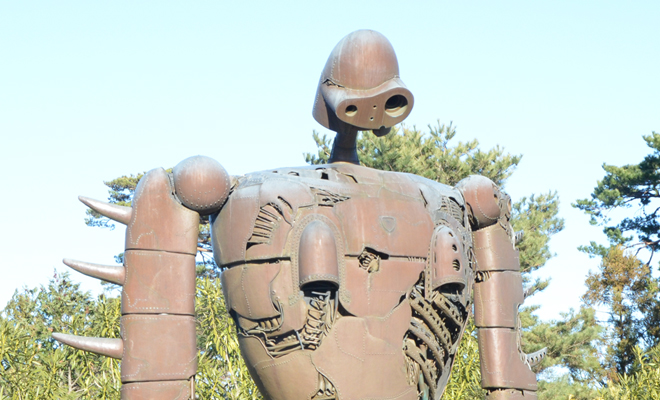 The robot soldier on the roof is one of the main attractions of the museum. This area can get really crowded at times so prepare yourself for a pretty big line to see it. When you do, why not ask the sweet person next to you to take a picture. I'm sure they will be happy to help you.




Kanda-kun  I wanna see the robot soldier on the roof!

Machi-chan: "My goodness!"

Kanda-kun: "The spiral stairs have an old style design."

Machi-chan: "The decoration is also a highlight!"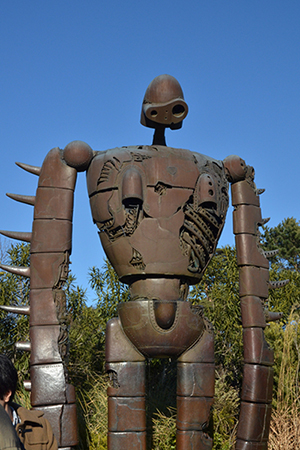 Machi-chan: "I will take a picture of you. Say cheese!"

Kanda-kun: "Cheese!"


It looks like it's about time to leave...


Kanda-kun: "What an exciting place, huh?"

Machi-chan: "Although the museum only portrays a small piece of the greatness that is Ghibli, visiting will certainly open your eyes to something new about the franchise!"
It looks like our two cute guides enjoyed themselves! It's your turn next! Well, what are you waiting for?
---
Other Information
---
Mitaka Gourmet - Chinopan
---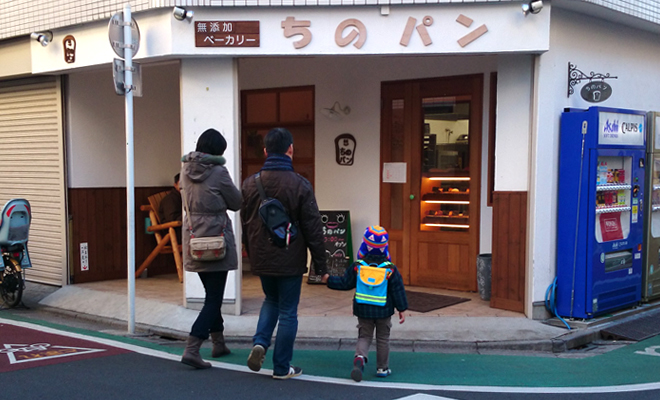 In Mitaka, there is a delicious bakery shop called Chinopan - its design was inspired by a famous Ghibli film. Why not get yourself a piece of anpan on your way home?
---
Transportation
---
The Ghibli Museum in Mitaka is located approximately 45 minutes away from Akihabara Station. There are countless routes to get there, but we recommend going from Akihabara Station (only one train transfer).
Akihabara Station → Sobu Line → Ochanomizu Station→ Chuo Line → Mitaka Station → Bus → Ghibli Museum
Also, don't forget to check out the bus information beforehand!


---
Ticket Reservation Time
---
Tickets are not sold inside the Studio Ghibli Museum. There are certain time slots when you can enter the museum, which must be selected when you buy the ticket.
Here's the time schedule for entrance:
(1) 10:00 (2) 12:00 (3) 14:00 (4) 16:00
---
How do you reserve a ticket to get into the Ghibli Museum?
---
You can get them in Japanese convenient stores such as Lawson from the ticket vending machine "Loppi". Just select the date, time and number of people who plan to attend. After you finish selecting everything, you will get a bar code print out, which you can use to pay for your ticket. Bring it to the Lawson staff and after payment is finished, you'll receive the ticket.
Warning: You will not be allowed to enter in the museum if you arrive 30 minutes after your reserved time slot. Please be forewarned.
You can buy tickets one month before you go, but if possible, you should reserve them even earlier, especially if you plan to go on weekends. It's possible tickets could be sold out before your arrival in Japan, so it may be best to visit a JTB office or get tickets through a travel agency beforehand.
This website offers information on purchasing tickets from overseas.
---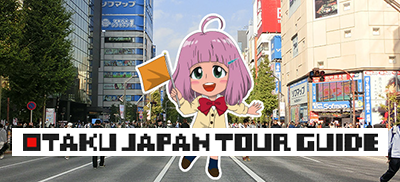 We would love to help foreign tourists in Japan by providing interesting information about Japanese culture (including the otaku subculture, of course) while also saving you money and time! Please check out our site for more information about sightseeing in Japan!