All ranking information was taken on the date of publication.
---
Member Favorites: 2237
---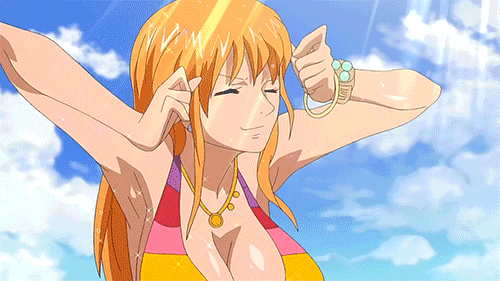 The hot navigator of the Straw Hat Pirates who loves bossing others around, Nami is probably the only one with any type of common sense among the crew members. Coupled with her confident nature, Nami's well-proportioned body makes her the sexiest pirate in anime!
---
Member Favorites: 1698
---
Faye is yet another super intelligent and super sexy femme fatale who makes a living hunting fugitives. She is known to be someone who always gets what she desires. Beware this hot anime girl's fatal attraction, for once she locks on... she never lets go!
---
Member Favorites: 428
---
Suguha is first shown as Kirito's cute brunette cousin, but later transforms into a beautiful blonde warrior named Leafa. Both forms of this hot anime girl are flaming, but Leafu in particular has a sexy innocence about her that is magnified by her incredibly flattering swimsuit!
---
Member Favorites: 109
---
Alex is a hot ex-prostitute who often assists Nicolas and Worick with work. She is kind and compassionate, and has the voice of an angel. Her huge boobs and beautiful booty may also add to her position as a super hot anime girl.
---
Member Favorites: 9832
---
Erzra is often described as extremely powerful, with a strong sense of justice pushing her forward. This confidence is sexy in itself, but she is also a hot redhead wearing medieval armor... Enough said.
---
Member Favorites: 5746
---
Major is a cyborg with a mysterious past. She was turned into a cyborg at a young age and was raised to become a skilled hacker and fighter. Besides her amazing skills, she is also a very hot woman with a quiet allure to her that fans can't get enough of!
---
Member Favorites: 13788
---
Senjougahara is known for being an extremely violent tsundere. However, she does have her cute moments when caught off guard, which is a gap that is unbelievably hot. If you like hot anime girls who like to play rough, then this is the chick for you!
---
Member Favorites: 16991
---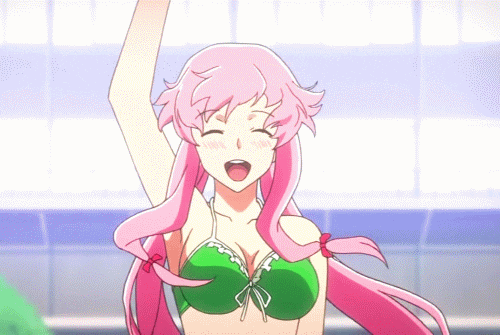 She seems like your average role model student with the perfect grades, the perfect friends, and the perfect smile. Unfortunately, this hot yandere girl also seems to be an obsessive and violent stalker. Some may say that Yuno is more whacko than hottie, but I'd say she's both! Her scary antics are nothing compared to that flaming hot body!
---
Member Favorites: 138
---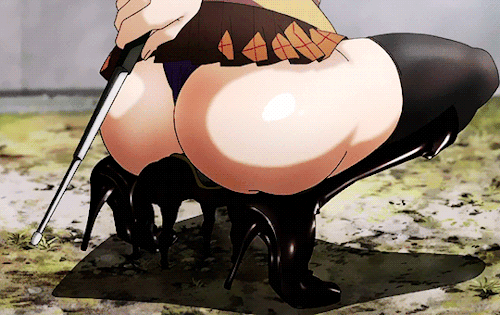 Probably one of the most voluptuous girls out there, Meiko is hot, busty and sadistic, and doesn't seem to mind using a whip, which is one punishment that the boys don't seem to dislike that much.
---
Member Favorites: 1038
---
This hot anime girl is a perfect example of an outgoing cutie who can get along with just about anyone. With her coral hair, fair skin and magnificent boobs, Yui is both sweet and sensual!
---
Member Favorites: 889
---
Hestia is a hot anime girl who also happens to be a hot anime goddess; her nickname "Loli Big-Boobs" explains it all. She is cute and kind, but also has a lewd side, as seen when she tries to sneak into Bell's bed...
---
Member Favorites: 678
---
Tsugumi is an intelligent hitwoman who poses as a male transfer student. Despite her profession, she is both cute and hot, especially when she tries to deny her attraction to Raku.
---
Member Favorites: 9239
---
You can't get any more badass than Revy. She is a Chinese-American killer who is brutal, sadistic, ill-tempered and easily bored. Just look at her handling her deadly weapons and you will weep from excitement. Revy can be considered one of the deadliest female fighters in anime, which just makes her that much more hot and sexy.
---
Member Favorites: 5336
---
Inori Yuzuriha is a girl who is soft, kind, cute and sweet. She is a member of the resistance group Funeral Parlor and is great at fighting, which makes her extremely hot! Wouldn't mind going hand-to-hand with this feisty lady, huh?
---
Member Favorites: 5218
---
Rias is a busty redhead, known as the Crimson Ruin Princess, who possesses the power of destruction. She is also the prettiest girl in the academy. This hot anime girl is both strong and sexy!
---
Member Favorites: 1835
---
Tsubasa seems like just any other high school bookworm, but don't be fooled by this front. She has a dark side like no other. When possessed by a mischievous cat demon, this hot anime girl transforms into a sensual bombshell that has fans worldwide drooling over her.
---
Member Favorites: 236
---
Bishamon is a very strong Combat God. She is usually seen as a hot warrior, who looks amazing when fighting, but there is also a more vulnerable side to her, as shown when she interacts with her beloved Shinki.
---
Member Favorites: 154
---
Prepare for a nosebleed because this blonde bombshell has a lot to offer. She is the school nurse (one of everyone's deepest fantasies) at Fujimi High School, and even though her bust size is portrayed as comical, her boobs are still flaming hot! In Shizuka's case, size does matter.
---
Member Favorites: 12
---
Madame President is a hot businesswoman who owns a software company and never employs men. She is confident and very strict. Such success can be quite intimidating, which may be why men can't seem to look her in the eyes... or it could be because their eyes are looking elsewhere? Watch those boobies dance!
For more jiggling anime boobs, please be sure to check out the gainaxing article here.
---
Member Favorites: 3903
---
Yoko Littner is a hot redhead who is known for wielding her long-range sniper rifle and hand guns. However, her big guns are nothing compared to her secret weapons of mass seduction.