Established:
Apr 12, 1963
Tsuburaya Productions is a Japanese special effects studio founded in 1963 by special effects wizard Eiji Tsuburaya and was run by his family, until October 2007, when the family sold the company to advertising agency TYO Inc. The studio is best known for producing the Ultra Series. Since 2007, the head office has been located in Hachimanyama, Setagaya, Tokyo.

The company also owns an animation studio of the same name where they work on anime series along with OLM, Bee Media, Madhouse and many more.

(Source: Wikipedia)
Resources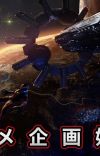 'Ultraman: Darkness Heels' Anime Project Announced
Tsuburaya Productions announced an anime adaptation for the Ultraman franchise's Darkness Heels project at its Tsuburaya Convention 2023 event on Saturday, revealing a teaser visual (pictured above). Darkness Heels is a project by Tsuburaya Productions, featuring villains from t...