Before it was made into an anime, Tsugumi Ohba and Takeshi Ohba's psychological thriller manga Death Note was adapted into a live-action film series by Gamera director Shusuke Kaneko. Live-action adaptations of manga have a spotty history, but Death Note makes more sense than most for adapting; outside of the shinigami, there's nothing that requires extensive special effects.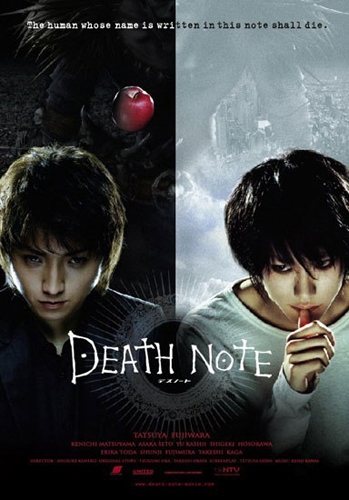 The first film in the series, simply titled Death Note, arguably works the best, both as a film and as an adaptation. Adapting the first three volumes of the manga with relative faithfulness, the movie captures the original's suspenseful cat-and-mouse games between Light and L as well as the intrigue of the central moral dilemmas. Light's situation's changed a bit, as he's aged from high school to college and given a girlfriend, but the central elements of his character, his genius and megalomaniac-like insanity, stay intact. Tatsuya Fujiwara of Battle Royale fame does well in the lead role. Kenichi Matsuyama, meanwhile, is perfect and hilarious as the eccentric detective L. The CGI for Ryuk isn't on par with the likes of Gollum or King Kong, but considering the low budget, the somewhat shaky effects can be excused. It could be said that while it's not a great movie, being cheesy in spots and the use of "Dani California" by the Red Hot Chili Peppers is just completely out of place, it will provide an entertaining two hours.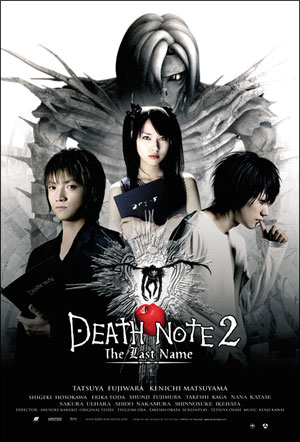 Death Note 2: The Last Name was released in October 2006, only four months after the first movie. As a direct continuation, the film suffers a bit from being overstuffed. All incarnations of Death Note have had difficulty figuring out how to sustain momentum after (TEN-YEAR-OLD SPOILER ALERT) L dies. Rather than choosing to continue the series afterwards with Mello and Near, The Last Name tries to sidestep the issue by writing a new ending in which Kira's defeat comes while L is still alive. The idea of the film is clever, but too rushed and not fully satisfying.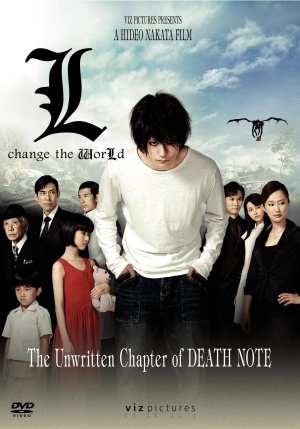 Kaneko's Death Note movies were hits in Japan, so of course the studio found a way to further cash in. Hideo Nakata, the director of Ringu, was brought on to make 2008's ultimately pointless spin-off film L: Change the World, chronicling L's last days as he fights a bioterrorist group. Matsuyama is still entertaining to watch, but the movie is utterly disposable. Little about the film is memorable except one laughably bad Engrish scene awkwardly shoving the character of Near into the movie continuity.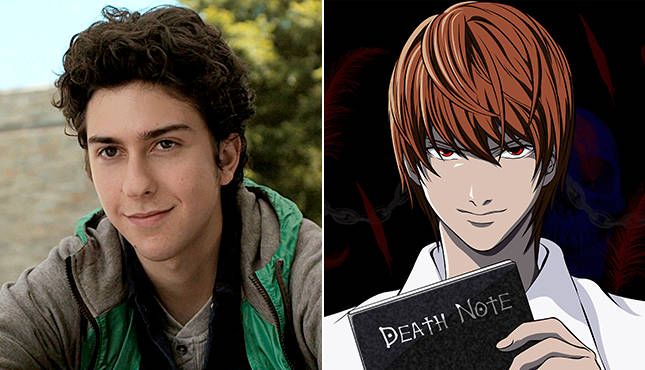 That was the end for Death Note movies in Japan, but Hollywood has been trying to do their own version for a while. Warner Bros, distributor of the Japanese Death Note films, bought the English language remake rights in 2009. The likes of Shane Black (Iron Man 3) and Gus Van Sant (Good Will Hunting) have been attached to the project at various points. Now, Adam Wingard, the promising indie horror director of You're Next and The Guest, is attached to direct. Screenwriter Jeremy Slater's last film, last summer's disastrous Fantastic Four, gives reason to be nervous, but studio meddling and reshoots might have been more responsible forF4's failure than the original script itself. The remake is being set in America rather than Japan. Though controversial, this decision is more understandable for the universal themes of Death Note than something more steeped in Japanese culture like, say, Akira. Just translate "shinigami" to "grim reapers" and Death Note works just fine for America. Nat Wolff from The Fault in Our Stars has been cast as Light. L hasn't been cast yet, but if by chance anyone involved in the film is reading this, Michael Lazarus would be a great actor for the part.
Also, not directly film-related but exciting nonetheless, Death Note has been adapted into a musical. Yes, a stage musical! It's only performed in Japan and Korea so far, but English recordings of the songs (video below) by composer Frank Wildhorn do exist, so there's an actual chance Death Note could be going to Broadway! If it's a hit, a movie musical after that maybe?