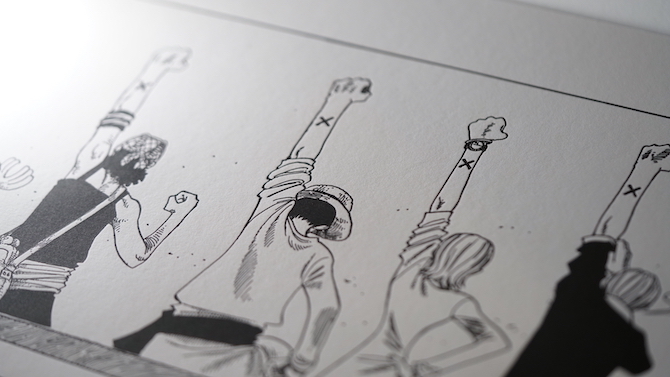 How will manga be told in a world 100 years from now? It is not difficult to imagine a future where all manga may be read through digital tools and the very existence of paper-printed books may have disappeared.
With its 100th volume recently published, One Piece is beloved around the globe. It is not only the excitement and spark of joy we experience with the Straw Hat Pirates' great adventure which makes it memorable, but also the texture of the paper, the smell of ink, and the subtle color of the print. If we could convey these feelings to future generations with the highest level of precision, One Piece will surely be an international classic even 100 years in the future.
Manga Art is an attempt to convey to the future not only beloved titles such as One Piece, but also the techniques and materials used for making manga. We talked to Mr. Masashi Okamoto from Shueisha, who directs the project.
The Manga Art project and the motivations behind it.
---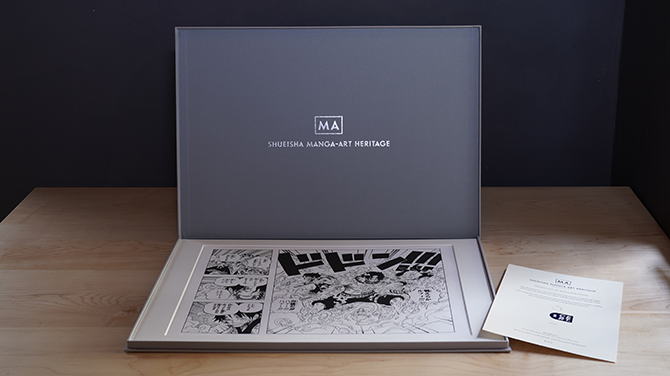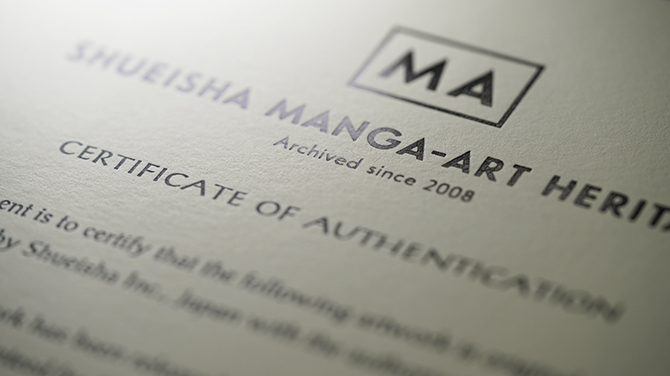 Manga Art will be Shueisha's first cross-border E-commerce service. Starting with One Piece, famous manga scenes will be printed using the best technology and materials. As a unique piece of art, it will be sold by lottery and will include a purchase certificate using blockchain technology.
In the past, to typeset manga a method called "phototypesetting" was used. First the letters were printed onto photographic paper, then cut so that they fit inside the balloon, and finally attached to the original image with adhesive. The entire manuscript was photographed and then printed on a printing plate.
Around 2010, this analog technology was replaced by digital technology. At this time, items and devices that were not used anymore were thrown away. For example, plate-making films for printing are difficult to store for long periods since they deteriorate over time, so they were scanned and converted to digital data.
While there are many things that will disappear, I believe we should pass on the history of technologies and techniques as much as possible. One way we can preserve this is by utilizing a large letterpress flatbed machine to print Manga Art. In letterpress printing, the printed surface sinks due to the strong pressure and produces a physical effect that is impossible to feel on a digital display.
The original drawings of Manga are often drawn in Japanese B4 standard size (257 x 364 mm), and then are reduced to the size of magazines and books before publishing. Once they are downsized, however, the original drawing details are hard to reproduce in book-sized prints.
Taking One Piece as an example, Eiichiro Oda-sensei (the author) draws details up to the part of the page that will be cut off when it is published in Weekly Shonen Jump or bound into a book. With Manga Art, we want to reproduce those details and the author's kodawari (devotion to his art) by printing in the original size.
So, one of the main reasons I started this project was because I wanted to combine the "texture" unique to disappearing analog technology and the kodawari of the author together into a form that can be appreciated as art for generations.
Technical details, texture are important parts of manga, Manga Art.
---
Shueisha also has a task to digitize and archive the original drawings of manga published during the era of analog technology. The high-resolution data of these archives exceeds 10,000 color images and 3 million monochrome images. These drawings were originally sent out into the world as entertainment by scanning, platemaking, letter assembling, and becoming magazines or books via letterpress printing or offset printing.
Manga is not just a faithful reproduction of the original drawing, it is a complex expression that is adjusted to be easily read when printed in monochrome and then matched with the characters. It may be difficult for overseas fans who read the translated version to understand, but the Japanese version of the typesetting contains a wide variety of typefaces. In One Piece, at the request of Eiichiro Oda-sensei, we use different fonts depending on which character is speaking. Techniques like these are an essential part of the work we call manga.
Also, as I mentioned earlier, letterpress printing involves a lot of pressure, so the printed surface is slightly dented, creating a unique texture. I believe that these techniques and the texture are some of the elements that make manga a piece of art. These are also the basics of Manga Art and its attraction, and it is a new experience that we would like users to feel.
A single craftsman prints in high-quality with traditional technique.
---
The first difficulty in producing Manga Art was that the flatbed letterpress printing machines used for traditional typography and the craftsmen who operated them were almost non-existent. With the help of Kyodo Printing Group, which prints and binds Weekly Shonen Jump, I searched all over Japan and finally found a working machine and craftsman in Nagano Prefecture. We want to share a movie of the technician moving the machine, hoping you may find it interesting.
As I mentioned before, I want to pass on these lost techniques to future generations through Manga Art. That's why I decided to print Manga Art by hand with a flatbed type letterpress printing machine.
By the way, did you know that the paper used in Ukiyo-e (a style of Japanese art popular in the 17th-19th centuries) and the paper used for drawing manga are actually about the same size? This is said to have originated during the Edo period when Mino washi (a type of Japanese paper) was known as being the finest.
Unexpectedly, manga is connected to culture and technology even back to that age. We want to connect Manga Art to that history as well.
Passing down disappearing technology to the future with Manga Art.
---
To commemorate both the 1,000th chapter of One Piece published in Weekly Shonen Jump and the release of the 100th volume, the resin plates used to print the magazine issue will be sold as a set along with the Manga Art of a scene from the 1,000th chapter.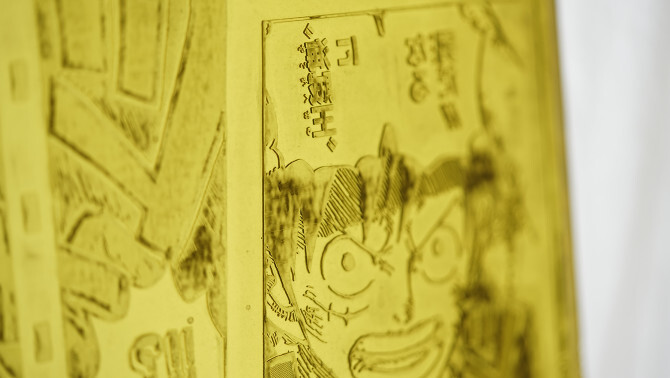 Since the yellow translucent resin plate is worn out during printing, it is changed many times during the printing process. Therefore, none of the resin plates are replicas; they were actually used to print Weekly Shonen Jump. Furthermore, the resin plate is created using an analog method which hardens the yellow resin by exposing it to ultraviolet rays from the film, but next year we plan to switch to a more digital method of cutting the plate directly from the data. So, I think there will not be another opportunity to get this yellow resin plate again.
Even though I have been the flagship of digitalization at Shueisha, I would be happy if manga fans around the world could feel the brilliance of the disappearing analog technology. I want fans to help be bearers of the history and memory of manga.
One Piece is a work whose first edition has exceeded millions of copies in Japan alone. As you can see in the video, when the latest issue is published, a large printing factory may be occupied for an extended period of time just printing One Piece copies only. To many readers, this is a treasure. A treasure that can not be found anywhere else in the world.
I hope that Manga Art becomes someone's treasure: an opportunity to talk about not only the contents of a manga, but also how it was made and its history.
The ingenuity of the craftsman depending on the drawing.
---
Since Japanese is written vertically, the balloons will be vertically long as a whole. How do you fit a horizontal language such as English there? The direction to turn the book's pages is also the opposite. These factors are always an issue when producing overseas versions of manga. In the case of English, there also are a limited number of fonts that can be used in comics.
To avoid some of these issues, Manga Art only uses Japanese typesetting. I also believe the Japanese version best reflects the artist's intentions by preserving the expression of the entire screen, including the fonts.
In letterpress flatbed printing, different methods and ideas are used depending on the content of the work to be printed. For example, an onomatopoeia such as "Don!" is loud but the font used is small. If you print with strong pressure, the loudness of the onomatopoeia can be expressed beautifully, but the details of the characters will be crushed and hard to read. To prevent this, we repeat the process with trial and error, such as wrapping paper around the cylinder of the printing press and cutting out a section to change the printing pressure.
A picture with a screen tone on the entire background cannot be printed beautifully with a letterpress printing machine alone. In that case, only the screen tone is offset printed first, and then the line art is typographically printed.
These issues are also considered as well when printing the One Piece Manga Art. Depending on the content of the picture drawn by Eiichiro Oda-sensei, the craftsman uses various ideas and methods. I think another way to enjoy Manga Art could be to imagine this process.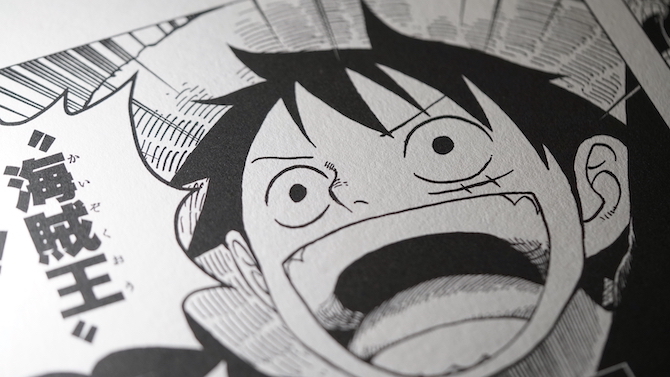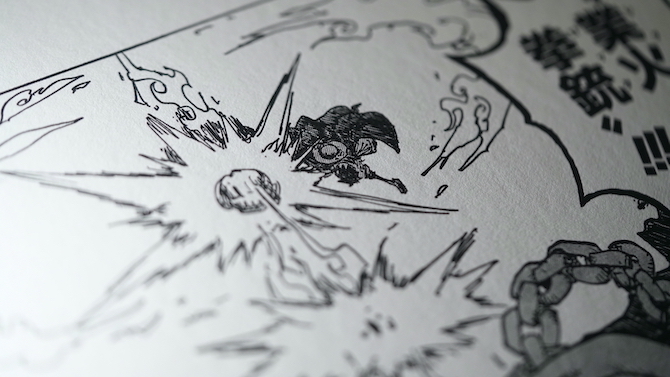 A challenge to reach people all over the world.
---
The goal is to have people from various countries around the world decorate the walls with Manga Art and enjoy it in their own way. Once the pandemic has subsided, we are hoping to hold a large exhibition that we can invite manga enthusiasts from around the world to visit. Until then, I am focusing on communicating the charm of Manga Art to as many people as possible through the Internet.
It was on the news that French President Emmanuel Macron was given a picture of One Piece. That picture was actually Manga Art. I was thinking too hard about whether to quote the president's Tweet with Manga Art and missed the timing to do so. (laughs).
Manga Art is a new business, but we will continue to create various works for you to enjoy, and will not only focus on selling products. For many years, Weekly Shonen Jump has committed to publishing works created by new writers. We continue to take on this challenge because we believe that a blockbuster work that can be enjoyed across national borders will be born. Now, I want to also take on the challenge of delivering Manga Art to many people around the world.
One Piece / The Press
Preview of works: 2021.09.25 (Sat) ~ 2021.10.03 (Sun) JST
For more information on manga art
https://mangaart.jp/
©2021 Eiichiro Oda / Shueisha Inc. All rights reserved.


Interview and text by Yohei Kashii.
Interview was conducted in Japanese and MyAnimeList has edited the English text for clarity.