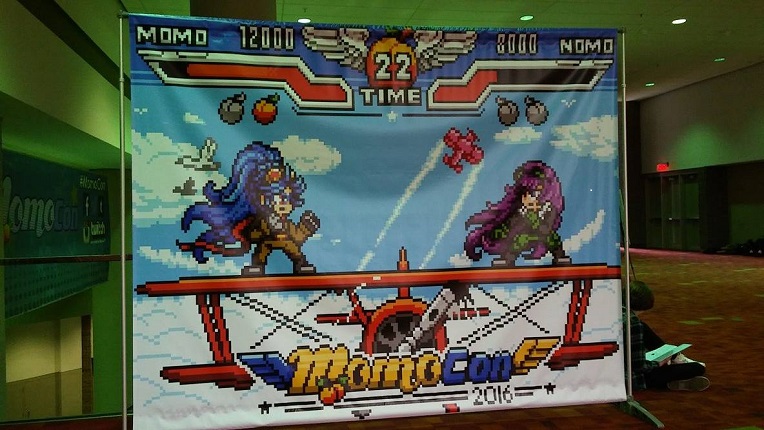 Outside the media relations room


It's easy to pick sides when you're an anime fan; easy to criticize someone's taste in genre, studios, or waifus. Not so at an anime convention! Such an occasion celebrates the stories we love, encouraging our creativity and perhaps inspiring us to write stories of our own. MomoCon is such a convention, attracting tens of thousands from around the world to the heart of downtown Atlanta each Memorial Day weekend. Named after the Japanese for "peach" (momo), it's Georgia's biggest attraction for fans of anime.
Hosted in the sprawling Georgia World Congress Center, MomoCon claims to be one of the "fastest-growing all-ages conventions in the country," with over 60,000 in attendance last year. Except for the crowded parking, it's easy to forget that number while you're there. Labor Day weekend's DragonCon, with a reported 70,000 visitors, feels much more claustrophobic, and it's spread out over five hotels! Conversely, you're rarely short of space or breath at MomoCon—the longest lines are in the food court across the street, and there's plenty of walking room in the main building.
I was fortunate enough to visit MomoCon this year, and to experience it from three perspectives: a journalist, an anime fan, and a first-timer! I make no guarantees about your first MomoCon, but you'd be hard-pressed not to find something that speaks to your interests. Here's a taste of my experience, and a hint of what you might find in 2017.


---
Panel: Cosplay Photography & Makeup
---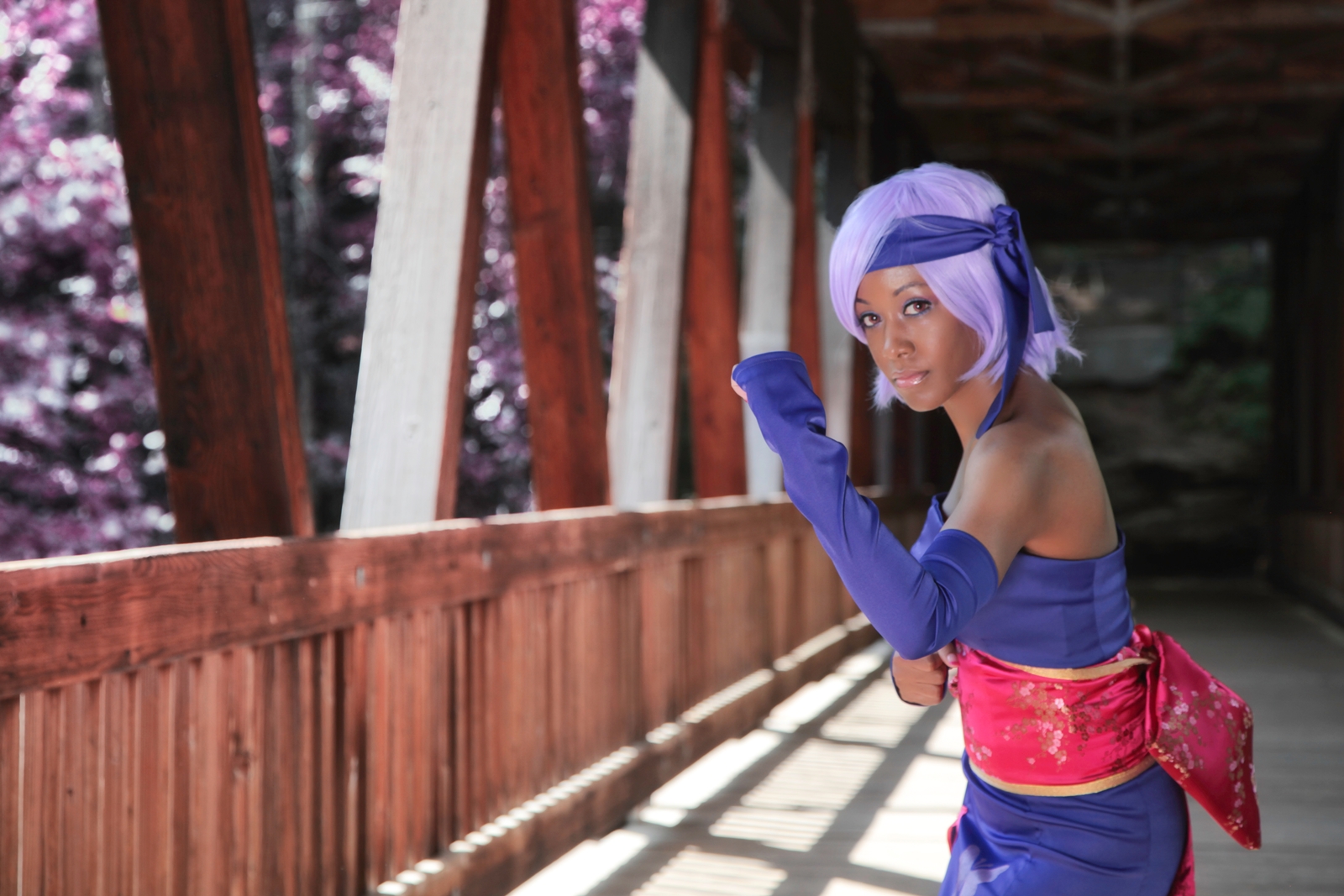 Graphic designer, cosplayer, Twitch streamer...Blikku does it all with style!


I started Thursday afternoon with a panel hosted by two YouTubers: up-and-coming Blikku and YouTube veteran Roberto Blake. Though the panel was delayed by about 15 minutes, the guests more than made up for it with their advice for getting the most out of your costume. Blikku—an avid cosplayer since 2004—dropped knowledge from her cosplay channel for all manner of cosmetic challenges - from makeup recommendations to the proper care of foam board and other materials. Blake's expertise was skewed more entrepreneurial; as the creator of a 7-day-a-week how-to channel, he had plenty to say about photography, social media, and building your brand.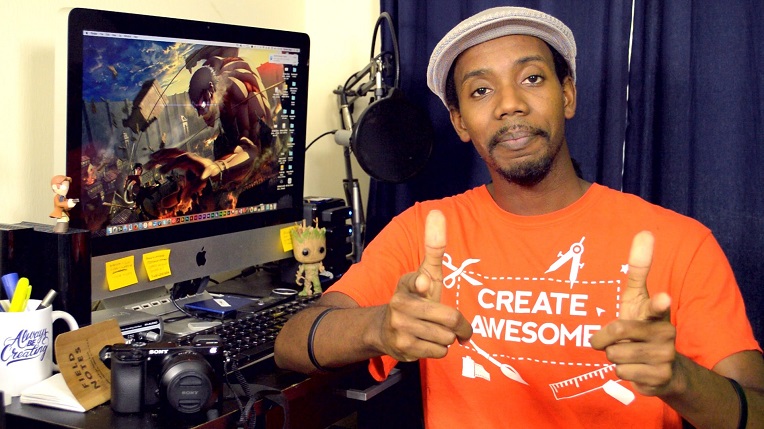 Roberto Blake's videos give pointers on graphic design, cosplay, networking, and just about everything else. He even does anime reviews!


Blikku and Blake's advice laid the foundation for a theme that resonated throughout the entire con: find your passions and make them work for you. Both stressed that you don't need the best gear in the world for cosplay and photography: you can work with what you have, whether it's a smartphone or even a rented camera. "Professionalism is a mindset," said Blake. There's no need to be intimidated if you're an aspiring creative type; even if you don't have access to high-end equipment, what's important is that you're doing what you love and studying how to do it better. Of course, they had plenty of advice for more experienced and veteran cosplayers, answering novice and technical questions alike. One second they'd dissect the finer points of camera lens thickness; in the same breath they'd recommend selfies to get a sense of your own photogenicity.
One four-word statement nailed the main takeaway from the panel: "Compare you to you." Blikku maintained that no creative pursuit should feel like a chore—yes, you put in time and effort, but at the end of the day fun is paramount. Challenge yourself, don't get lost in competition, and strive to be not just better, but unique; in short, enjoy yourself and you've already won.


---
Intro to Anime Studies
---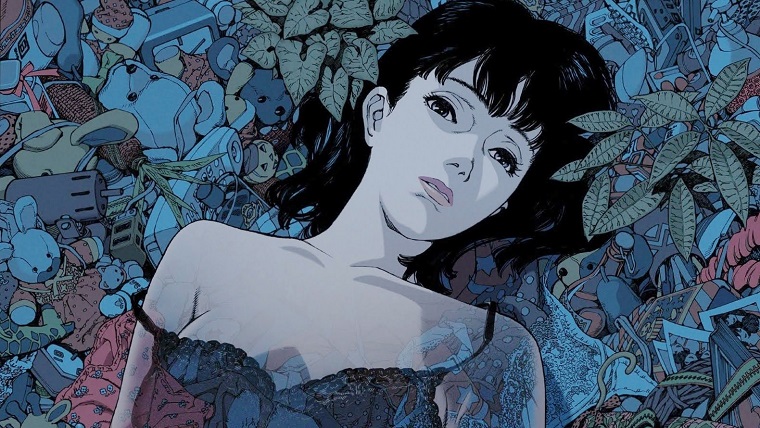 Who knew you could teach a class on Satoshi Kon?


Sound like a college class? This panel certainly felt like one. That's exactly what Brent Allison was going for; as an associate professor of education at the University of North Georgia, Allison tours the convention circuit making a case for critical, literary examination of anime as art. Anime studies, after all, aren't yet a formal academic discipline. There's overlap with other fields, such as English, Asian studies, and cinema and media studies, but nobody's handing out a degree in anime criticism.
So what will it take to see Evangelion in classrooms? Institutionalization, says Allison; that is, the establishment of a standard-setting body for the process of critical thinking, like the editors of a scholarly journal. You also need a knowledge base to work from when you examine a work of art. What is the cultural, historical, or even economic context of this anime? What does it have to say about the society that produced it? For example, Dragon Ball villain Frieza was an intergalactic warlord who sold planets to the highest bidder. How does your understanding of him change when you learn that Akira Toriyama created him during a real estate crisis in Japan?
One of Allison's students capped off the panel with a presentation from their class: a comparative examination of social deviance and storytelling in Satoshi Kon's Perfect Blue and Darren Aronofsky's Black Swan. The former is about a teen idol branching out into more mature acting; the latter is the story of an ensemble ballet dancer struggling with a difficult lead role. It was a snapshot of what an anime studies class might produce: an intriguing discussion of stress and psychology in two vastly different societies. Allison's panel encouraged anime fans to make the jump from appreciation to scholarship; to not just enjoy anime, but to understand why you enjoy it.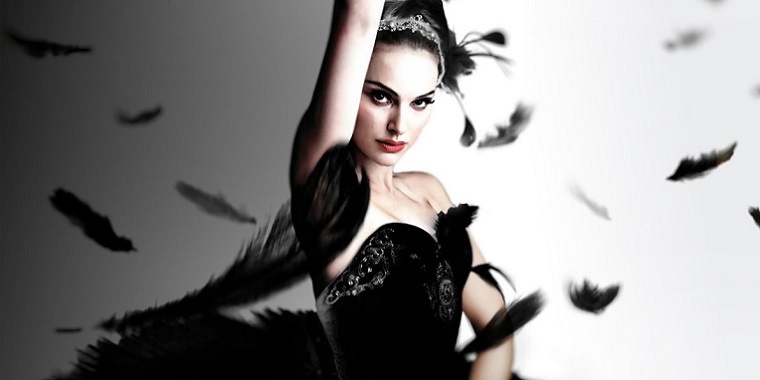 If you've seen Perfect Blue, you've seen Black Swan. Watch it anyway. Have a report on my desk by Friday.


---
Exhibition Hall
---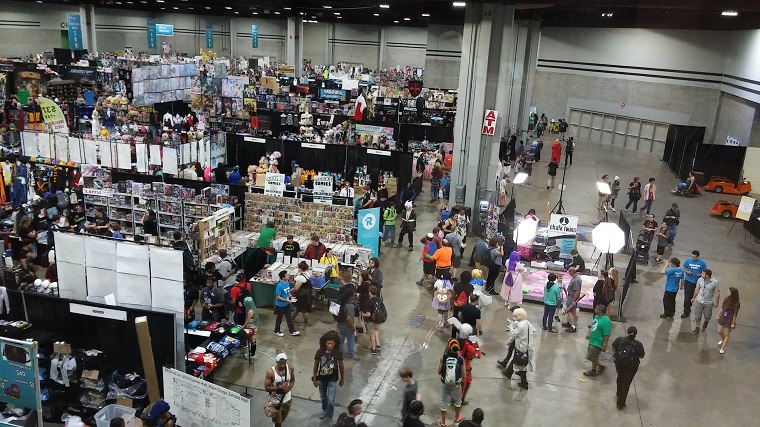 View from the media relations room. That's just a slice of the vendor area.


Two floors down from the con entrance were an arcade, several stages, and a thriving marketplace of geeky goods. On one end of the floor, tired groups could sit and play Magic: The Gathering to the sounds of Stepmania and DDR mere meters away. Speakers from Twitch and Crunchyroll offered their perspectives on the state of streaming, curtained off from voice actors and animators signing autographs. And in the dealer room, merchants hawked Keyblades across from NES games and just down the aisle from K-pop Blu-Rays. There were even some famous names among the vendors; two of the weapon masters from fantasy blacksmith show Man At Arms: Reforged had a corner booth locked down for the weekend!
The far right end of the room played host to the Artists' Alley, home to sculptors, painters, and accessory makers of all types. Whether they were selling fanart, personal commissions, or concept art for upcoming graphic novels, you couldn't throw a rock in the Artists' Alley without hitting a work of beauty. One comic artist was hard at work promoting his upcoming series re-imagining the Tuskegee Airmen in mechs; another just a few spaces down sold Sin City-flavored detective tales about talking vegetables. But you don't need a book deal to set up shop. As long as you have passion and a portfolio, there's a place for you here.


---
Guests
---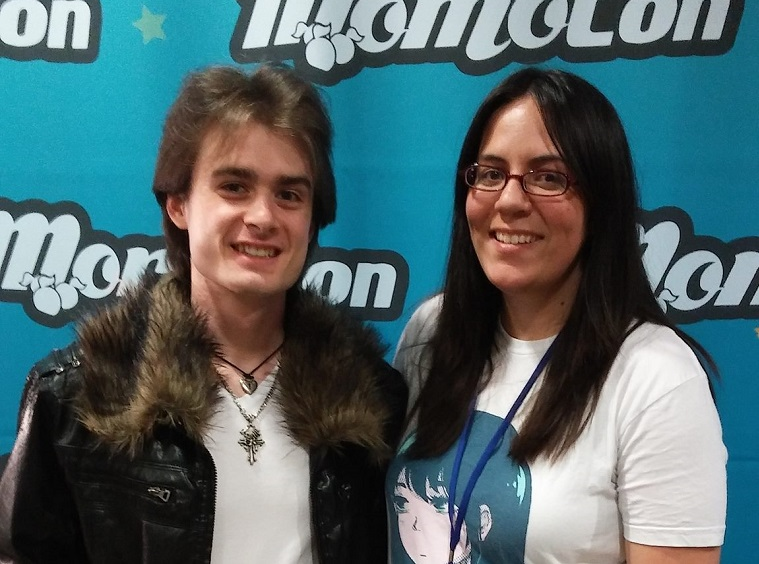 Erica Mendez and a fan dressed as Squall Leonhart. Stay tuned for the interview.


At every con you're sure to encounter the people who bring your shows and games to life. Many familiar faces in the animation and gaming industry were in attendance, both new and old. The Nostalgia Critic and his brother were in the building this weekend. Jim Cummings drew enormous crowds befitting his status as Disney veteran; how often does one get to meet the voice of Darkwing Duck and Winnie the Pooh? And Steven Universe fans rejoiced as Zach Callison put in an appearance—along with an adorable puppy.
Many of the English cast of Kill la Kill also stopped by this weekend. Erica Mendez and Laura Post (Ryuko Matoi and Ragyo Kiryuin) partied it up with fans, along with Matthew Mercer, David Vincent, and Ben Diskin. Their panel was one of the best-attended of the weekend, drawing a crowd of over a thousand (and two marriage proposals!). The Kill la Kill cast had more laughs than could possibly be recounted here, which is why it's getting its own article!
Crunchyroll community head Dallas Middaugh spoke at length about the exponential growth of anime streaming, and Twitch's Marcus "djWheat" Graham was on hand for the keynote speech. Beyond their industry insight, both had the same advice: figure out what you love to do, whether it's art, writing, programming, or anything else. Keep doing it, keep putting your name out there, and make sure someone knows what you can do.


---
Cosplay
---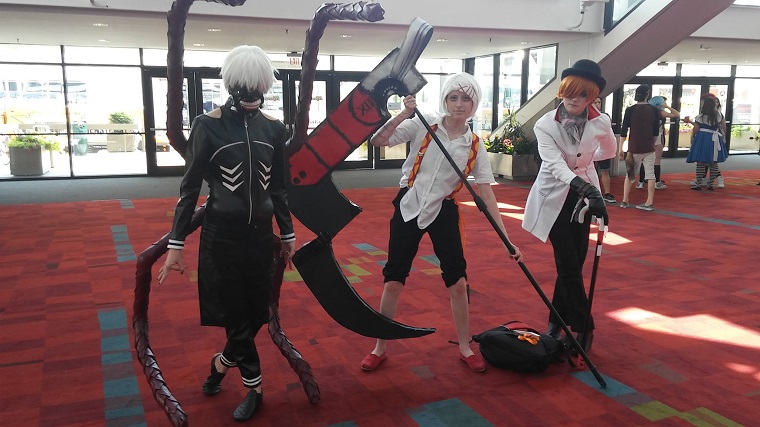 Aogiri Kaneki, Juuzou Suzuya, and Roman Torchwick. Dedicated cosplayers put hundreds of hours into their work.


No con would be complete without cosplay, of course! A good majority of the attendees were dressed up to some degree, from easy costumes like Death Note's L to elaborate Tokyo Ghoul projects complete with kagune! Meetups and photoshoots united various fandoms throughout the weekend, among them RWBY, Attack on Titan, and Final Fantasy. MomoCon regularly hosts cosplay contests for handcrafted or scavenged costumes, meaning there's room for cosplayers of every skill level.
And for the musically inclined, Saturday night's Cosplay Karaoke contest invited the costumed crowds to show off their voices and acting skills! The crowd was treated that night to a Severus Snape deadpanning his way through "Baby Got Back" and "I Touch Myself," as well as an "Anything You Can Do" by a Ciel Phantomhive and an Alois Trancy...that quickly devolved into a fistfight. All in good fun, of course.


https://www.youtube.com/watch?v=RB1j4LpPwng


---
So What?
---
The above is only a fraction of what I experienced at MomoCon, and an even smaller fraction of the con as a whole. I didn't go to the rave on the third night, nor did I attend all of the panels—an impossible feat at best. Consider this an introduction: over the next few days I'll be posting several interviews, as well as a more in-depth look at the Kill la Kill panel, which was a definite can't-miss. As stated above, a recurring theme is passion: pursuing the things you love, getting better at them, and getting the attention of people who can help you do it. That's how the industry got started, that's how everyone in it made it big, and that's how you can too.
And hey — even if you don't go into anime, you'll always have karaoke.