03-25-11, 6:41 AM
Kuroshitsuji Central Newsletter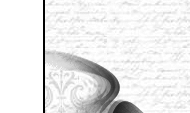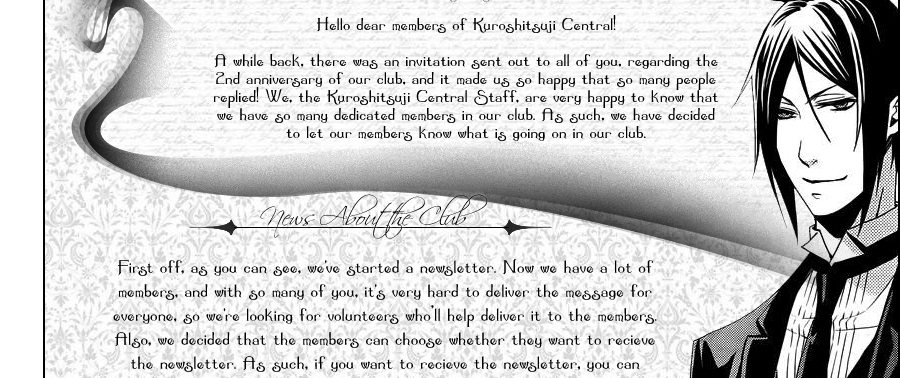 Alternativley, if you can't see the newsletter, read the text here:

Hello dear members of Kuroshitsuji Central!

A while back, there was an invitation sent out to all of you, regarding the
2nd anniversary of our club, and it made us so happy that so many people
replied! We, the Kuroshitsuji Central Staff, are very happy to know that
we have so many dedicated members in our club. As such, we have decided
to let our members know what is going on in our club.

News About the Club

First off, as you can see, we've started a newsletter. Now we have a lot of
members, and with so many of you, it's very hard to deliver the message for
everyone, so we're looking for volunteers for delivering it to the members.
Also, we decided that the members can choose whether they want to recieve
the newsletter. As such, if you want to recieve the newsletter, you can
sign up here. This is also the place you can sign up to help deliver
the newsletter.

Next, regarding our club, very shortly after having it's 2nd anniversary, our
club has reached 2300 members! (Yay!!) While there was no card to celebrate
it, since the anniversay was so close, and was follwed by Valentine's day so
quickly as well, a considerable amount of time was spent on renewing the
club - updating old threads, adding a bit of order to the others, and so on.

In particular, we have our Help Thread updated. Going back almost a year,
when it was first created, we had a massive reply from you guys, and so now
the thread's been updated for this year's round of ways to help the club.
Drop by here if you would like to help the club out with something, or to
give a few suggestions about the club.

Also, while this was a while ago, we've put together all of our
current games here, so go and check them out! :)
There's also going to be a new game opening up in Kuroshitsuji Central,
for now still secret, but we're sure you'll enjoy it,
so keep you eyes open in the club! :)

Truth be told, there's stil a lot to tell in this first newsletter,
too much in fact. Time passes quickly, so don't forget to visit
Kuroshitsuji Central to stay upldated!