Ten: Tenhou-doori no Kaidanji
It is 23 years after Akagi Shigeru's deadly battle with Washizu Iwao. Ten Takashi is living his life as a rep mahjong player. A kind person at heart, he also possesses a ingenious talent in mahjong. One day Ten meets Igawa Hiroyuki, a student player who 'plays by logic.' Hiroyuki is overwhelmed at Ten's playing style which involves anything besides logic, and soon becomes one of his close friends. Being the rep player he is, Ten had to play against some Yakuza. The chance of victory seemed to be on Ten's side, then the yakuza decides to call their secret weapon, a legendary rep player called...
Serialization:
Kindai Mahjong Gold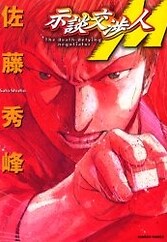 The Death-defying Negotiator M
Jiro gambles at mahjong, but loses big. His opponent, however want him as a partner and takes Jiro to a factory where the Uehara yakuza group are gambling about something more than money - a man's life. No matter if he wins or loses, somebody has to die. The game quickly turns into a violence story about life and death. Together with Takeda, whom he had managed to save from said game, they try to take down the Uehara group once and for all. And the yakuza - they have their matters to settle.
Serialization:
Kindai Mahjong Gold
Shoichi
A manga based on the real life adventures of Sakurai Shoichi.
Serialization:
Kindai Mahjong Gold