Feb 3, 2017 7:00 AM
1st Year Anniversary Challenge
1st Year Anniversary Challenge - 82/82
Favorite Challenge:
When i first joined the club it was TV Tropes challenge that interested me the most.
Also it was love at first sight with the Episodic Challenge badges lol
Currently my favourite challenge it's Hi-Score Anime Challenge.
But i also like a lot the Year Based and Miscellaneous Based challenges.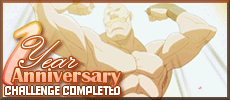 Start Date: Feb 03, 2017
End Date: Jul 02, 2017
YEAR-BASED (Watch an anime aired during that year)


ANIME-THEME BASED (State the challenge if it's not obvious/has different name)


GENRE-BASED (Watch a tagged anime; has the genre listed or is part of the list)


TYPE-BASED


CREATOR-BASED (Watch an anime from one of the studios/creator)


MISCELLANEOUS-BASED


SPECIAL-BASED