Feb 4, 2010 6:55 AM
Afro Samurai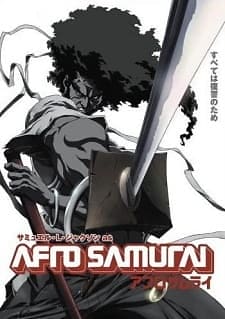 English:
After watching his father die in a duel against an unbeatable villian known only as 'Justice,' young Afro fixes his life on the study of swords and revenge. The tale of Afro Samurai is one of bloody hardship and pain. Along his solitary path of revenge for his murdered father, he sheds no tears & knows no love. Forever chased by powerful enemies in a lawless technology-speckled dystopia, he evades bullets and blade to reach his final prey: a man who will not die. But Afro will reach his quarry - even if it means painting a road of blood and brains from here to the bitter inevitable end.
Serbian:
Nakon što je gledao kako mu otac umire u borbi protiv nepobedivog zlikovca poznatijeg kao "Justice," život mladog Afro-a je zasnovan na lekcijama o maču i osveti. Priča o Afro Samuraju je o krvavim tegobama i bolovima. Na putu ka osveti svoga oca Afro ne proliva ni kap znoja i krvi. Zauvek proganjan od strane veoma moćnih neprijatelja on izbegava metke i mačeve da bi dostigao svoj konačni plen: čoveka koji neće da umre. Ali Afro će dostići svoj plen čak iako to znači put sa puno prolivene krvi i znoja.
..........by M..........