February 4th, 2010
Bakuten Shoot Beyblade
English:
Thirteen-year-old Tyson Granger (Takao Kinomiya), along with his fellow teammates, Kai Hiwatari, Max Tate (Max Mizuhura), and Ray Kon (Rei Kon), strive to become the greatest Beybladers in the world. With the technical help of the team's resident genius, Kenny (Kyouju), and with the powerful strength of their BitBeasts, the Bladebreakers armed with their tops (AKA: Blades) attempt to reach their goal.
Serbian:
Trinaestogodišnji Tajson Grendžer (Takao Kinomiya), zajedno sa svojim drugarima Kaj Hivatari, Maks Tejt i Rej Kon-om teže ka tome da postanu najveći bejblejderi na svetu. Uz pomoć tehničke pomoći od glavnog genija tima Keni-ja i uz pomoć neverovatne moći njegovih bej-zveri, Blejdbrejkeri naoružani do zuba (AKA: blejdovi) pokušavaju da dostignu njihov cilj.
..........by M..........
Afro Samurai: Resurrection
English:
Takashi Okazaki said in the new season Afro "loses his way, gets tired of all the killing" and he "wakes up to his destiny, which is to be the world's number one warrior." Produced by Japanese studio GONZO in association/partnership with GDH K.K. and based on the original art and story telling of manga artist Takashi Okazaki. Funimation is also collaborating on the production
Serbian:
Takaši Okazaki je rekao da nova sezona Afro-a gubi svoj pravi put i umara se od svih ubistava i budi se svestan svoje sudbine, koja znači biti svetski ratnik broj jedan. Proizveden od strane Japanskog studija GONZO u saradnji sa GDH K.K. i zasnovano na originalnoj umetnosti i priči ispričanu od strane manga umetnika Takaši Okazaki-ja.
..........by M..........
Afro Samurai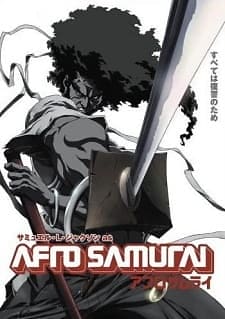 English:
After watching his father die in a duel against an unbeatable villian known only as 'Justice,' young Afro fixes his life on the study of swords and revenge. The tale of Afro Samurai is one of bloody hardship and pain. Along his solitary path of revenge for his murdered father, he sheds no tears & knows no love. Forever chased by powerful enemies in a lawless technology-speckled dystopia, he evades bullets and blade to reach his final prey: a man who will not die. But Afro will reach his quarry - even if it means painting a road of blood and brains from here to the bitter inevitable end.
Serbian:
Nakon što je gledao kako mu otac umire u borbi protiv nepobedivog zlikovca poznatijeg kao "Justice," život mladog Afro-a je zasnovan na lekcijama o maču i osveti. Priča o Afro Samuraju je o krvavim tegobama i bolovima. Na putu ka osveti svoga oca Afro ne proliva ni kap znoja i krvi. Zauvek proganjan od strane veoma moćnih neprijatelja on izbegava metke i mačeve da bi dostigao svoj konačni plen: čoveka koji neće da umre. Ali Afro će dostići svoj plen čak iako to znači put sa puno prolivene krvi i znoja.
..........by M..........