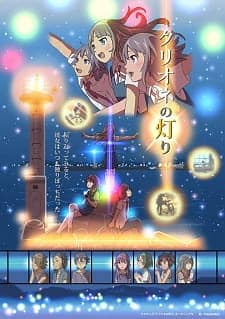 Clione no Akari
The story centers around an illness-stricken, constantly bullied orphan girl named Minori. After one rainy day, she doesn't turn up at school, having been admitted into a hospital in a distant town. Two months pass, and the girl's two school friends, Takashi and Kyouko, receive a mysterious email with no sender listed. The email reveals a summer festival taking place at a nearby town... (Source: ANN)
Theme:
School
TV -
Jul 12, 2017, 20:20 (JST)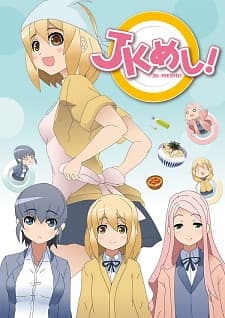 JK Meshi!
Three high school girls have mastered the art of cooking simple, B-class dishes called JK meshi. The three girls — Reina, Ryouka, and Ruriko — are all classmates in their second year of high school. They often get distracted when studying for tests, and when they do, they cook JK meshi. (Source: ANN)
TV -
Oct 6, 2015, 01:00 (JST)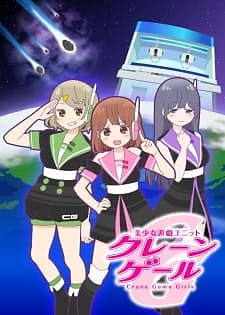 Bishoujo Yuugi Unit Crane Game Girls
One day, Saya, an agent of the World Space Association, receives a sudden message that says a large number of asteroids are on a collision course with Earth, and it is her mission to stop them. Unfortunately, the only way to save the Earth is by having three people with extraordinary potential demonstrate a new skill on a crane game, which will create a beam of energy able to divert the asteroids. The only three people with enough potential are three high school girls—Asuka, Mirai, and Kyouko. In order to harness their energy, Saya tells them that she has scouted them as idols and has them work at an arcade where she can monitor them. She says to the girls that all successful idols are good at crane games, and that building their skills is their first step in idol training. As the girls learn new crane game techniques, they begin to doubt Saya's intentions but are nonetheless unaware that the fate of the Earth lies in their hands. [Written by MAL Rewrite]
TV -
Apr 6, 2016, 22:00 (JST)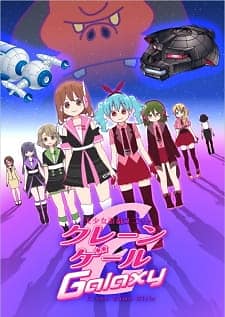 Bishoujo Yuugi Unit Crane Game Girls Galaxy
TV -
Oct 5, 2016, 22:00 (JST)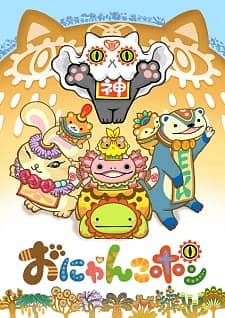 Onyankopon
Onyankopon watched over people long ago, but one day an old woman accidentally hit Onyankopon in the head with a mallet while mashing yams. Since then, Onyankopon has been nervous about greeting people directly, and so sends subordinates to speak to them and solve their problems. He will use Afrobeat and dance to help Japanese high school girls with problems such as dieting, love, and cramming for exams. (Source: ANN)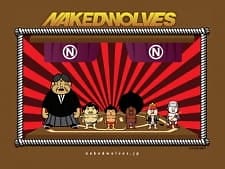 Naked Wolves
In the Flash-animated television comedy series, a sumo wrestler named Mikoshiarashi travels around the world to train to become the Yokozuna, the Grand Sumo Champion. He meets colorful characters along the way as he is determined to meet his goals.
Demographic:
Kids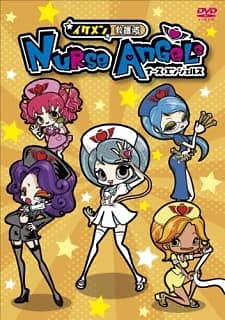 Ikemen Kyuugo-tai Nurse Angels
Features 5 nurses working at the secret service at International Medical Center. (Source: CDJapan)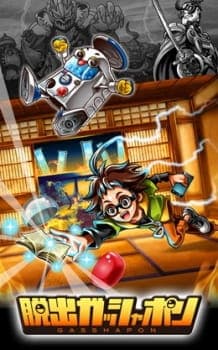 Dasshutsu Gasshapon
The story revolves around Shouta, a regular high school boy whose life is suddenly changed when a creature called a Gasshapon appears in front of him, and claims to come from the future. (The Gasshapon is shaped like Bandai's Gashapon prize-dispensing machines.) The Gasshapon was sent to the past by the future Shouta, from an era in which an alien group called CC (or Cold Cosmo) have made it their mission to change all stars and planets that have light and warmth into dark, cold places like their own. The Gasshapon had intended to take young Shouta to 2080 to save the future, but because time travel had not been fully perfected yet, Shouta is thrown into a completely different time, the era of the Honnouji Incident (1582), where Shouta actually becomes the famous warlord Oda Nobunaga. (Source: ANN)
Theme:
Historical