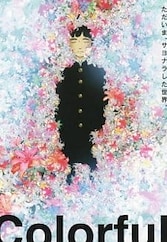 Colorful (Movie)
"I" died and was kicked out of the cycle of reincarnation because of the sin "I" committed. An angel told me that "I" won a lottery and he gave me a chance to remember the sin. My spirit possessed the body of the 14-year-old boy Makoto, who committed suicide and "I" tried to recollect my memory. "I" felt distressed by the terrible circumstances of Makoto and the fact that "I" was borrowing his body. "I" have started to realize that people are hurting each other because the world is too colorful to distinguish the true color of themselves from others.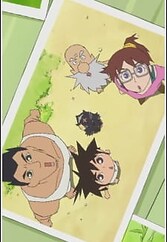 Kizuna Ichigeki
Kizuna Todoroki is a young girl who fights using the teachings of the Wadachi Ju-ken school. After winning a big tournament, the day still isn't over for the Kizuna's family. Kizuna's family are visited by a woman journalist for an interview but are interrupted by a new group of challengers.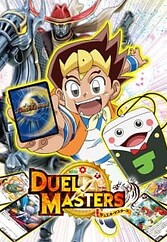 Duel Masters (2017)
In the new series' story, the balance of the Creature World is starting to crumble. A talking deck case named Decky comes to the human world to search for a Duel Master to preserve equilibrium. There he sees Joe's power to create creatures. (Source: ANN)
TV -
Apr 2, 2017, 08:30 (JST)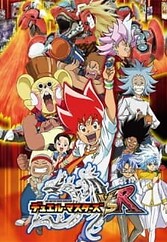 Duel Masters VSR
A next fierce fight is about to begin after Katta Kirifuda finally become the Duel Masters National Tournament champion. Japan's largest theme park, Duel Masters Land has appeared. With numerous fun attractions and events, Katta was also having fun. However, after meeting the mascot of the park, "Duemouse", Katta got involved in a ridiculous conspiracy of the park. A shadow that invades the Duel Masters World, which is the mysterious team of duelists! The mysterious identity of the legendary card is to be revealed. A new stage and revolution of Duel Masters befalls Katta! (Source: Duel Masters Wikia)
TV -
Apr 5, 2015, 08:30 (JST)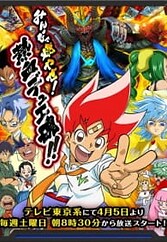 Duel Masters VS
The most anticipated card game, Duel Masters had returned after 2 years since the battle in the past season. However, Katta Kirifuda once the strongest duelist, is now a year 2 middle school student and had lost his passion of dueling throughout the 2 years, and dreams of curry bread every day. However, after an encounter with the baseball ace, Hokaben, a mysterious duelist and a reunion with his childhood friend Lulu Takigawa, he rekindled his dueling spirit and return to his journey of becoming the strongest duelist. With new friends and rivals and Katta's passionate duelist soul, the greatest battle begins! (Source: Duel Masters Wikia)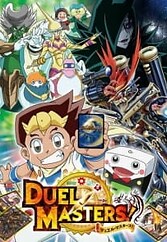 Duel Masters!
TV -
Apr 1, 2018, 08:30 (JST)