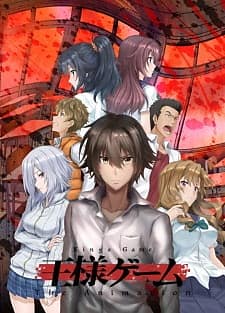 Ousama Game The Animation
It can be rough transferring to a new school—even more so if you don't want to make any friends, like Nobuaki Kanazawa. But the reason for his antisocial behavior soon becomes clear when his class receives a text from someone called "The King." Included are instructions for the "King's Game," and all class members must participate. Those who refuse to play, quit halfway, or don't follow an order in the allotted time of 24 hours will receive a deadly punishment. Having played the game before and watched as those around him died, Nobuaki tries to warn his clueless classmates. Unfortunately, they only believe him after the King's Game claims its first casualties. Stuck in a horrific situation with no chance of escape, Nobuaki has a choice: put his own survival above those around him, or do what he couldn't before and save his classmates. [Written by MAL Rewrite]
TV -
Oct 5, 2017, 23:30 (JST)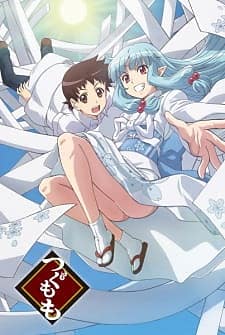 Tsugumomo
In Japanese folklore, a "tsukumogami" is an object that has gained a soul, becoming alive and self-aware. There are two types of tsukumogami: the mature "tsugumomo," who have developed through long years of harmony with their owners, and the aberrant "amasogi," premature spirits that are only born to grant the destructive wishes of certain people. Kazuya Kagami has never gone without his mother's obi after her death. Be it at home or school, he keeps it safe with him at all times. One day, he nearly loses his life when a wig amasogi attacks him. When all seems to be over, his treasured obi defends him, transforming into a beautiful girl. She introduces herself as Kiriha, a tsugumomo owned by Kazuya's mother. With Kiriha's arrival, Kazuya enters a reality he has never seen before, a world with gods and tsukumogami. [Written by MAL Rewrite]
TV -
Apr 2, 2017, 23:30 (JST)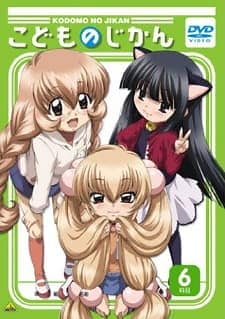 Kodomo no Jikan (TV)
3rd grade teacher Aoki Daisuke didn't expect the first class he ever taught to be one of the toughest obstacles of his life. After getting off on the wrong foot with the entire class, a moment of kind-heartedness instantly convinces one of his students, Rin Kokonoe, to make the ill-fated Aoki-sensei her lover. But what exactly are Rin's intentions for wanting to actively seduce Aoki-sensei, and will Aoki-sensei be able to help her to deal with them?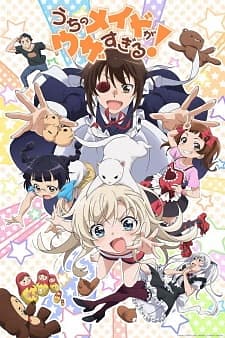 Uchi no Maid ga Uzasugiru!
Having lost her mother at a young age, Misha Takanashi, a second grader who is half-Russian and half-Japanese, now lives with her Japanese father. Tsubame Kamoi, formerly a Japan Air Self-Defense Force, JASDF officer, comes to the Takanashi household as a housekeeper. This is a home comedy where Kamoi, a hardcore lolicon, attempts to get near Misha as she tries to fight against her.
TV -
Oct 5, 2018, 23:00 (JST)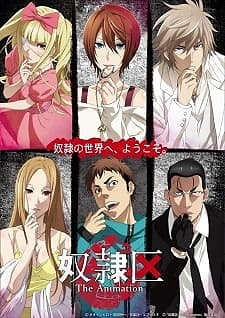 Dorei-ku The Animation
Eager to know why her best friend's boyfriend dumped her for a man, the headstrong Eiya Arakawa suggests a meeting with them. Gathered together at a café, Yuuga Oota agrees to answer Eiya's questions only if she can correctly ascertain the relationship of a couple sitting across from them, which she does on her first attempt. Amazed by her astounding intellect and intuition, he invites her to a private meeting where he introduces her to the concept of Slave Control Method, or SCM, a retainer-like device that has the ability to turn people into slaves. When two SCM users enter a duel, the devices exert a powerful influence on their brains. Once the duel is over, the SCM amplifies the loser's sense of obligation and forces them to bend to the will of the winner. Wanting desperately to test his own abilities, Yuuga asks Eiya to act as his insurance in the event that he himself becomes a slave. Granted access to 10 million yen, Eiya's job is to convince Yuuga's would-be master to free him from his servitude. Though hesitant at first, Yuuga's words resonate with her personal yearning for something more from her life, and she agrees to his request. However, when a mysterious organization begins rapidly accruing slaves, Eiya becomes entangled in a game far more dangerous than she ever could have imagined. [Written by MAL Rewrite]
TV -
Apr 13, 2018, 01:00 (JST)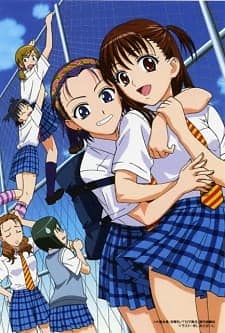 Joshikousei: Girl's High
Eriko and her friends Yuma and Ayano are excited about entering high school. Their excitement leads to their breaking of the rules when they toured the school before the opening ceremony. They find out their preconceptions about the all female school may not be as true as they had first thought. Despite that, Eriko and her friends are joined by new friends. They aim to get through high school life together. (Source: ANN)
TV -
Apr 4, 2006, 01:30 (JST)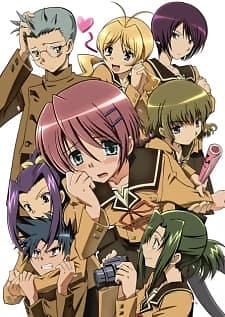 Hitohira
A transfer student Asai Mugi is a painfully shy girl. She is so shy that she can't speak when she becomes seriously nervous. However, for some reason, she is spotted and recruited as a member of the drama club. (Source: AnimeNfo)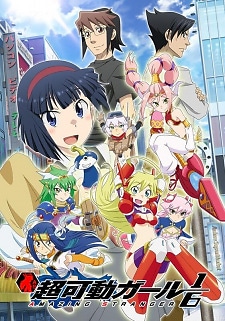 Choukadou Girl ⅙
Bouida Haruto, a hardcore otaku with no interest in 3D (real) women, once appreciated figures from afar, accepting that "if you get into them, there's no turning back." However, when Nona, a character he loved from an anime called "Girls→Planetary Investigation" had a figure of her released, he ended up purchasing it. And then that night, the figure of Nona somehow came to life, and a couple-like lifestyle between man and toy began. (Source: MU)
TV -
Apr 6, 2019, 23:00 (JST)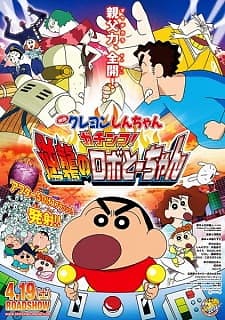 Crayon Shin-chan Movie 22: Gachinko! Gyakushuu no Robo To-chan
Hiroshi got a slipped disk due to a back injury. He was taken to an Este salon by a mysterious beautiful girl who appeared suddenly, to receive a free trial of beauty treatment as well as a massage. When Hiroshi returned home after a beauty treatment, he was surprised to see himself in the form of a robot. Shinnosuke gets overjoyed, whereas Misae gets worried on seeing him as a naked robot. The robot version of Hiroshi turns out to be convenient. The robot Hiroshi could be controlled by a remote control and pretty much do anything including cooking and cleaning. Meanwhile, Hiroshi realizes that his turning into a robot has to do something with that Este salon. However, this new change was a dark conspiracy hatched by "Chichi Yure Doumei (The Association of Fathers)" to create a strong father figure for all the fathers in Japan. Soon, many dads in the whole nation go out of control, and the Nohara family (Shinnosuke's family) and Kasukabe start falling apart. Before the near-collapse of Kasukabe, Shinnosuke and Hiroshi i.e. Robot dad stand up to save the day. Featuring the most intense battle of middle-aged men, the movie brings a touching story that makes all fathers and families in Japan cry. (Source: Wikipedia)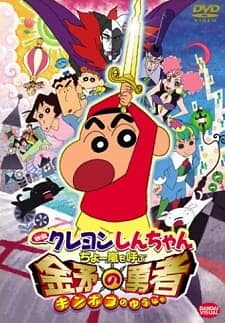 Crayon Shin-chan Movie 16: Chou Arashi wo Yobu Kinpoko no Yuusha
A comical fantasy adventure on a fight against invaders from another world. The ruler of dark world "Don Kurai," Dark, plots to dominate the human world. There is a legend about three treasures and a hero in Don Kurai, and Dark takes over one of the three treasures, a bell of copper, but a man sent other two treasures (a spear of gold and a shield of silver) to the human world. Shinnosuke falls into Dark's trap and opens the door between the human world and Don Kurai, but he becomes the hero selected by the spear of gold. With the power of a girl from Don Kurai, Mata Tami, the Nohara Family transform into various things and fight against Dark. (Source: Manabu Tsuribe)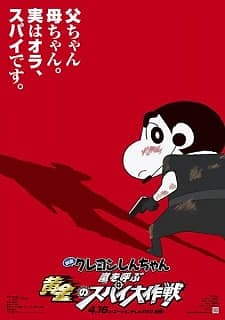 Crayon Shin-chan Movie 19: Arashi wo Yobu Ougon no Spy Daisakusen
Comical action spy film including an indecent material (flatus) and a story of a girl who had obeyed her parents, but becomes self-aware. A mystery spy girl Lemon Sunomono suddenly appears in front of Shinnosuke, and she calls herself an emissary of Action Kamen. She had trained as a spy by her parents in the Sukashipestan Republic, and works for the Queens. Under her guidance, Shinnosuke decides to be a spy to fight for justice, and receives spy training. Under the instruction of Action Kamen, Lemon and Shinnosuke perform a mission to creep into the laboratory in the Hedelna Kingdom and recapture a capsule from an evil professor, but Lemon finds the real purpose of the Queens, and they fight to foil the plot of the Queens. (Source: Manabu Tsuribe)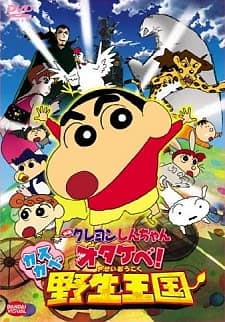 Crayon Shin-chan Movie 17: Otakebe! Kasukabe Yasei Oukoku
Comical action adventure film including a caricature of radical ecoactivism and theme of bond between mother and children. The new mayor of Futaba Town, Kasukabe-City, Saitama Prefecture, Mamoru Shizan promotes ecology activities, but his true identity is the leader of an eco-terrorist organization "SKBE: Save Keeping Beautiful Earth", and he launches a plan to transform human into animals by making them take a drink to change into animals. By taking the drink, Shinnosuke's father, Hiroshi changes into a chicken, and his mother changes into a panther. With a mystery woman Victoria, the Nohara Family and half-animalized members of Kasukabe Defense Forces fight against SKBE to stop Shizen's plan. (Source: Manabu Tsuribe)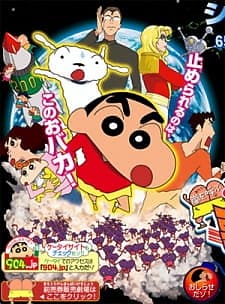 Crayon Shin-chan Movie 15: Arashi wo Yobu Utau Ketsu dake Bakudan!
A slapstick comedy on a bomb uproar, and a touching story about the ties between the Nohara Family and their dog Shiro. A film in the musical style including the scenes with inserted songs. When the Nohara Family enjoy a trip to Okinawa, a strange object like a flying saucer becomes stuck with Shiro's bottom. That is a special bomb dropped by "The Only Buttocks Aliens," and it has the power to destroy the whole earth. The space monitoring center "UNTI" (Unidentified Nature Team Inspection) begins to pick up the bomb, but a female terrorist group "Hinageshi Opera Company" tries to get the bomb and disturbs UNTI's work. (Source: Manabu Tsuribe)
Super Shiro
Spin-off series of Crayon Shin-chan franchise, featuring Shiro. Commemorates 60th Anniversary of TV Asahi.