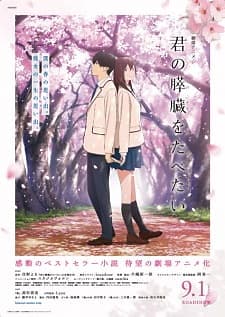 Kimi no Suizou wo Tabetai
The aloof protagonist: a bookworm who is deeply detached from the world he resides in. He has no interest in others and is firmly convinced that nobody has any interest in him either. His story begins when he stumbles across a handwritten book, titled "Living with Dying." He soon identifies it as a secret diary belonging to his popular, bubbly classmate Sakura Yamauchi. She then confides in him about the pancreatic disease she is suffering from and that her time left is finite. Only her family knows about her terminal illness; not even her best friends are aware. Despite this revelation, he shows zero sympathy for her plight, but caught in the waves of Sakura's persistent buoyancy, he eventually concedes to accompanying her for her remaining days. As the pair of polar opposites interact, their connection strengthens, interweaving through their choices made with each passing day. Her apparent nonchalance and unpredictability disrupts the protagonist's impassive flow of life, gradually opening his heart as he discovers and embraces the true meaning of living. [Written by MAL Rewrite]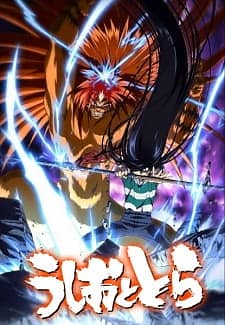 Ushio to Tora (TV)
Ushio Aotsuki is a stubborn middle school student and son of an eccentric temple priest who goes about life without care for his father's claims regarding otherworldly monsters known as youkai. However, as he is tending to the temple while his father is away on work, his chores lead him to a shocking discovery: in the basement he finds a menacing youkai impaled by the fabled Beast Spear. The beast in question is Tora, infamous for his destructive power, who tries to coerce Ushio into releasing him from his five hundred year seal. Ushio puts no trust in his words and refuses to set him free. But when a sudden youkai outbreak puts his friends and home in danger, he is left with no choice but to rely on Tora, his only insurance being the ancient spear if he gets out of hand. Ushio and Tora's meeting is only the beginning of the unlikely duo's journey into the depths of the spiritual realm. With the legendary Beast Spear in his hands, Ushio will find out just how real and threatening the world of the supernatural can be. [Written by MAL Rewrite]
TV -
Jul 3, 2015, 22:30 (JST)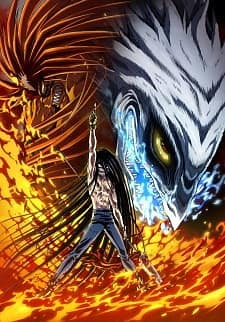 Ushio to Tora (TV) 2nd Season
Continuation of Ushio to Tora TV series.
TV -
Apr 1, 2016, 22:30 (JST)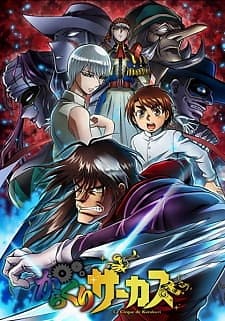 Karakuri Circus (TV)
Narumi Katou is a middle-aged man who suffers from the bizarre ZONAPHA Syndrome: a rare and inexplicable disease that causes its victims to endure severe seizures at random, with the only cure being to watch someone laugh. One day, during Narumi's part time job, a young boy with a giant suitcase fleeing from three adults runs into him. The boy introduces himself as Masaru Saiga, the new owner of the famous Saiga Enterprises following his father's recent death. However, other members of his family are trying to assassinate him and claim the fortune for themselves. Determined to save the child, Narumi helps Masaru escape and ends up fighting the pursuers, only to discover that they are sentient humanoid puppets with superhuman strength. As Narumi is about to lose, a white-haired girl suddenly joins the fray and swiftly summons yet another puppet from the boy's suitcase, claiming herself to be Shirogane, Masaru's guardian. Karakuri Circus follows three people from different backgrounds whose fates intertwine and diverge as they unravel the mysteries of an ancient tale of love and betrayal, and the long, ancient battle between humans and puppets. [Written by MAL Rewrite]
TV -
Oct 11, 2018, 22:30 (JST)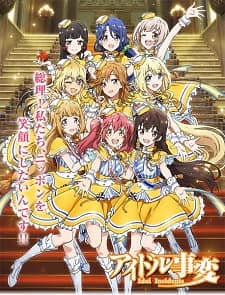 Idol Jihen
Increasing income divide, creeping environmental pollution, unsolvable waste issues, childcare waiting lists being discussed without those concerned, repeated corruption… The government, smeared by vested interests, can't do a thing against the many problems and sources of discontent. It's in this situation, with Japan cornered with no way out, that idols rise up to save the day! The Heroine Party, Sunlight Party, Starlight Party, Bishoujo Party, Wakaba Party, Subculture New Party, and SOS Party. From these seven idol political parties, the idols who have become National Diet members and representatives for each prefecture will smash through the sense of stagnation covering Japan using the power of song and dance! They'll bring back the smiling faces of the people, and wrap Japan in a glittering aura!! (Source: Honeyfeed)
TV -
Jan 8, 2017, 23:30 (JST)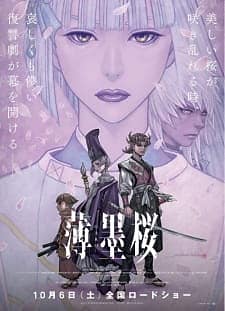 Usuzumizakura: Garo
Set during the Heian Period, Kyo is a beautiful city that is proud of its glory. Two beautiful onmyouji meet, and the sad and short-lived beautiful cherry blossom starts to stir after 1000 years. (Source: MAL News)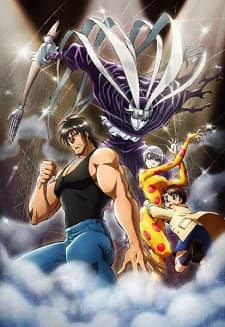 Karakuri Circus (TV): Makuai - Soshite Mata Kaimaku Bell
Recap of the first 14 episodes of Karakuri Circus.