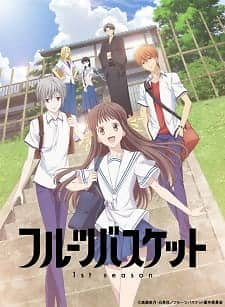 Fruits Basket 1st Season
Tooru Honda has always been fascinated by the story of the Chinese Zodiac that her beloved mother told her as a child. However, a sudden family tragedy changes her life, and subsequent circumstances leave her all alone. Tooru is now forced to live in a tent, but little does she know that her temporary home resides on the private property of the esteemed Souma family. Stumbling upon their home one day, she encounters Shigure, an older Souma cousin, and Yuki, the "prince" of her school. Tooru explains that she lives nearby, but the Soumas eventually discover her well-kept secret of being homeless when they see her walking back to her tent one night. Things start to look up for Tooru as they kindly offer to take her in after hearing about her situation. But soon after, she is caught up in a fight between Yuki and his hot-tempered cousin, Kyou. While trying to stop them, she learns that the Souma family has a well-kept secret of their own: whenever they are hugged by a member of the opposite sex, they transform into the animals of the Chinese Zodiac. With this new revelation, Tooru will find that living with the Soumas is an unexpected adventure filled with laughter and romance. [Written by MAL Rewrite]
TV -
Apr 6, 2019, 01:23 (JST)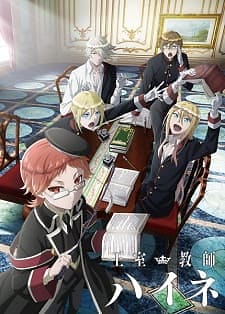 Oushitsu Kyoushi Heine
Equally charming and stern, Heine Wittgenstein is a brilliant man who commands respect, despite his short, childlike stature. Thus, the king of Grannzreich has called upon Heine to undertake a daunting task that has driven away many before him—become the new royal tutor to four princes who are in line for the throne. The four heirs each have very distinct and troublesome personalities: Licht, the flirtatious youngest prince; his immature older brother Leonhard; Bruno the studious third prince; and Kai, the oldest of the four and the most reserved. Hilarity ensues as Heine attempts to connect with each of the princes in order to groom them for the throne. However, Heine's mysterious past and dark undercurrents in the present may threaten the harmony within the kingdom. [Written by MAL Rewrite]
TV -
Apr 5, 2017, 02:05 (JST)
Hello World
The year is 2027, and the city of Kyoto has undergone tremendous technological advancement. Within the city lives Naomi Katagaki, a socially awkward and introverted boy with a love for books, and Ruri Ichigyou, a girl with a cold personality who is often blunt with people, but shares his love for reading. Despite having similar interests, Naomi is afraid to approach Ruri due to her unfriendly nature. One day, as Naomi goes out for a walk, a crimson aurora pierces through the sky for a brief moment before vanishing. Shortly after, he sees a three-legged crow and a mysterious hooded man who reveals himself to be Naomi from 10 years in the future, explaining that he has come to change an imminent tragic event that happens to Ruri shortly after they start dating. Initially taking his words with a grain of salt, present-day Naomi follows his future self's instructions and starts getting closer to Ruri, determined to save her. Hello World focuses on the present Naomi alongside himself from 10 years into the future. With the help of his future self, Naomi begins his preparations to save Ruri. Will he be able to change the future? [Written by MAL Rewrite]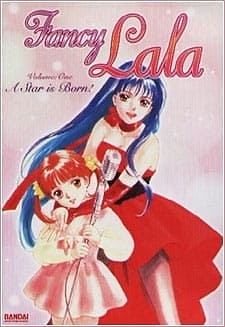 Mahou no Stage Fancy Lala
Miho Shinohara is a care-free third-grader and an aspiring manga artist. One day, she encounters Mogu and Pigu - two lost fairies disguised as stuffed animals. In exchange for staying at her home until they find a way to return to their own world, the fairies give Miho a special sketch pad and pencil that enable her to magically create real objects from what she draws. With the pen, Miho can also transform into Lala, a beautiful teenage girl created from her manga art. As Lala, she is discovered by a talent agency, and so begins her adventures from an ordinary school girl to a model to an idol singer. (Source: ANN)
TV -
Apr 5, 1998, 09:30 (JST)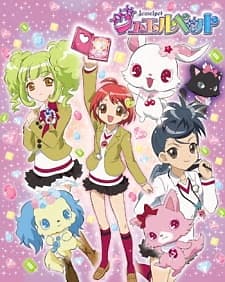 Jewelpet
When what looks to be a cluster of shooting stars appear in the sky, Rinko Kougyoku and her friend Minami each make a wish. What the girls truly saw were not stars, but 'Jewel Charms' falling to the Earth. These charms were created by three magicians in a magical world names Jewel Land, each housing one of its many native Jewelpets. Although these creatures are free to roam the world in their original form, the magicians sometimes turn them into charms so that they can be carried around with great ease. Most Jewelpets don't find this troublesome, but once a mischievous bunny by the name of Ruby feels overly claustrophobic, she devises her escape. One day, the magicians decide to move the Jewelpets, and task a pelican with delivering them to the Dream Forest. All is well until a strong gust of wind disorients the bird, who then drops all of the charms that he was carrying. Instead of heading towards the Dream Forest, all the Jewelpets but Ruby fall to Rinko's home city on Earth. Someone must go and retrieve them all, and as Ruby was the worst-behaved of the bunch, she is given the task of going to Earth. When Ruby reaches Earth in the form of a red Jewel Charm, she falls into Rinko's water glass, and thus begins a rather unexpected adventure. Rinko, Minami, and Ruby form an alliance to search and gather all of the fallen charms, encountering strange creatures and tons of helpful allies along the way. Will they be able to succesfully bring the Jewelpets home safely, or is Earth full of more danger than they had expected?
TV -
Apr 5, 2009, 09:30 (JST)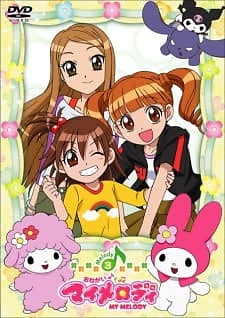 Onegai My Melody
My Melody arrives on Earth much to the surprise of her rival Kuromi. Together with one of the junior high school students, Yumeno Uta, they decide to protect the dreams of the people with the help of magic.
TV -
Apr 3, 2005, 09:30 (JST)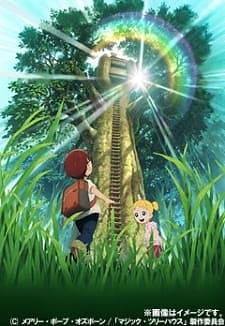 Magic Tree House
Based on The Magic Tree House series, award winning series of children books written by American author Mary Pope Osborne.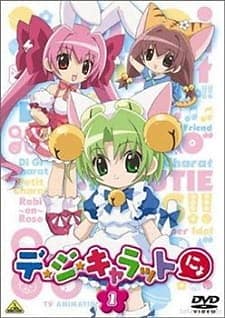 Di Gi Charat Nyo
Di Gi Charat (a.k.a. Dejiko) - along with Petit Charat (a.k.a. Puchiko) and Gema - travels to Earth as part of her training to become a full-fledged princess. They crash on a small town in Japan, where they meet the Omocha brothers (who spend most of their time thinking how cute Puchiko is) and Mr. & Mrs. Ankoro (an elderly couple that makes Japanese sweets). (Source: ANN)
TV -
Apr 6, 2003, 09:30 (JST)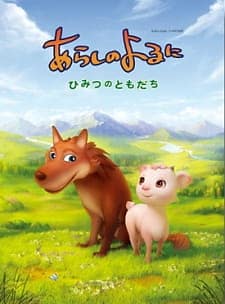 Arashi no Yoru ni: Himitsu no Tomodachi
A new anime adaptation by Sparky Animation, Duckbill Entertainment, Baku Enterprise and Bandai Visual of the book Arashi no Yoru ni (One Stormy Night...) by Kimura Yuuichi.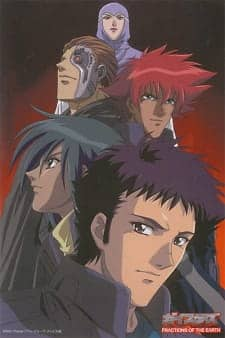 Geisters: Fractions of the Earth
At the end of the 21st century, a meteorite collision plunged Earth into apocalypse, and the remnants of humanity went in two different directions to survive. The aristocratic Dobias headed into space, while the earthy Shioru went underground. Centuries later, they returned to Earth's surface and are now fighting for control of the planet—that is, when they're not busy fending off a new species of predators known simply as Creatures. Amidst this conflict, an elite team of five soldiers known as Geisters protects humanity from the Creatures and from each other. Although part of the Dobias, the Geisters have recently accepted a soldier of Shioru descent onto the team, and her take-charge personality leaves the other members unsure about her loyalty and usefulness to the group. With Dobias and Shioru tensions heating up on the political floor, Creatures running rampant, and a dangerous new weapon being developed in secret, the Geisters must maintain peace among themselves and the rest of society. (Source: Anime Crash)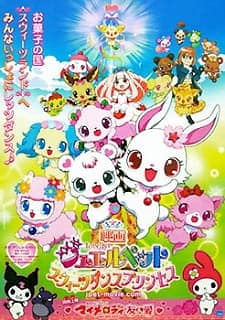 Jewelpet Movie: Sweets Dance Princess
The story of the new film is set in Sweetsland, a country next to Jewelland. Ruby and the other Jewelpets are celebrating the birthday of the princess with dancing. However, during the preparations for the birthday party, a mysterious object appears from the skies. In the object is a Sweetspet boy, whose identity is unknown. (Source: ANN)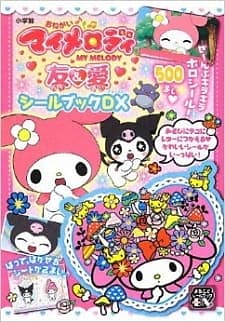 Onegai My Melody: Yuu & Ai
Set before the events of Sweets Dance Princess, it focuses about My Melody's summer camping in Mary Land and how her friendship with Kuromi is becoming better, despite the upsetting experiences and misunderstandings she had during camp. (Source: ANN) Double feature with the first Jewelpet film, Jewelpet Movie: Sweets Dance Princess.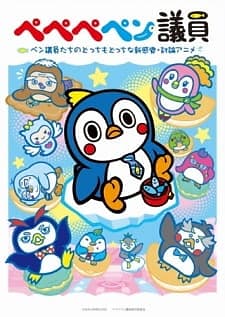 PePePePengiin
TV -
Oct 2, 2016, 22:48 (JST)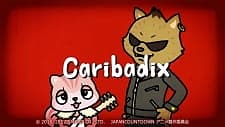 Caribadix
Deeky is a wolf whose wild appearance belies his pure-hearted and slightly gossipy moe nature. Carina is a squirrel whose soft and cuddly appearance hides the black and beating heart of a hard rock monster. Together they form a band to compete in a rock music competition. (Source: Crunchyroll)
TV -
May 7, 2017, 09:30 (JST)