Jun 7, 2009 7:11 PM
Japan guide: Shikoku. Itineraries for the island of Shikoku, typical food, hotels and Ryokan
Imagine to have a trip in Japan and visit an Island that's beyond time, that has kept the most peculiar features of ancient Japan, a country belonging to fishermen and farmers, but also full of industries making mechanic and electronic objects: this is Shikoku.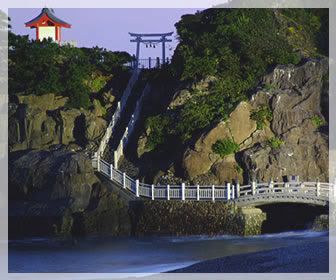 Shikoku island is located in the South of Japan and is the fourth largest island of the whole Japanese archipelago. Despite of the three bridges linking it to the islands of Kyūshū and Honshū, this island did not undergo the westernization affecting Tokyo itself. As said, it has kept the ancient features of Japan, like woody hills, temples and castles.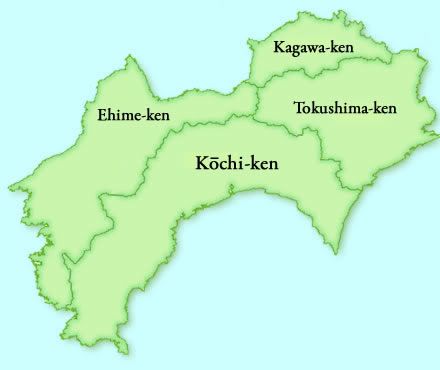 The island comprehends 4 districts or Ken (県), that's what its name is coming from, since Shikoku means four states, or districts (四 shi=four, 国 koku=state). These districts had different names once: Sanuki 讃岐, Awa, 阿波, Iyo 伊予, and Tosa 土佐, became con Kagawa 香川, Tokushima 徳島, Ehime 愛媛 and Kōchi 高知 after the Meiji era (1868). Generally the weather is temperate, and winters are mild.
Guide to Shikoku: Shikoku destination for tourists in Ehime-Ken:
Shikoku has a very rich cultural heritage, both natural and architectonic, many woods, castles and temples can be found all over the island. In the first city of Ehime district, Matsuyama, there are two of the most important touristic destinations in whole Shikoku: the Dogo Onsen (道後温泉), the most ancient hot spring in Japan since 1000 years ago, and the Matsuyama Castle (松山城), one of the few Japanese castles that have never been rebuilt.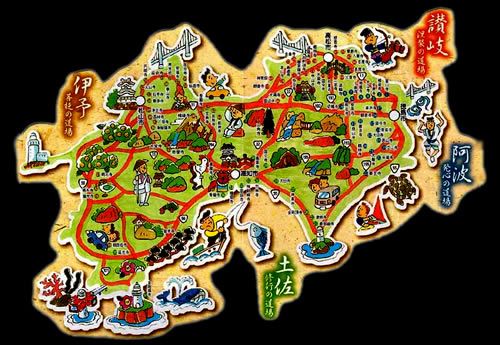 Dogo Onesn 道後温泉:
The Dogo Onsen, that is in the capital city of Ehime district, Matsuyama, iso ne of the most ancient and famous hot springs in Japan. It is told that this sulphureous source was discovered thanks to an heron flying over it, so it became the symbol of the hot spring.
For people who are used to traditional Onsens, the Dogo Onsen can look a bit "peculiar". The hot spring is divided in two baths, the largest and most bright is called Kami no yu (神の湯), or god's water, while the smallest and most private is the Tama no yu (霊の湯), or water of the spirit.
The two upper baths called East and West baths, belonging to the Kami no Yu (神の湯), are reserved to men; the lower one is reserved to women instead, and is put in the middle of a hall. All baths are made out of marble, and the rooms are decorated with precious mosaics representing the heron. Two more baths suitable for people who don't like crowds, are the ones in the Tama no yu (霊の湯) area.
The hot springs makes offers suitable for everybody:
300 Yen
allows entrance to the baths, towels and soap are not included, but you can bring them from home.
620 Yen
allows entrance to the Kami no Yu (神の湯) baths and includes a Yukata (summer kimono) for rent to let you go to the tatami room upstairs in order to sip a tea and taste Senbei (rice crackers).
980 Yen
allows access to Tama no yu (霊の湯) baths, a Yukata to go to the tatami room to sip tea and eat dango (sweet roulades) is included.
1240 Yen
the most expensive rate, offering a private room to have a snack besides the bath.
Getting there?
It is in East direction from Matsuyama and you can get there by tram, thats stops just in the thermal gallery in which you can also find restaurants and souvenirs shops; at the end of the gallery you'll find the Dogo Onsen building.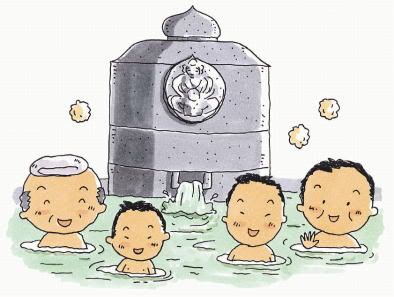 Hot springs lovers, can't miss this destination, since this water is very famous for being able to heal neuralgias, nervous disturbs and rheumatism
Matsuyama Castle 松山城:
Another important destinationin the Ehime district is the Matsuyama castle. It was built at 132m on the Katsuyama mount.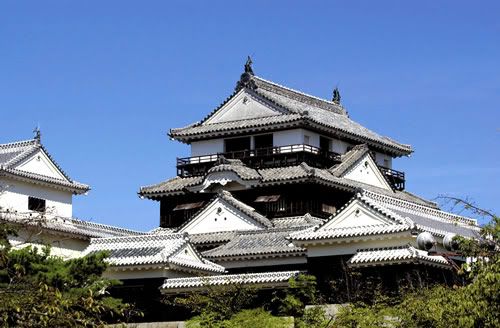 You can also easily get there by feet, but you may also try the 松山城ロープウェイ Matsuyamajō Rōpuwei (cableway) or the chair-lift that will bring you up to the castle; the ticket costs about 500 Yen (a little more than 5$).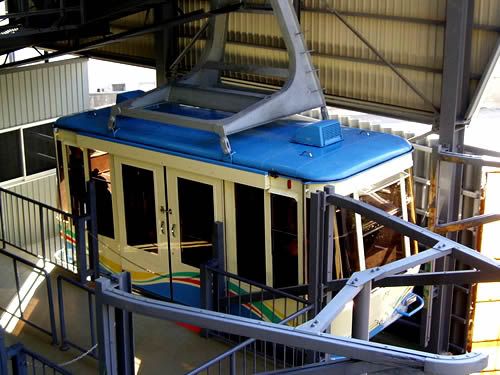 The founder of the castle was Yoshiaki Kato, and its beauty was preserved thanks to Sadayuki Matsudaira (somehow linked to the Tokugawa family), who submitted himself to the emperor during the Meiji era (1868), so the caslte was not destroyed). During the WWII it was slightly damaged because of bombardments, and since 1966 the capital is working to restore it.
Spring visits are very suggested since the cherry trees in bloom give a wonderful eyesight.
Shikoku:most important destination for tourists in Kagawa-Ken:
The Shikoku island is very famous for its many temples, in particular the one called Kompira-san that can be found in the district of Kagawa in Kotohira 琴平. In the chief town of Kagawa-ken, in Takamatsu, the Ritsurin park is very popular.
Kompira-san Temple:
This temple was built on the top of Zōzu mount at 521m, dedicated to the spiritual guardian of the sea wanderers Kompira-san. To get there you have to go up 1368 steps, while the main temple (本宮 hon-gū) is "only" 785 steps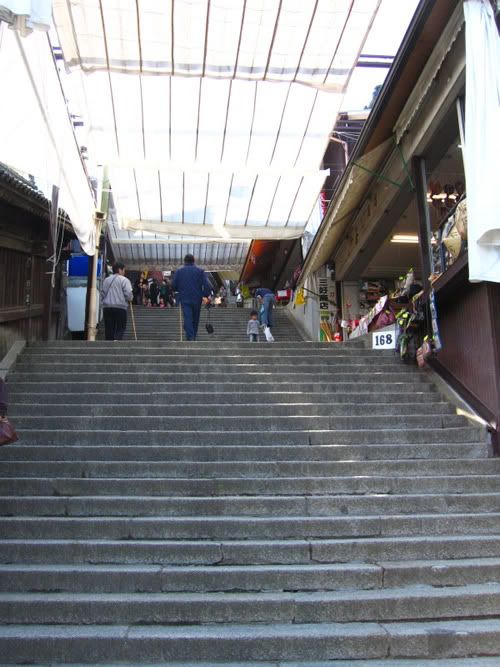 If you're not planning to go up by feet, you may still pay chairmen that will carry you to the top with all the comforts.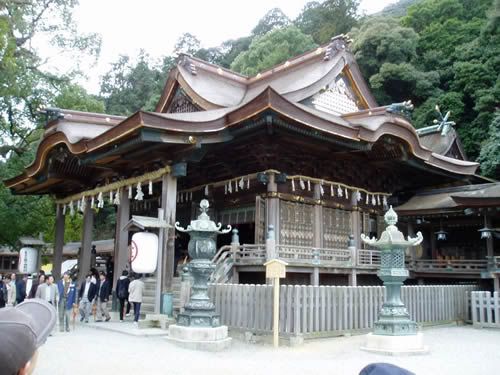 For those who love to walk, the Kompira-san is absolutely recommended since the view they'll enjoy on the top will make any effort worth it.
Getting there?
To get to Kotohira you can use the JR line to Takamatsu, and stop at Kotohira Eki
Takamatsu: Ritsurin Park:
The Ritsurin park is completely artificial, one of the many artificial parks made in Japan, consisting in 6 small lakes and 13 hills, wonderfully placed in contrast with the pines of the Shiunzan mount that's not far from there; this park offers many different plants and also stone compositions in Tokugawa style
You'll find a nice surprise in the Ritsurin park: the plants have been selected in order to have something in bloom at any period of the year: pink cherry trees in spring, elegant lotus in summer, red maples in autumn and white camelia in winter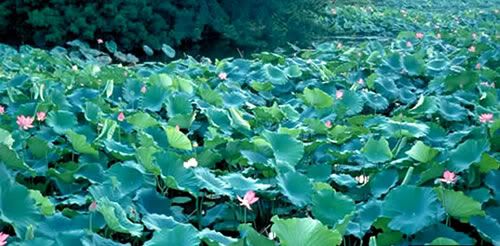 Also the lakes are full of life, since they're inhabited by carps that swim next to the edges looking for food from the guests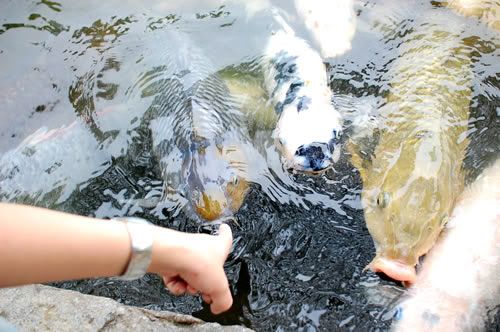 You'll find 30 view points in this park, all listed on the maps to let you enjoy your visit better.
Getting there?
JR line Takamatsu, stop at Ritsurin eki, the park is 3 minutes far from the north exit of the Ritsurin-eki station.
Shikoku: most important destination for tourists in Tokushima-Ken:
The Tokushima district is on the East side of the Shikoku island and is very famous for its whirlpools in Naruto City, also known as Naruto no Uzushio" 鳴門の渦潮
Naruto city, Naruto no Uzushio 鳴門の渦潮 鳴門の渦潮:
Close to Shikoku island, just next to the district of Tokushima, there's a wedge-shaped small island called Awaji, put in the middle way among the internal sea (on the north side of the island), the Honshu, the Osaka bay, and the Pacific Ocean.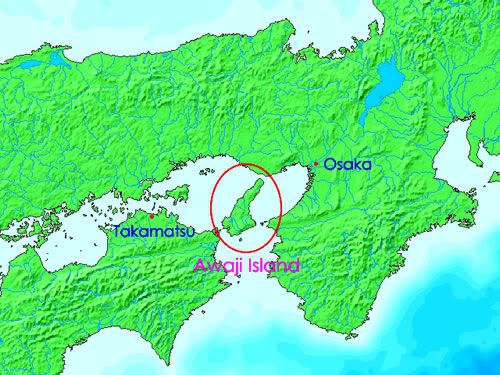 The tides pushing from different directions generates such terrifying whirlpools and strong streams, that the tumultuous waters of Shikoku island have been designed as protagonists of many legends. Sometimes these never stopping whirlpools get really spectacular yet disturbing.
Through the years a system of bridges was built to link Shikoku and Honshu; one of these bridges is the hanging bridge of Naruto from which you can enjoy the sigh of these whirlpools of Naruto, but the most courageous may also try to see them closer on boats (at the speed of 20km/h): a truly amazing experience.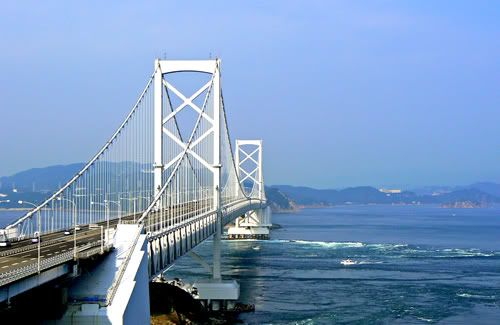 Getting there
Naruto station, then take the bus to Naruto Park and the ferry called Uzushio.
Shikoku: most important destination for tourists in Kochi-Ken:
The district of Kochi is the widest of the four districts of Shikoku, and comprehends the whole pacific part from East of Muroto-Misaki to the west of Ashizuri-Misaki. This area is separeted from the resto f the island by high mountains, so it kept its "wild" side somehow and is very appreciated for open air sports like Surf, canoeing, rafting, whales watching and so on. The surfers usually love Ikumi beach 郁美ビーチ. You shouldn't miss the wonderful calcareous caves Ryūga dō 龍河洞 neither.
Ikumi Beach 郁美ビーチ:
The Ikumi beach is in the most Eastern zone of the Kochi district, it's very popular among surfers willing to defy big waves and you can camp there for free.
Otherwise, there's a nice lodging at the Minami Kaze, close to the beach, that's also very popular for surfers and offers 10 rooms in Japanese style, with common showers and baths
Ryūga dō 龍河洞:
The Ryūga dō 龍河洞 caves are wonderful calcareous caves that are worth visiting if you want to have a trip around Japan, in particolar Shikoku. One of the caves has been awarded as National Natural Monument and in its interiors thousands years old stalactites and stalagmites can be admired.
From the entrance, it leads to tunnels full of natural wonders, the visit usually overs after 1km although it continues till 4km.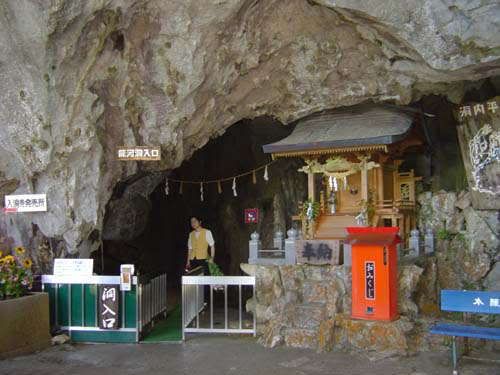 If you reserve a visit in advance, you may choose a more interesting way thanks to a guide and special overcoats, necessary to explore the caves deeper.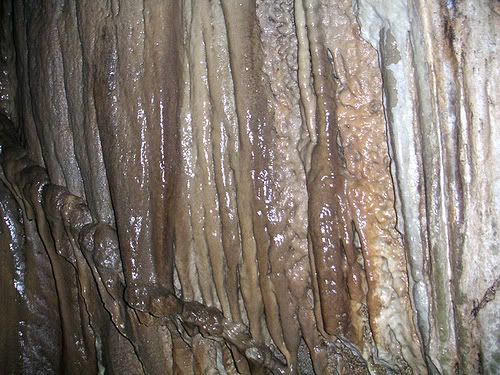 This adventurous travel costs about 3000 Yen per person (30$) and is recommended to speleologist who want to discover the most hidden places of Japan.
Getting There
The Ryūga dō caves can be reached by bus lines from the Tosa Yamada station; one bus per hour and the travel takes about 20 minutes, it costs about 440 Yen (4,5$).
Shikoku: Pilgrimage of the 88 Temples 四国八十八箇所:
As previously said, the Shikoku island is characterized by many temples spread al lover the 4 districts; that's why since much time the tradition of the Pilgrimage of the 88 sacred temples, Shikoku hachijuuhachi kasho (四国八十八箇所), still exists. It consists in visiting all the 88 temples in a definite order.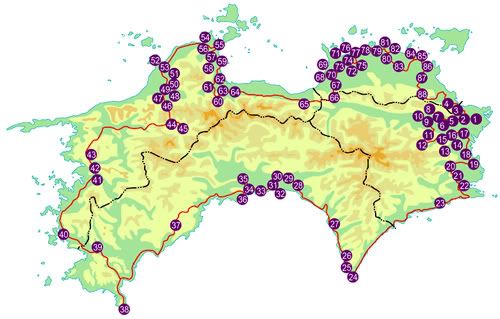 The first one who made the pilgrimage was the monk Kukai, also known as Kobo Daishi after his death, who travelled through Cansai, Hunoshu and Shikoku to visit these temples. Since that, his travel is emulated by many pilgrims.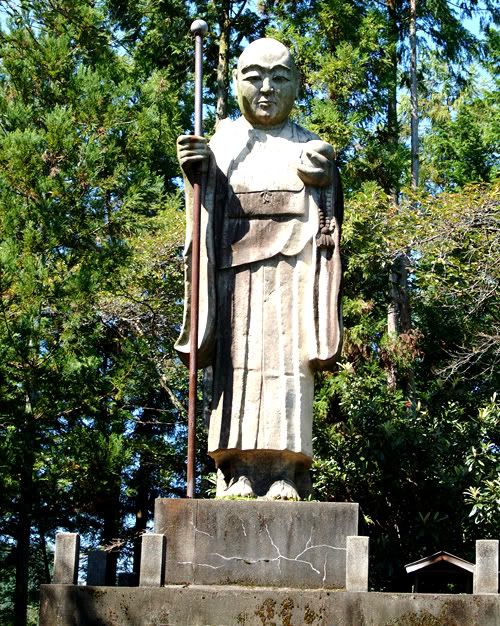 Kobo Daishi was buried in the templar complex of Koya-san, and it is defined by tradition to start and over the pilgrimage right there. In fact, before starting the journey they go asking for protection, then come back thanking the Saint for making them travel safe and sound.
It all starts with the temple number one, the Ryōzenji, where you can also buy all the items you need for the pilgrimage. The pilgrims are easily recognizable by the white vest, the bamboo hat and the staff.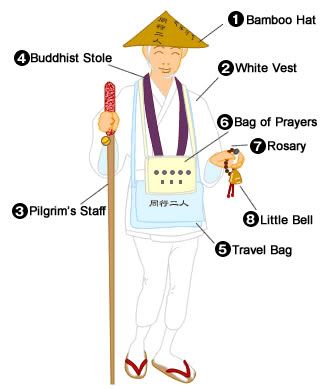 The good pilgrim's set, a listo f stuff to buy before leaving:
1) Bamboo Hat 菅笠(Sugegasa)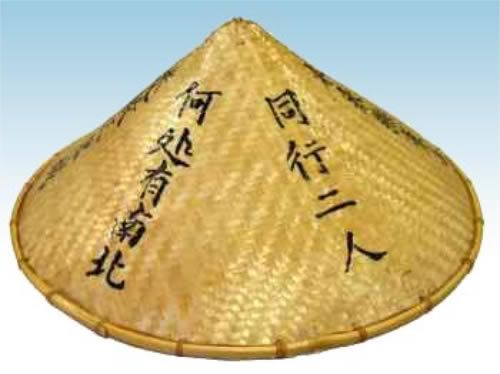 2) White Vest 白衣(Hakue)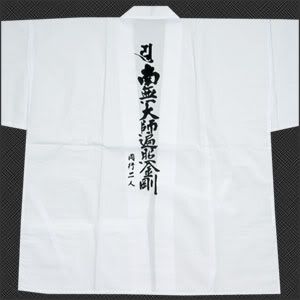 3) The pilgrim staff 金剛杖 (Kongouzue)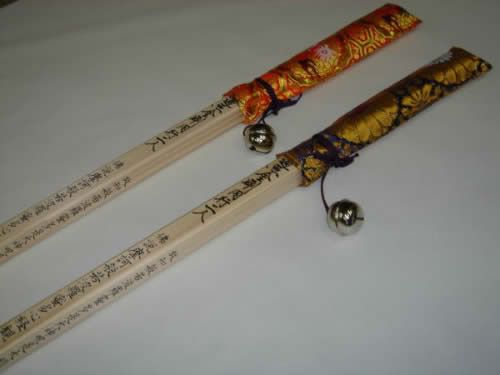 4) Buddihst stole 輪袈裟 (Wagesa)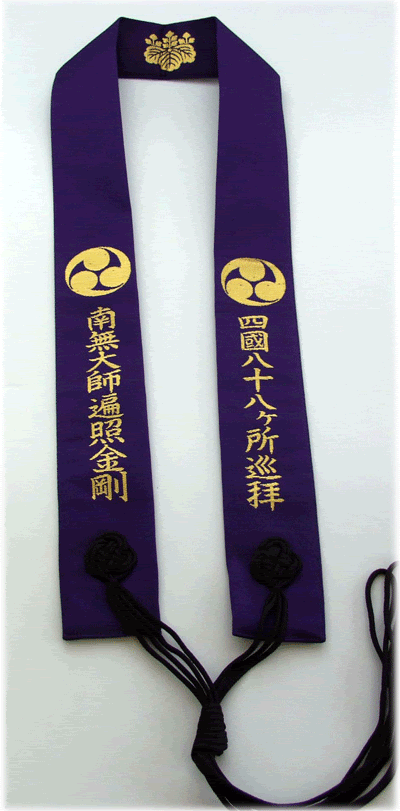 5) Travel Bag 山谷袋 (Sanyabukuro)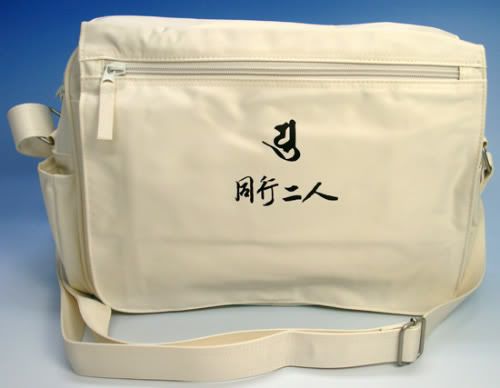 6) Bag of prayers 巡拝バック (Junpai bakku)
7) Rosary 念珠 (Nenju)
Little bell 持鈴 (Jirei)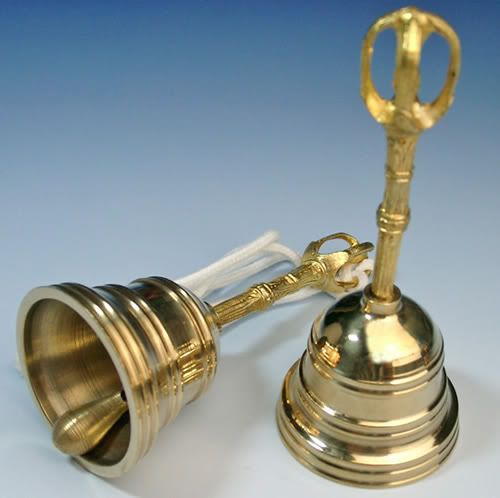 After buying all this stuff, you can start your journey and have this long walk, many still do it by feet, and depending on your physical strenght it may took from 30 to 60 days. By the way, you can also choose the less tiring way and travel by car, tram and so on, but you'll miss the actual spirit of pilgrimage.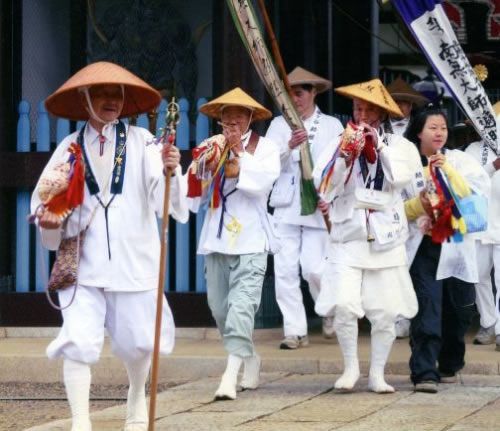 The temples must be visited in the following order:
Temple 1 (Ryōzen-ji)
Temple 2 (Gokuraku-ji)
Temple 3 (Konsen-ji)
Temple 4 (Dainichi-ji)
Temple 5 (Jizō-ji)
Temple 6 (Anraku-ji)
Temple 7 (Juraku-ji)
Temple 8 (Kumadani-ji)
Temple 9 (Hōrin-ji)
Temple 10 (Kirihata-ji)
Temple 11 (Fujii-dera)
Temple 12 (Shōzan-ji)
Temple 13 (Dainichi-ji)
Temple 14 (Jōraku-ji)
Temple 15 (Kokubun-ji)
Temple 16 (Kannon-ji)
Temple 17 (Ido-ji)
Temple 18 (Onzan-ji)
Temple 19 (Tatsue-ji)
Temple 20 (Kakurin-ji)
Temple 21 (Tairyō-ji)
Temple 22 (Byōdō-ji)
Temple 23 (Yakuō-ji)
Temple 24 (Hotsumisaki-ji)
Temple 25 (Shinshō-ji)
Temple 26 (Kongōchō-ji)
Temple 27 (Kōnomine-ji)
Temple 28 (Dainichi-ji)
Temple 29 (Kokubun-ji)
Temple 30 (Zenraku-ji)
Temple 31 (Chikurin-ji)
Temple 32 (Zenjibu-ji)
Temple 33 (Sekkei-ji)
Temple 34 (Tanema-ji)
Temple 35 (Kiyotaki-ji)
Temple 36 (Shōryū-ji)
Temple 37 (Iwamoto-ji)
Temple 38 (Kongōfuku-ji)
Temple 39 (Enkō-ji)
Temple 40 (Kanjizai-ji)
Temple 41 (Ryūkō-ji)
Temple 42 (Butsumoku-ji)
Temple 43 (Meiseki-ji)
Temple 44 (Taihō-ji)
Temple 45 (Iwaya-ji)
Temple 46 (Jōruri-ji)
Temple 47 (Yasaka-ji)
Temple 48 (Sairin-ji)
Temple 49 (Jōdo-ji)
Temple 50 (Hanta-ji)
Temple 51 (Ishite-ji)
Temple 52 (Taisan-ji)
Temple 53 (Enmyō-ji)
Temple 54 (Enmei-ji)
Temple 55 (Nankō-bō)
Temple 56 (Taisan-ji)
Temple 57 (Eifuku-ji)
Temple 58 (Senyū-ji)
Temple 59 (Kokubun-ji)
Temple 60 (Yokomine-ji)
Temple 61 (Kōon-ji)
Temple 62 (Hōju-ji)
Temple 63 (Kisshō-ji)
Temple 64 (Maegami-ji)
Temple 65 (Sankaku-ji)
Temple 66 (Unpen-ji)
Temple 67 (Daikō-ji)
Temple 68 (Jinne-in)
Temple 69 (Kanon-ji)
Temple 70 (Motoyama-ji)
Temple 71 (Iyadani-ji)
Temple 72 (Mandara-ji)
Temple 73 (Shusshaka-ji)
Temple 74 (Kōyama-ji)
Temple 75 (Zentsū-ji)
Temple 76 (Konzō-ji)
Temple 77 (Dōryū-ji)
Temple 78 (Gōshō-ji)
Temple 79 (Kōshō-in)
Temple 80 (Kokubun-ji)
Temple 81 (Shiramine-ji)
Temple 82 (Negoro-ji)
Temple 83 (Ichinomiya-ji)
Temple 84 (Yashima-ji)
Temple 85 (Yakuri-ji)
Temple 86 (Shido-ji)
Temple 87 (Nagao-ji)
Temple 88 (Ōkubo-ji)
Next to every temple there a refreshment service called Shukubō is offered. It offers board and night lodging to pilgrims, it costs about 7000 Yen per night (70$). Pilgrimage is a different way to visit Shikoku, you really should try it!
Typical dishes of Shikoku island:
To fully enjoy your trip to Shikoku island, you should not miss its typical dishes, that are many and different. The soil is not good for intensive rice cultivation there, so the wheat is the main food source, so many kinds of Udon (soft wheat noodles) and Soba (saracen wheat noodles), served both hot and cold. A bright green seaweed, typical of the Naruto zone, can usually been found in the broth in which udons and sobas are served.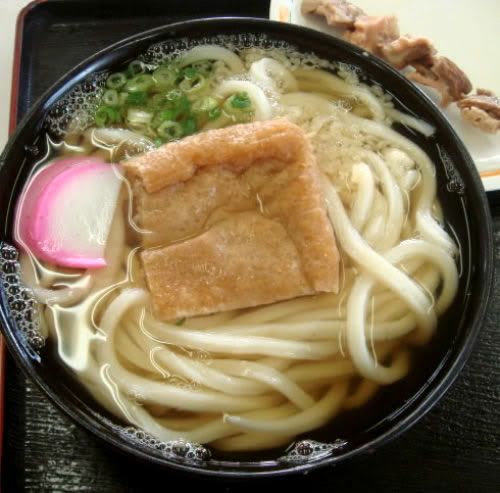 かけうどん Kake Udon, Udon made out of soft wheat (similar to noodles), served in hot broth, very soft but still not too much cooked.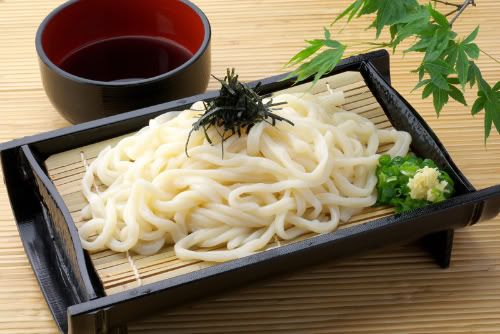 ざるうどん Zaru Udon typically summer dish, but still tasteful in every season, consisting in cold Udon with sauce.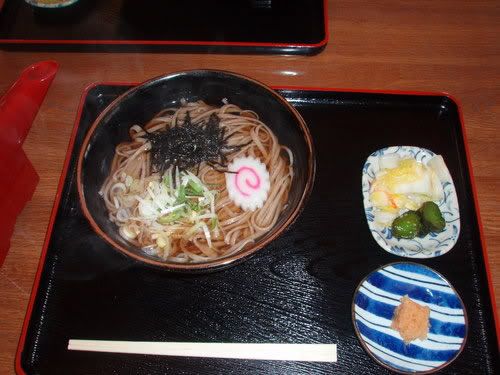 かけそば Kake Soba saracen wheat noodles, served in hot broth usually with Iya Dofu 祖谷豆腐 (tofu cheese of Iya).
ざるそば Zaru Soba saracen wheat noodles, served cold with sauce, also are a typical summer dish.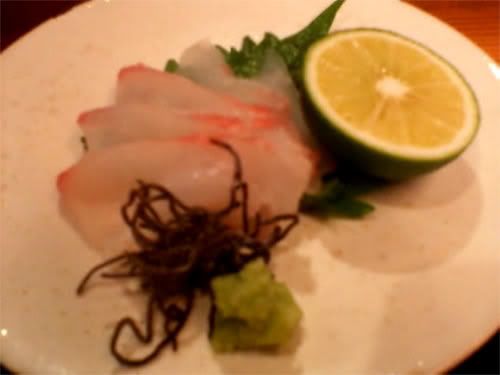 鯛 Tai red porgy fish served with Sudachi (type of citrus fruit) and Sancho (hot spice)
かつおのたたき Katsuo no Tataki sliced tuna, somehow grilled but still underdone at the core, served with soy and vinegar sauce, it's really delicious!
酒盗 Shutō tuna offal slightly fried, usually served after the Katsuo no Tataki and with Sake, with which creates such a lovely combination that also non-drinkers are tempted.
天然鮎の塩焼き grilled trout, very popular in the south side of Kōchi district.
Shikoku: Hotel e Ryokan
Cheap (8.000-15.000 Yen) (80 $ - 150 $):
: Hotel N.o 1 Takamatsu
2-4-1 Kanko dori Tel: (088) 812-2222 Fax: (087) 812-0002
Takamatsu: Rihga Hotel Zest Takamatsu
9-1 Furujin-Machi Tel: (087) 822-3555 Fax: (087) 822-7516
Naruto: Ryokan Sanukiya
39 Aza Mitsuicho Tel: (088) 686-3301 Fax: (088) 686-3347
Naruto: Naruto Hotel Hama
65 Aza-maehama Tel: (088) 685-2600 Fax: (088) 686-4800
Matsuyama: Minshuku Miyoshi
3-7-23 Ishite Tel: (089) 977-2581 Fax: (089) 977-2581
Kotohira: Kotohira Riverside Hotel
246-1 Kotohiracho Tel: (0877) 75-1800 Fax: (0877) 73-5669
Zona di Capo Ashizuri: Bellreef Otsuki
Otsukicho, Hatagun Tel: (0880) 74-0222 Fax: (0880) 74-0080
Expensive (15.000 - 35.000 Yen) (150 $ - 350 $):
Matsuyama: Dogokan
7-26 Dogotakocho Tel: (089) 941-7777 Fax: (089) 941-7707
Kotohira: Kotohira Kadan
Kotohira Tel: (0877) 75-3232 Fax: (087) 75-3235
Kochi: Joseikan
2-chome, Kanimachi Tel: (088) 75-0111 Fax: (088) 24-0557
Cost side of Anan: Hotel Riviera Shishikui
Matsubara, nearby Shishikui station Tel: (0884) 76-3300 Fax: (0884) 76-3910