MAL's 15th Anniversary Giveaway
- Entry is exclusive to MAL users.
- You can apply for up to three items, but are only eligible to win one.
- Winners will be sent with an announcement email through their registered emails. Please note you will need to reply to this email within 72 hours to claim the prize.
Entry Period
Nov. 5th (Tue) ~ Nov. 10th (Sun) PST
Nov. 5th (Tue) ~ Nov. 17th (Sun) PST
Winner Announcements
Nov. 18th ~ Nov. 26th
After Dec. 4th
- Winners will not be announced on this page.
18,572 members have applied so far
Don't miss out!
Item #1: Chara Expo USA 2019 Pair Tickets
Item #2: Five Seiyuu Autographs from "Is It Wrong to Try to Pick Up Girls in a Dungeon?"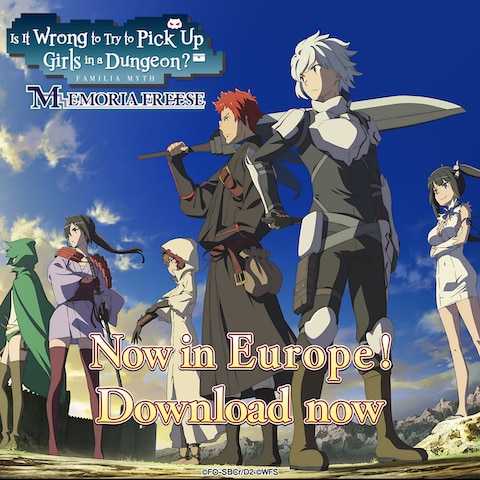 An exclusive gift from the Mobile RPG, "DanMachi - MEMORIA FREESE."

Grab the app and enjoy the DanMachi universe with thousands of other fans. The second season storyline is live now. Get it in both Europe and North America!
Download for free(EU)
Download for free(NA)
Item #4: Free 90-Day Subscriptions
| | | |
| --- | --- | --- |
| HIDIVE | : | USA, CAN, GBR, IRL, AUS, NZL, ZAF |
| Funimation | : | USA, CAN |
Item #6: Amazon.com Digital Gift Cards US$25
OFFICIAL GIVEAWAY RULES:
No purchase necessary to enter or win.
BY ENTERING OR OTHERWISE PARTICIPATING IN THIS GIVEAWAY, ALL ENTRANTS AND OTHER PARTICIPANTS AGREE TO ABIDE BY THESE OFFICIAL GIVEAWAY RULES, WHICH ARE FINAL AND BINDING ON ALL MATTERS PERTAINING TO THIS GIVEAWAY.
1. Sponsor. This giveaway is sponsored by MyAnimeList, LLC ("MyAnimeList" or "Sponsor"). The giveaway is void in whole or in part where prohibited by law.
2. Eligibility. This giveaway is open only to individuals who have registered an account with MyAnimeList and are 16 years of age or older at time of entry. Additional eligibility requirements may apply to certain prize items. Sponsor shall have the right at any time to require proof of age, identity and/or eligibility to participate in the giveaway. Failure to provide such proof or insufficient proof may result in disqualification from the giveaway in Sponsor's sole discretion. All information requested by and supplied to Sponsor for the purpose of the giveaway must be truthful, complete, accurate and in no way misleading. Sponsor reserves the right, in its sole discretion, to disqualify any entrant from the giveaway should such an entrant at any stage supply unsatisfactory, untruthful, incomplete, inaccurate or misleading information. Sponsor's employees and their immediate family members are not eligible to participate in this giveaway.
3. Giveaway Period. The period for entering the giveaway begins November 5, 2019 and item #1 ends on November 10th at 11:59 PM (PST) and rest of items end on November 17, 2019 at 11:59 PM (PST).
4. How to Enter the Giveaway. There is no purchase necessary to enter the giveaway. To enter this giveaway, review and follow these Official Giveaway Rules, sign up for a MyAnimeList account (if you don't already have one) or login to your MyAnimeList account and then complete the giveaway application form. To start filling out the application form after logging in, click the "Apply Now" button or other similar link. You will be able to select up to 3 prize items to enter to win (although only eligible to win 1 prize item), and then submit the application form. Only one application per eligible person is allowed. Do not create more than one account to submit numerous applications. Multiple applications by one person or the use of any system, robot, agent, or software to automatically submit entries in connection with this giveaway is prohibited and will result in all applications and entries from that person being disqualified. Sponsor assumes no responsibility for late applications or entry failures due to technological or other issues.
5. Giveaway Prizes. The prizes that are available to be won for this giveaway are the following:
Prize item description:
Estimated value:
No. of items available to win:
Other restrictions:
Item #1: Chara Expo USA 2019 Pair Tickets
$30 per ticket
3
N/A
Item #2: Autograph by 5 Seiyus from "Is It Wrong to Try to Pick Up Girls in a Dungeon?"
N/A
5
N/A
Item #3: MyAnimeList Official Staff Hoodies
$70
10
N/A
Item #4: Free 90 days Subscription Codes of Crunchyroll, HIDIVE and Funimation
$24
5 for each
(total 15)
Eligible countries
HIDIVE: USA, CAN, GBR, IRL, AUS, NZL, ZAF
Funimation: USA, CAN
Item #5: Tokyo Treat Giftbox
$35
10
N/A
Item #6: $25 USD Amazon Gift Card
$25
10
Amazon US account will be required to redeem the gift card
Item #7: MAL Annual Supporter
$30
15
N/A
Each winner is limited to 1 prize item. Prizes must be accepted as awarded and are not transferable, assignable or convertible to cash and may not be substituted or exchanged by the winners.
6. Winner Selection and Odds of Winning. Potential winners for item #1 will be randomly selected between November 18 and 26, and potential winners for other items will be randomly selected after December 4, 2019, and the odds of being selected as a potential winner are dependent upon the number of eligible entries received by Sponsor. Sponsor will email the potential winners at the email address registered with the potential winners' MyAnimeList accounts with further information and any additional requirements to accept the prizes. If a potential winner cannot be contacted within 72 hours, fails to respond to any attempted contact, is otherwise in non-compliance with these Official Giveaway Rules, or declines to or cannot accept the prize to be awarded, such potential winner will be disqualified, his/her entry will be declared null and void and the Sponsor reserves the right, in its sole and absolute discretion, to select at random another eligible entry, in which event these provisions shall apply to such other eligible entry.
7. Release. By entering this giveaway, you release MyAnimeList and its affiliates, employees, officers, managers and agents from any liability whatsoever, and waive any and all causes of action, related to any claims, costs, injuries, losses or damages of any kind arising out of or in connection with this giveaway or transmission, failed transmission or acceptance of any prize (including, without limitation, claims, costs, injuries, losses and damages related to personal injuries, death, damage to or destruction of property, rights of publicity or privacy, defamation or portrayal in a false light, whether intentional or unintentional), whether under a theory of contract, tort (including negligence), warranty or any other theory.
8. Sponsor's Reservation of Rights. Sponsor reserves the right, in its sole discretion, to terminate, cancel, suspend and/or revise the rules of the giveaway for any or no reason. Sponsor reserves the right in its sole discretion to disqualify any individual in violation of these Official Giveaway Rules or if Sponsor discovers such individual to be tampering with the entry process or the operation of the giveaway or acting in an unlawful or disruptive manner. Sponsor's failure to enforce any term or provision of these Official Giveaway Rules shall not constitute a waiver of that term or provision.
9. Privacy. Information collected from you in connection with this giveaway will be used by Sponsor for its administration of the giveaway, including to verify your eligibility and notify potential winners and to fulfill prizes. In addition, Sponsor may use information collected about you to send you offers or information from us about our products and services, or about the products and services of our affiliates and business partners. If you do not wish to receive such offers and information, you may opt-out at any time by following the instructions at the bottom of any promotional email you receive or by following other opt-out instructions provided in the communication. Information collected is otherwise subject to and may be used and shared by MyAnimeList in accordance with MyAnimeList's Privacy Policy at https://myanimelist.net/about/privacy_policy and applicable law.
10. Terms of Use. Users of MyAnimeList are subject to MyAnimeList's Terms of Use Agreement at https://myanimelist.net/about/terms_of_use, which are incorporated herein by reference.
11. Contact Information. Please direct any questions or comments regarding the giveaway to MyAnimeList at campaign@myanimelist.zendesk.com