September 1st, 2013
rainbow news
[img]http://i419.photobucket.com/albums/pp279/PuMpKiN210_photos/newnl_zpsd123326c.gif[/img]
March 23rd, 2013
Easterr Newsletter
hii hii staff members!! quick reminder that we will be doing a Easter SE. it will be the same type of event that we have been doing for all of our other hollidays.





there will be mystery easter baskets with numbers on them. members will choose (most likely 2) randomly from the numbered easter baskets above. when the event is closed the card makers assigned to those numbered easter baskets will only make cards for those who requested their number.

members will not know who is making their cards or what they look like until their cards have been delivered.

just like the other se staff are allowed to claim baskets as well





- you can make a premade card where you just change out the name or you can make card a different card for every person who requested your number

- card makers can have more than one numbered pots of Easter Baskets that they are in charge of

- there will not be a post limit. the thread will only be open on Easter day. so there still wont be a post limit.

- all card makers or staff who want to make cards for this event are allowed. its not limited to just individual card makers.

- card must have BL Addicts! Easter SE written on them

- theme can be easter, bunny,chick.. etc
BL Addicts Staff Newsletter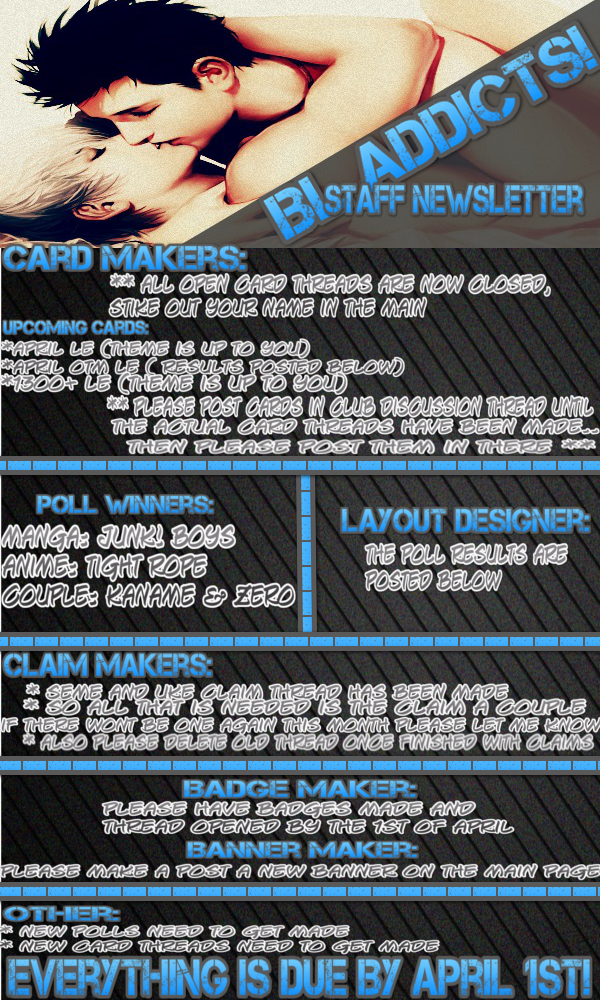 June 26th, 2011
My Squibys
June 17th, 2011
Other Cards

**Other Cards i have collected other than member cards**

clubs:

BL Addicts!



Card Store



Yaoi Cards Club



We Love Bishies



CardLovers



Kurosaki Tasuku FC



Kyodai club



cool member cards- c.m.c



kingdom of cards- koc



card lovers club



GL Addicts!



Special Cards Club



Enter..the inevitable



animanga club



katekyo hitman reborn fc!



PCM



Uta no☆Prince-sama fc



card chamber



card cafe



card collectors club- c.c.c



BL Obsession




Cards i have Made
Cards for BL Addicts! :
GL Addicts!
Banners i have made:
Card Lovers Club