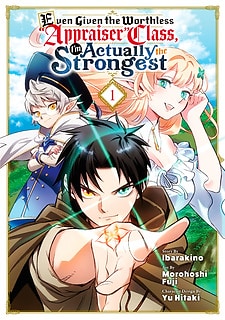 Even Given the Worthless "Appraiser" Class, I'm Actually the Strongest © Ibarakino, Morohoshi Fuji, Yu Hitaki/Kodansha Ltd.

Manga Score:

6.63

Author:

Story by Ibarakino, Art by Morohoshi Fuji, Character Design by Yu Hitaki

Publisher:

Kodansha

Volumes:

6

DB title:

Fuguushoku "Kanteishi" ga Jitsu wa Saikyou Datta: Naraku de Kitaeta Saikyou no "Shingan" de Musou suru

Rating:

16 and up
Manga Database
Even Given the Worthless "Appraiser" Class, I'm Actually the Strongest
Synopsis
In a fantasy world where "jobs" are god-given from birth, heroes are born, not made...and Ein's job of "Appraiser" has put him about as far from the "hero" pedestal as possible. Used, abused, and eventually abandoned by his fellow adventurers, Ein decides it just isn't worth going on... Lucky for Ein, though, the end may just be the beginning...and a new lease on life. Turns out, his "worthless" job may just be the key to becoming a hero after all...
Review
Dec 3, 2020
1 of ? chapters read
Story:
i'll only tell the contents of the first few chaps and as miniscule as i can to not spoil much but still make it understandable.
basically a guy with a "trash job" of being able to appraise items falls into this bottomless pit almost no one ever falls into. he Falls from a high height but sustains no damage so he appraised some stuff around and saw a legendary tree's sap was healing him. he told the tree, "Thank you. Thanks to you, I was saved." and wowow the tree actually has a cute girl spirit who never
got thanked before for healing previous ppl who fell so she got real happy and gave the main guy a powerful eye which takes his "appraisal" to a new level.

okay one of the things i kiiiiinda liked abt this manga is that. unlike most other "i have a trash job but surprise surprise theres a hidden benefit no one knew about", he Actually gets a cheat which is kinda more satisfying than some random "ohoho mc has a hidden perk just because". and like he Trains for it. he doesnt automatically elevate to max level and it shows his training progress a bit which was fun and kinda refreshing (tho his cheat skill is still super overwhelming its tolerable to an extent)

Art:
art is uhhhhh its good? nothing Super note worthy but i like the way they draw eyes its pretty.

Character:
yo so like as i mentioned before the mc actually trains hard. so seeing him be happy and confident and grow his self esteem little by little is a bit nice i guess 👉👈
also yuri, the spirit girl, might be super cliche but shes so cute and supportive,, shes like the /(˃ᆺ˂)\
type.. cutie 😌

Enjoyment:
uh its obviously nothing "amazing!" or "innovative and new!" but its refreshing to see a trash-job-goes-hero manga where the mc actually put effort and is shown actually ✨using his braincells✨ rather than casting one super duper powerful skill where god knows how they mastered it one after another yk so the enjoyment was nice

Overall:
i hate writing conclusions to essays just read the review again. its a semi good manga so far.
read more
ionly 6 chaps out that i can read rn
Jun 10, 2022
9 of ? chapters read
Not strictly speaking a generic isekai, but it might as well be one.
The MC, Ain, is a weakling who was born with the appraisal job, which is considered to be one of the most useless jobs there are... because it is. Don't let the synopsis trick you, the job only becomes useful because Ain's eyes are literally implanted with the soul of the greatest existence in the world, the tree of life Yggdrasil.
Ain himself is a shell of a person. The only thing he has going for him is
that he is a human being capable of saying "thank you". He doesn't have the drive to grow, he doesn't have the strength to grow, he doesn't have the skill to grow, he doesn't have the knowledge to grow, every little thing that he achieves is because there's someone holding his hand and dragging him along.

The supporting characters are not much better. Yuri (Yggdrasil's soul) is an airhead whose only personality trait seems to be falling in love with anyone who says "thank you" to her (hence why the MC got to carry her soul). Ursula (Yuri's guardian) is... sigh... an obnoxious bipolar sadistic helicopter parent.

As for the story, who knows? So far it's been the journey of a man who was given everything he could imagine after he failed to do anything at all. I gave up on the story after he was told that the boss, who was essentially defeated for him, would make him even stronger than he already is, even though he already breezed through some of the strongest creatures known to man.

The art is above average, so it's got that going for it.
read more
** Contains some minor spoilers, though not like they can't be predicted from a mile away **