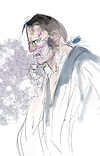 'Gibiate' TV Anime Reveals Main Cast and New Designs
During Yoshitaka Amano's panel at Anime Fest @ NYCC x Anime Expo today, the character designer announced main cast for the original TV anime, Gibiate. Sketches for five new characters were also unveiled. Cast Sensui Kanzaki: Tetsuya Kakihara (Fairy Tail) Kathleen Funada: Yukiyo Fujii (Amagi Brilliant Park) Kenroku Sanada: Hiroki Touchi (3-gatsu no Lion) Yukinojyo Onikura: Michio Hazama Renjiro Hatonami (left), Guren Soshigaya (right) Katsunori Hamuro (left), Hidenori Sakuma (middle), Isao Mikimo...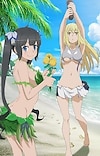 Third Season, New OVA for 'Dungeon ni Deai wo Motomeru no wa Machigatteiru Darou ka' Announced
The 12th and final episode of the second Dungeon ni Deai wo Motomeru no wa Machigatteiru Darou ka (Is It Wrong to Try to Pick Up Girls in a Dungeon?) season ended with a third season and a new original video anime announcement on Saturday. The new anime season is scheduled for a Summer 2020 premiere, and the original video episode will debut on January 29, 2020. Voice actress Rina Hidaka (Kawaikereba Hentai demo Suki ni Natte Kuremasu ka?, Tate no Yuusha no Nariagari) will join the cast as the c...
TV Anime 'A3!' Airs in Split Cours, Announces Staff
During the "A3! Blooming Carnival" event on Sunday, it was announced that the anime adaptation of Liber Entertainment Inc.'s A3! will air in split cours. A3! Season Spring & Summer will be broadcast in Winter 2020, while A3! Season Autumn & Winter will be broadcast in Summer 2020. More staff, a promotional video and a key visual for Season Spring & Summer (pictured) were also revealed. Staff Assistant Director: Makoto Nakazono (Little Witch Academia (TV) episode director) Art Design: Juu Ichiguc...

RSS Feed