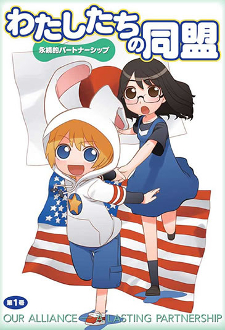 Headquarters US Forces Japan has made a manga for the promotion of the US - Japan Alliance in commemoration of its 50th anniversary.
In the manga titled "Watashitachi no Domei: Eizokuteki Partnership (Our Alliance; A Lasting Partnership)", an American boy Usa-kun (USA) lives off a Japanese girl Arai Anzu (pun of alliance) and he gets rid of a cockroach from the kitchen. He says "I'll protect you because you are like me."
Our Alliance Manga webpage
The main author is Hirai Yukio ("
Magical Marine Pixel Maritan
"). The first chapter was posted on August 4th. The rest of the chapters will be available within this year.
Sources:
US Force Japan
,
Maritan Nikki
,
BBC

RSS Feed