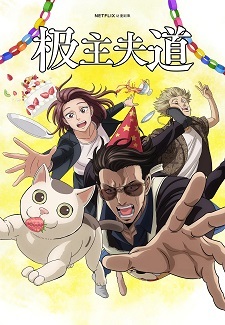 The Netflix TUDUM Japan event announced a second anime season for
Kousuke Oono
's
Gokushufudou
(
The Way of the Househusband
) manga on Sunday. The new season will stream worldwide on Netflix in January 2023.
Chiaki Kon
(
Higurashi no Naku Koro ni
,
Nodame Cantabile: Paris-hen
) is returning to direct the second season at
J.C.Staff
(
Prison School
,
Amanchu!
).
Susumu Yamakawa
(
Back Street Girls: Gokudolls
) is also returning to handle the series composition.
The
first
season
premiered in two five-episode parts in April and October last year.
Oono began drawing the comedy slice of life manga in
Kurage Bunch
in February 2018. Shinchosha published the tenth volume on July 7. A ten-episode live-action drama adaptation aired in Japan from October to December in 2020.
Synopsis
Who would have ever thought that the most feared gangster of his time now spends his days as a modest househusband? Seemingly giving up the way of the yakuza, the legendary "Immortal Dragon" Tatsu, best known for his prolific skirmishes against rival gangs, has abruptly vanished. Unbeknownst to most, however, Tatsu is currently staying at an apartment with his wife, doing his best to live a peaceful life.
Donning his trusty apron, Tatsu is now striving to become an efficient homemaker. Because of this, he has mastered the required skills—be it cooking the most delicious dishes, making sure to get the best deals at supermarkets, and everything in between—garnering the surprise of both of his former subordinates and enemies alike. Despite being a man with quite a controversial past, Tatsu's new way of life will only be more eccentric from here on out! [Written by MAL Rewrite]
Source:
Comic Natalie
Gokushufudou Season 2
on MAL

RSS Feed