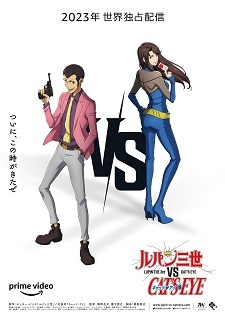 TMS Entertainment
opened an official website for a crossover anime titled
Lupin III vs. Cat's Eye
(
Lupin the 3rd vs. Cat's Eye
) on Thursday, revealing the production staff, lead cast, a key visual (pictured), and the first promotional video. The anime will debut worldwide on Amazon's Prime Video platform in 2023.
Kanichi Kurita
and
Keiko Toda
are reprising their roles as Lupin III and Hitomi Kisugi from the original anime.
The anime is celebrating both the 50th anniversary of
Lupin III
and 40th anniversary of
Cat's Eye
anime series. The crossover anime will take place in the 1980s, when
Tsukasa Hojo
's
action mystery manga
was being serialized.
Lupin III: Part 6
(
Lupin the 3rd Part 6
), the latest installment in the franchise, aired in 24 episodes beginning Fall 2021. Sentai Filmworks licensed the anime in North America and simulcast it on HIDIVE with subtitles.
Staff
Director:
Koubun Shizuno
(
Sidonia no Kishi
),
Hiroyuki Seshita
(
Blame! Movie
)
Assistant Director:
Keisuke Ide
(
Levius
director)
Script: Shuuji Kuzuhara (
Puzzle & Dragon
)
Character Design:
Haruhisa Nakata
(
Fairy Gone
original character design),
Junko Yamanaka
(
Kono Oto Tomare!
)
Production Design:
Naoya Tanaka
(
Kuutei Dragons
), Ferdinando Patulli (
Godzilla
trilogy)
Art Director:
Mitsunori Kataama
(
Sidonia no Kishi: Ai Tsumugu Hoshi
)
Editing:
Aya Hida
(
Bubble
)
Sound Director:
Youji Shimizu
(
Lupin the Third: Mine Fujiko to Iu Onna
)
Music:
Yuuji Oono
(
Lupin III: Part II
),
Kazuo Ootani
(
Cat's Eye
)
Studio: TMS Entertainment
Synopsis
Lupin III, the great phantom thief—the man who loves freedom and lives in romance—never fails to steal his prey. The Cat's Eye are the ladies who run the night splendidly and create commotion in the world. They are sometimes phantom thieves, other times three beautiful sisters who run a café.
The mutual target is "Three Paintings"—which were left behind by the three sisters' father, leading to the dream showdown between Lupin and the Cats. Amidst the mix-up of the charming characters, the story eventually leads to the amazing "secret" hidden in the picture... A retro and stylish exhilarating crime action unfolds!
PV 1
Official site:
https://www.lupin-vs-catseye.com/
Official Twitter: @
lupin_vs_cats
Source:
Anime! Anime!
Lupin III vs. Cat's Eye
on MAL

RSS Feed