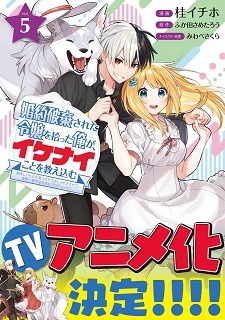 A television anime adaptation of
Sametarou Fukada
's
Konyaku Haki sareta Reijou wo Hirotta Ore ga, Ikenai Koto wo Oshiekomu: Oishii Mono wo Tabesasete Oshare wo Sasete, Sekaiichi Shiawase na Shoujo ni Produce!
(
Teaching the Young Lady I Picked Up Who Broke Off Her Engagement Things She Isn't Supposed to Do: Allowing Her to Eat Good Food, Dress Fashionably, and Making Her the Happiest Girl in the World!
) light novel was announced by publishing company Shufu to Seikatsusha on Wednesday.
Fukada
began writing
the comedy fantasy novel on the Shousetsuka ni Narou website in August 2019. Shufu to Seikatsusha began releasing the series with illustrations by
Sakura Miwabe
in March 2020 and published the third volume last July.
Ichiho Katsura
began drawing a
manga adaptation
in
Comic PASH!
magazine in March 2020. Shufu to Seikatsusha shipped the fourth volume on February 2, with the fifth volume scheduled for release on September 2 (pictured right). The series has a cumulative 150,000 copies of its volumes in circulation.
Synopsis
Allen, a misanthropic wizard, lives deep within the forest. He is known as the "Demon Lord" and feared by those around him.
One day, while living his life as a hermit, he comes across a young girl named Charlotte who has collapsed in the forest. Despite being innocent, she was accused of evil deeds, had her engagement annulled, and was forced to flee her country.
When he heard that, Allen remembered the agony of being betrayed by a group he once thought was his companions. After hearing the story of the 17-year-old's exploitation, Allen decides, "I'll let her live in my mansion, and I'll teach her all sorts of bad things..."
Source:
PR Times
Konyaku Haki sareta Reijou wo Hirotta Ore ga, Ikenai Koto wo Oshiekomu
on MAL

RSS Feed