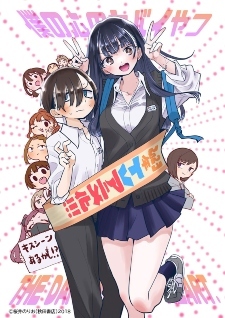 Avex Pictures
opened an official website for a television anime adaptation of
Norio Sakurai
's
Boku no Kokoro no Yabai Yatsu
(
The Dangers in My Heart
) manga on Tuesday. The anime is scheduled to premiere in 2023. Sakurai posted a illustration commemorating the announcement (pictured right).
Sakurai began serializing the comedy slice of life manga in
Weekly Shounen Champion
in March 2018 before transferring it to
Champion Cross
in April and then in
Manga Cross
in July the same year. Akita Shoten shipped the sixth volume on January 7, with the seventh volume scheduled to be released on August 8.
Seven Seas Entertainment
licensed
the manga in English in December 2020 and released the fourth volume on April 26. The fifth volume is scheduled to ship on October 4.
Boku no Kokoro no Yabai Yatsu
placed third and ninth in the
2020
and
2021
's Kono Manga ga Sugoi! rankings and ranked 11th in the
13th Manga Taisho Awards
.
Synopsis
Kyoutaro Ichikawa may look like your average middle school student, but in his heart, he dreams of murder. Thus, it is no surprise that the one he wants to kill the most is never far off from his mind: the class idol, Anna Yamada.
Reading alone in his beloved school library, he inadvertently begins to rendezvous with Yamada, who comes to secretly gorge on her beloved candies and sweets. Through their interactions, Ichikawa discovers just how much of a ditz Yamada is, and can't help but support her from the sidelines. Meanwhile, Yamada herself can't help but tease Ichikawa relentlessly due to his flustered reactions.
With an array of heartwarming daily interactions, the distant bond between the two grows into something more than just library acquaintances. Perhaps, in time, Ichikawa will come to realize that his murderous desires have turned into something else entirely. [Written by MAL Rewrite]
Official site:
https://bokuyaba-anime.com/
Official Twitter: @
bokuyaba_anime
Source: Press Release
Boku no Kokoro no Yabai Yatsu
on MAL

RSS Feed