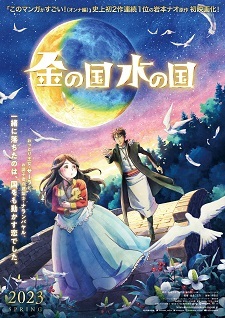 Warner Bros. Japan
opened an official website for an anime movie adaptation of
Nao Iwamoto
's
Kin no Kuni Mizu no Kuni
(
Land of Gold, Land of Water
) manga on Thursday, revealing the main staff and a teaser visual (pictured). The movie will open in Japan in Spring 2023.
Staff
Director:
Kotono Watanabe
(
Btooom!
,
Chihayafuru
episode director)
Script:
Fumi Tsubota
(
Hug tto! Precure
,
Karakai Jouzu no Takagi-san
)
Animation Supervisor:
Mitsuyuki Masuhara
(
Diamond no Ace
director,
Beck
assistant director)
Production Coordination:
Nippon Television Network
Studio:
Madhouse
Distribution: Warner Bros. Japan
Iwamoto ran the josei romance manga in
Monthly Flowers
magazine from October 2014 to April 2016. Shogakukan published it in a single volume in July that year. The manga sold a cumulative 400,000 copies.
Kin no Kuni Mizu no Kuni
placed first in the
2017 Kono Manga ga Sugoi!
rankings in the Female Readers' category and was nominated for the
tenth Manga Taisho
award in 2017.
Synopsis
Once upon a time, there were two rival kingdoms that did not get along. Every day, they argued over insignificant matters. When a dispute over removing dog waste ultimately turned into a war, God swiftly intervened and directed the two nation's leaders to exchange the most beautiful girl and the most intelligent young man for bride and bridegroom, respectively.
Saara, the princess of country A, meets the prince of country B, Naranbayar. As they pretend to be a married couple to protect the peace between the countries, they find themselves gradually falling in love.
Official site:
https://wwws.warnerbros.co.jp/kinnokuni-mizunokuni-movie/
Official Twitter: @
kinmizu_movie
Source:
Crank-in
Kin no Kuni Mizu no Kuni
on MAL

RSS Feed