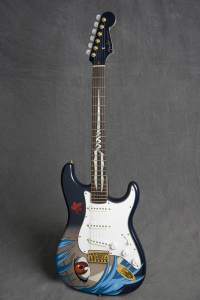 Evangelion Store put up two types of Fender USA custom guitar for Yahoo Japan auction on December 1st. Both are one-offs made by Fender's master builder Yuriy Shishkov.
Ayanami Rei
's face and Lance of Longinus are printed on them.
Ayanami Rei Guitar Type 01 on Yahoo Auction
Type 02
As of December 7th, the bidding price of Type 01 (white) has reached 9,000,000 yen ($100,000). The biddings will be closed on December 9th.
Source:
Fender Japan

RSS Feed